Experience Both Winter & Summer in One Tahoe Weekend
By
Tahoe visitors and locals alike are enjoying the largest snowpack in 22 years, and it's likely the white gold will last until mid-summer. Several ski resorts are extending their ski seasons into June (and maybe even to July 4th!), guaranteeing excellent spring conditions and the opportunity for those magical "dual days," the term used by sport aficionados to describe weather that is perfect for a multitude of activities.
During these days, it's not uncommon to ski in the morning and go kayaking or hiking in the afternoon—if you can muster the energy. Round out a fun-filled weekend with stops at the area's best and newest restaurants and bars.


North Shore: Ski, Swim + Summer BBQ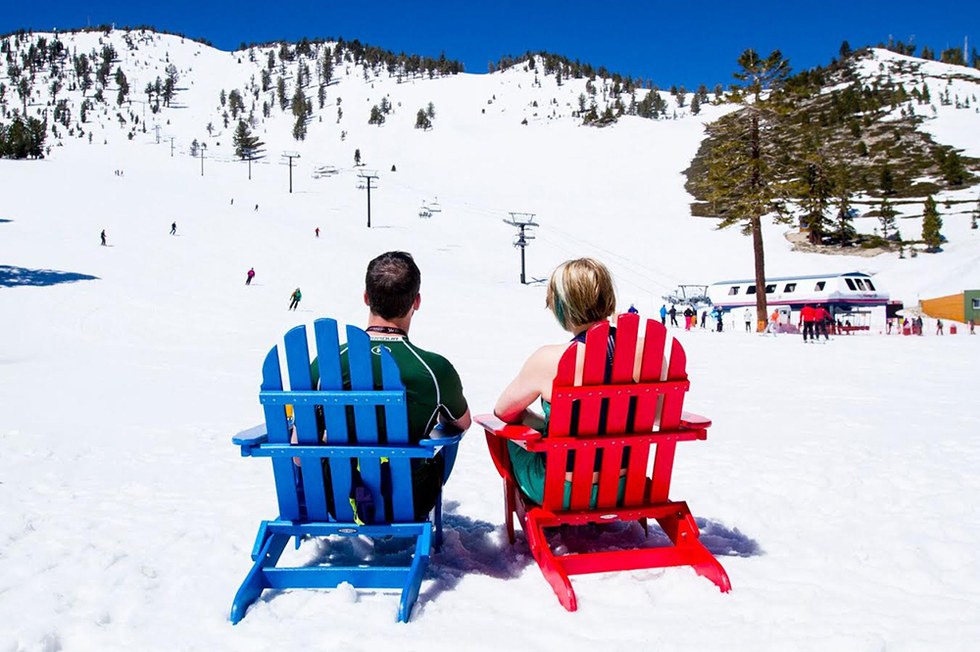 Mount Rose Ski Tahoe has the most snow in North America.Mount Rose Ski Tahoe/North Lake Tahoe
According to the National Weather Service, Mount Rose Ski Tahoe on the Nevada side of the lake officially has the most snow in North America with nearly 700 inches of snowfall. That's the height of the Yerba Buena Tunnel on the San Francisco–Oakland Bay Bridge! Mount Rose features popular beginner runs, the Winter's Creek Lodge with views of the Truckee Meadows and quick access to hot pools and springtime hikes. Extend your day, head down the Mount Rose Highway and check out the gushing waterfall of Reno's Hunter Creek Trail or relax in the private chakra baths at Steamboat Hot Springs.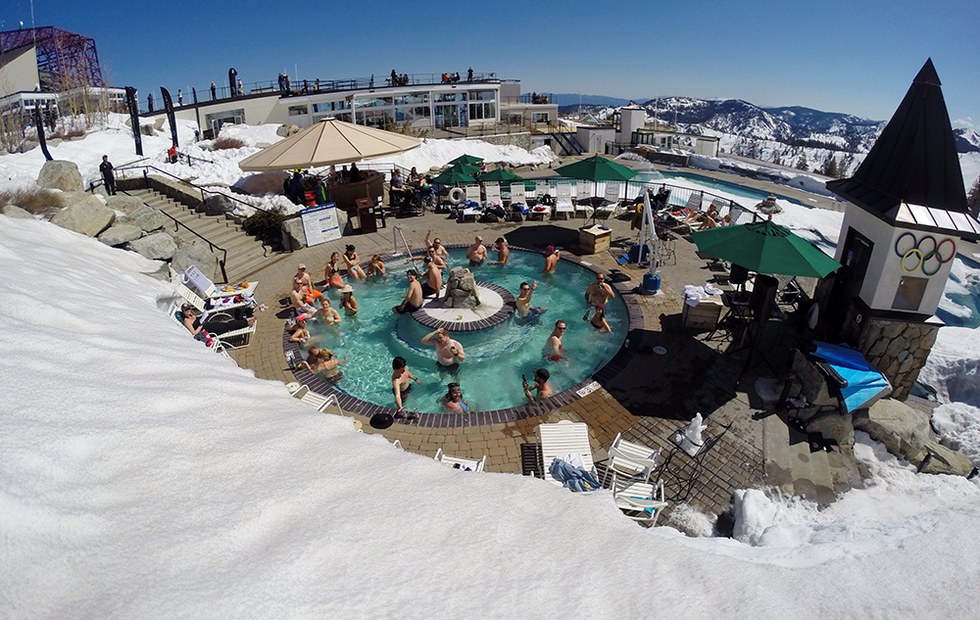 Soak sore muscles in Squaw Valley's High Camp Pool & Hot Tub.Squaw Valley/North Lake Tahoe
Squaw Valley and Alpine Meadows are both boasting around 620 inches of the white stuff. Add a lift ticket and rental equipment to a private lesson for only $69 and spend the day skiing. Afterwards, soak your sore legs at 8,200 feet at the High Camp Pool & Hot Tub. For dinner at Six Peaks Grille, chef Tim Hmay serves produce from the resort's Rooftop Roots garden. The resort is also known for their "Garden to Glass" cocktails, including an Asian pear mule with Tahoe Blue vodka, Asian pears, lemon, and ginger beer.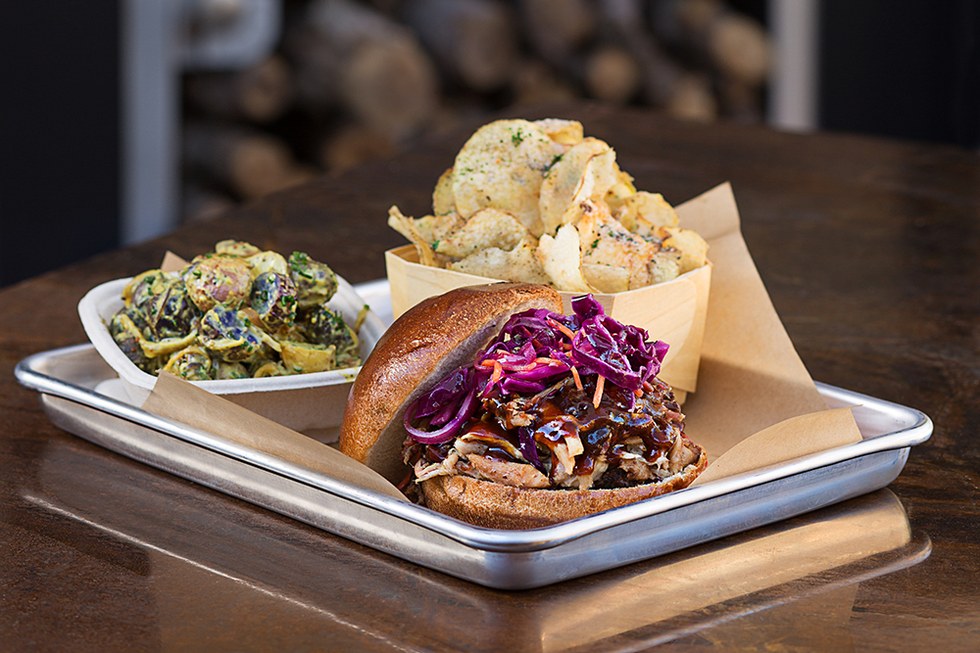 Backyard Bar & BBQ serves summery pulled pork all year.The Ritz-Carlton, Lake Tahoe
Northstar California has a season total of 607 inches of snow and some of the longest and best beginner runs on the north shore. Along with a day of skiing, both the Resort at Squaw Creek and the Ritz-Carlton Lake Tahoe have year-round outdoor heated pools with stellar views of the peaks. The pulled-pork sandwiches with housemade barbecue sauce and coleslaw at the Ritz's Backyard Bar & BBQ will remind you of summer, especially if you partake in the bar's dual season cocktails like the house-made mulled wine with cloves, cinnamon, orange and nutmeg. Pour the same mixture over ice for a spicy sangria when the weather is warm and sunny.
// Mount Rose Ski Tahoe, 22222 Mount Rose Highway (Reno), skirose.com

// Squaw Valley/Alpine Meadows, 1960 Squaw Valley Road (Olympic Valley), squawalpine.com
// Northstar California, 5001 Northstar Drive (Truckee), northstarcalifornia.com
// The Ritz-Carlton, Lake Tahoe, 13031 Ritz Carlton Highlands Court (Truckee), ritzcarlton.com
// Resort at Squaw Creek, 400 Squaw Creek Road (Olympic Valley), squawcreek.com
South Shore: Board, Sail + Soak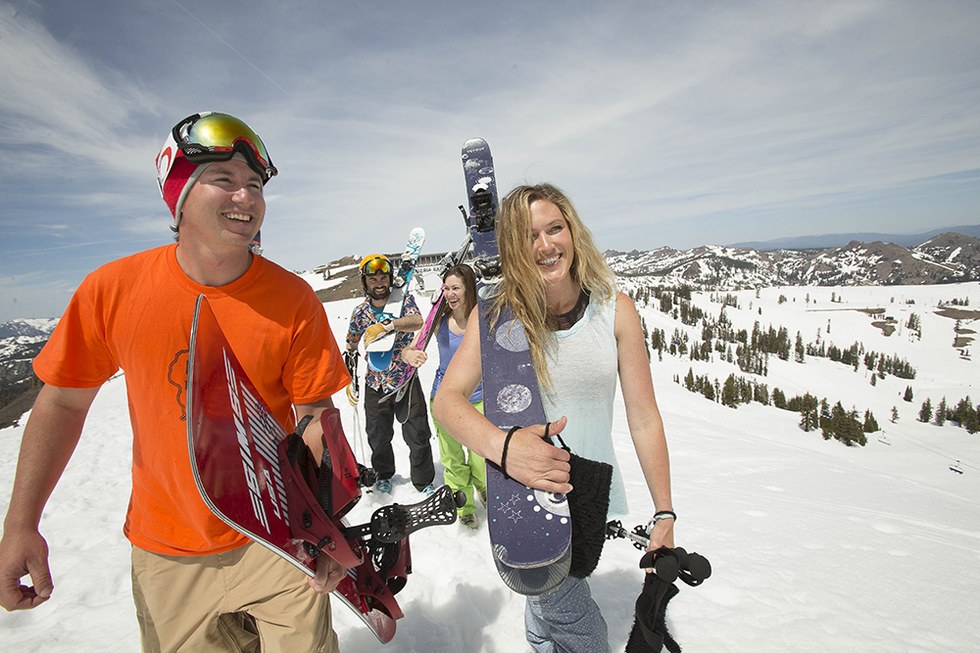 Bring your t-shirts for Tahoe spring and summer boarding.North Lake Tahoe
Heavenly on the south shore has a season total of 600 inches on its 4,800 skiable acres. If you are a beginner boarder, start at Groove with its smaller rails and wedges or just play all day on the tubing hill. Whether or not you are able to get your snow legs, you can try out your sea legs on the Tahoe Bleu Wave. This luxurious, 70-foot yacht features winter and spring lunch cruises to Emerald Bay.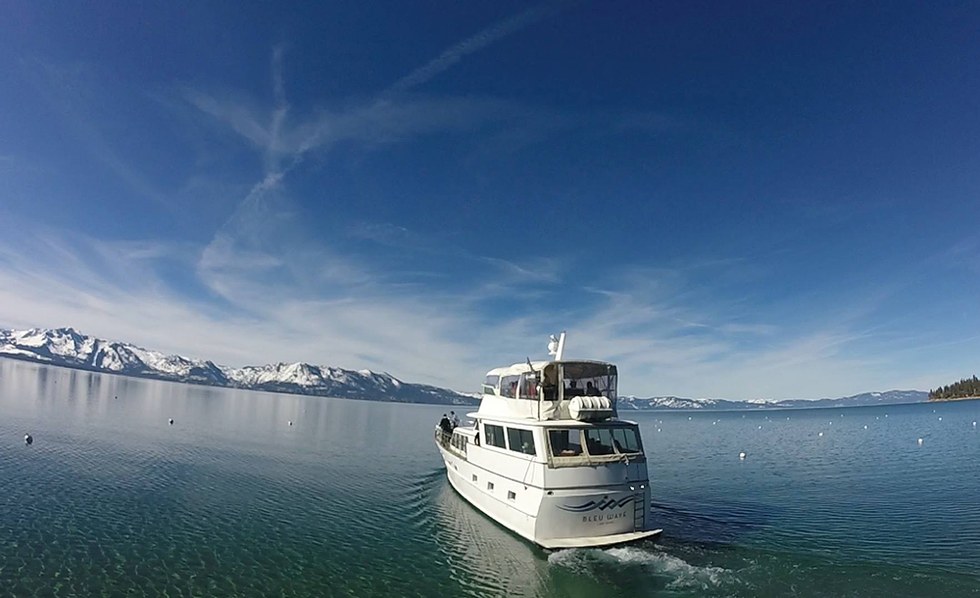 The 70-foot Tahoe Bleu Wave sails to every part of Lake Tahoe.Tahoe Bleu Wave
If that chilly wind picks up, south shore's newest Joie de Vivre hotel, Hotel Becket, features indoor hot tubs, sauna, a private beach and Remington, the resort's Bernese mountain dog who is happy to meet other pets. For dinner, enjoy the $1 happy hour at Ten Crows BBQ (use the Facebook phrase of the day to get the $1 deal) or the summery organic cream soda and root beer at Moonhouse BrewHouse.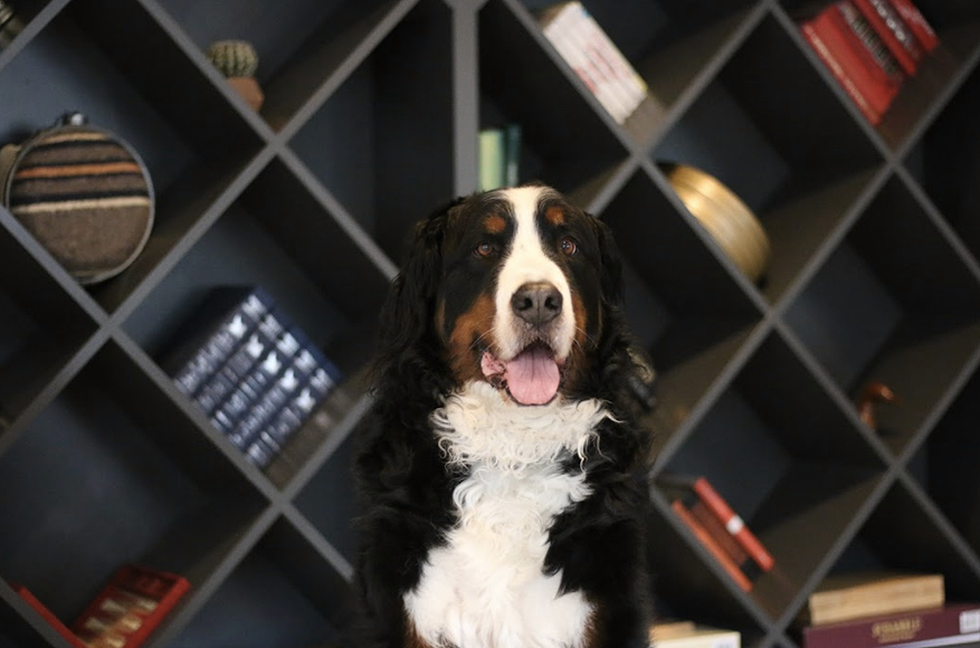 Meet Hotel Becket's lobby dog, Remington.Hotel Becket
// Heavenly Lake Tahoe, 4080 Lake Tahoe Boulevard (South Lake Tahoe), skiheavenly.com
// Tahoe Bleu Wave, 300 U.S. Highway 50 (Zephyr Cove), tahoebleuwave.com
// Hotel Becket, 4003 Lake Tahoe Boulevard (South Lake Tahoe), hotelbecket.com
// Moonhouse BrewHouse, 2040 Dunlap Drive (South Lake Tahoe), moonhousebrew.com


West Shore: Snowshoe, SUP + All-Day Pho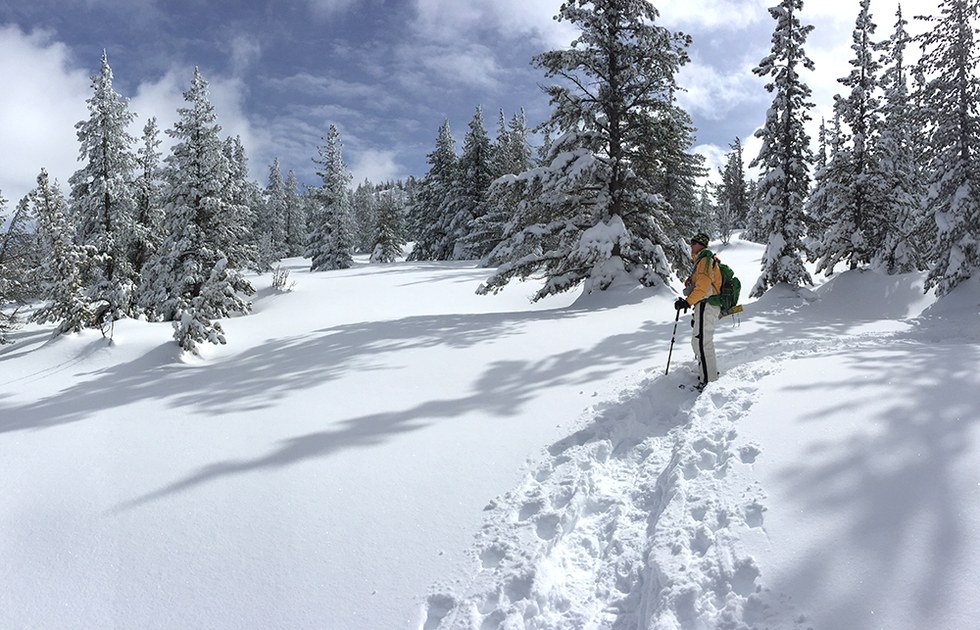 This year snowshoes are a necessity in Tahoe's deep snow.Christina Nellemann
Start your weekend early with a Friday night Sunset Snowshoe Tour with Tahoe Adventure Company. Every Friday evening until April the company will guide you through deep, snowy forests while discussing Tahoe's history. If you miss out on the tours, rent your own shoes at West Shore Sports and tackle the snowy peaks yourself. If you want to experience summer in winter (and don't mind wearing a wetsuit) you can take the Discover Paddleboarding Tour with TAC at the Tahoe Vista Recreation Area or rent your own SUP, single or double kayak from Watermans Landing in Carnelian Bay. While Tahoe never freezes, the lake doesn't fill up with speed boats until July, so while paddling on the clear, cold spring waters of the lake, you will be guaranteed to have it to yourself.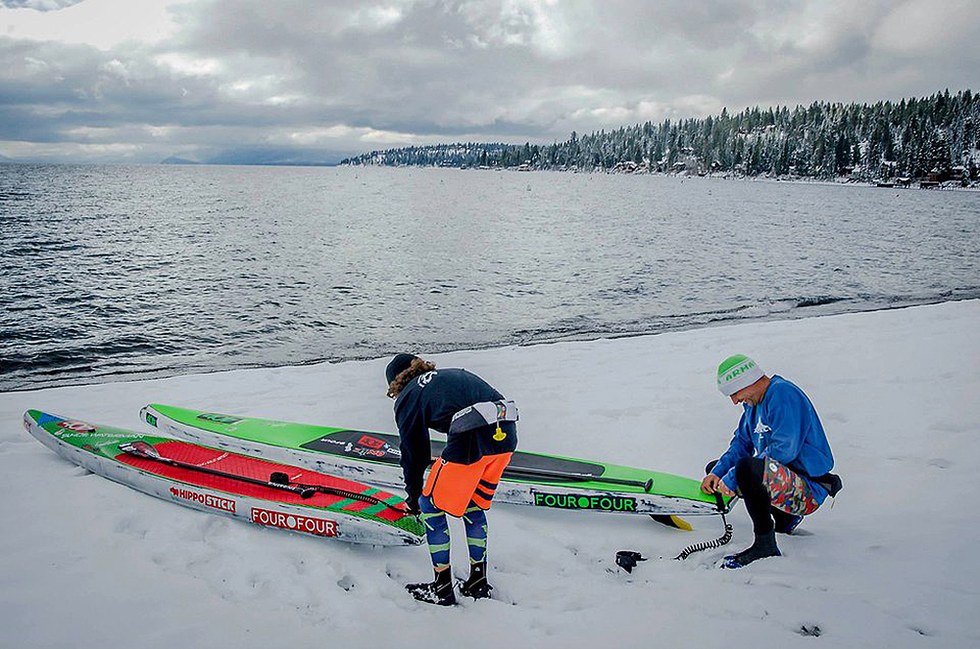 Tahoe never freezes, so SUP is doable in both winter and summer.Watermans Landing
The new Tahoe City Winter Sports Park offers sledding, ice skating, fat-tire biking and cross-country skiing all in one location. For less than $20 rent sledding discs for the single man hill or skates for the lakeside ice rink. The Winter Sports Park also has a pet-friendly snowshoe track and a separate trail for Fat Bike riding. While the lake level snow lasts, these Fat Bike trails will be the smoothest and most unique bike trails at the lake.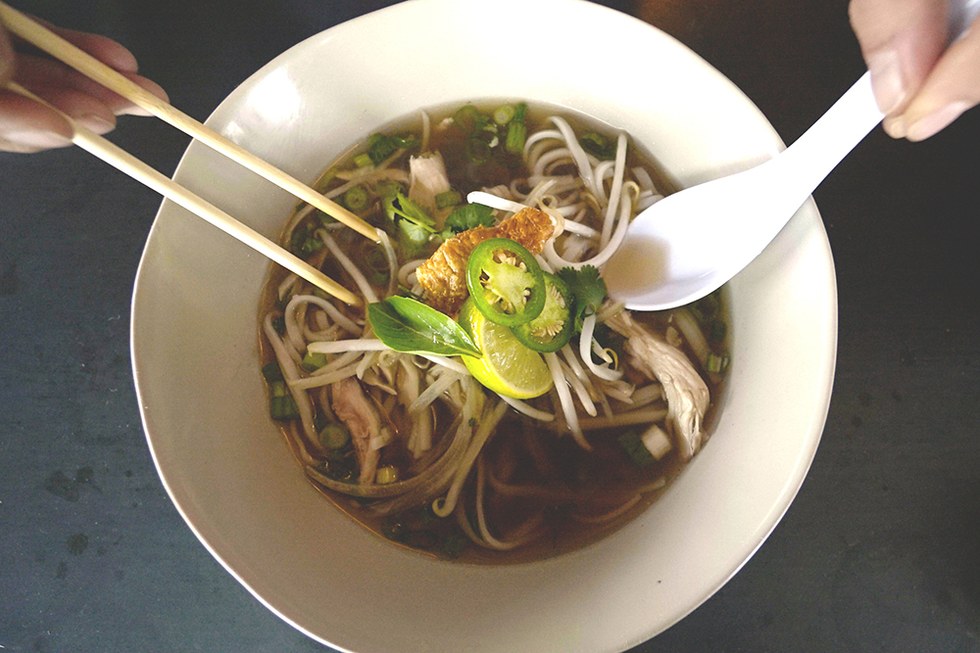 All-Day Pho, Kim Chi Hot Dogs and other Cafe Zenon foods will warm you up after winter sports.Cafe Zenon
After fun at the Sports Park, you won't have to go far for dinner. Check out the newly opened Cafe Zenon right next door. This cozy eatery serves late breakfast, lunch, and dinner. Choose from eclectic delights such as Vietnamese French dip, arancini with arrabiata sauce or the kim chi hot dog with Polish sausage and cream cheese. Finish off the night with wine tasting at Uncorked Tahoe City. For $12, you get three tastings. The Lompoc Pinot Noir of Santa Rita Hills tastes like summer, but will warm up chilled fingers.


// Tahoe Adventure Company, 7010 N. Lake Boulevard (Tahoe Vista), tahoeadventurecompany.com
// Tahoe City Winter Sports Park, 251 N. Lake Boulevard (Tahoe City), wintersportspark.com

// Cafe Zenon, 251 N. Lake Boulevard (Tahoe City), cafezenon.com

// Uncorked Tahoe City, 475 North Lake Boulevard, Suite 151 (Tahoe City), teloswine.com/uncorked-tahoe-city
DON'T MISS A BAY AREA BEAT! SUBSCRIBE TO OUR NEWSLETTER.