Get Your Sea Legs: 4 Spots to Stand-Up Paddle Board in the Bay Area
By
Stand-up paddle boarding is all the rage among tropical vacationers. But turns out, you don't have to go to Hawaii to give it a try. Here are four local places to paddle out.
Just a skipping stone from South Beach Harbor, City Kayak offers paddle board rentals in addition to boats. Take an Intro to SUP class before you decide to go all in and buy your gear. // City Kayak, Pier 40 (Embarcadero), citykayak.com
Snap on your waterproof iPhone case and head east to Oakland where California Canoe and Kayak offers both on-site and takeaway rentals year-round. We really like the variety of lessons on offer here: Get zen in the Oakland estuary with yoga and moonlight SUP classes. // 409 Water St. (Jack London Square), calkayak.com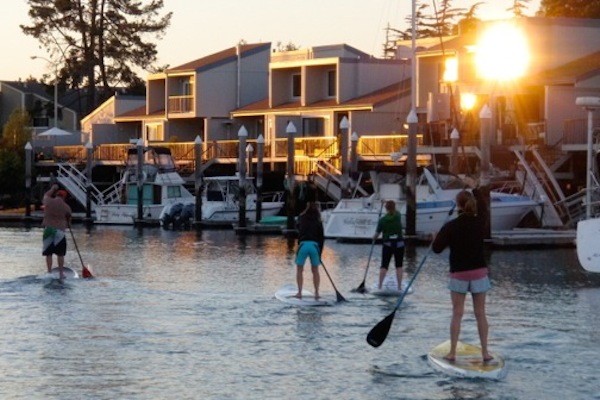 Sign up for the Intro Clinic at Boardsports' Alameda location
Keeping the small-shop vibe alive, the store dog or another seagoer's friendly pup is likely to greet you at one of Boardsports' two Bay Area locations. In Alameda, the larger shop offers onsite rentals and a choice of classes including the Intro Clinic, which helps newcomers stand strongly on their sea legs, with on-site rentals to boot. The SF location is smaller, with takeaway rentals only. Don't forget to bring them back! // Boardsports California, locations in SF and Alameda, boardsportscalifornia.com
An outdoors program of UC Berkeley, Cal Adventures offers classes and private lessons in SUP, in addition to sailing, windsurfing and more. Intro classes are offered on weekends in the mellow Berkeley Marina. Once you fall in love with the sport, Cal Adventures offers two-month and 12-month plans in addition to your hourly needs. // Cal Adventures, 2301 Bancroft Way (Berkeley), recsports.berkeley.edu
--
This post was originally published in March 2016
DON'T MISS A BAY AREA BEAT! SUBSCRIBE TO OUR NEWSLETTER.