Like many of the chefs who shop the Ferry Plaza Farmers Market each week, Bill Corbett, Executive Pastry Chef of The Absinthe Group, uses the seasons to help shape his creations. This time of year, the market is filled with all the veggies that make savory chefs swoon, however, for a pastry chef, this seemingly bountiful season can be more challenging. Winter citrus is slowly starting to wind down, and there are few fresh fruit options beyond cold-storage apples and pears for chefs like Bill to choose from.
Bill is responsible for creating desserts for The Absinthe Group's four San Francisco restaurants— Absinthe Brasserie and Bar, Boxing Room, Arlequin Café and Comstock Saloon. He came to San Francisco five years ago after working his way through kitchens in New York including Anthos and WD-50. Here, he continued to hone his craft at Michael Mina and helped develop the pastry programs for Coi and Plum before taking on his current role at the Absinthe Group.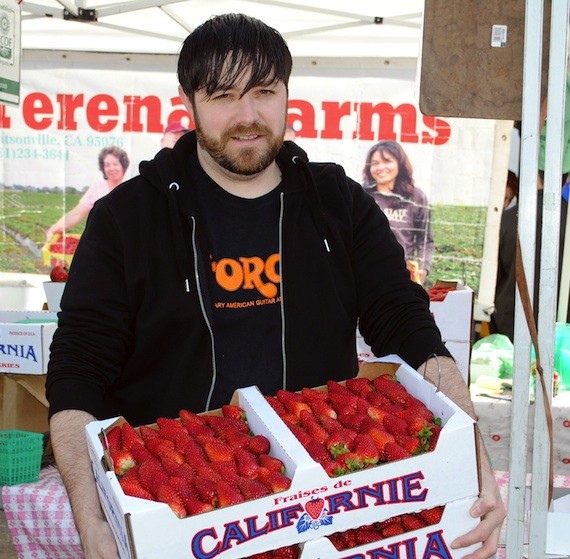 Bill isn't afraid to experiment with savory elements in his desserts—on the current Absinthe menu, you'll find a parsnip cake with buttermilk icing as well as a Meyer lemon tart with a basil meringue. "I try to bring that element of surprise into my desserts to make it more fun for me and the guest," he told me, adding "but I really try to be careful when using savory ingredients. It shouldn't be gimmicky. It has to make sense."
This week Bill had his eyes on some of the first strawberries of the season. "I'm just starting to play around with strawberries right now and figure out how we'll use them on our dessert menus," he told me as he loaded up on flats from Yerena Farms. He will also be incorporating rhubarb onto his menus when it starts to appear at the market in the next couple of weeks. Bill is also already looking forward to his favorite late spring fruit—cherries—which, according to some of the farmers I spoke with this week, should be available at the markets by the first week of May.