If you've ever dreamed of running off to France, Italy or even West Marin to try your hand at cheese making, we have just the thing for you. On April 17, CUESA will once again partner with Urban Kitchen SF for the second in a three-part workshop series focused on cheese. April's class will be led by Louella Hill, aka "The Milk Maid," who will guide us through the ins and outs of making French-style Crottin and Tomino.

Crottin, a traditional farmhouse goat cheese, and Tomino, a creamy cow's milk cheese, are delicious both fresh and aged. When these cheeses are very fresh—a week old or less—Louella tells me they have a flavor and texture similar to chevre or fromage blanc. She says the best way to enjoy them is on your favorite bread with a drizzle of good olive oil. Fresh Crottin or Tomino are also good mixed with a bit of lemon zest and honey, and Louella recommends crumbling this mixture over salad greens or sprinkling on a bowl of English pea soup.

When allowed to age a bit, these cheeses are a delicious in a frittata with caramelized onions and sweet potatoes, according to Louella. Her absolute favorite way to enjoy Crottin? "I like to squish pieces of Crottin against fresh dates for a salty and sweet treat."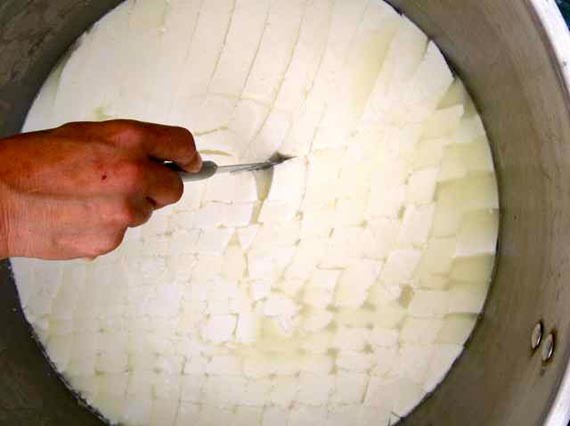 Louella, who has trained at creameries in Tuscany, Emilia Romagna and the Hudson Valley, has taught cheese making all over the country and leads private workshops for small groups throughout the Bay Area. In the CUESA Classroom on April 17, she will guide us through her step-by-step cheese-making process and will discuss aging and flavoring cheeses, as well as some of the best ingredients from the spring farmers markets to serve as accompaniments. Participants will leave with a starter kit, a cheese mold and instructions for making cheese at home.

Tickets for the class are on sale right now and as many of our hands-on classes fill up quickly, you'll want to sign up today. You can also check out The Milk Maid San Francisco to find out about hosting a cheese-making class of your very own or sign up for the CUESA e-letter to find out about future classes and events.