Chef Jason Fox has been shopping at the market since his days as Executive chef at Bar Tartine. Late last summer he opened Commonwealth with partner and Mission Street Food co-founder, Anthony Myint and is once again supplying his kitchen with seasonal fruits and vegetables from the farmers at the Ferry Plaza. 

Commonwealth has garnered quite a bit of attention for their prix fixe tasting menu which highlights the best farm fresh products while giving diners a chance to give back. Ten percent of the proceeds from every menu are donated to a local charity. Their current tasting menu, benefiting the SF Food Bank, features Asian pears from K & J Orchards in Winters, CA and baby beets from County Line Harvest of Petaluma. In the six months they have been open they have donated well over $7000 to charitable organizations including Food Runners, The St. Anthony Foundation and even CUESA, the non-profit that proudly sponsors the Ferry Plaza Farmers Markets.
I joined Jason recently as he selected some late winter produce for his restaurant kitchen and mused about his favorite season, spring. As he tasted pepper cress from Heirloom Organics and picked out citrus from Hamada Farms, Fox told me that what he was most looking forward to tender pea shoots, favas and of course asparagus—the first sign of spring. He's excited to incorporate the tender greens, and bright flavors of spring produce into Commonwealth's menu. While his menu changes from week to week to reflect the season, many items change subtly over time, and are simply adapted to reflect the changes in the market.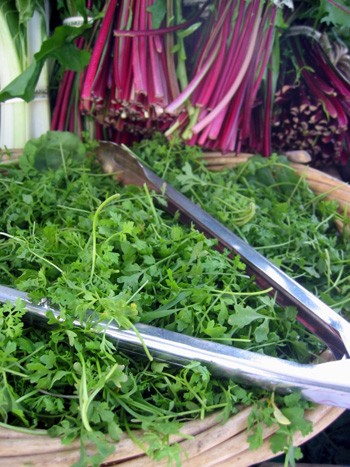 Here's what was on Chef Fox's list this week:

Shinko pears from K & J Orchards
Blood oranges from Hamada Farms
Brussels sprouts from Iacopi Farms
Bloomsdale spinach from County Line Harvest
Savoy cabbage from Dirty Girl Produce