Last Saturday I had the pleasure to shop the market with one of my culinary heroes, Joyce Goldstein. In her long and impressive career, Joyce has written over twenty five cook books, helmed the kitchens at Chez Panisse Café and Square One, been awarded numerous times by the James Beard Foundation and is a founding member of Women Chefs and Restaurateurs. She also counts chefs like Staffan Terje of Perbacco and Mourad Lahlou of Aziza, with whom she has a standing weekly lunch date, as personal friends.

We shopped the market last Saturday, scouting out ingredients for a dinner Joyce was hosting that weekend for some friends and family. On her menu was a traditional Ligurian pasta dish, fried squash blossoms stuffed with fresh ricotta and mozzarella and a gazpacho with warm croutons.

Though her dinner was not until the following evening she told me she would be prepping the squash blossoms right away. "The blossoms are so beautiful today; I'm going to go ahead and stuff them and cover them with a slightly damp towel. Then I can refrigerate them until I fry them up tomorrow," she told me. For the gazpacho she had her eye on juicy tomatoes, like the ones from Balakian Farms. "My kids just love gazpacho, they've been begging me and begging me to make it," Joyce told me.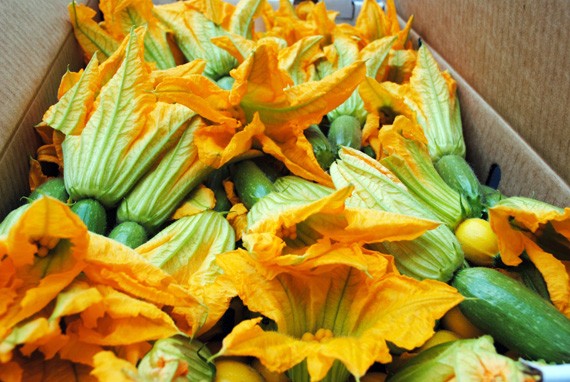 As we made our way through the early morning shoppers Joyce was also looking for juicy, ripe peaches to make homemade ice cream with for dessert. She stopped to taste varieties at several farms before deciding upon the O'Henry's at Frog Hollow.

Joyce will be back at the market this weekend to demonstrate her recipe for pesto and two ways to use it, including the Ligurian pasta dish she was creating for her guests which includes fresh Tagliarini pasta from Pasta Shop, Marble potatoes from Little Organic Farm, and Haricot Vert in a basil pesto made with the Genovese basil variety from Dirty Girl Produce. Join her in the CUESA kitchen this Saturday at 11 am to learn how to make her recipe for this summer staple and hear about the new book she is working on
about the history of California cuisine.