CUESA's Market to Table programs have returned to the Ferry Plaza Farmers Market, and each month we pick a seasonal item to feature and celebrate. At our Citrus Celebration this Saturday, February 16, we're showcasing all things citrus, from pomelos to lemons. Come down to the market for a day of tasting and cooking with these winter delights.

We'll kick things off in the CUESA Classroom at 10 am with a citrus tasting, including blood and navel oranges, grapefruit, mandarins and more. In addition to sampling raw citrus, our friends from Cremeux Ex Machina will be offering tastes of their from-scratch, California-style gelato in flavors like Page Mandarin, Ginger Citrus and Meyer Lemon.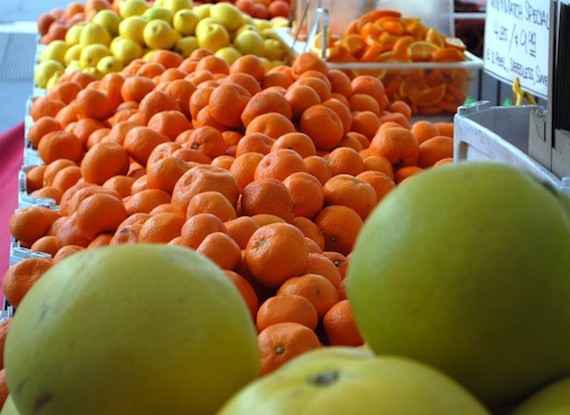 At 11 am, we'll be joined by Chef Joel Baecker of Pizza Politana and Chef Alejandro Morgan of Lolinda, who will demonstrate two citrus-inspired recipes. There will also be a photo booth open from 10 am until 1 pm to capture your best orange smile. All activities and demos take place in the CUESA Classroom (under the white tents in front of the Ferry Building) and are free to the public, with recipes and samples for all.

The celebration continues on Saturday, February 23, as we partner with Urban Kitchen SF for a hands- on Food Crafting with Citrus class. From 2:30 pm until 4:30 pm in the CUESA Kitchen, Shakirah Simley, Community Coordinator and "Canner in Residence" at Bi-Rite Market, will lead the class in creating two unique citrus concoctions—Spiced and Sweet Kumquats and Seasonal Citrus Salts. Citrus-based cocktails will be served at the class as well, and participants will leave with a jar of each item, along with recipes and a starter kit consisting of base salts, spices and citrus peel to help them get started making their own citrus creations at home. Sign up here.