This holiday season, you can give the gift of good food while also supporting local farmers and food artisans. As the days turn cold and rainy, farmers market vendors count on loyal customers to help sustain their businesses year-round. At the Ferry Plaza Farmers Market, you'll find the makings for wholesome winter feasts, along with unique gifts that nourish the body, the earth and the local community.

This year we've compiled some gift ideas from our farmers and artisans, perfect for goodie baskets, stocking stuffers and host gifts. Check out CUESA's Holiday Gift Guide for inspiration. We also have Ferry Plaza Farmers Market canvas bags and aprons, which make great stocking stuffers. For that specialsomeone who is passionate about good food but doesn't want more stuff, consider making a donation to CUESA on their behalf to support our local food system.

You can also delight your friends and family by letting them choose their own delicious gift with Farmers Market Gift Coins. Gift coins work like a gift certificate, have no expiration date and can be redeemed at any Ferry Plaza Farmers Market stand. They are conveniently pre-packaged in $25 boxes and $10 bags but they are available in any amount.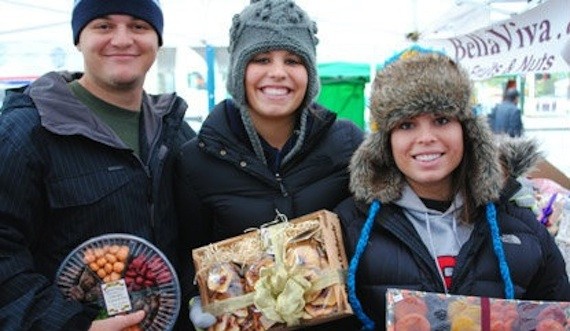 The winter farmers market also offers many seasonal specialties to make your holiday celebrations festive. Deck the halls with locally and sustainably grown holiday wreaths, garlands and bouquets from Cypress Flower Farm, Devoto Gardens, Four Sisters Farm and Thomas Farm. Keep your eyes peeled for seasonal products such as Christmas cake from June Taylor Company, soy nog from Hodo Soy Beanery, Christmas hams from 4505 Meats, and candied nuts in flavors like egg nog and pumpkin pie from G. L. Alfieri.

The winter market is abundant right now with persimmons, apples, citrus, dried fruit, cheese, nuts and artisanal products like pickles and jam—all of which are perfect for party platters. Looking for more ideas on what to serve up on Christmas day? Check out the winter recipes on the CUESA website for a little inspiration.

The Ferry Plaza Farmers Market will be closed on Christmas Day (Tuesday, December 25) and New Year's Day (Tuesday, January 1). Except for those dates, our regular market schedule continues throughout the season (Saturdays from 8 am to 2 pm; Tuesdays and Thursdays from 10 am to 2 pm).