Despite its slow and bumpy start, the summer season is going strong. The dry farmed Early Girl tomatoes are finally available from Dirty Girl Produce, the Gravensteins and other early summer apple varieties have arrived at Devoto Gardens, and Happy Quail Farms has its signature piles of colorful peppers. Summer is finally in full swing.
This Saturday farmer John Lagier of Lagier Ranches in Escalon will return to market with one of my summer favorites—the Bronx grape. John's farm is one of only three in the United States that are growing the Bronx, a variety which was developed in 1933 at Cornell University. These nearly pearlescent grapes have a heady, floral fragrance and a flavor that is the perfect balance of sweet and tart. John tells me that the Bronx grapes will only be available for about three weeks so you'll need to act quickly before they're gone for the year. He also plans to start picking the first paw-paws of the season in the next couple of weeks.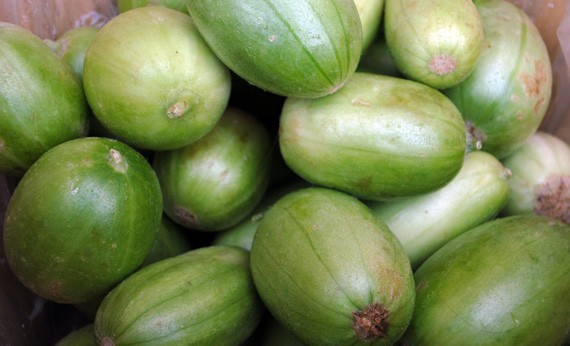 Also unusual and delicious at the market this month are the Caroselli cucumbers from La Tercera. The Caroselli is an Italian variety that is actually a hybrid of the melon and the cucumber. The Caroselli's outer skin is slightly fuzzy and the cucumber itself has a slightly sweet flavor—making it perfect for snacking. Farmer Annabelle Lenderink of La Tercera will have these tasty little cucumbers (a favorite of chefs like Michael Tusk of Quince) every Tuesday for the next couple of weeks.

Fresh peanuts are another treat you'll find this time of year at the market. The Mouas of Fresno-based Chue's Farm tell me they should have them at their Tuesday and Saturday booth by the end of the month.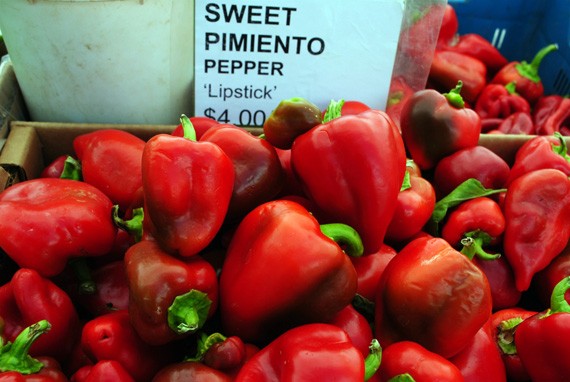 Here are some of my late summer favorites available now or coming soon to the Ferry Plaza Farmers Market:
• Lipstick peppers from Everything Under the Sun (Tuesdays, Thursdays and Saturdays)
• Musk melons from Payne Family Farm (Saturdays)
• Flavor Grenade pluots from Tory Farm (Thursdays and Saturdays)
• French prunes from Glashoff Farms (Tuesdays and Saturdays)
• Korean hot garlic from Thomas Farms ( Thursdays and Saturdays)