This month, the CUESA staff is gearing up to kick off our new fundraising event, The Summer Celebration, on Sunday July 10th. The event will be a labor of love for many of the chefs who will participate and Staffan Terje of Perbacco and Barbacco eno Trattoria is no exception. Staffan is one of five chefs who have generously agreed to sit on the planning committee for the event.

"When you work as a chef you're always asked to get involved in various charity events," he says. "Our busy schedule means we can't help everyone. When you give your time it should go to the organizations that mean the most to you and CUESA is one of them for me."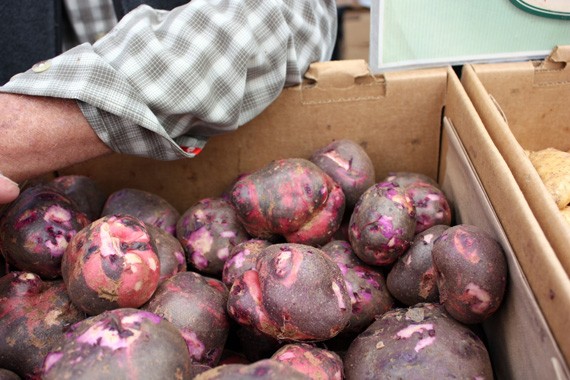 I caught up with Staffan at the market this week and asked for a sneak peek of what he had in store for us on July 10th.  He told me that he's planning a salad using local house-cured anchovies, some beautiful new potatoes, and fresh herbs like the ones he was picking up this week at the White Crane Springs Ranch booth. "I'm from Sweden so I love pickled fish and I'm pretty passionate about my potatoes," he told me. Staffan says the potatoes you see at markets or grocery stores labeled "new" are often just really small potatoes that have been harvested and cold stored. True new potatoes, he explained, should have a soft feathery skin that rubs off when you touch it. He's particularly fond of the first of this year's crop from Heirloom Organic and the combination of cured anchovies and sweet, freshly harvested new potatoes taste just like summer in Sweden to him.

In addition to Staffan's salad, the reception will feature over 35 bits and bites inspired by the summer market from some of the Bay Area's best and brightest chefs. Bartenders from a wide range of bars and restaurants will also be creating cocktails especially for the evening. Expect the best from Rye, Americano, Cantina, Range, Elixir, Bourbon and Branch and the newly opened Churchill. Other drink options will include Magnolia Brewery's Kolsch style beer and selections from over eight local wineries.

Tickets for the Summer Celebration will directly benefit CUESA's educational programs including our free weekly cooking demonstrations, hands-on classes, farm tours, panel discussions and the new Schoolyard to Market Program that will be expanded for the 2011-2012 school year. Tickets are still available and more details about the event can be found here.