By
Phil West, executive chef and owner of Range shopped the market this week with his pastry chef, Michelle Polzine, in tow. When I caught up with the duo they were gathering up the last remnants of spring, thinking ahead towards incorporating a little early summer on their respective menus and sampling cherries at Frog Hollow Farms.

As Phil shopped, he focused in on spring shoots, radishes, and early peppers. Also on his list this week were fresh horseradish, wild arugula, romaine hearts, lemon verbena and sprouts. The sprouts, which he picked up from Brooks and Daughters, would be used to garnish a ricotta dumpling dish on his menu. "Right now I'm using Mung bean and radish sprouts because they contrast nicely and add a bit of spiciness," he says, "the sheeps milk ricotta we use is so rich, it needs a little brightness and crunch."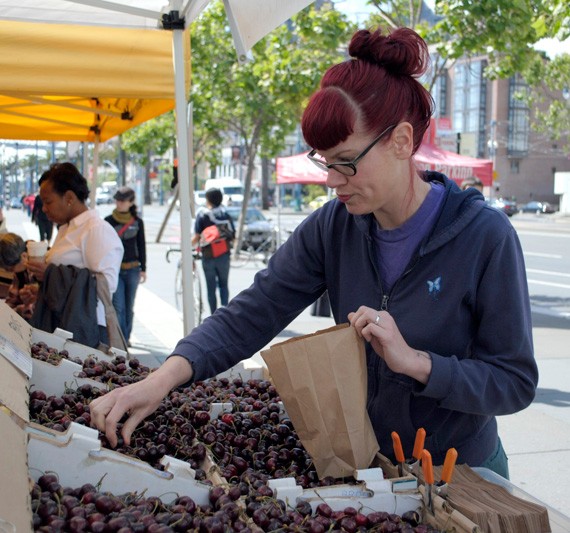 While Phil scouted for items for the savory side, Michelle had her eyes on blueberries and stone fruit, including some early Flavorosa pluots from Blossom Bluff Orchards. While there she also picked up Crimson apricots, May Crest peaches and peach leaves. She had ordered the leaves specially and described her favorite ways to use them. "I make ice cream with them a lot and sometimes use them to infuse whipped cream," she said. This week's  leaves will flavor a panna cotta to accompany the cherries she had scored. "It's just the best flavor," Michelle gushed, "A little almondy and a little herbal. I love it."

As they finished their shopping and loaded up the car, Phil and Michelle started thinking ahead to summer. They're looking forward to the many pepper varieties from Happy Quail Farms, corn (especially the peaches and cream variety from farmer Ed George of The Peach Farm), and the return of plums from Tory Farms.
DON'T MISS A BAY AREA BEAT! SUBSCRIBE TO OUR NEWSLETTER.