Tired after a long day behind a desk? Craving an after-work pick me up? Well, you're in luck, because there's a new Industry Night at Parallel 37, which will take place every Monday from 7 to 10 pm.
There are a ton of specials on the new "Insider's Menu" (just ask for it by name!) that hospitality professionals will love. It showcases playful twists on some of the restaurant's most popular menu items at special prices. Dishes include Chef Michael Rotondo's renowned Steamed Bun with crispy chicken feet ($6), General Tso Sweetbreads with cabbage and fried rice ($10) and the burger ($12) with untraditional add-ons such as a crispy pig ear, kimchi and three-day braised short rib ($1.50 each).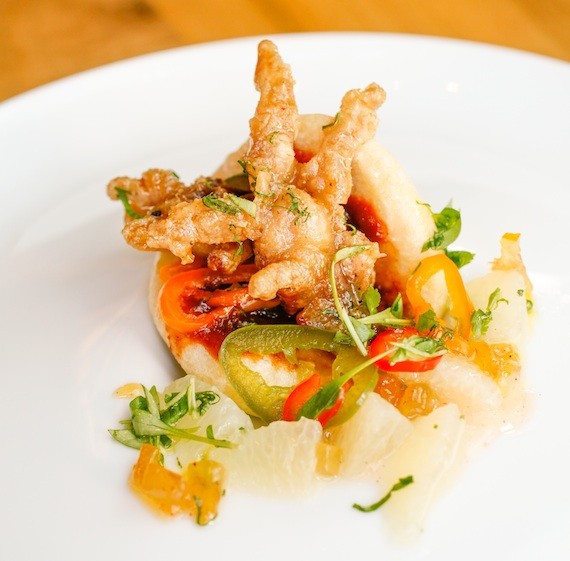 Steamed bun with crispy chicken feet, photo by Michelle Walker
There is also a section of the Insider's Menu called "Off the YAK," which includes bites prepared on a yakitori grill such as Chicken Wings ($3 each), Spare Ribs ($3 each) and Trumpet Royal Mushrooms ($4 each). The Insider's Menu drink specials from star bartender Camber Lay will include her choice of two signature cocktails, like the Bar Fly (Templeton rye, benedictine, poblano peppers, vanilla and lemon), or the Fatally Yours (Death's Door vodka, Commonwealth, blood orange shurb, and soda) for only $8 each.
As if that's not enough to get you through the door, Parallel 37 is unveiling its brand new happy hour every Monday through Friday fro 3:30 pm to 6:30 pm, so stop by after work to experience some of the best food and drinks in the city at bargain prices.