By
Originally published on CaliforniaHomeDesign.com
Truth be told, interior designer John K. Anderson did not want to live here. The designer and his partner vocalist Jimmy Kansu were trying to buy, but were outbid on the property he really wanted. "It was crushing," Anderson says. "When Jimmy suggested we move to the Sunset, I was really against it. I told him, 'I do not want to live there.'" But the designer was seduced by the charm of this prewar home when they stumbled on it. "It's large, it is on a pretty block and has a lovely lawn," he says. "I was hooked."
"The first thing we did is paint the walls chalk white," says Anderson, principal at John K. Anderson Design. "Then we got rid of the vertical blinds." In the living room, the designer applied his love for mixing styles, marrying 1937 architectural details with midcentury furniture, art and accessories. When it came to decorating around a corner fireplace, Anderson chose to give it the silent treatment. "I centered the 8-foot-long sofa on the windows," he says. "And I put a swivel chair in front of the fireplace. When I want to enjoy the fire, I turn the chair."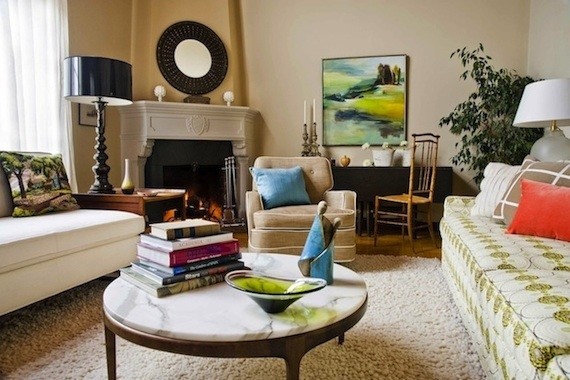 Click here for more details on this amazing Sunset home!
DON'T MISS A BAY AREA BEAT! SUBSCRIBE TO OUR NEWSLETTER.