Ike's blew up and made front page news. Pal's Takeaway has a fancy guest chef series. The Sentinel's got lines out the door. Everything's artisan this and organic that now. What happened to an old school, hand-cut hot pastrami sandwich so good it will give you the meat sweats? I criss-crossed the city in search of the kind that could make an NFL linebacker full and here's what I found:
MILLER'S EAST COAST DELI, pictured above. (Polk Gulch)
1725 Polk St., 415-563-3542
A place with plenty of East Coast pride and quite the cult following, their gigantic menu boasts that they serve the best pastrami on the West Coast. It was, in fact, the best of the bunch.
Meat to bread ratio: Perfect. The melt-in-your-mouth meat with a vivid pastrami taste was exquisitely tender with just the right amount of fat and a nice crunch to the bread.
Accoutrements: Swiss cheese ($0.99 extra), hot mustard, kaiser roll.
Toasted? Yes.
YELLOW SUBMARINE (Inner Sunset)
503 Irving St., 415-681-5652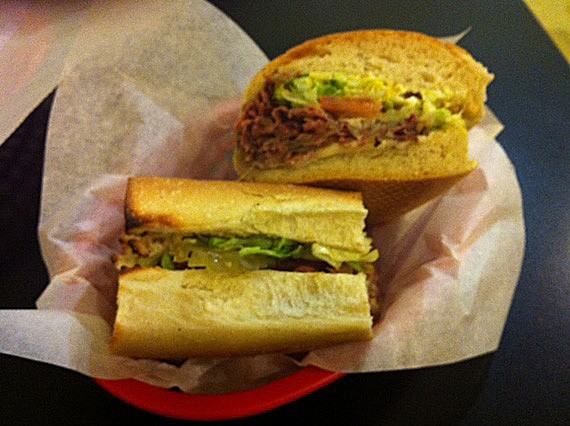 A family-run shop for decades (the tiny matriarch put my sandwich together herself), this is a sleepy corner spot with customers who've stayed fiercely loyal for just as long. Their sandwiches are cheap and they make their own french-fried potato chips.
Meat to bread ratio: Good. The lean, fresh pastrami was served piping hot off the grill and peppery, but it didn't balance out with the perfectly toasted bread.
Accoutrements: Lettuce, tomato, onion, Swiss cheese, hot sauce, pickles, french roll.
Toasted? Yes.
ROXIE FOOD CENTER (Excelsior)
1901 San Jose Ave., 415-587-2345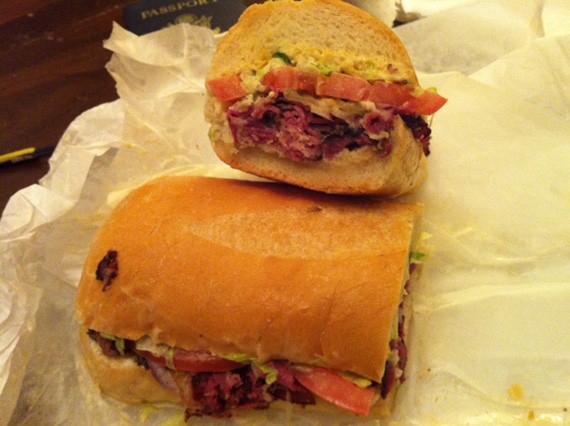 Call this the original Pal's Takeaway or Rhea's Deli; it's a quality sandwich joint (renowned for their Dutch Crunch) tucked in a liquor store you'd never know was there if it weren't for the hype. Their sandwiches are huge.
Meat to bread ratio: Fair. The large bun was toothsome and felt like an intruder next to the gamey pastrami and ultra melty Swiss cheese. I was left wanting more pastrami and less bread.
Accoutrements: Swiss cheese, red onion, jalapeños, lettuce, tomato, mustard, mayo, french roll.
Toasted? No.
MOISHE'S PIPPIC (Hayes Valley)
425 Hayes St., 415-431-2440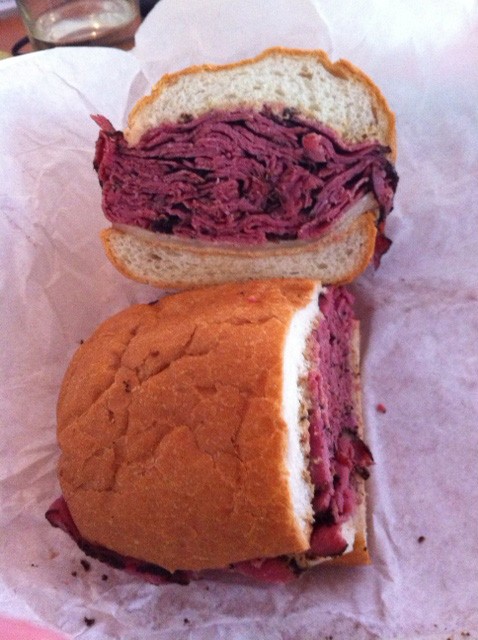 This Chicago-style deli's owned by a Brazilian, but no matter. It's still ground zero for no-nonsense meat lovers, matzo ball soup and Cubs fans searching for hot dogs swimming in mustard and sport peppers. Just come with an empty stomach.
Meat to bread ratio: Intense. The mountain of hot pastrami was perfectly marbled, flecked with black pepper and surprisingly supple. The bun wasn't toasted, yet its softness balanced with the meat quite nicely.
Accoutrements: Swiss cheese, spicy mustard, french roll.

Toasted? No.
M & L MARKET (Castro)
691 14th St., 415-431-7044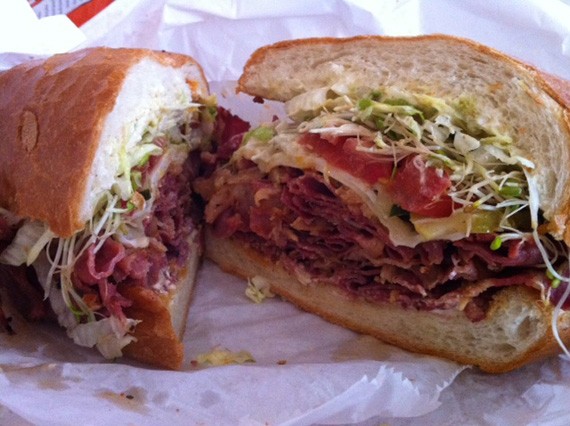 The lines here are hefty, so patience and promptness are key. The mother-daughter-brother team who run M & L don't deal with attitudes; you order your sandwich their way or else. Their secret to mouth-watering pastrami? They steam it in its own juices in rice cookers all day for maximum meaty flavor.
Meat to bread ratio: Just right. The pastrami was quite fatty and tasted extra meaty because of the cooking method––almost like bacon. The bread soaked up the condiments and grease in a delightful way. Overall, a pretty sinful sandwich.
Accoutrements: Lettuce, tomato, sprouts, Swiss, mustard, Best Foods (!) mayo, french roll.

Toasted? No.
Where do you like to go for your deli sandwiches? Tell us in the comments!