This May, the SF Burrito Project celebrates its one year anniversary of nourishing San Francisco's most vulnerable communities with a city favorite: burritos. To date, they have given out more than 3,000.

"Burritos are a perfect vehicle to deliver nutritious, affordable meals," says Eric Tuvel, one of the SF Burrito Project's five committee members. The vegan burritos made by the SF Burrito Project are chock full of wholesome ingredients that many homeless have limited access to such as legumes, whole grains and vegetables.
---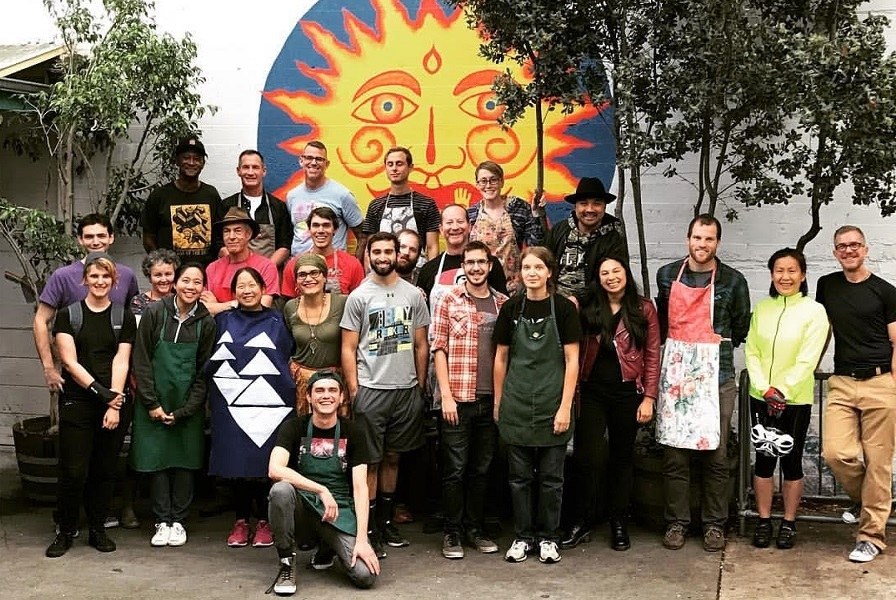 Some of the SF Burrito Project's over 300 volunteers and follower. (Courtesy of the SF Burrito Project)
Each month, 20 to 30 benevolent burrito makers prepare 400 burritos at their home base at the Martin de Porres House Foundation in Potrero Hill. Along with the support of other local clubs, nonprofits and businesses such as the SF Cycling Club, PUBLIC Bikes, the SF Bicycle Coalition and the SF Bike Party, volunteers then distribute the sustenance to homeless in the Mission, Potrero, SoMa and Civic Center neighborhoods.
It costs the SF Burrito Project less than a dollar to make each burrito. So far, the generous gifts of donors, volunteers and of local markets and restaurants such as Puerto Alegre, Gus's Market and the Mission Bowling Club keep them going but, according to Tuvel, the Project is in the process of securing 501c(3) sponsorship so that they can expand their funding opportunities.
"I think this project is not only helping the community living on the street by providing meals but also helping to change the perceptions of our volunteers about homelessness," Tuvel continues. Burrito projects with similar goals have popped up in Los Angeles, Portland, and even Ft. Lauderdale, FL in the last few years. More than 30 cities across the country now run their own community-based version.
Back in San Francisco, more than 300 people have participated in a Burrito Project event or stay up to date by following its progress on social media. "We know there are bigger problems that need to be addressed," says Tuvel. "But we are trying to do something simple to help make someone's day a little better."
The SF Burrito Project meets on the last Monday of each month at the Martin de Porres House Foundation at 4 p.m. to prepare and assemble burritos. Distribution begins at 5:45 p.m. To volunteer, email project organizers at info@burritoprojectsf.org. // 225 Potrero Ave (Potrero Hill), burritoprojectsf.org