By
Yurts are traditionally found on the vast steppes of Mongolia. But perched high above the Pacific Ocean, in California's own Big Sur, the quirky Treebones Resort offers all-yurt accommodations—though the Mongols wouldn't recognize the polished pine floors, queen-sized beds, and cozy quilts to keep you warm. All yurts feature wooden decks from which you can watch the water churn below.  And the large communal hot tub overlooking the ocean is a nice way to warm your bones while watching the sun sink below the horizon. If you're inspired to explore, Treebones' homemade guidebook offers detailed information on nearby hikes and beach walks. One favorite local pastime is jade-hunting along Jade Cove. The stretch of beaches from Willow Creek to Sand Dollar Beach is prime for collecting the green, semiprecious stones. Jade or no jade, the setting itself is a gem.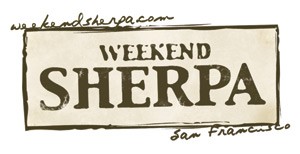 For directions and more information on staying at Treebones Resort, click the link. Subscribe to Weekend Sherpa's free weekly email about accessible outdoor adventures in Northern California.
DON'T MISS A BAY AREA BEAT! SUBSCRIBE TO OUR NEWSLETTER.