With countless weddings, lawn parties and barbecues to attend, who can afford to wear a new designer look to each event?
Our secret is consignment. Buy mint-condition pieces for a discounted price, sell your next-to-new goods, and sometimes even help a great charity. Check out these seven must-shops in San Francisco.
---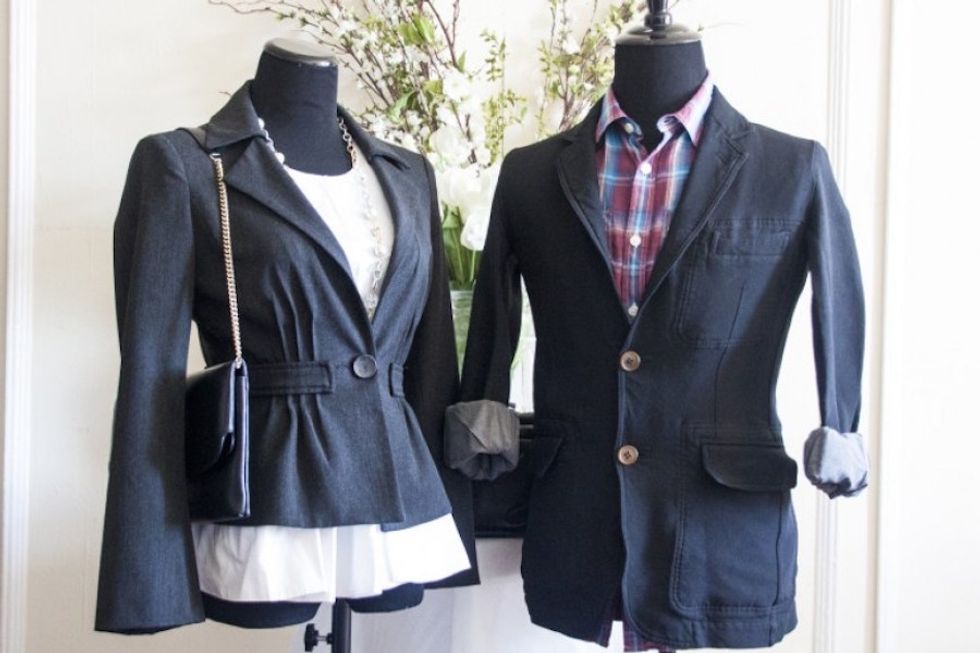 (Courtesy of Goodbyes
Head here for designer finds at affordable prices. Snag a pair of Gucci shoes or an embroidered spring coat, all in near flawless condition.
How it consign: Items require a minimum of a $100 resale value and will be held for 60 days; Goodbyes offers a 50/50 split 50/50 on the selling price. On items priced $500 or more, you'll receive 70 percent of the selling price.
Hot right now: A Louis Vuitton Keepall 60 Monogram, priced at $855.
// 3483 and 3464 Sacramento St. (women's) and 3462 Sacramento St. (men's), Presidio Heights, goodbyessf.com
Known for their collection of luxury handbags, as well as jewelry and accessories, Fashionphile carries the big brands—Chanel, Celine, Saint Laurent, Versace, Lanvin.
How to consign: Submit details and photos of your items online to receive a buyout price quote. Then, you'll receive a free FedEx U.S. domestic ground shipping label to send your item in. Payment is processed the next business day upon receiving and authenticating your bag or bauble.
Hot right now: A pretty pink alligator Chanel purse with CC Mademoiselle turn lock, priced at $10,795.
// 19 Maiden Lane (Union Square), fashionphile.com
A lovely consignment boutique brimming with modern designer clothing, accessories, shoes and leather goods for a third of the original retail price. Cris always has a large selection of Chanel, with some Lanvin and Hermes thrown in for good measure.
How to consign: Go during their buying hours (2-5pm Wednesday through Friday, and Saturdays by appointment), price each piece together, leave it in the store for up to two months, and then split the sale price 50/50.
Hot right now: A Balenciaga brown houndstooth coat, priced at $1,760.
// 2056 Polk St. (Russian Hill). crisconsignment.com
This cute little shop features a wall of handbags hovering over fabulous designer clothing. They carry a lot of Chanel, Gucci, Bottega Veneta and Chloe pieces, and also have everything listed on their eBay shop.
How to consign: Sellers will take home 60 percent of the sale price for handbags and 50 percent on everything else.
Hot right now: A Nicolas Ghesquière–era Louis Vuitton hobo monogram bag, priced at $1,850.

// 3038 Fillmore St. (Cow Hollow),simplychicsf.com
More like a high-end Goodwill than a consignment store, this Fillmore Street shop is a haven for younger, contemporary brands like Juicy and Theory. All clothes are here by donation only—the profits benefit the financial aid program at the Schools of Sacred Heart.
Hot right now: A black St. John a-line dress, priced at $125.
// 2252 Fillmore St. (Pacific Heights), fillmorestreetsf.com/shopping
The pair of Sui Generis stores on Upper Market has long been loved as tres chic destinations for edgy and gorgeous high-designer mens- and womenswear brands including Prada, Phillip Lim and Alexander McQueen, not to mention killer vintage suiting from the likes of Yves Saint Laurent for the guys. Heads up, ladies: The women's shop recently moved to Pac Heights.
How to consign: Schedule an appointment to sell your pieces for an even 50/50. Local designers are also welcome to sell consignment.
Hot right now: An Yves Saint Laurent cream silk peak label pantsuit, priced at $688 for the ladies; and a Thom Browne charcoal brushed cashmere hidden placket notch lapel coat for men, priced at $1,215.
// Women's: 2147 Union St. (Pacific Heights); Men's: 2231 Market St. (Upper Market), suigenerisconsignment.com
With two locations in Berkeley and Walnut Creek, this sleek shop has a plethora of brands to choose from—go for the Marc Jacobs and splurge on the Balenciaga. You'll find apparel, handbags, and accessories.
How to consign: Pop in during regular store hours with your items and receive a detailed inventory pricing list. Payments for sold items are split 50/50 and made every Friday.
Hot right now: A jumbo, vintage black leather quilted Chanel bag with double gold chain strap, priced at $2,248.
// 2629 Ashby Ave (Berkeley), and 1367 N. Main St. (Walnut Creek), labelsluxury.com