---
Up here you may not have heard the word that GQ recently dubbed Venice Beach's Abbot Kinney Boulevard "The coolest block in America." The reality is that Abbot Kinney (AK for short) is more than one block and it's pretty cool. It has everything a shopper and foodie could consume. It runs through historical beach bohemia. Colorful people abound. And, it's summer in Los Angeles—the perfect time for a quick escape south.
If you are in Los Angeles for a limited time, a condensed guide can be handy. After all, not every store and restaurant is a winner for discerning NorCal tastes. Here is a San Francisco transplants guide to Abbot Kinney, with a special added bonus: Recommendations on up-and-coming Rose Avenue, a hop, skip and a cruiser ride from Abbot Kinney.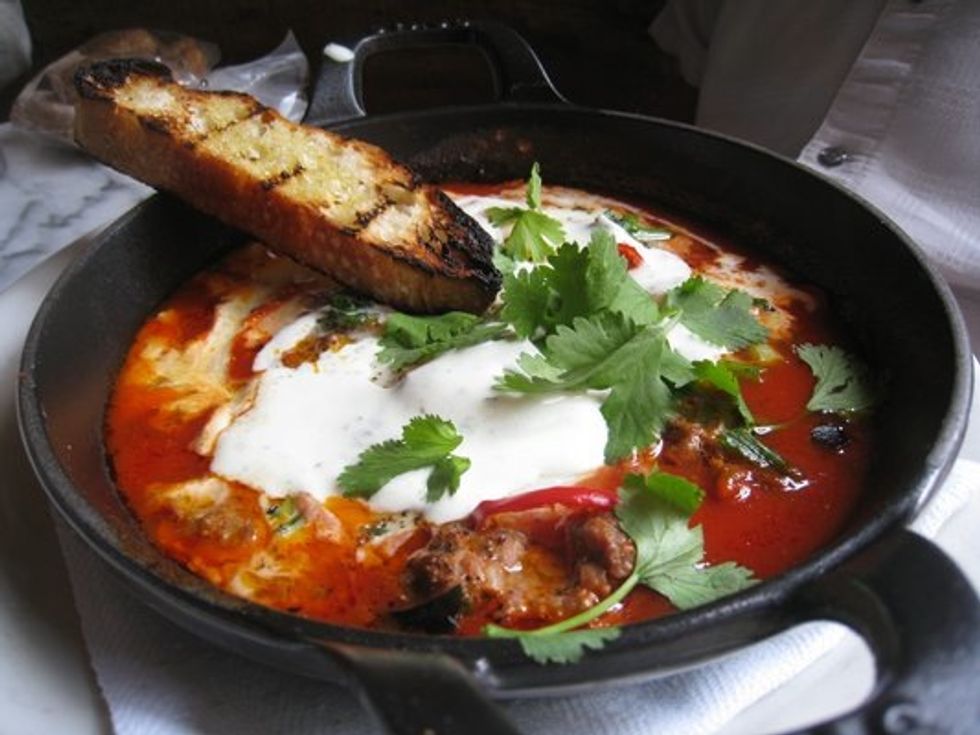 Moroccan Baked Eggs at Gjelina
Eat
Start your sunny day off with breakfast, or in sleepier cases, brunch at Gjelina. A hot spot, the wait is shorter and the service better when dining at Gjelina earlier in the day. Do order a pizza. Another brunch spot is Axe at the far end of Abbot Kinney, heading west, where flavorful organic dishes rule.
For lunch, eat at Lemonade. Share a few of the addictive sides and sip a perfectly sweet lemonade. For a cool down snack, visit N'iceCream for organic sorbet and gelato in intriguing flavors like peanut butter banana and jelly and lemon olive oil.
For dinner, opt for seasonal California cuisine at The Tasting Kitchen or Caribbean fusion with shabby beach ambiance at Sunny Spot. Head over to Rose for a local Latin American twist at Oscar's Cerveteca or visit Superba Snack Bar, a just-opened mod pastaria.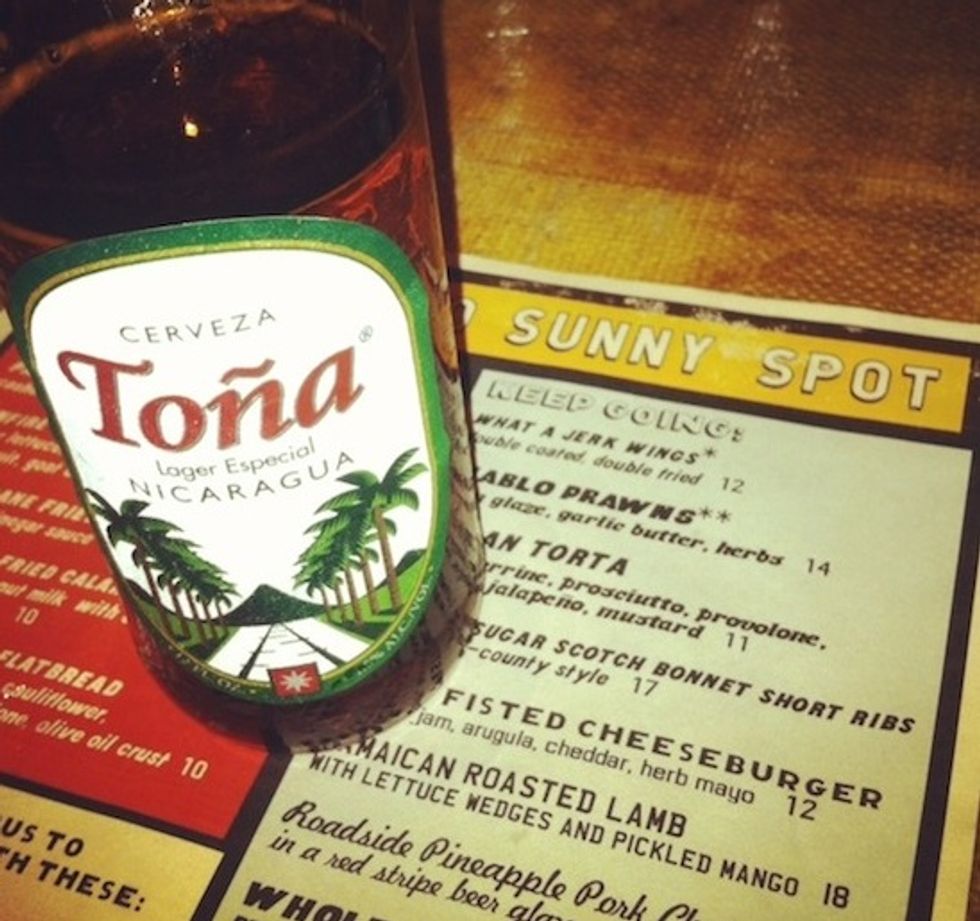 Hard-to-find Tona at Sunny Spot
Drink
You would think the coolest blocks in the country would have plentiful bars but that's the thing Abbot Kinney is lacking. You can always sip and yell at each other at restaurant bars—cheers to the reinvented classics at The Tasting Kitchen—but for drinking-centric spots, grab a beer at the dimly lit The Otheroom or shoot some pool at The Brig. For some mellow wine tasting, head to airy industrial Zinque at the corner of AK and Venice Blvd or Primitivo Wine Bistro and its many happy hours. For wine plus killer food, head back to Rose and have both at the small, but special, Venice Beach Wines.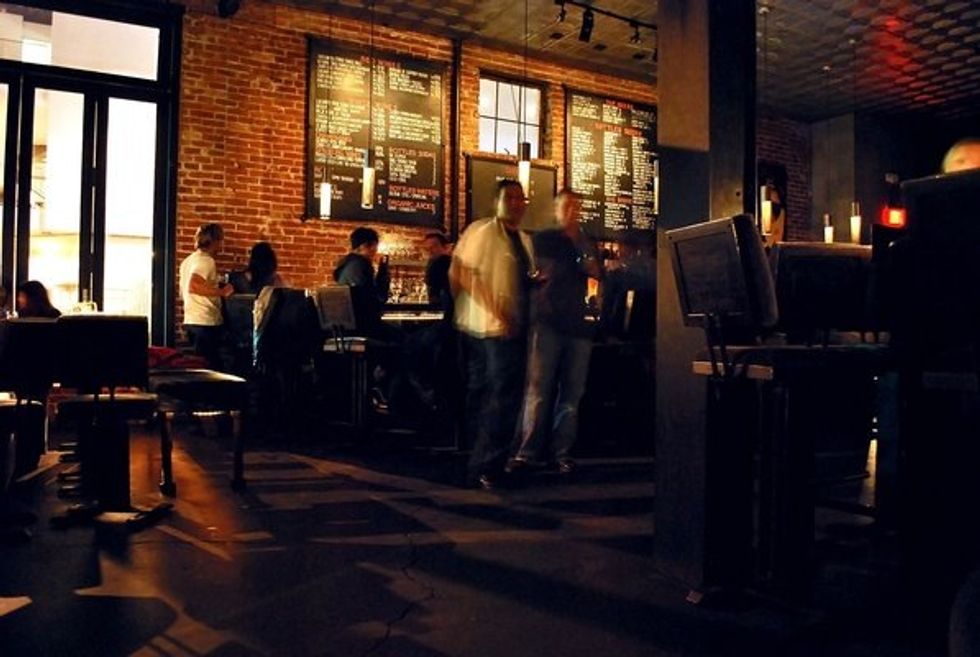 The Otheroom
Shop
True to L.A. form, AK shopping is endless and eclectic. The most dangerous being the art galleries and home décor shops. For sexy SoCal-style pieces, try shoe store Mona Moore and Principessa for wanderlusty separates. Satine is stocked with hard-to-find contemporary designers, while Alternative Apparel is a favorite for cool cotton casuals for men and women. Get lost in Firefly and Urbanic for high design gifts and stationary. Pop into The Modern Dog for a stylish souvenir for furry friends. Most importantly, for all things the life aquatic, peruse the Euro-chic racks at Undrest by the Sea and 585 Boardriders on Venice Blvd—a 10,000 square foot Quiksilver concept space housing all their brands: Quiksilver, Roxy and DC, and all the boards and accoutrements to go with them.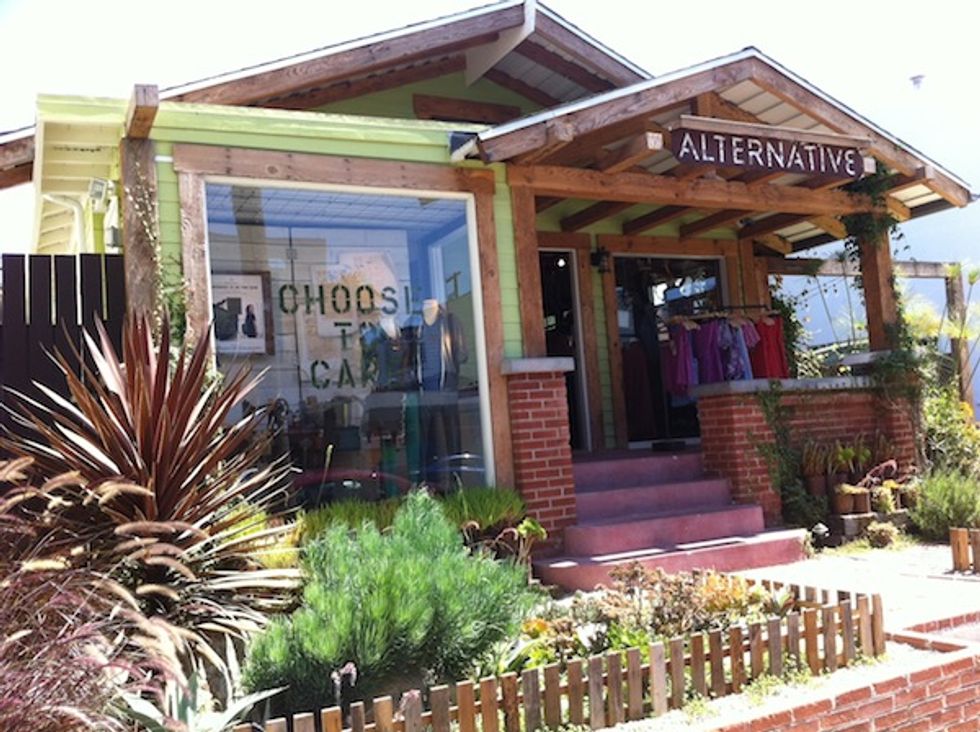 Alternative Apparel chooses to care
Fit
No L.A. visit is complete without health and wellness activities. Round out your eating, drinking and shopping, with exercise, a massage or an organic juice from the moon. Take a yoga or spin class, or both, at YAS, get your isometrics on at The Dailey Method Venice or do a quick Pilates mat or jump class at Turning Point Pilates. Get an authentic Thai massage at Lamai Thai Massage and top it off with a 100% organic juice or smoothie at Moon Juice on Rose. The best way to burn calories and see Venice is on bike—rent a beach cruiser and relish the flat terrain.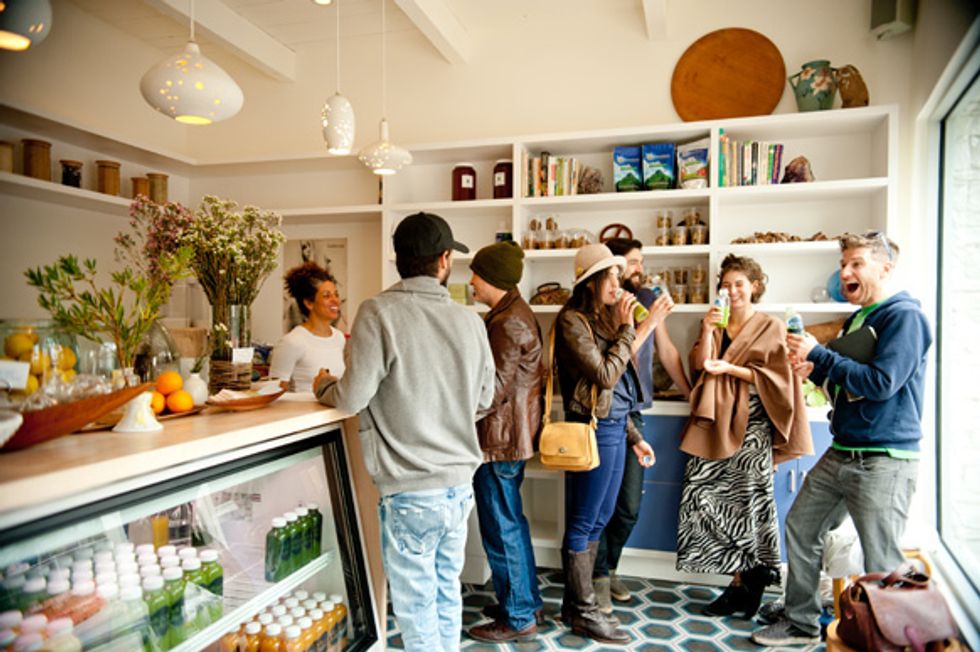 Happy juicers at Moon Juice
A couple extra hours to kill...
If you've heard of Abbot Kinney and it's coolness, you've probably heard of Intelligentsia coffee. The line is like L.A. traffic: Unpredictable. But go and get buzzed with the Venetians. Take my coffee challenge and do a taste test with Intelligentsia alum founded Handsome Coffee served at Deus Ex Machina, a motorcycle/surf/boutique/espresso bar/meeting space on Lincoln.
If you'd rather chill and have tea, enjoy afternoon tea and treats in the breezy outdoor terrace at Jin Patisserie on Abbot Kinney. Just down the block is Strange Invisible Perfumes and Le Labo, two scent boutiques that have teamed together to create AK's "Perfume Commune." If you find yourself with bike fever, make your last stop Linus Bike, a vintage-inspired bike shop that is quintessentially cool Venice.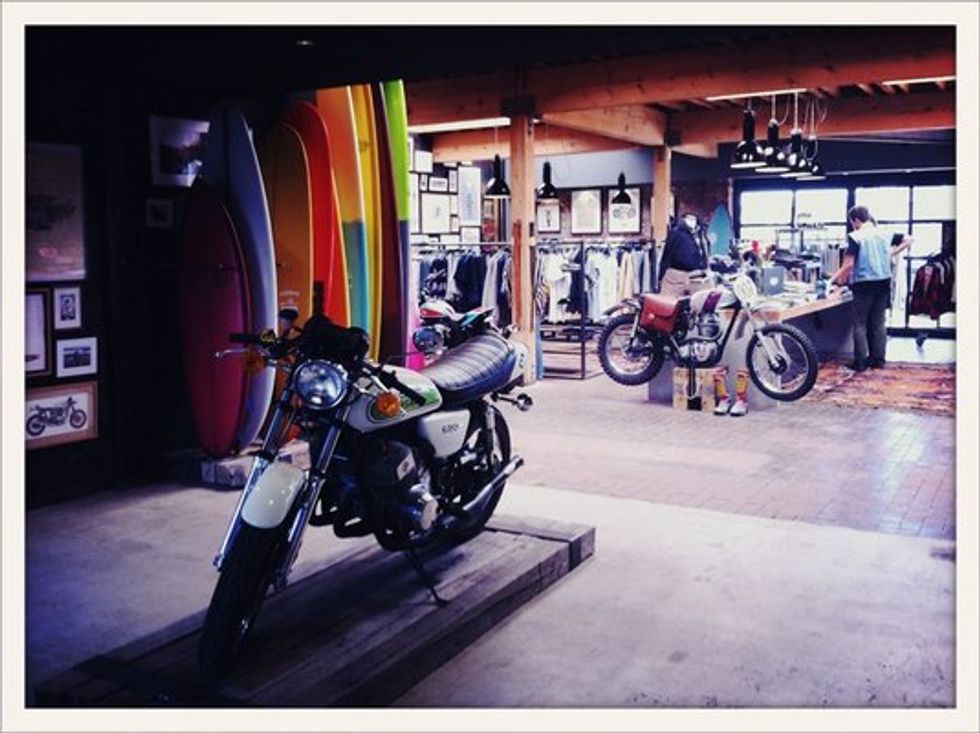 The Emporium of Postmodern Activities, Deus Ex Machina
Sam Durbin (sami.7x7@gmail.com) is a California lifestyle writer who honed her blogging skills as Editor of FabSugar.com. Sam graduated from The Fashion Institute of Technology, and also writes for 7x7 Magazine, Zagat and PureWow.