The natural volcanic hot springs in Calistoga were originally discovered by the Wappo tribe more than 500 years ago; their rumored healing powers remain a draw today, along with venerable wineries, classy eateries, quirky shops and luxury resorts. Knowing this, we have just two words to describe this gem of a town: Napa, who?
---
Where to Eat and Drink in Calistoga
Calistoga Inn Restaurant & Brewery

Enjoy a pint on the patio at the Calistoga Inn, the first brewery to produce beer commercially in Napa County after Prohibition, and the only local brewery you'll find north of Napa. They even sneak their brews onto the dining menu, featured in dishes like the Smoked Baby Back Pork Ribs (steamed with Calistoga Red Ale and wood fire grilled with Texas-style barbecue sauce) or brunch's Best Hash & Eggs (with Calistoga Red Ale braised corned beef, griddled with pepper, onions, and potatoes, plus poached eggs). If you're feeling nostalgic for college dorm life, you can snag one of 17 minimalist rooms upstairs, complete with common restroom and shower facilities. —JL // 1250 Lincoln Ave (Calistoga), calistogainn.com
Sam's Social Club
Sam's weekend brunch is a must, with healthy yummies including seeded avocado toast and smoked salmon with all the fixings, and views of the hillside where you might spot Bambie chowing down on her own meal of leafy greens. —CH // 1712 Lincoln Ave. (Calistoga), samssocialclub.com
Sufficiently relaxed and glowing, head to dinner at Solbar, Solage's Michelin-starred restaurant where chef Brandon Sharp, a French Laundry alum, specializes in healthy indulgence. That being said, if you see the butterscotch rum pudding on the dessert menu, order it and savor every last velvety bite. It will never leave your memory. — LL // 755 Silverado Trail N (Calistoga), solage.aubergeresorts.com
Evangeline
From Michelin-starred toque Brandon Sharp (VP of culinary ops at Solage and a pleasant chap who's always game for a chat) comes Evangeline, a quaint patio bistro in le style français but with "a creole soul." Here, elegant luncheons include chichi classics like a tour de fruits de mer, but there's also a killer croque, gumbo, and on our visit, a very memorable fried quail. The wine service was a bit snooty (très français, non?), but the food was delish and the scenery charmant. —CHH // 1226 Washington St. (Calistoga), evangelinenapa.com
Buster's Original Southern BBQ
Follow the sweet, smoky smells of authentic Louisiana barbecue to the top of Calistoga's main drag, where Buster's Original Southern BBQ is firing up their grills. Buster's is a carnivores dream; have your choice of tri-tip, ribs, chicken, pork loin, pulled pork, hot links, and dogs, slathered in their original sauces (which are all family recipes). Then select from plenty of sides to the likes of beans, potato salad, and macaroni salad. On Sunday's, Buster's has live music on their revamped patio from jazz band Rob Watson & Friends, so it's a great last stop on your way out of town. —JL // 1207 Foothill Blvd. (Calistoga), busterssouthernbbq.com
Cafe Sarafornia
They had us at three words: breakfast all day. This unassuming diner and Calistoga staple has been around Napa Valley for 120 years, serving up both classic plates, like chicken fried steak and biscuits and gravy, and their own locally-themed dishes. The Wildcat Scrambler (italian sausage, mushrooms, spinach, and chicken-apple sausage) is named after the local high school mascot, while the Brannan Benedict (two poached eggs, guacamole, bacon, and Sarafornia red-eye sauce), got its namesake from Calistoga pioneer Sam Brannon. The menu also covers all the drink bases—milkshakes, beer, wine, and cocktails. We didn't try the Muddy Mary, but it's obviously named for the town's trademark mud baths. —JL // 1413 Lincoln Ave. (Calistoga), cafesarafornia.com
The Most Stylish Stays in Calistoga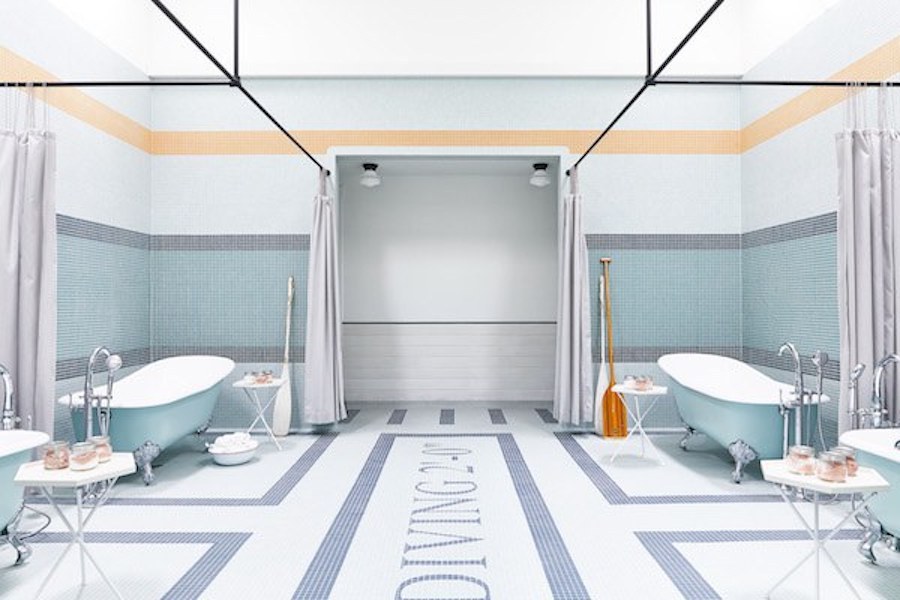 The European-style bath house offers a more modern (and cleaner) take on Calistoga's ubiquitous mud bath.
(Courtesy of Calistoga Motor Lodge & Spa)
Calistoga Motor Lodge & Spa
The new Calistoga Motor Lodge & Spa might not have all the bells and whistles of its fancy neighbors, but it does have three magical geothermal hot spring pools and is oozing with nostalgia and fun. This 1940s roadside motel has been given a midcentury modern makeover, with minimalist rooms inspired by the great American road trip, each outfitted with camper banquette seating (and a hoola hoop). Take advantage of a guided hike or bike ride offered in the mornings, or if you're not an early riser, cruiser rentals are free for the first two hours. Both lawn and analog games abound in an effort to nudge you to unplug. And don't leave without scheduling a treatment at the Moonacre Spa and Baths, designed as an ode to traditional European bath houses. We suggest the Perfectly Muddled treatment ($70), a refreshed spin on the classic mud bath that's offered throughout Calistoga. (We like this one better.) —Jess Lander // 1880 Lincoln Ave. (Calistoga), calistogamotorlodgeandspa.com
Indian Springs

When booking a stay in Calistoga, or really anywhere in the Napa Valley, hippie-dippie types with means pack their maxi dresses for Indian Springs Resort & Spa, which, without gushing too much, is really pretty magical. Witness the Olympic-sized swimming pool, filled with heated mineral water from the property's four natural geysers, as well as a smaller adults-only pool. Not a bit of luster has been lost in the wake of a recent expansion, which added 72 bohemian chic rooms housed in two-story buildings with private decks; three awesome two-bed, two-bath bungalows with yards for outdoor entertaining; and the restaurant, Sam's Social Club. Happily, all the new additions are respectful of the 17-acre property's laidback, natural vibe—there are still plenty of gardens, hammocks, walking paths, and lawn games (anyone for a game of croquet?). Hop on a Public bike and pedal over to Chateau Montelena (see next page), or bask in the the resort's most famous enchanted element, the mud bath. The spa at Indian Springs is among the loveliest around—post-treatment, pull up a chaise and say "om" at the tranquil Buddha Pond. —Chloé Hennen // 1712 Lincoln Ave (Calistoga), indianspringscalistoga.com
Solage
When I first stayed at Solage in 2007, its debut year, I remember being totally sold on its modern farmhouse architecture, a charming way to ease city folk into the country life. This time around, I am no less enchanted. The day we arrived, it was drizzling rain, and the first order of business was to get the fireplace in our private cabin roaring. Though modestly sized, the digs are efficiently designed, with a clever freestanding wall that does quadruple duty as a headboard, closet, mini kitchen, and bathroom vanity. The steam shower, lined in river rock for your reflexology needs, always smells faintly of sulphur due to the natural hot springs that the resort taps into for its renowned spa. Take it from me, frolicking in the spa's body-temp pool is utterly romantic in the rain; it's a great precursor to the signature mudslide treatment, a luxurious three-step process that includes coating the skin with essential oil-infused volcanic-ash mud; a warm soak in a claw foot tub; and a quick snooze induced by musical vibrations. —Leilani Marie Labong // 755 Silverado Trail N (Calistoga), solage.aubergeresorts.com
All the Wine Tasting in Calistoga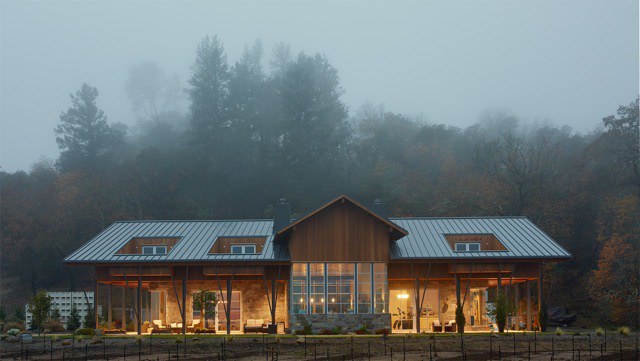 (Courtesy of Brian Arden Wines)
Brian Arden Wines
This small family winery makes less than 5,000 cases a year, so you'll want to hurry on over to get a taste of their limited release varietals like cabernet sauvignon, zinfandel (made from family vineyards planted in the 1880s), and even a malbec, before they sell out. Brian Arden's gorgeous, cozy, and modern tasting room never feels overcrowded—though you'll likely run into a few friendly pups—and it's the perfect place to watch the sun set over the Napa Valley Palisades through the floor-to-ceiling picture window. The best part? It's a very short bike ride away from downtown Calistoga and all the lodging we mentioned earlier.—JL // 331 Silverado Trail (Calistoga), brianardenwines.com
Tank Garage Winery
Situated in a retro, 1930s-era gas station, Tank Garage Winery produces small collections of unique wines that celebrate the heart and soul of vintage California culture and creativity, ranging from refreshing rosé, to delicious red blends and aromatic chardonnays. Tank also partners with local artists and illustrators to create labels for each bottle that embody the taste of their wine blends. The Instagram-worthy space is decorated with funky art and vintage items such as classic motorcycle, guitars made from old oil cans, and pinball machines. There's even a speakeasy—but you'll have to figure out the password for yourself. —Emily Malter // 1020 Foothill Boulevard (Calistoga), tankgaragewinery.com
Chateau Montelena
When you've had your fill of pools, spas, and shopping the odd boutiques on Lincoln Avenue, bike over to the historic Chateau Montelena for wine tasting in an 1888 Gothic-style estate. The winery was made famous in the 1970s at the legendary Paris tasting where its Chardonnay beat out French competitors. French in style, the wines are still delicious, but we're most smitten by the picnic grounds: private, reservation-only pagodas on idyllic Jade Lake. They have swans, people. Swans. —CHH
Sterling Vineyards
Who needs Tahoe when you can ride a gondola up to a winery right in Calistoga? For $35 (including a tasting), take the aerial tram to Sterling Vineyards, a cross between the whitewashed houses of the Greek isles and a hilltop castle. What's at the top? No snow, but gorgeous, 360-degree views and lots of vino. —JL // 1111 Dunaweal Lane (Calistoga), sterlingvineyards.com
Frank Family Vineyards
Built in 1884 and formerly Landmark Winery, this beautiful stone cellar is a historical gem. In 1958, Hanns Kornell (of Kornell Champagne) produced the first French champagne method sparkling wine in California from Larkmead. Now Frank Family Vineyards, Napa Valley's third oldest winery is still one of the only producers around that makes their bubbly in-house. They've also got an impressive range of still wines—the reserve chardonnay is a must-have for your cellar—and cozy tastings take place either inside an adorable yellow craftsman, or out on the sunny lawn, where happy dogs often frolick about. —JL // 1091 Larkmead Lane (Calistoga), frankfamilyvineyards.com
Go on a Wine Walk
Downtown Calistoga has plenty of walk-in friendly wine tasting rooms that you can casually pop into on foot. Heibel Ranch Vineyards (1458 Lincoln Ave., Railcar 12) has set up shop in an antique rail car. Taste a red wine blend called Lappa's, named after an Italian slang phrase that translates to "Pumpkin Sucker," and is often used in place of "dumbass." Housed in the historic Calistoga National Bank Building, the inside of Huge Bear Wines (1373 Lincoln Ave.) is surprisingly luxe, and yes, there's a huge bear to take a selfie with. They also donate $1 from each bottle purchased to a charitable cause. Vermeil Wines (1255 Lincoln Ave.) is owned by hometown football hero turned winemaker Dick Vermeil, who went on to coach the Rams to their first and only Super Bowl, and is also known in the sports world for letting his emotions run down his cheeks. Take advantage of a two-for-one deal at von Strasser and Lava Vine Winery (965 Silverado Trail). The two wine brands have joined forces to showcase von Strasser's top-tier mountain cabernet and Lava Vine's unique varietals (like grüner veltliner and verdelho) under one roof.
Calistoga's Best Boutiques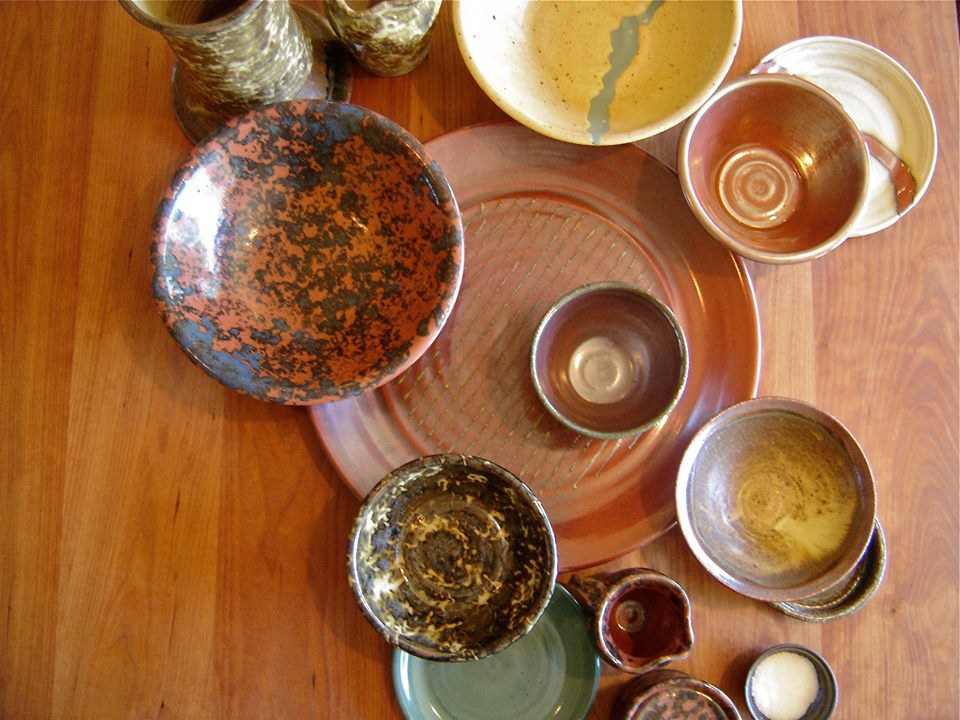 (Courtesy of Calistoga Pottery)
Calistoga Pottery
Husband-and-wife potters Jeff and Sally Manfredi have been making unique pottery using post-harvest grapevine-ash glazes and copper oxides in Calistoga since 1980. Grab a stoneware mug and ask Sally for her recommendations on the area—word has it she's the "unofficial mayor of Calistoga." You can see Calistoga Pottery at wineries such as Round Pond and Frog's Leap, as well as Bottega and Terra restaurants. —LL // 1001 Foothill Blvd. (Calistoga), calistogapottery.com
Blackbird of Calistoga

On Calistoga's tony main strip, you'll find the usual touristy art galleries-slash-tchotchke shops, each hawking objects of, in my opinion, questionable taste. Blackbird is one of the exceptions. The curated inventory includes Chilewich placemats, Baggu metallic leather pouches, and regional books by Wine Country architect Howard Backen and Michelin-starred chef Christopher Kostow of the Restaurant at Meadowood. —LL // 1347 Lincoln St. (Calistoga)
Earth & Sky Chocolates
Local couple Christian Parks and Laura Koerth use classic European techniques (they met at the French Pastry School in Chicago) to create chocolates and confections that look like colorful works of art and almost too dreamy to eat. The pair is also committed to sourcing ingredients from Napa Valley, including wildflower honey, distilled bourbon-whiskey, and beer. Stop in their little shop at the Calistoga Depot and pick up a box of chocolate bon bons, their signature treat available in creative flavors like Banana-Bourbon and Rum-Mint-Lime. Yum. —JL // 1454 Lincoln Ave. (Calistoga), earthandskychocolates.com
Roam Antiques & Design
If you're looking for a new conversation piece at home, or a gift for the person that has everything, Roam Antiques & Design has the goods in the form of rare and eclectic treasures, like an 1800s wine corker machine made in San Francisco, or a giant pre-WWII searchlight from Britain. Sure, you don't actually need it and it will take up the better part of an SF studio apartment, but it'll look so, so cool. —JL // 1124 Lincoln Ave (Calistoga)
Catch Calistoga
Ditch the luggage you're traveling with for something fun, colorful, and new at Catch Calistoga. Tote bags, clutches, purses, duffels, and more from Toss Designs come in a variety of playful textures and prints—think palm trees, checkers, pom poms and confetti—that will make a statement wherever you go. For something more sleek, shop the Infinity collection, where you can essentially build your own bag. —JL // 1365 Lincoln Ave. (Calistoga), tossdesigns.com
Outdoor Adventures in Calistoga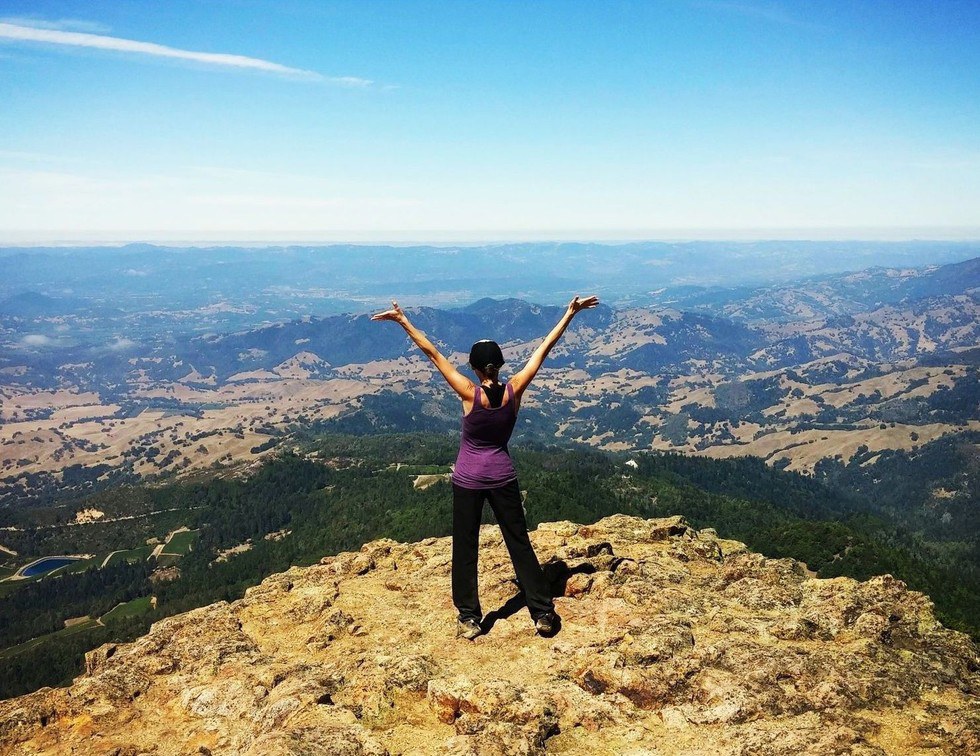 (Courtesy of alltrails.com)
Robert Louis Stevenson State Park
Stevenson, the Scottish author of Treasure Island, honeymooned in Calistoga with his wife Fanny in 1880; the pair was drawn to its climate, legendary waters, and budding wineries (Schramsberg was a favorite). Stevenson wrote about his adventures there in his 1883 book, Silverado Squatters. His namesake park is mere minutes by car from our preferred basecamp of Solage (see first slide), and if you take the Table Rock Trail to the overlook, where views of the valley are vast, it's a 2-mile round trip—the perfect distance for digesting a bountiful brunch. More intrepid hikers can take on the trail to the summit of Mount St. Helena, a five-mile hike from the trailhead (10 miles round trip). With 2,000 feet of elevation to gain, it's the perfect distance not just for digesting brunch, but obliterating every guilty calorie of the last 24-36 hours. And when it comes to summiting mountains, let's face it, this is a rather easy one to cross off your list. Save Everest for another day. —LL // Lake County Hwy. (Calistoga), parks.ca.gov
Bothe-Napa Valley State Park
Just past the famous "castle winery," Castello di Amoroso, you'll come to the park entrance for the 1,900-acre Bothe-Napa Valley State Park. Dating back to 6,000 BC, this area was once inhabited by the Koliholmanok, later to be known as the Wappo. Heavily wooded amongst coastal redwoods, Douglas-firs, tanoak, and madrone, it's a great hiking spot if you want to escape the sun's rays on a particularly hot day, and you won't find a boring fire road in sight. There are 10 miles of trails, but for a bit of a workout, the Coyote Peak Trail climbs 1.5 miles to a 1,170-foot overlook, where you'll be rewarded with views of Napa Valley, the surrounding hills, and Mount Saint Helena. Before you leave, it's also worth the quick 1.1-mile jaunt down the History Trail, which leads past an old cemetery, where some of the town's first pioneers are buried, and to the historic Bale Grist Mill, built in the 1840s. Prefer camping? Book one of their new yurts or restored cabins for your stay, and you use the money saved on a hotel to buy more wine. —JL // 3801 St. Helena Hwy (Calistoga), parks.ca.gov
Calistoga Speedway
Most people would never know that Calistoga has its own race track, but the converted horse track has been hosting open-wheel races since 1937. You won't likely find NASCAR greats like Kyle Busch and Jimmie Johnson burning rubber at the Calistoga Speedway, but you will get to witness a lot of action while mingling with the local crowd. Every April through September, all kinds of racing vehicles—including monster trucks, Winged Sprints, motorcycles, and Midgets—gather at the Napa County Fairgrounds (the same spot the local high school football team plays), to race around the ½-mile dirt oval at speeds that reach over 120 mph. Check their schedule before your visit, as it could be the best nightlife happening in this sleepy town that weekend. —JL // 1435 N. Oak St. (Calistoga), calistogaspeedway.org