The city-state of Singapore doesn't stand out from any other major modern urban center at first appearance. It's when you start peeling back the layers that you begin to discover the centuries of cross-pollination that have created a place that is both old and new, urban and rural, secular and spiritual.
Eating is a sport in Singapore. Tiong Bahru street are full of eating houses.(All photography by Ana Kamin, unless otherwise stated.)
---
Neighborhood: Tiong Bahru
Bay Area residents will feel right at home here. Awash in Art Deco, the Tiong Bahru has everything a good neighborhood needs. Build in the 1930s as one of the Singapore's first residential estates, today's Tiong Bahru is packed with hot restaurants, trendy coffee shops, hip workshops, abundant heritage spots, and one ofSingapore's most famous food centers.
WHERE TO EAT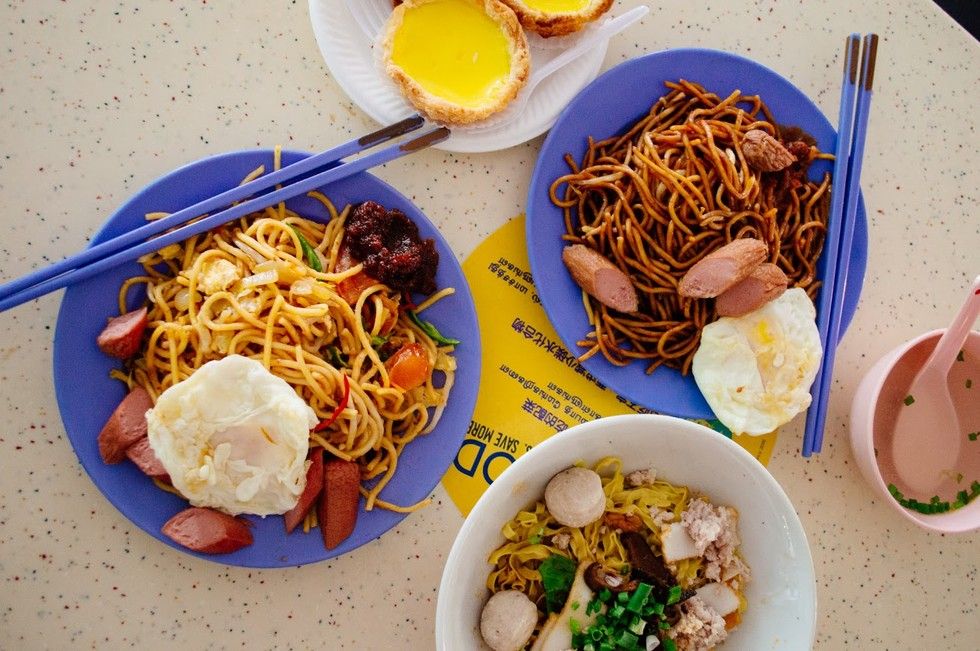 Hawker market food at Tiong Bahru Center
Tiong Bahru Food Center
You should start your culinary exploration with a visit to a hawker center. These open-air markets feature myriad food stalls and are the most authentic food experience you will find here. Sprinkled on nearly every street corner across the city, their ubiquitousness makes sure you never have an excuse to go hungry. Considered one of the best, Tiong Bahru Food Center is an excellent starting point. You might feel a bit intimidated and confused by the overwhelming number of options, offer, but don't panic—if you don't know what to order, just line up at the stalls with the longest lines, and ask the locals for their recommendations. // 83 Seng Poh Rd (Singapore),
tiongbahru.market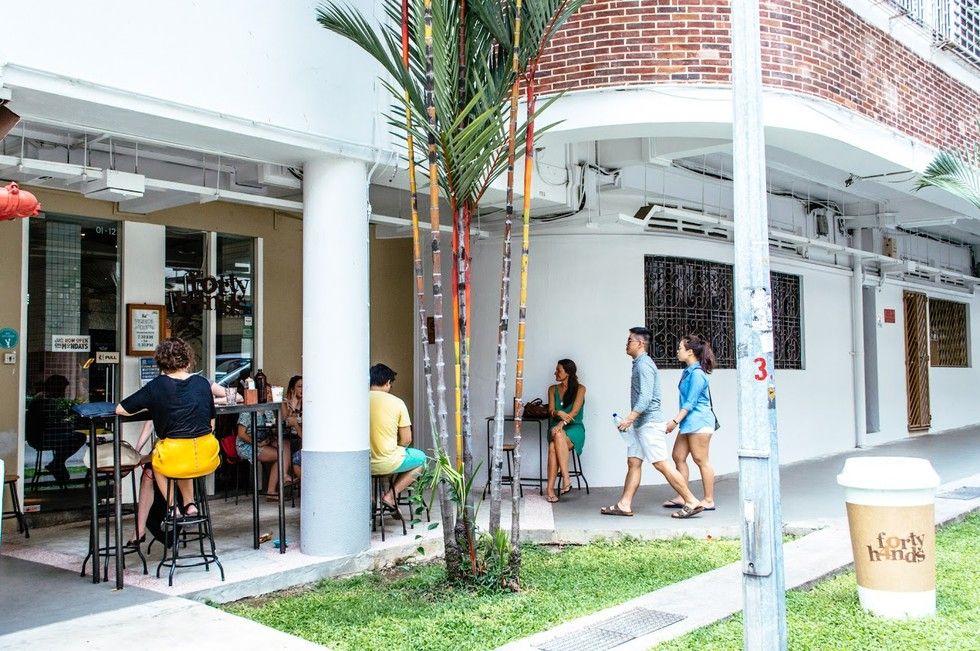 Early mornings at 40 Hands Coffee
40 Hands Coffee
The purveyors at 40 Hands Coffee are the pioneers of Singapore's artisanal coffee scene. They've elevated the coffee experience for the country jumpstarting the movement from bland drip filter coffee to sustainably sourced, freshly brewed cups of java. Grab your favorite style and off you go to explore the hood. You can also sit and nosh on standard brunch fare like Eggs Benedict and French Toast but note it can get very crowded. // 78 Yong Siak St. (Singapore), 40handscoffee.com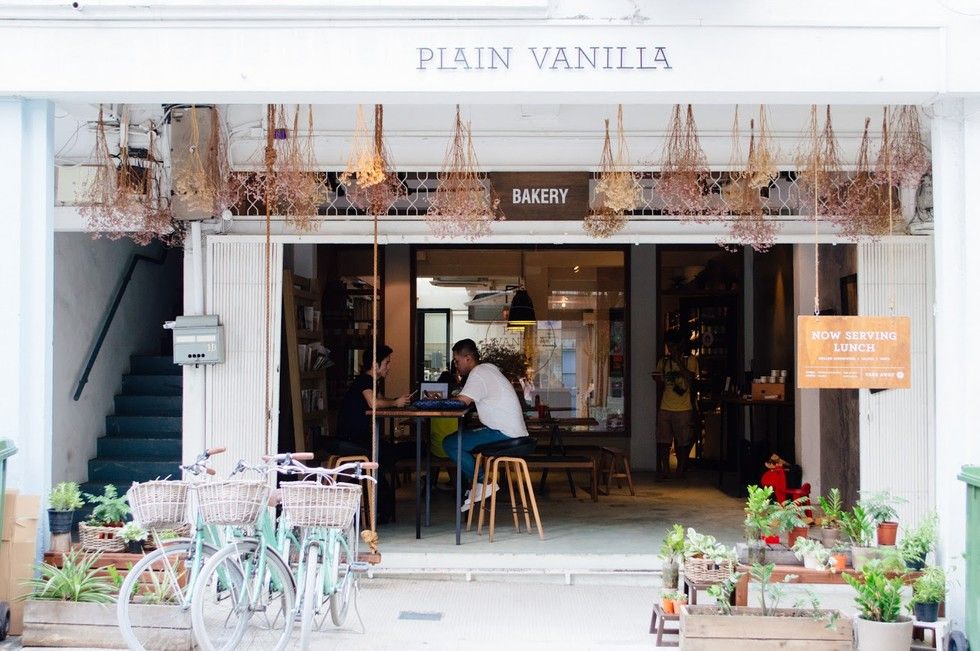 Outdoor working space at Plain Vanilla
Plain Vanilla
Feeling cupcake withdrawal while overseas? This joint—part bakery, part newsstand—is the place to be to get your baked goods jones sated. This flagship site features an open-air communal table and a carefully curated selection of international magazines, making it the perfect stop to check emails, flip through the pages of a zine, and start a conversation with a local expat. // 1D Yong Siak St. (Singapore), plainvanillabakery.com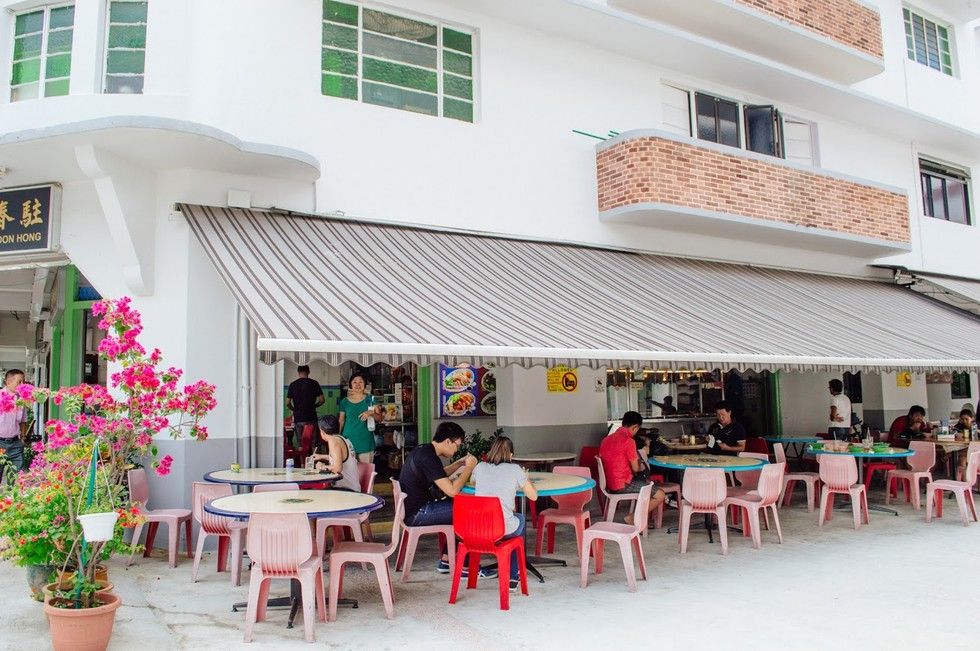 Long Ji Zi Char
One of Singapore's favorite dishes is Crab Bee Hoon—rice vermicelli noodles topped with generous chunks of crab chunks all soaked in chicken broth, which, depending on the cook, can be quite thick or thin. It's as delicious as it sounds. Long Ji Zi Char is the place where you want to taste this dish for the very first time—the chef/owner tosses the bee hoon himself to perfection (and doesn't use any MSG). // 57 Eng Hoon St, (Singapore), yelp.com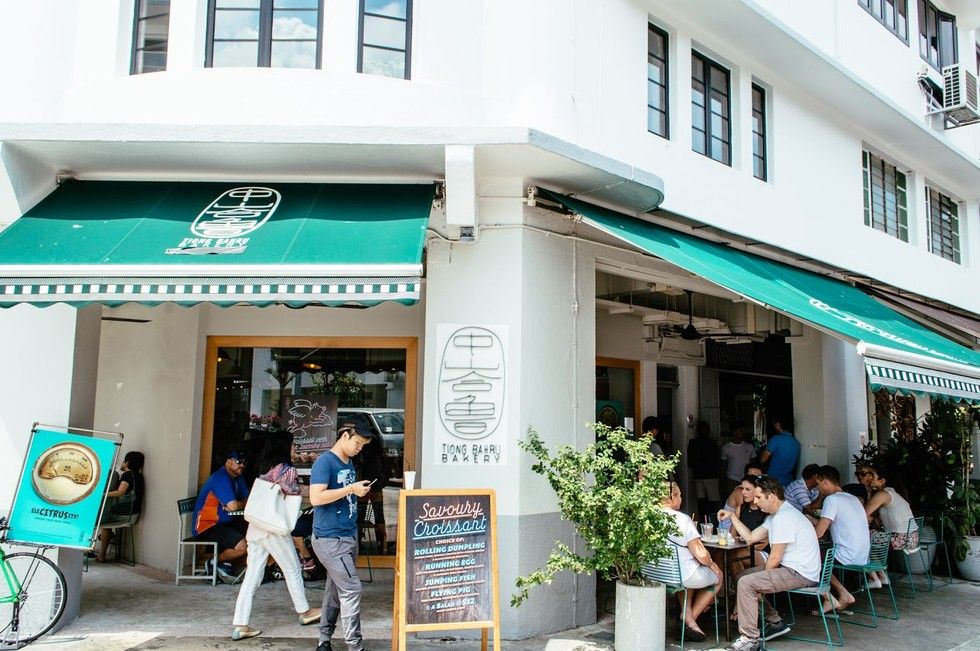 Tiong Bahru Bakery
Tiong Bahru Bakery
Every city worth its salt needs a standout French pastry shop and Tiong Bahru Bakery rises to the challenge. The croissants are good, but the kouign-amann is exceptional. Adventurous eaters should opt for the the Squid Ink Sandwich. The line is a mix of young Singaporeans and western expats all waiting for some flaky buttery happiness. // 56 Eng Hoon St. (Singapore), tiongbahrubakery.com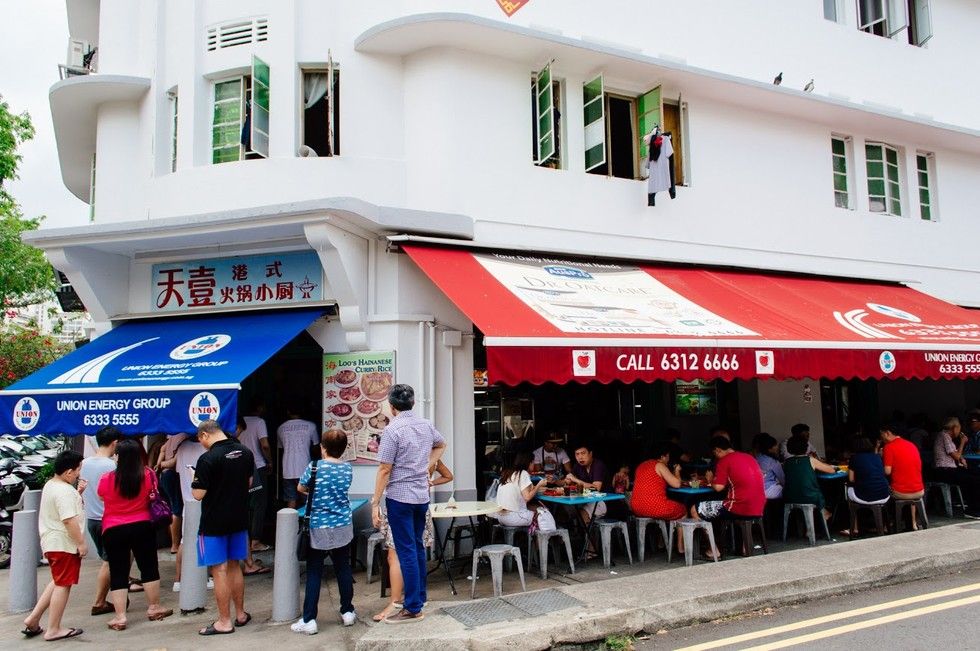 Loo's Hainanese Curry Rice
Loo's Hainanese Curry Rice

There's no name on the building, but the block-long line should tell you that something seriously delicious is going on here at Loo's Hainanese Curry Rice. The small menu on the wall displays some seriously janky-looking food photos, but don't be alarmed, everything here is next to stellar. Join the crowd to get your plate of succulent chicken, crunchy pork chops, or tangy prawn rice curry. Note, they open at 8am and close when everything is sold out, usually just after lunch time. // 57 Eng Hoon St. (Singapore)

WHERE TO SHOP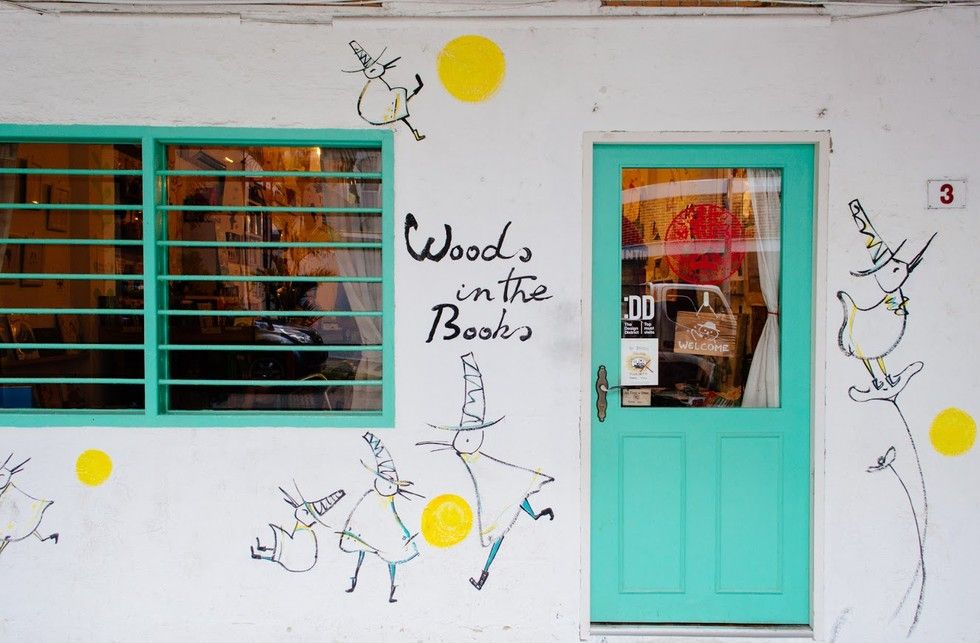 Cute paintings on the Woods in the Books store
While outnumbered by eateries, there are shops in Tiong Bahru worth popping into. Bookworms will be pleased with the selection at the cozy Books Actually and the novelty of Woods in the Books that sells picture books only. Strangelets curates a precious collection of porcelain ware, jewelry, paper goods, and other knick-knacks, while Nana & Bird has a fine collection of women's fashion from local and international designers. For an uncommon shopping experience try to sharpen your bargaining skills at the Tiong Bahru Market and get that plastic hand fan for under $1.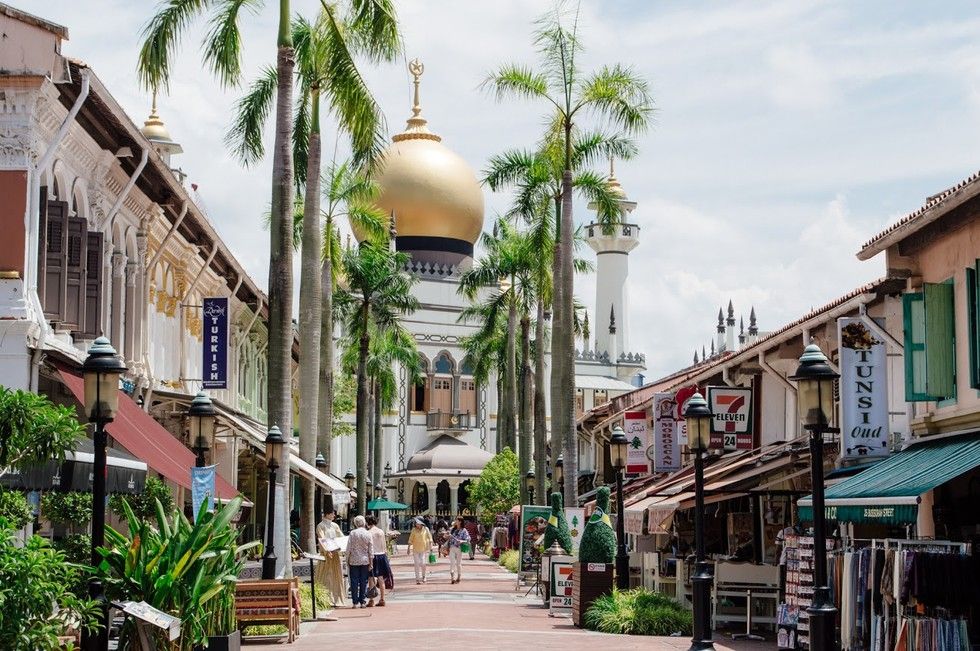 (Kampong Glam promenade will transport you to Arabian Nights)
Neighborhood: Kampong Glam
Walking the streets of Kampong Glam will make you wonder if you've been transported to A Thousand and One Nights. With the majestic Sultan's Mosque, kaleidoscopic shops, streets lined with lively cafes, flashy fabric markets, and locals sipping on their steaming black teas, Kampong Glam has retained its Arabic Quarter spirit. The neighborhood with the hugest Malay and Arab communities, Kampong Glam has seen its popularity rise with new restaurants and shops moving in over the past few years.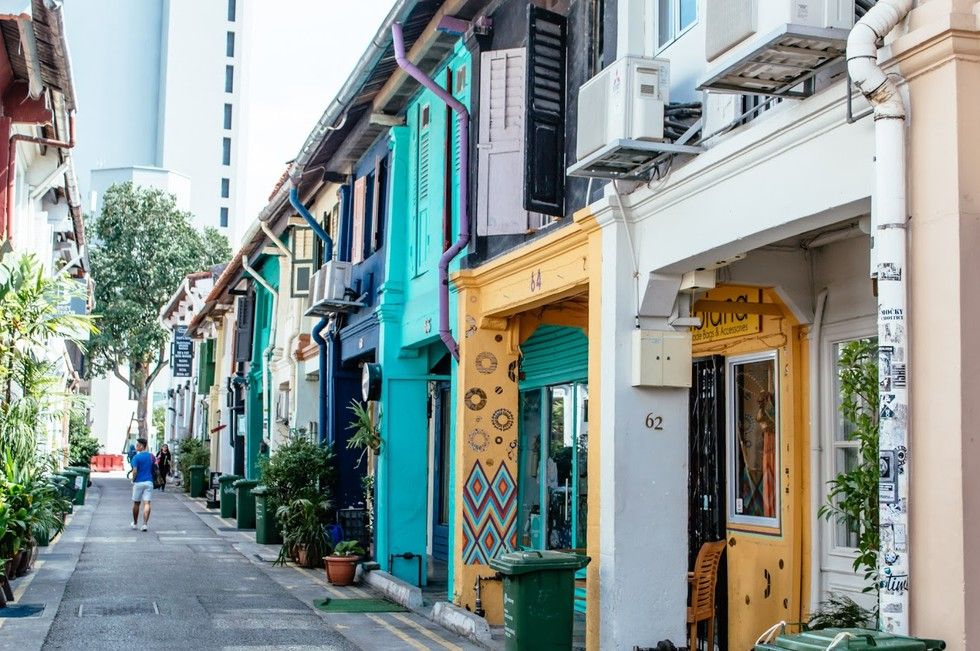 Haji Lane is still a hidden gem
Haji Lane might be the cutest street in all of Singapore with the highest concentration of local stores, art galleries, and street art vendors. If you don't look for it, you could even miss this narrow alley framed with colorful houses showcasing what Singapore looked like when it was a much smaller place, home to fishermen and traders. Favorite shops includee Monday's Off, Modparade, Tokyo Bike, Time After Time, Salad Shop, Mujosh, and Where I Create. The whole Haji Lane is only 0.12 miles long, which means you will have enough time and energy to stop into each of them. They're all open between 11am-12pm. To keep yourself fueled up, the little road has a few well-known eateries and coffee shops, like the CAD coffee, I am…, Blu Jaz, #SelfieCoffee, and Shop Wonderland .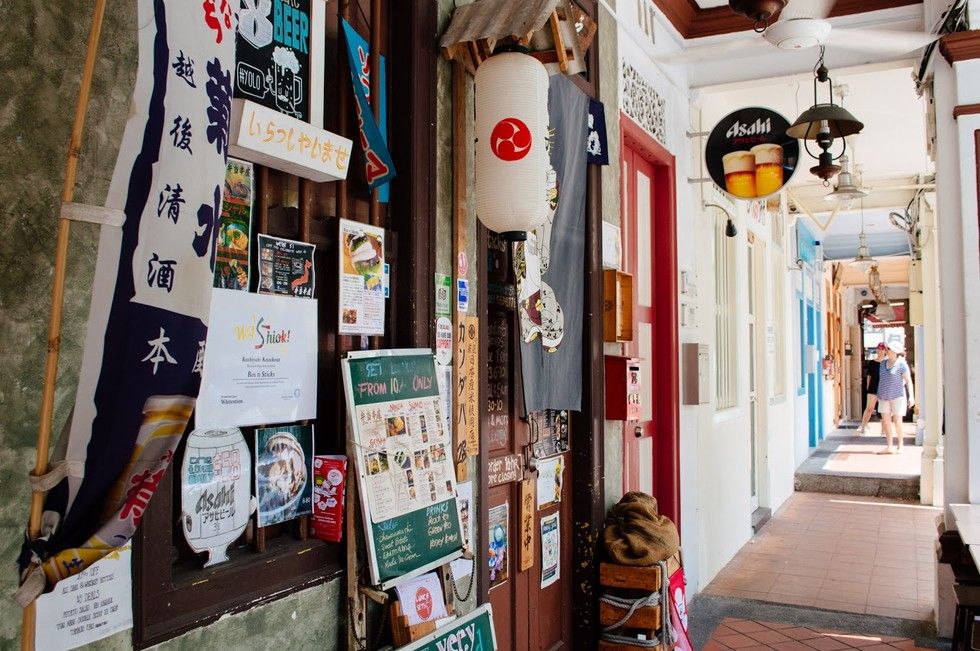 Old colonial walkways
Kandahar Street has the feel of an old colonial esplanade--now padded with design companies, furniture stores, and restaurants. All you need is a cane, a parasol, or maybe a safari hat to feel transported back to Singapore's days as a British colony. On this street you will find Dong Po Colonial Cafe, one of the best places for kaya toast, the traditional Singapore breakfast, consisting of kaya spread (coconut jam) and a very thick cut of butter slathered between two slices of toast and eaten with soft cooked eggs, always accompanied by coffee. A real challenge comes when you stand in front of the Rich & Good Cake shop, a seemingly unremarkable hole-in-the-wall with a simple cake menu for take-out, specializing in durian swiss rolls. You heard right, durian, the foulest smelling fruit in the world. Don't say we didn't warn you.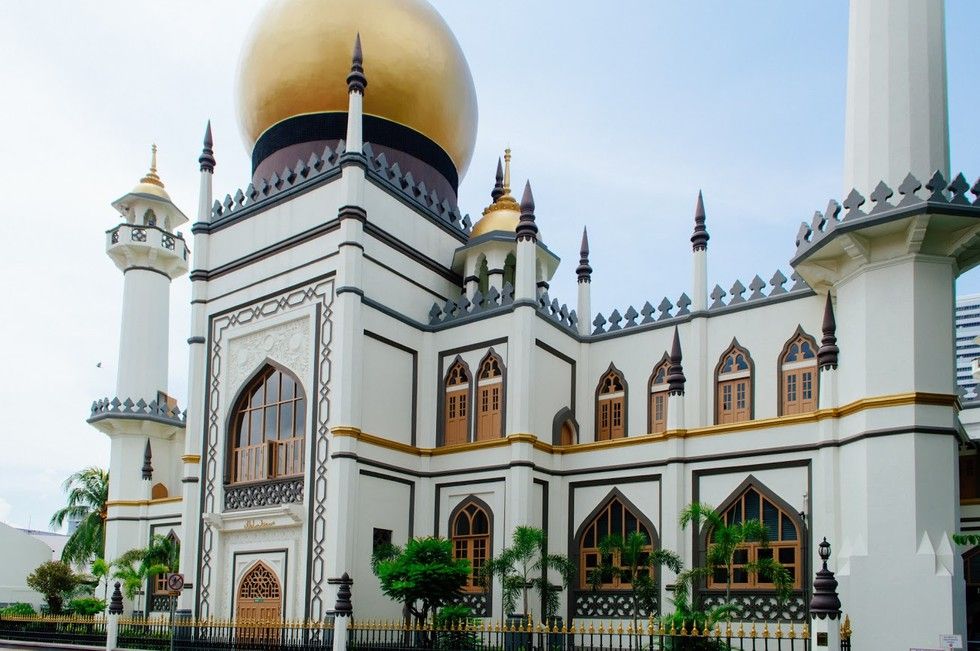 Sultan's Mosque in kampong Glam
To satisfy historians, head over to the impressive Sultan's Mosque and the Malayan Heritage Center to find out more about the Muslim community in Singapore. Follow your tours up with lunch at Mamanda, one of the best places to experience original Malay cuisine. Order the Nasi Ambeng, a bountiful, sumptuous platter overflowing with small bites designed to eat family-style.

STAY

The Pod
For the budget traveler looking for contemporary, sleek accommodation, The Pod Hostel is a great alternative to hotels. Plus they have free breakfast. // 289 Beach Rd. (Singapore) , hepod.sg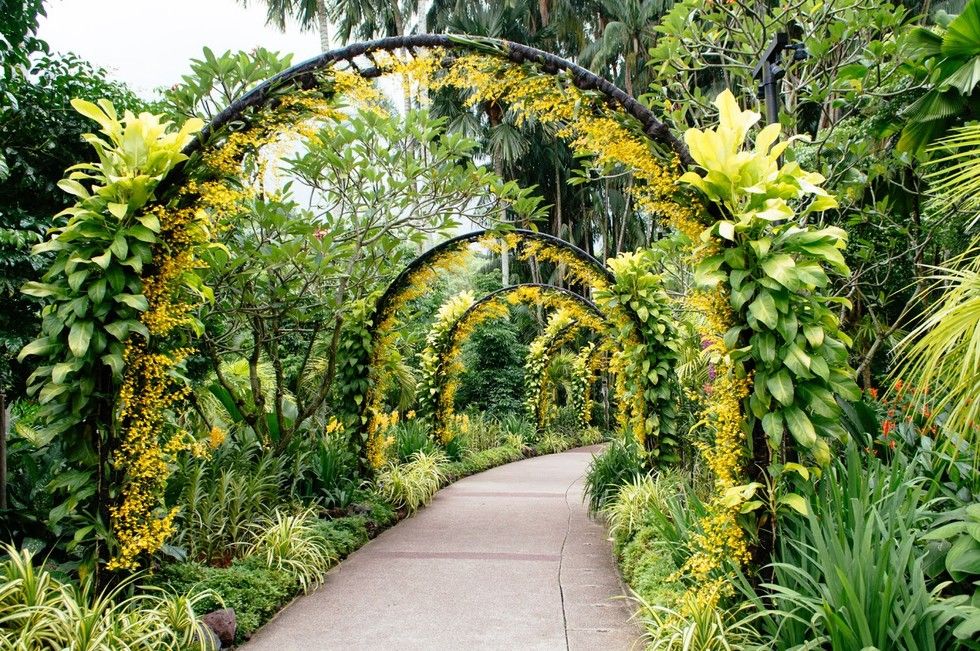 Enjoy a stroll through the Botanical Gardens
Neighborhood: Singapore Botanic Gardens
In the middle of a busy city, surrounded by skyscrapers and shopping malls, there is a splendid escape. At 202 acres with over 10,000 species of flora, the 152-year-old Singapore Botanic Gardens is the only garden to be named a UNESCO World Heritage Site. It makes a perfect place to turn off the bustle of the city, where you can read a good book under palm trees, admire the large orchid collection, or just get lost in this urban jungle. The garden is open daily from 5am-midnight. // 1 Cluny Rd. (Singapore), sbg.org.sg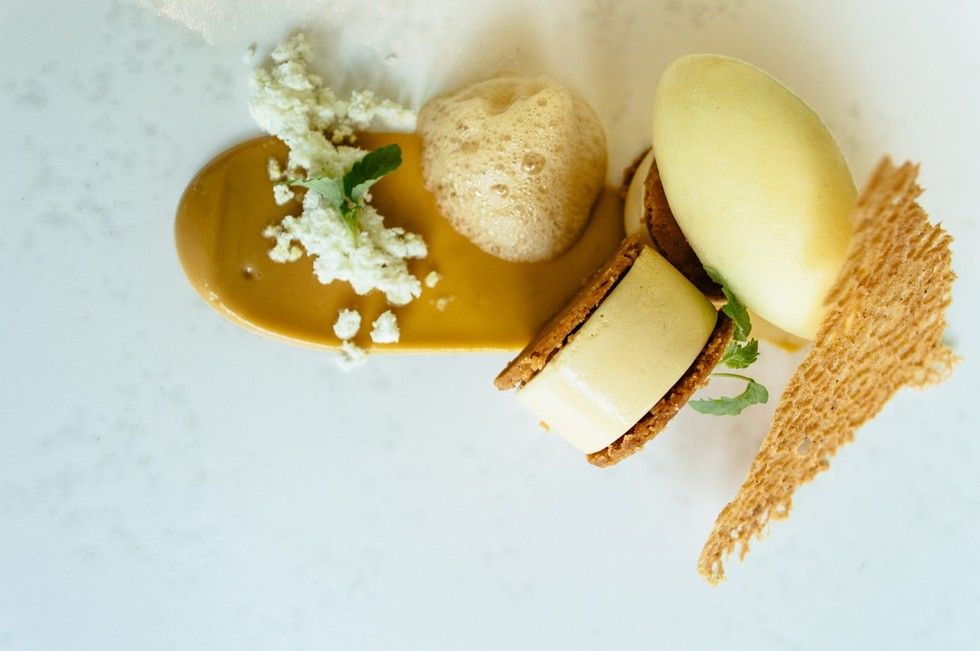 Plating perfection at the Corner House.
WHERE TO EAT
Corner House
If you can splurge on only one meal while in Singapore, do it here at the Corner House. The former home of John Henry Corner, a botanist and former assistant director of the neighboring botanic gardens, the house is now Singapore's singular elevated gastronomical experience. Chef Jason Tan focuses on his Gastro-Botanica cuisine, a celebration of plants and vegetables that's out of this world. The food is enhanced by the atmosphere, palm fronds providing shade over this beautiful colonial home, all delivered with exceptional service. Treat yo self. // 1 Cluny Road, Singapore Botanic Gardens, (Nassim Gate Entrance), (Singapore) cornerhouse.com.sg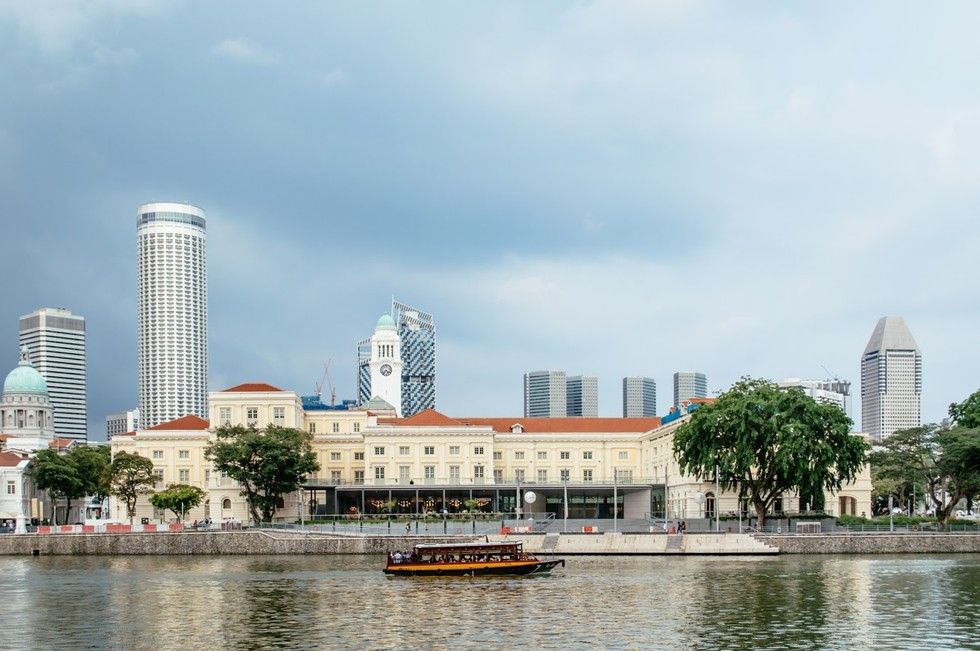 The parliament building sits along the riverside.
Neighborhood: Central Area
This is the quick beating heart of Singapore. The City, as it's called by locals, consists of numerous shopping areas, hawker markets, government institutions, museums, galleries, landmark buildings, parks, and all kinds of spectacular, modern architecture to wow you. Wear your most comfy shoes here; there are many miles to cover.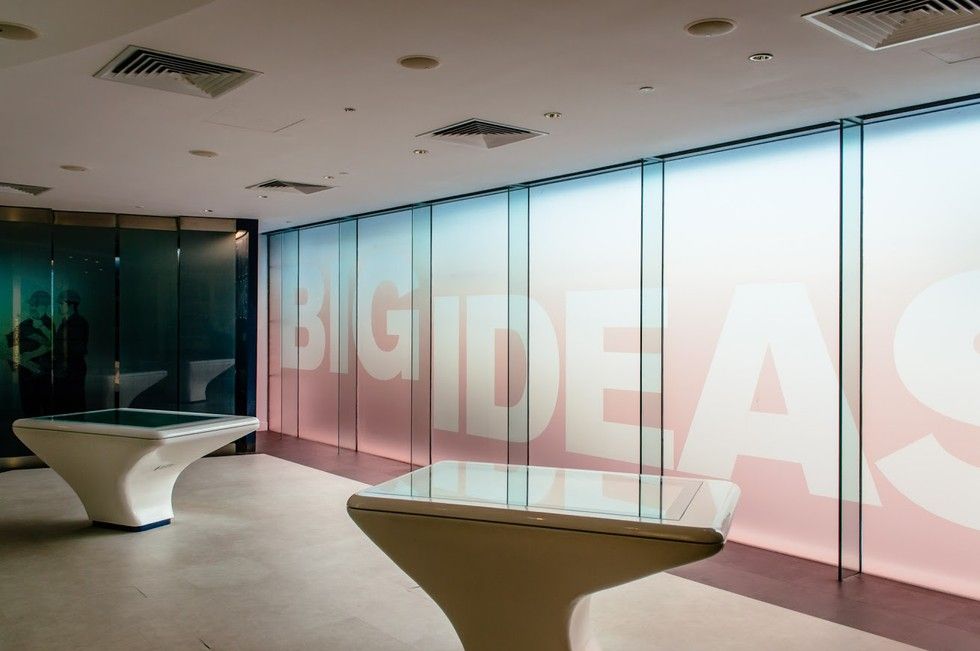 Download Singapore's history at the City Gallery.
Singapore City Gallery
Modern Singapore is barely 50 years old, but it already ranks as the 6th wealthiest country and one of the best places to live in the world. To get an understanding of how this came to be so quickly, drop into the Singapore City Gallery of Urban Redevelopment Authority. The gallery gives a comprehensive, interactive overview of Singapore's past, present, and its potential future. Admission is for free, and you can enjoy some quiet time and Wi-Fi in the lobby. After your visit, head over to the famous Maxwell Food Center just across the street. It's a win-win. // 45 Maxwell Rd, The URA Centre (Singapore) ura.gov.sg/uol/citygallery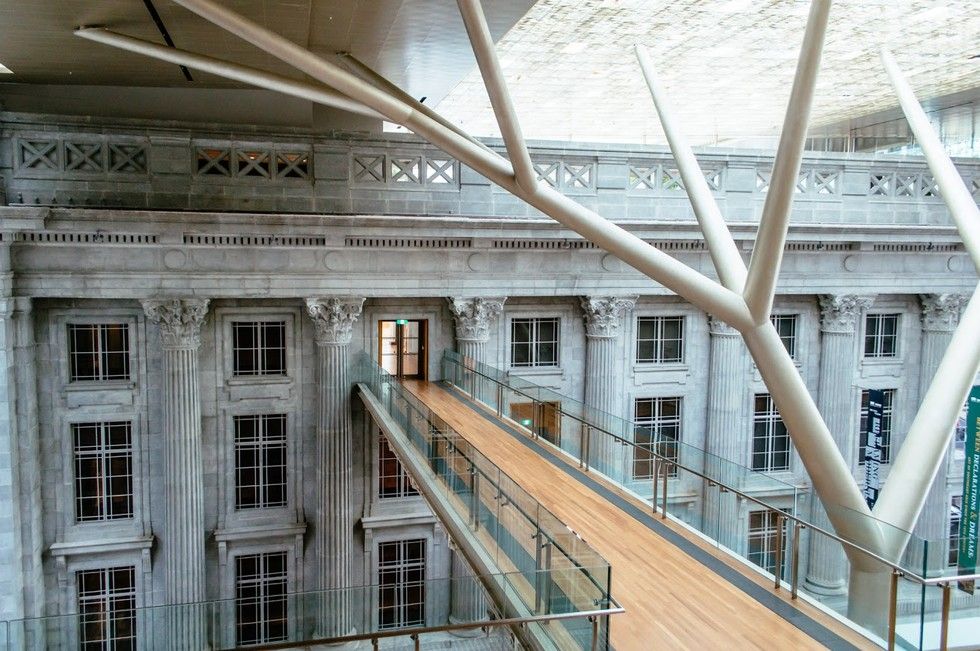 The bridge between the former Supreme Court and the former City Hall.
National Gallery
Two historically significant buildings, the former Supreme Court and the former City Hall, connected by a roof and bridge installation, have been transformed into Singapore's National Gallery, which features art from Singapore as well as other Southeast Asian cultures. The gallery has permanent exhibitions and a series of changing programs. A calm ambience, a beautiful garden, and a striking view of Marina Bay Sands make it easy to hang out here. Plus there are eight restaurants and an excellent gift shop. To get a taste of the sublime, traditional Peranakan cuisine, National Kitchen by Violet Oon is where to go. The satay with spicy peanut sauce will melt in your mouth, and we cannot tell what we love more, the fish head curry or the beef rendang. // 1 St Andrew's Rd. (Singapore) nationalgallery.sg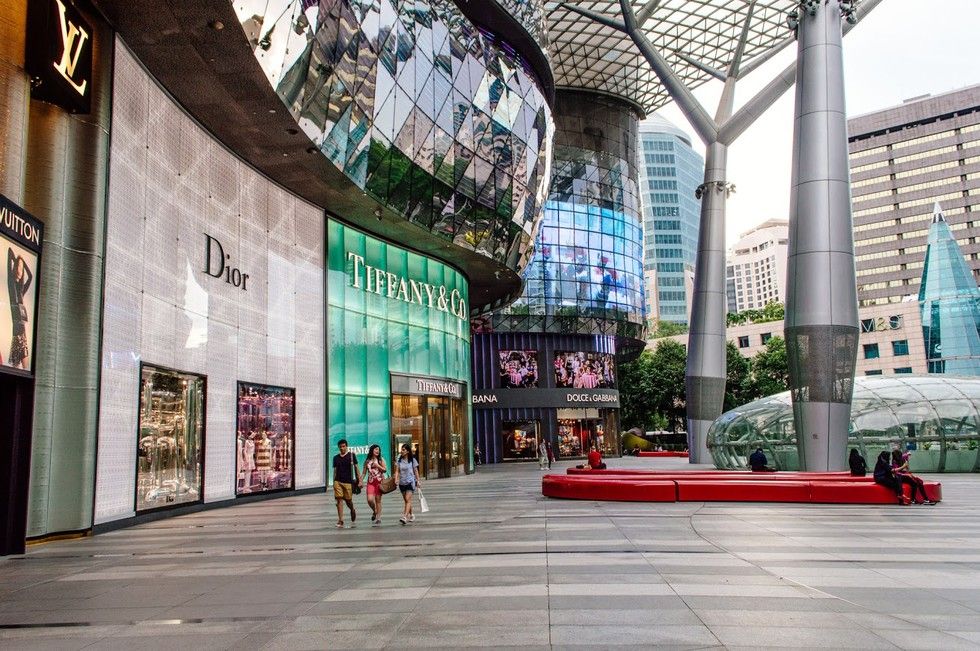 Orchard Road is a shopper's paradise.
Orchard Road
Hold tight onto your credit cards. The most famed shopping strip in Southeast Asia, Orchard Road is a shopaholic's dreams. Here you'll find over a mile of malls, shops, and food courts. There is something for every budget, from H&M to Louis Vuitton, plus lots of local brands. You'll be blown away by how many Prada stores can be lined up on a single stretch, but you'll definitely be able to find affordable clothes and quirky local gifts.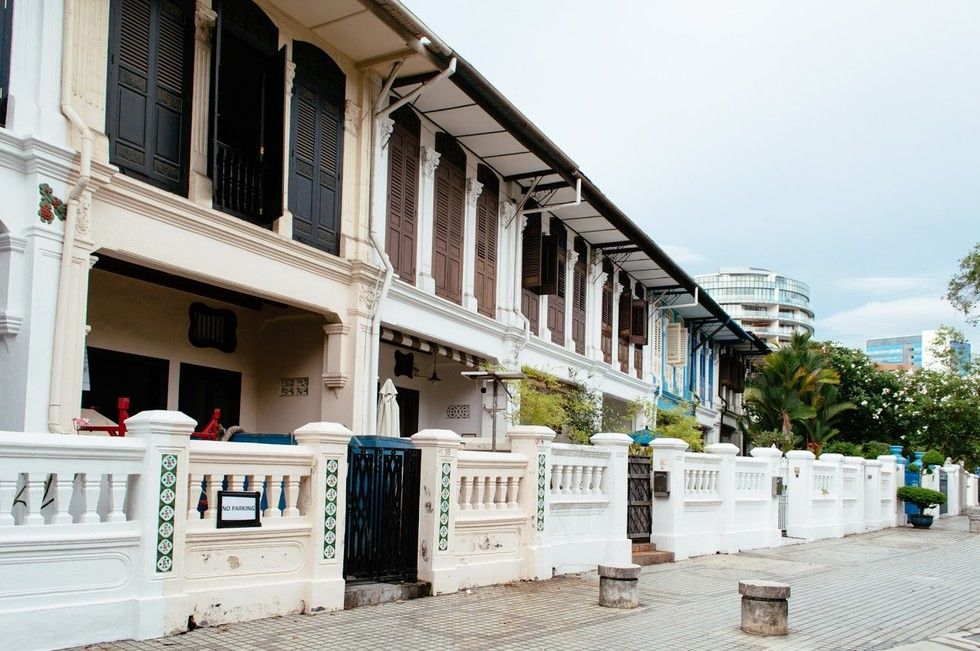 Peranakan homes line Emerald Hill Road.
Tip #1: Just off the busy Orchard Road, a small street branches away into Emerald Hill Road, which displays some of the most beautiful Peranakan (ethnic Chinese born in the Malaysia) homes. Tranquil and charming, the neighborhood is a giant step back to 1819. // map

Tip #2: Climb 56 levels up in the glass ION Sky Observatory for a dazzling view of the city. The observatory is located in the ION mall (not too many tourists know about it), and the entrance is free. Note, it's open only from 3pm-5.30pm daily. // 2 Orchard Turn, Level 56 (Singapore) , ionorchard.com/en/ion-sky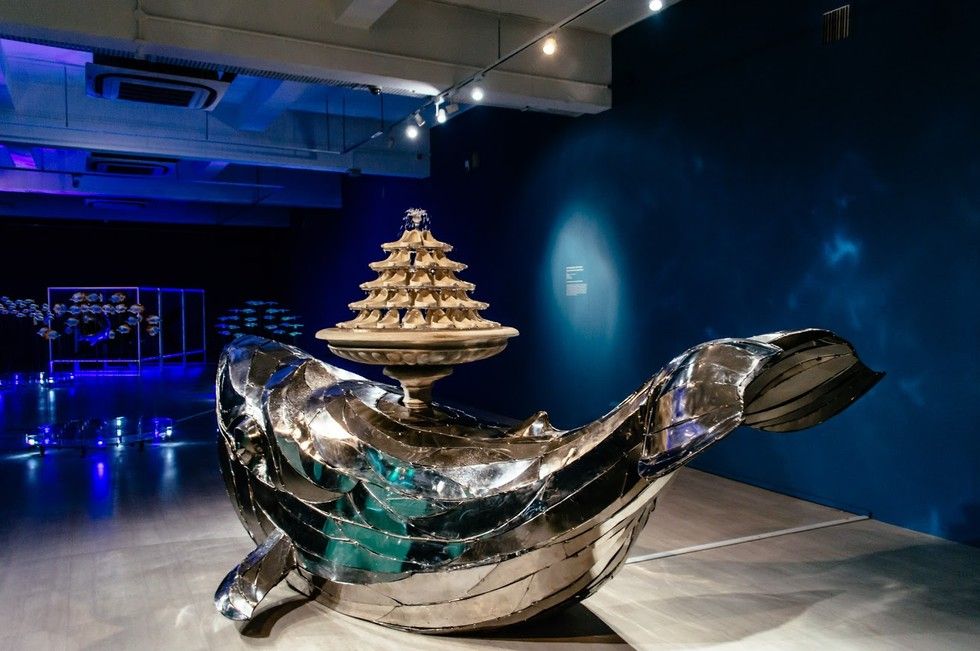 A piece from Odyssey: Navigating Nameless Seas at SAM.
Singapore Art Museum
Only 20-years old, the Singapore Art Museum (or SAM, as locals call it) focuses on contemporary works by Singaporean and Southeast Asian artists. It's housed in an old Mission school and makes for a splendid afternoon of gazing. // 71 Bras Basah Rd. (Singapore) singaporeartmuseum.sg

WHERE TO STAY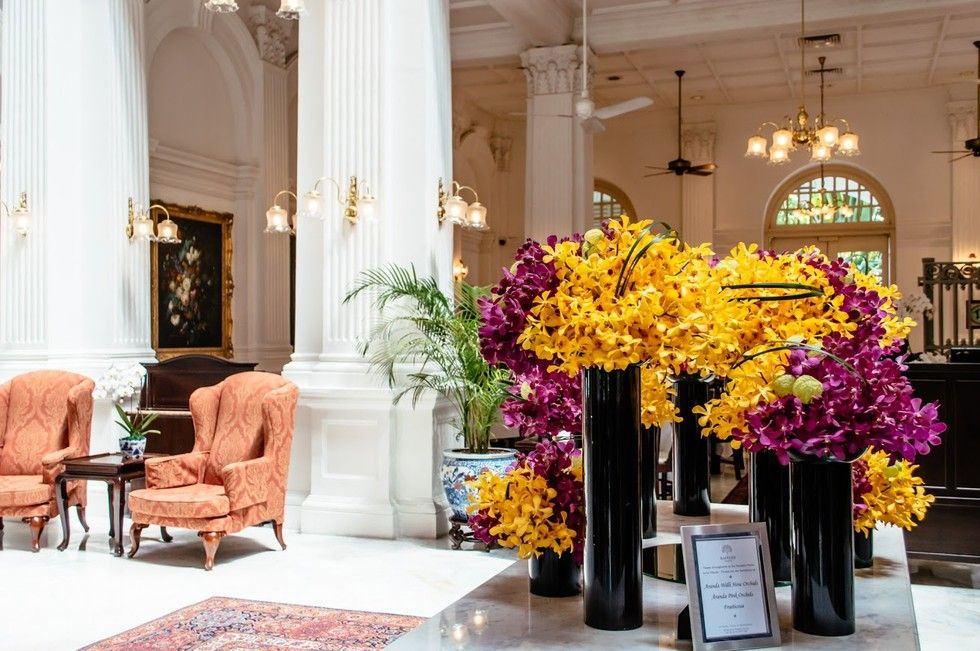 Tradition and style at the Raffles Hotel in Singapore.
Raffles Hotel
Named after Singapore's founding father, Sir Thomas Stamford Raffles, the Raffles Hotel is an architectural jewel standing strong since 1887. The 5-star luxury hotel is everything you would expect from the days of the colonial age. White columns supporting wooden terraces, an elegant lobby, lush gardens and sparkling fountains. Staying here might blow up your travel budget, but you can treat yourself to a Singapore Sling at the Long Bar or high tea service at the Tiffin Room. // 1 Beach Rd. (Singapore) raffles.com/singapore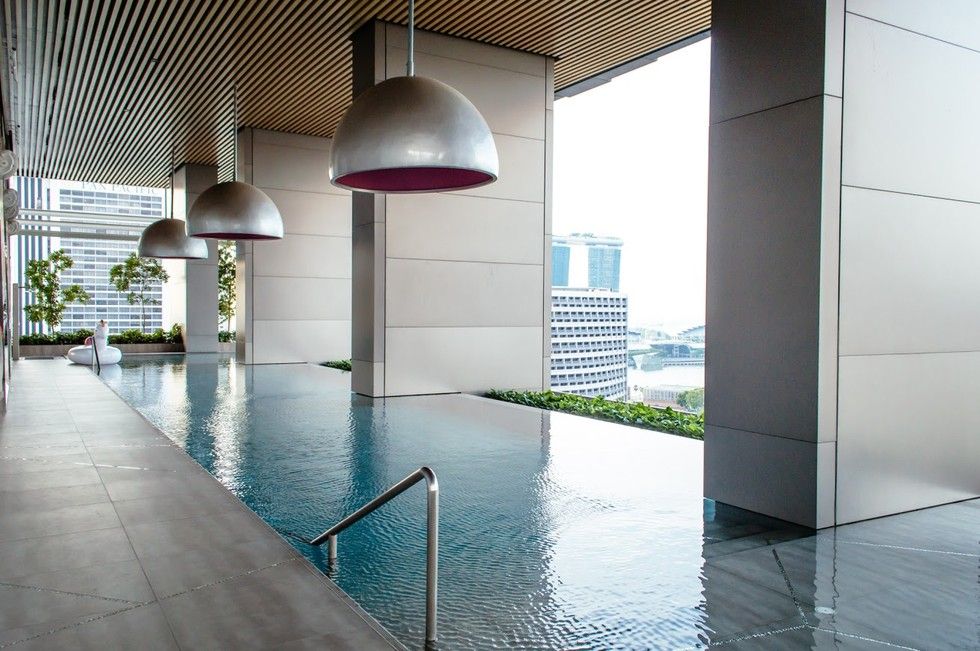 Pool with a view at the South Beach Hotel.
South Beach Hotel
Designed by the famous Philippe Starck, the South Beach Hotel is a living gallery with top-notch rooms, perfect service, and an incredible infinity pool overlooking the skyline. // 30 Beach Rd. (Singapore), thesouthbeach.com.sg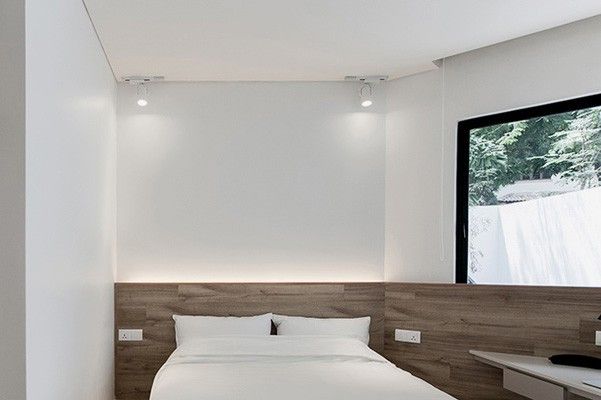 Clean lines and a contemporary feel are your hosts at Lloyds Inn.Photo courtesy of Lloyds Inn
Lloyds Inn
This hipper-than-thou hotel features minimalist rooms just off Orchard Road. Dip your feet into the wading pool or escape the rush of the city on the rooftop garden. // 2 Lloyd Rd. (Singapore), loydsinn.com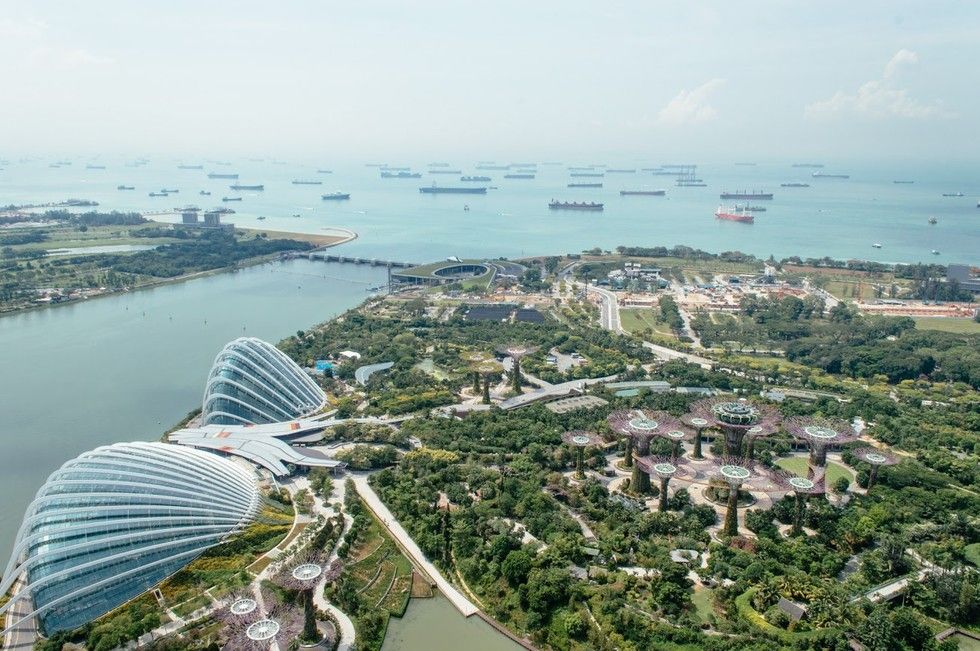 Where nature and technology come together, Gardens by the Bay
Gardens By the Bay
Seeing the Supertree Grove, Cloud Forest, Flower Dome, and the Skyway at the Gardens By the Bay, you get the feeling you've entered a set for Star Wars. This property is the latest addition to Singapore's modern building effort, with a mandate to keep 50% of the city green. Marvel at the plants in the world's biggest greenhouse, walk up the windy walkways around the Cloud Mountain, and, when the night falls, enjoy the Supertrees coming to life with a spectacular light show. // 18 Marina Gardens Dr. (Singapore) gardensbythebay.com.sg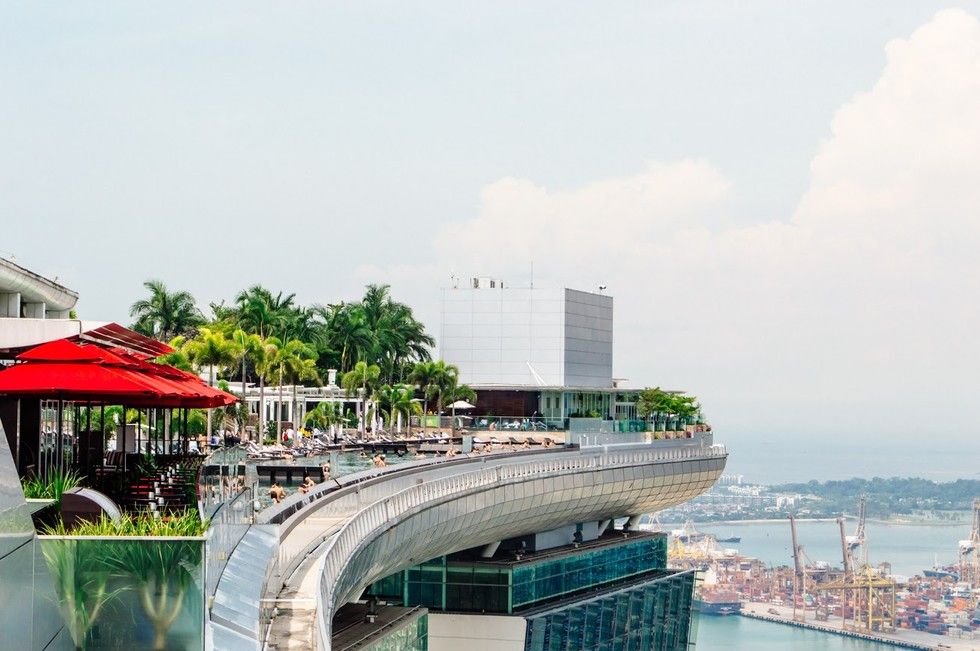 The rooftop infinity pool at the Marina Sands affords spectacular views.
Marina Bay Sands
Only guests have access to the rooftop park—complete with infinity pool—making a stay here extra special. There are over 1,000 rooms at this astonishing structure also outfitted with restaurants helmed by some celebrity chefs. // 10 Bayfront Ave. (Singapore), marinabaysands.com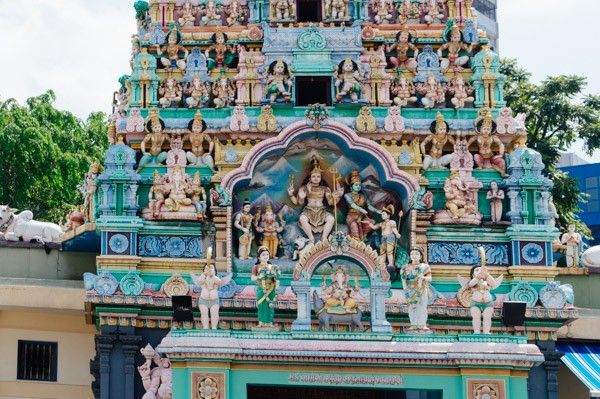 Indian temples are spread throughout Singapore.
Neighborhood: Little India
Little India highlights the panoply of cultures that go into making Singapore the crossroads of Southeast Asia. It's a vivid mishmash of contrasts, colorful temples, and spicy cuisines. Start your day in Little India with traditional roti prata (Indian pancakes) and teh tarik (pulled hot milk tea) from a streetcart vendor.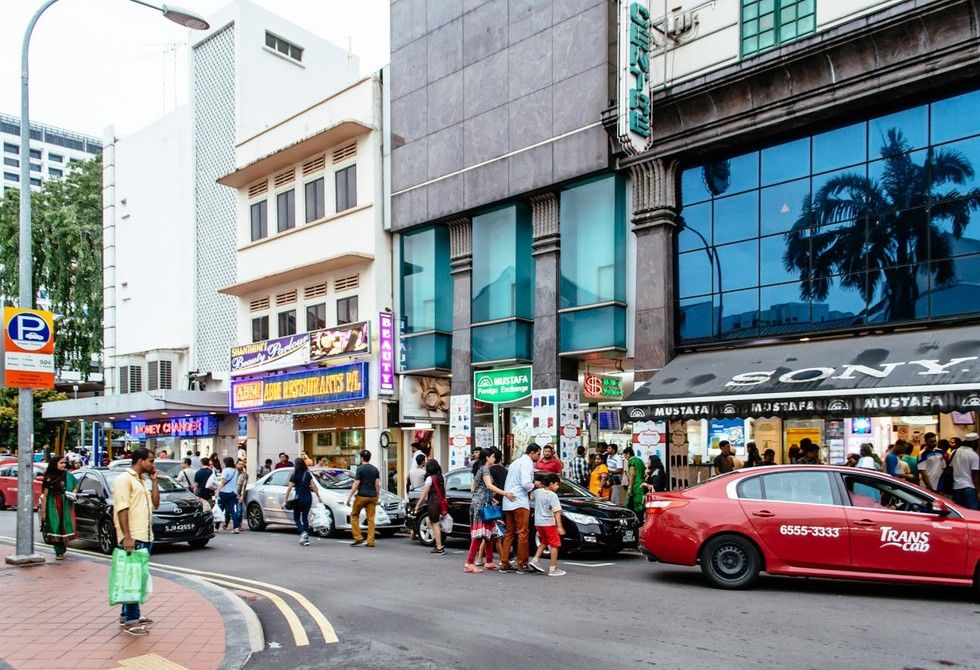 A busy street in Little India.
Mustafa Mall
If you think Trader Joe's is a madhouse on a Saturday afternoon, just wait until you experience Mustafa Mall. What started with a guy named Mustafa (natch) and his street cart has exploded into a two-block mall open 24/7 selling practically anything you can imagine, from clothes to cars. Jump into the hurly-burly but only if you've steeled yourself to the intense crowd.
// 145 Syed Alwi Rd. (Singapore) mustafa.com.sg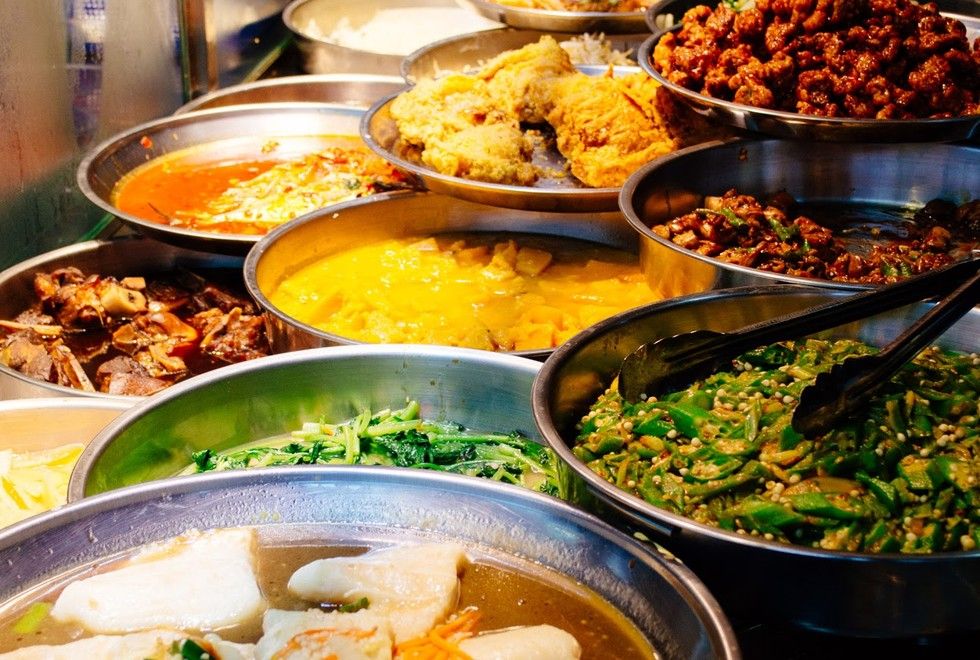 Hot and spicy flavors at the street restaurants in Little India.
Eating is a people's sport in Singapore, and Little India is one of its champions. It can be difficult to narrow down where to eat, but as always when in Singapore, a long line indicates the good stuff. Standouts include Spice Junction, Sweet Choo Tim Sum, Mustard, Kailash Parbat, and Kasmir.
WHERE TO STAY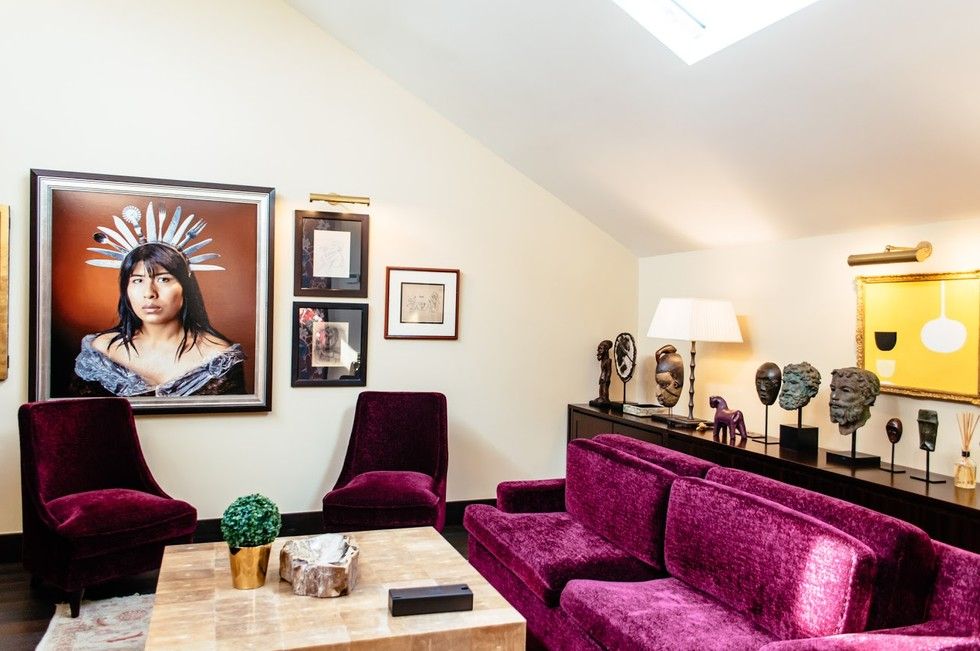 More than 1,000 art pieces are displayed at the Hotel Vagabond.
Hotel Vagabond
Opened in 2015,and already the hippest hotel in the hood, Vagabond is part accommodation and part gallery with over 1,000 pieces spread across the lobby and the rooms. // 39 Syed Alwi Rd. (Singapore) hotelvagabondsingapore.com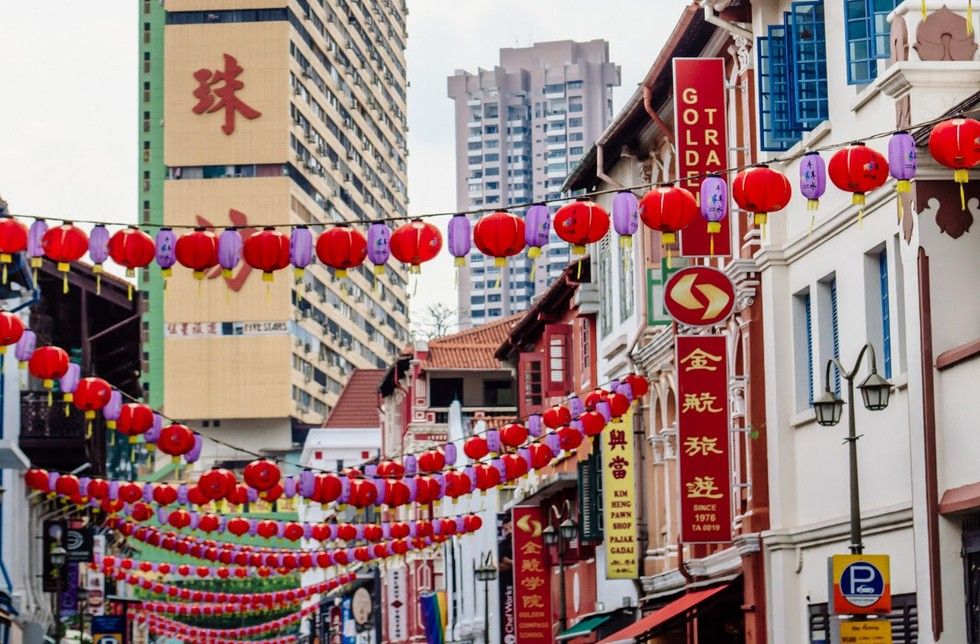 Festive lanterns adorned the streets of Chinatown.
Neighborhood: Chinatown
Parts traditional and kitsch, Singapore's Chinatown is a destination in its own right. Souvenir shops, red lanterns, temples, food stalls, and cool bars can all be found in this bustling enclave.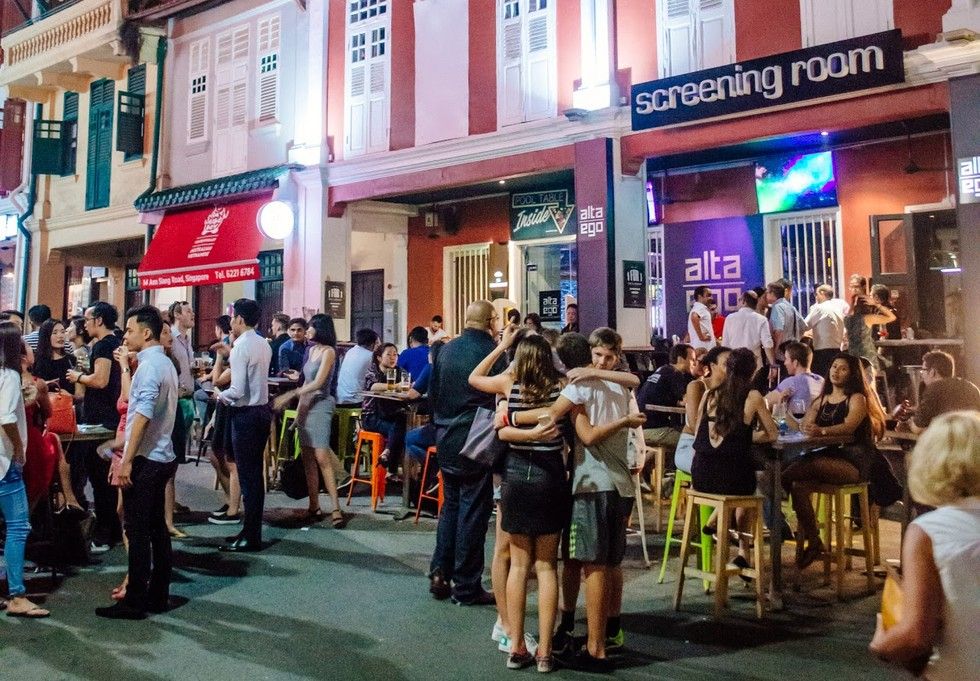 A lively night on Ann Siang Street.
Ann Siang Street, off the beaten path from the more touristy areas of Chinatown, is a sought after spot by locals. In the evening you can expect the stylish crowd to gather at upscale restaurants decorating outdoor tables. Try
Ding Dong
for modern Southeast Asian tapas (the Vietnamese Scotch Eggs are to die for); slurp a hot, steaming, noodle-stuffed bowl of pho at
Fat Saigon Boy
, or get innovative Thai food at
Bird Bird
(the Basil Duck Rice is a must have). With a full belly, bar-hopping will be much easier. Just around the corner, Club Street is known for chill bars. You might want to kick off a boozy night about town at
Operation Dagger
. There's no sign for this super hip basement bar, where they create unique cocktails with their house made liqueurs.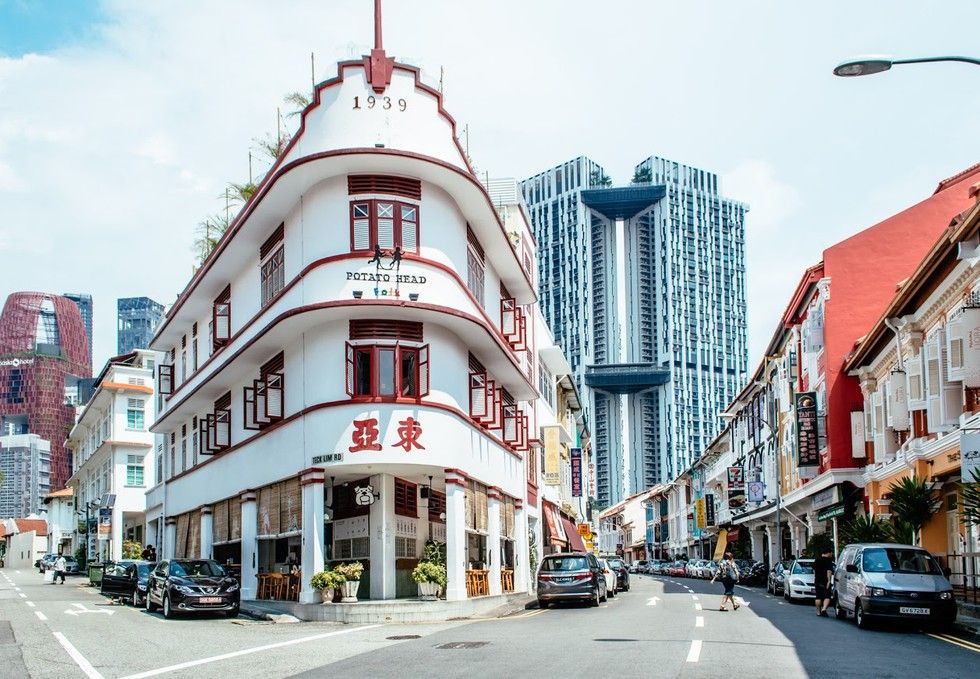 Keong Siank Street
Keong Siank Street

Start your walk on Keong Siank Street at the Sri Layan Sithi Vinayagar Temple, moving towards Neil Road. The old shop houses are jammed with new eateries, startups, and bars. Drop into Tong Ah Eating House for their celebrated kaya toast. For that Instagram-worthy shot of you holding a big, juicy, sauce-dripping sandwich head to Potato Head Folk, the eccentric, flea-market style restaurant with a yummy, fatty, carb-loaded menu. To satisfy your sweet tooth, take a break and grab a sweet treat from Banana Tree.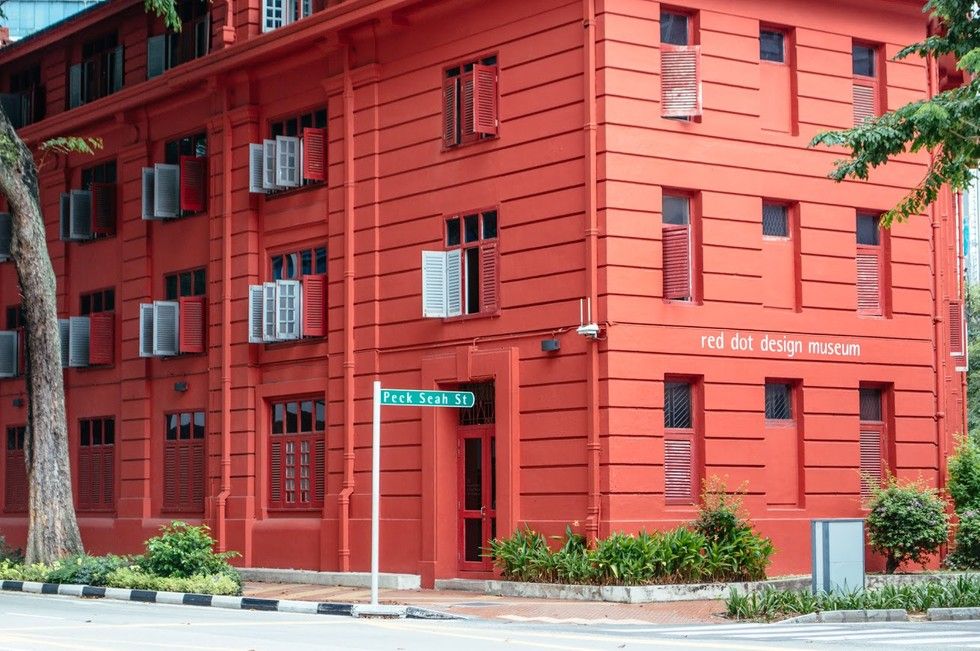 Check out up and coming designers at Red Dot.
Red Dot Design Museum
Only an 8-minute walk from Keong Siank Street is the Red Dot Design Museum filled with work from young designers, unique shops, which also hosts regular events to promote Singapore's artists. Visit their website for happenings and more information. Also, check out this great Google map they created featuring attractions beyond traditional touristy spots. // 28 Maxwell Road, museum.red-dot.sg
WHERE TO STAY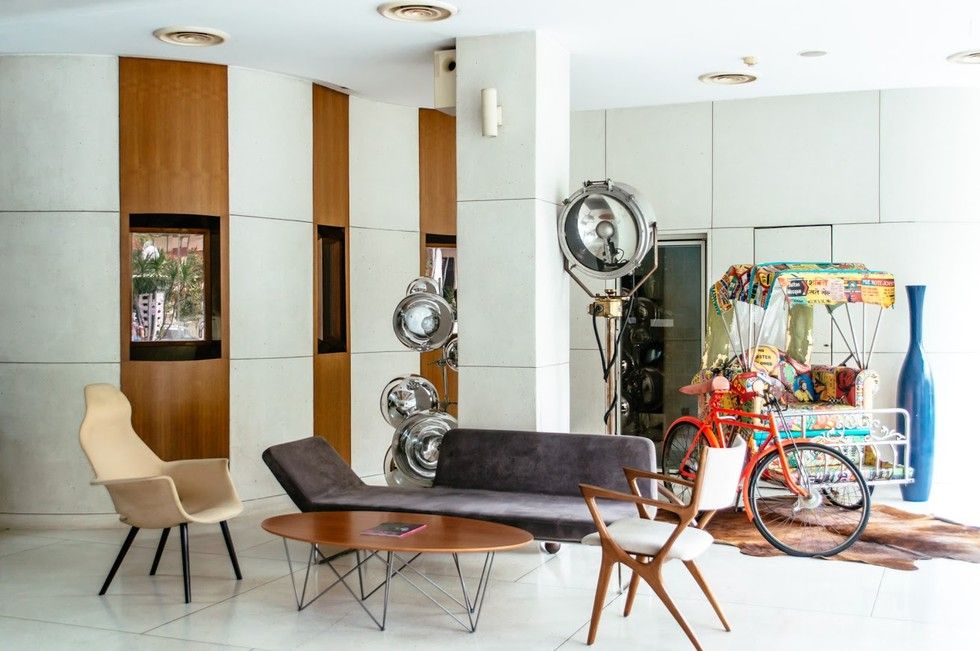 Funky fresh is the theme at the New Majestic.
New Majestic
This stylish hotel sports a lobby full of mismatched chairs and uniquely designed rooms tucked away on a quiet street in busy Chinatown. // Bukit Pasoh Rd. (Singapore), newmajestichotel.com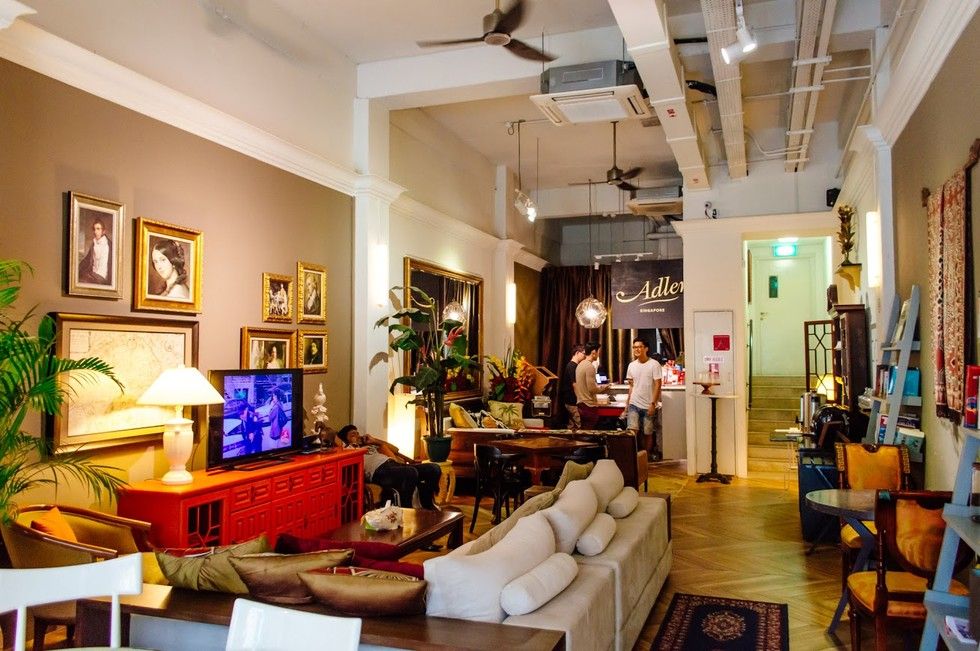 The surprisingly elegant lobby at Adler hostel.
Adler Hostel
Staying in luxury spaces doesn't always have to break the bank. Acknowledged by USA Today for being one of the world's most fashionable hostels, the Adler is a great option to save you some money, which you can use for more shopping and food. // 265 South Bridge Rd. (Singapore), adlerhostel.com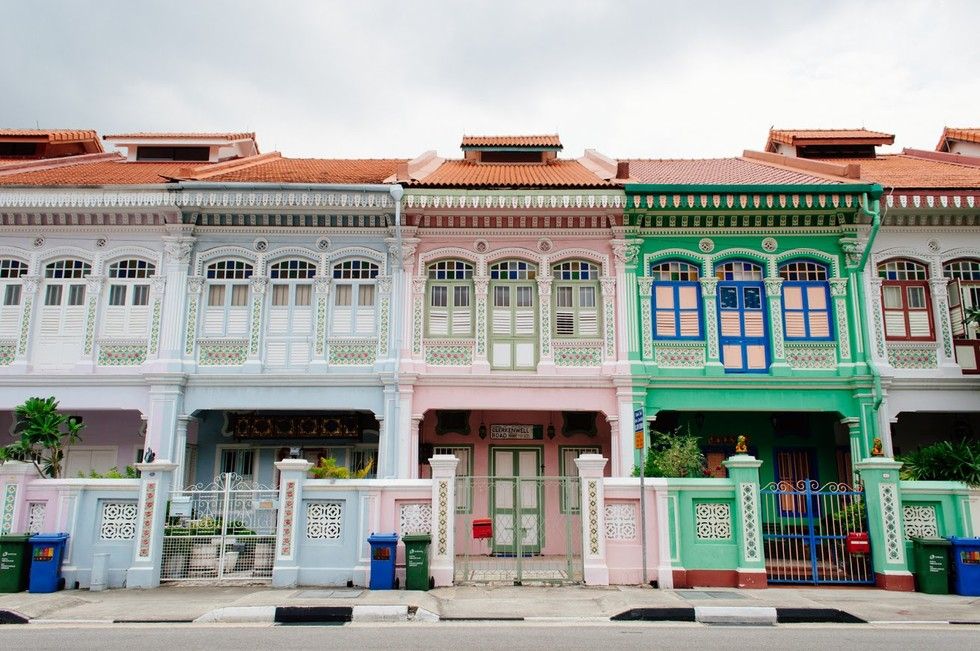 The beautiful Peranakan homes are influenced by British, Indian, and Chinese architecture.
Neighborhood: Katong & East Coast Park
Peranakan is the ethnic group that best represents Singapore's clash of cultures. Originating during the 14th century, Peranakans were immigrant Chinese men who married local Malay women, all the while adopting an English education and lifestyle. To get a sense of their society, their way of life, and their distinctive Nyonya cuisine head to Katong, a quarter filled with flamboyant facades, old-world coffee houses, and colorful markets.

The CMC will satisfy your sweet tooth.(Photo via Daniel Food Diary)
Kick your Katong tour off at old-school Chin Mee Chin Confectionery (aka CMC) with a comforting kaya toast, served here open-faced with sweet kopi coffee. Book a tour of The Intan, a preserved Peranakan house turned into a small museum jam-packed with folk gowns, ancestral altars, tiffins (stackable lunch tins), and other memorabilia. To find the most beautiful Peranakan homes have a stroll through the neighborhood and go to Koon Seng Road at the corner of Tembeling Road. At Kim Choo's Kitchen, shop quirky porcelain and enamel kitchen wares, hand-beaded shoes, embroidered sarongs, or get stocked up on traditional spices to bring back home for your own pantry. For lunch, you should stop at 328 Katong Laksa to slurp a comforting, coconutty and spicy laksa bowl. Because so much walking and exploring makes you tired, it's time for the beach. Only a 20-minute walk from Katong is the East Coast Park. Tall palms, soft white sand, and the refreshing ocean are perfect for cooling off from the heat.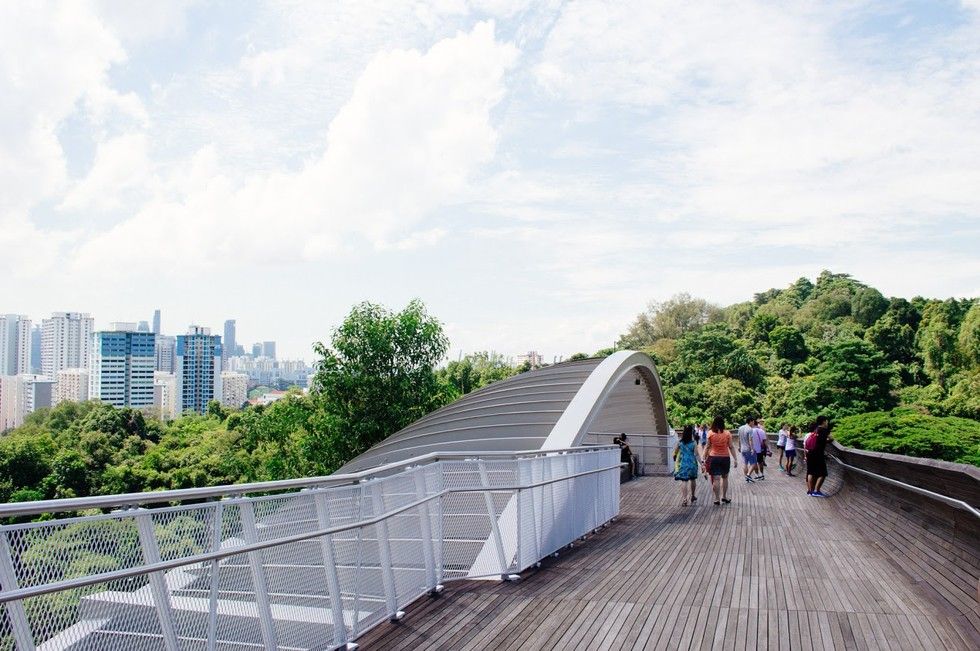 Handerson Waves walk is short, but with major views.
Parks & Gardens
Singapore is chock full of parks and gardens. In addition to the Botanic Gardens and Gardens By the Bay, there are several other green spaces dotting the city. Take a tree walk on specially-built bridges that link pedestrians through arboreal summits. You'll get magnificent views and, best of all, monkeys! Some walks are short, like Henderson Waves, but others, like Southern Ridges and MacRitchie Reservoir stretch on for up to seven miles. Another option for escaping the civtyness of Singapore is the ferry ride to Pulau Ubin, an island just off the coast where you can hike through Chek Jawa Wetlands or just chill out on the beach.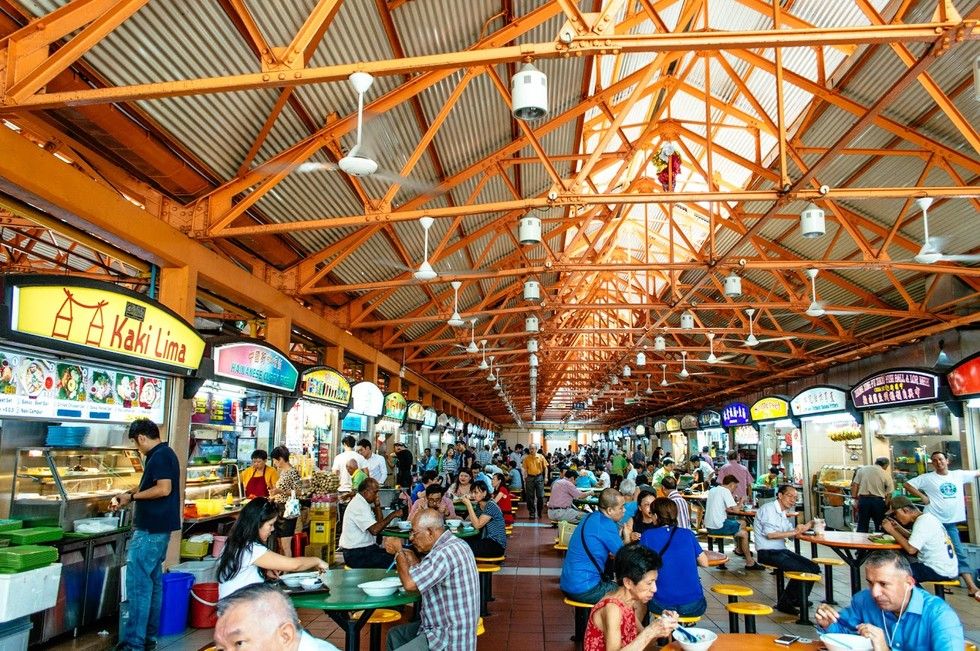 Maxwell Hawker Market
Fast Facts
Currency : Singapore Dollar US$ 1 = SGN $ 1.35 (August 2016)
Visa: none required for visits last less than90 days
Weather: humid, steaming, melting, sweltering,or blazing hot with occasional afternoon thunderstorms
Good time to visit: year-round; if you're a Formula 1 fan you might consider September
How to get there : United nonstop flight from SFO to Singapore
Languages: Mandarin, English, Malay, and Tamil. You will be perfectly fine with English.
Tipping: not expected, but appreciated
Hawker market etiquette: If you see a tissue paper pack on the table, someone has reserved the space
Must eat when in Singapore: laksa, Hainanese chicken rice, crab chili, kaya toast, prata, hokkien mee, rendang, fried carrot cake, and rojak