"We're called Credo so it begs the question, 'What is your credo?'" says Shashi Batra, founder of the new all-natural apothecary and spa, Credo, on Fillmore Street. Answer? "It's totally natural, super good, absolutely beautiful," Batra says.
---
If it sounds straight out of the Saturday Night Live sketch "The Californians," don't be mistaken. Credo is serious business. For more than a decade, Batra has been working with multimillion dollar beauty brands including Sephora (he was a co-founder of its US division), Estee Lauder, and most recently Victoria's Secret Beauty in New York. In 2013, he moved back to San Francisco—"I love this town," he says—to essentially launch a start up, Credo. "It's everything I always wanted to do when I was part of a big thing," says Batra. "I was always thinking, 'When I do it, I'm going to do it this way."
So what does that mean? Well for starters, it means opening a beautiful, airy, Pacific Heights store, designed by Boor Bridges Architects, the team behind The Mill, Sightglass on 20th Street, Trou Normand, and Flora Grubb Gardens. Eight eco-friendly color cosmetic lines and 70 sustainable skincare lines, including Juicy Beauty and Buddha Nose, are represented on the shelves and in the back is the Tata Harper Skincare spa, a single treatment room devoted to the products and protocols of the non-toxic, Vermont-based beauty brand. Services—including $30 to $60 mini-treatments like eyebrow wax and makeup— will be available on the sales floor, and affirmations like "Everything has beauty" and "Choose love" are on the fixtures. But look up and you'll see a sensor from Palo Alto-based startup Percolata which helps track foot traffic and analyzes workforce and customer experience. Batra hopes to scale the business and open, optimistically, between six and eight more Credos by 2017.
But he's smart enough to know that the beauty business is about more than data. "The decisions you're making about buying something so intimate is emotional, not intellectual," he says. "You can talk about ingredients and people are like, 'Great, thank you, but what does it do for me? I love the packaging. It smells so good; it feels good.' So we want to convey as much of that as we can."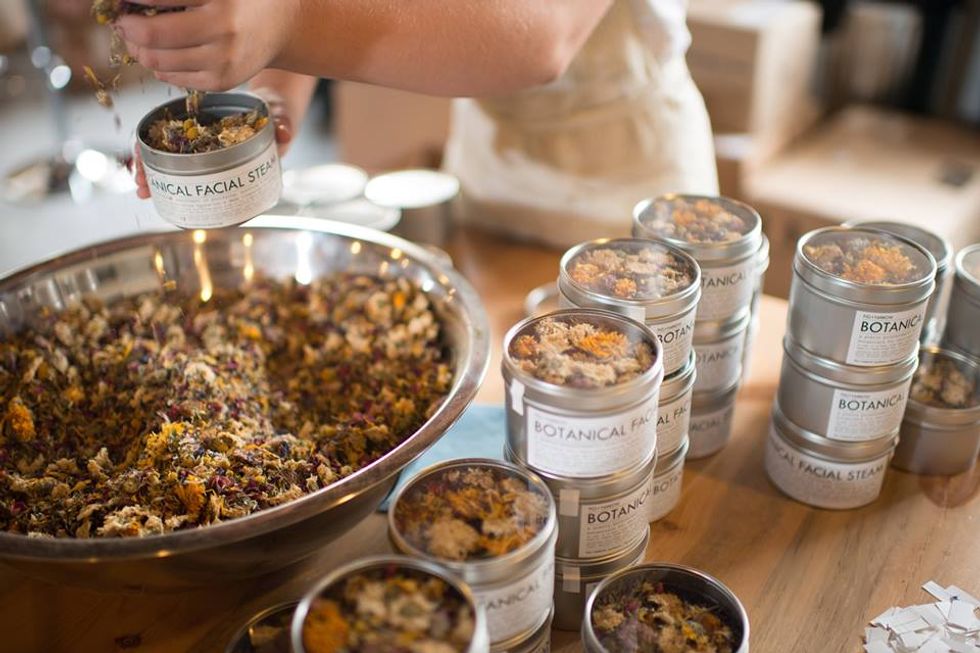 Here, Batra talks with 7x7 about what it means to be a San Francisco brand, why he wanted to partner with Harper, and life beyond red lipstick.
As a business focused on natural elements, how have you made the space eco-friendly?
Almost everything we've used here is either natural and/or recycled. The only thing we had to make completely synthetic is the stone for the cash wrap and makeup table. I wanted Carrara white marble but, when oils and makeup spills, that's just going to absorb. The floors are made of recycled concrete dust and some recycled wood. They're super durable and I love the shade. I think it's so perfect, it doesn't detract from product. And of course all the lighting is LED.
Why did you want to work with Tata Harper Skincare?
There are a whole bunch of individual natural beauty stores around the world, even in the US, but I think many of them are focused on the natural rather than the beautiful. What I like about Tata Harper is that it represents natural, effective, and beautiful. And that's the reason we're on Fillmore Street, a block from Nars and across from Benefit and a block from Aesop. Those are brands that have emotive value to their customer on the strength of beauty, and we're saying, 'Yes, that's exactly right.' Except it happens to have ingredients that are great for you, too.
What does it mean to you to start this brand in San Francisco?
It's inclusive and that's one of our key words. It's about allowing everybody to play, and it's represented in our high-low pricing. We have everything from an $8 lip balm to a $300 cream, or a $30 on-floor service to a $280 red carpet service. So it has this very casual inclusive feel, very young. And by the way, the millennial movement is a big part of what's happening around here, and certainly they've grown up thinking about this category this way. They automatically go, 'Why would I put anything that's not natural on my body?' So that plays a huge part. It would be challenging to open this in a city that didn't have that vibe. And this, to me, also is an elegant, modern store, and I think that fits Pacific Heights and I think it fits San Francisco.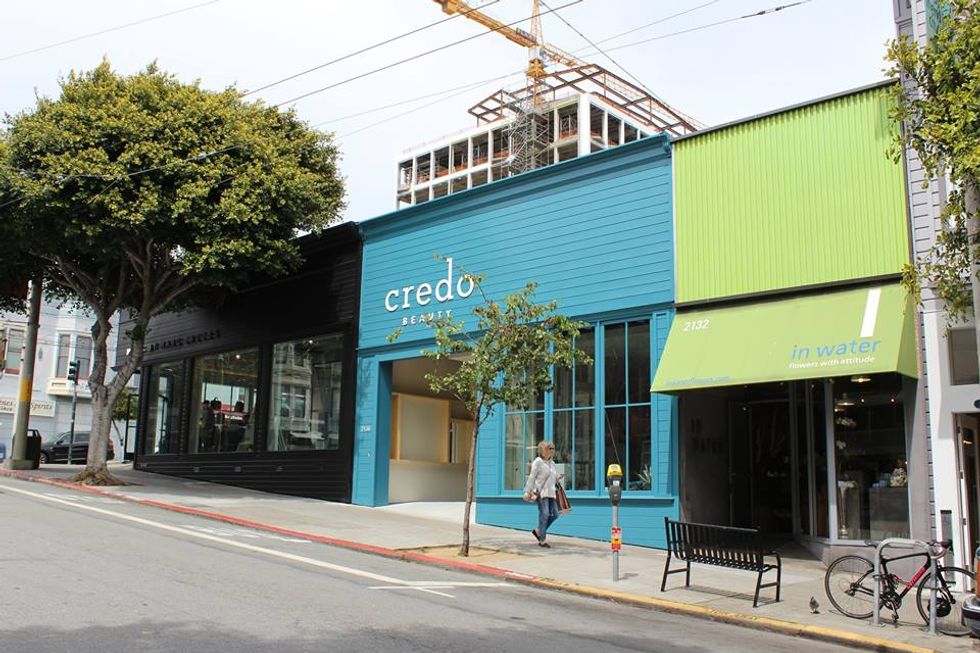 How will you maintain the spirit of a start-up as the company grows?
We hope to be a business with a purpose, and everything we do starts with what we believe in and the credo of who we are. That in itself is not something that can sustain us, but communicating that on a regular basis is the most important thing. We have to be a company that's based on inspiration of our cause. We can't be that transactional thing. But having said that, I think every startup or founder has always wished that.
And what's next for Credo?
We want to be a source of education to people so we're going to be announcing a few things after the store opens—Bay Area related partnerships that will help us expand nationally, that are going to help us with talking to people with an objective voice about a healthy lifestyle and beauty. I don't want to be pigeonholed in this world of red lipstick. It's not that important actually. So we'll let this storm pass, and then talk more about what's next.