Situated in the high desert of Central Oregon where tumbleweed and open sky reign, you'll find an 1,800-acre oasis that's a dude ranch and luxury resort in one.
Brasada Ranch is an ideal getaway for Bay Area folk looking to escape the urban madness and indulge in a few days of Wild West-ing.
---
The magical resort and residential community is less than two hours by plane from SFO and a 25-minute drive from Bend. It sits atop the stunning Powell Buttes and is rife with opportunities for outdoor activities—hiking, biking, white-water rafting and, of course, spending quality saddle time with new equine friends. If golf, fine dining, and spa-ing are also part of your plan, consider yourself set.
During the past year, the 14-year-old resort has been transforming, enhancing, and expanding its facilities. Also noteworthy: The travel-glossy fave was the first newly constructed destination resort in the country to receive LEED Gold Certification from the U.S. Green Building Council.
OK, time to swap your Giants cap for a Stetson and take a quick tour of the place.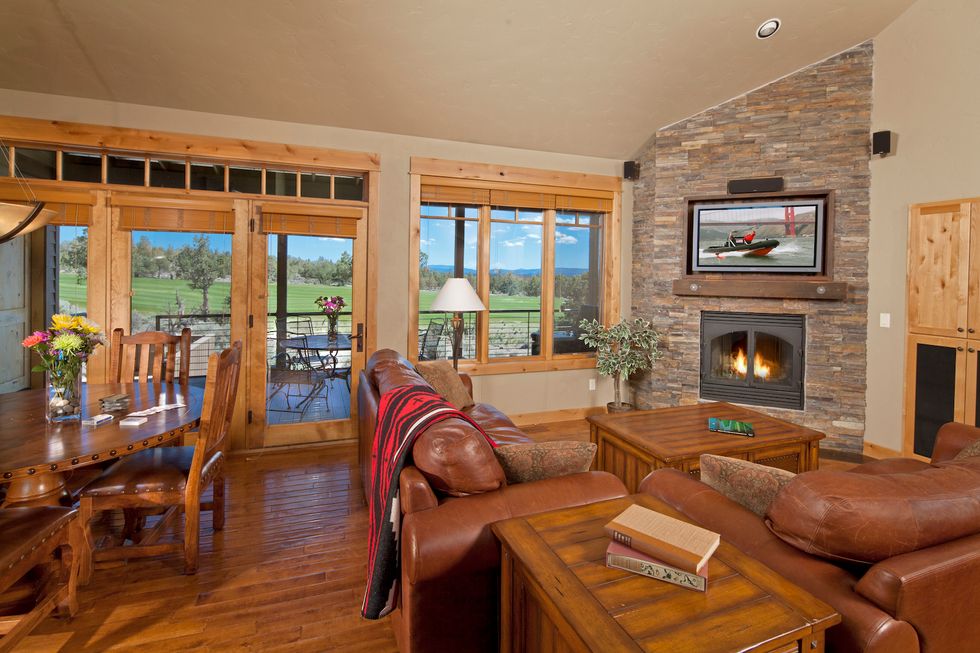 (Courtesy of Brasada Ranch)
Cabin Culture

The sprawling resort features a range of accommodations—stand-alone 2-, 3- and 4-bedroom cabins, as well as guest rooms and suites located in Brasada's main (adults only) Ranch House. Rustic elegance is the theme throughout all 91 cabins and eight suites, which have requisite expansive views. Think overstuffed upholstered leather sofas and chairs, Insta-perfect gas fireplaces, and modern ranch décor. Guest bathrooms are equally posh with soaking tubs or walk-in showers and marble vanities. And if hotel toiletries are your thing, prepare for bath-time bliss with locally made sage-scented products.
Good Eats

With several dining experiences available, guests definitely don't go hungry at Brasada. There's the all-day, family-friendly restaurant serving ranch-y comfort food in the Ranch House. And while not formal, Brasada's signature Range Restaurant and Bar, open only for dinner, is all about innovative seasonal and organic cuisine showcasing the best products from partner farms, ranches, orchards, creameries and wineries. Executive chef Doug MacFarland's menu is filled with cheeses, charcuterie, starters, pasta, large plates and more. The extensive wine list and handcrafted cocktails (Lavender Collins, anyone?) rival the breathtaking views. The charming General Store, located across from the Ranch House, is filled with everything from eggs and produce to snacks, coffee, beer and wine to stock in your cabin. Plus, DIY-ers can grab fully prepared meals with instructions for how to grill or bake back at the casa.
Treat Yourself Right
Spa Brasada, the resort's full-service spa, means business. And by that, we mean it takes your pampering oh-so seriously. The serene and intimate space features several treatment rooms, a relaxation room and separate men's and women's locker rooms with steam rooms. Every kind of rub and scrub you could possible desire is yours for the asking scheduling: massage, facials, wraps, manis and pedis, men-centric services (i.e Micro-Brew Foot Treatment) and more. For those a tad overwhelmed by the vast menu, the spa's signature treatment is a great place to start—it's a traditional Swedish or deep tissue massage with an exclusive Oregon Lavender Sage Oil created by a local skincare biz.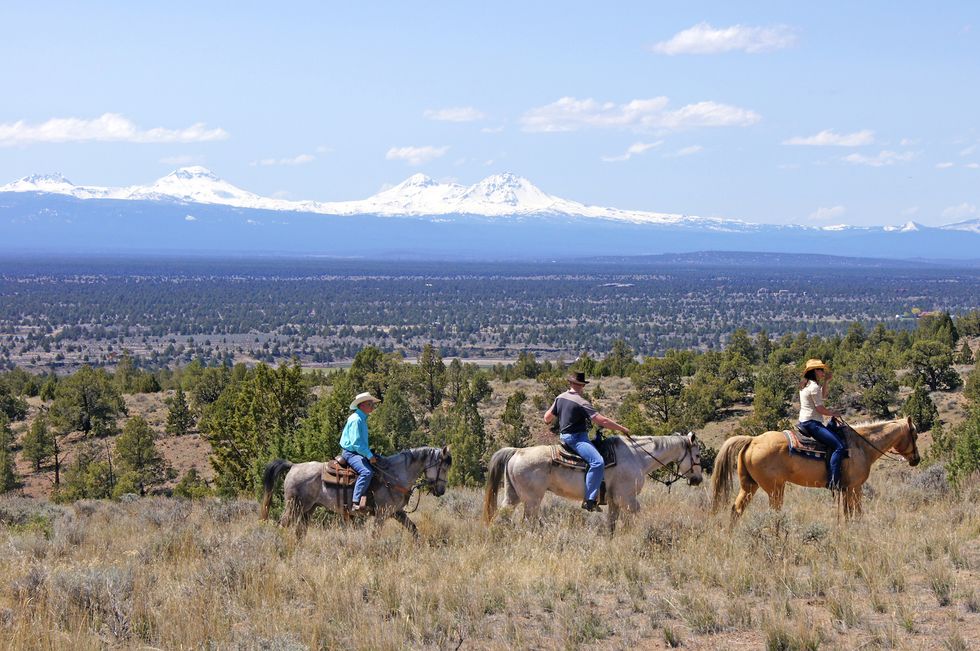 (Courtesy of Brasada Ranch)
Horsing Around

No need for scooters and skateboards here. Just pony up to the Equestrian Center for a cool ranch ride on a trusty Mustang, Draft-Cross or Western Pleasure horse. Stabled onsite, there's a steed (or pony) for every type of rider, newbies to experts, kids to seniors. Plus, private riding lessons are available. There are hundreds of acres of lavender and sagebrush-laden trails to explore with incredible high desert and Cascade Mountain views.
Fit. Fab. Fun.

The main focus of Brasada's recent facelift is its 17,000-square-foot fitness center, which is slated for completion in early 2020. Along with new state-of-the-art Precor cardio equipment, recumbent bikes, and flat-screen TVs is a brand-new fitness studio with complimentary yoga, Pilates and other classes. It has 2,000 square feet of interior space and a 1,000-square-foot covered outdoor deck ideal for relaxing. Opened over the summer, the stunning adult-only Cascade Pool is surrounded by a hot tub, custom fire pits and more (though it is currently closed for the season). And, of course, options for working up a sweat extend to the outdoors with endless year-round fishing, miles of biking and hiking trails, rivers and lakes for paddling and an 18-hole golf course.
Bottom line, cowfolk, there's really no need to ever leave the ranch. But if you're hankering to try some local brews, eats and local shopping, nearby Bend awaits.
// Brasada Ranch is located at 16976 SW Brasada Ranch Road, Powell Butte, Oregon, brasada.com.