Road trips from the Bay Area to Oregon are often of the touring-coastal-redwood-forests sort, but making passage instead through I-5 is rewarded with the charms of Ashland, located just over the state line.
This historical town, a picturesque hamlet nestled in the Siskiyou Mountains, draws visitors from all over the country to see its world-class theater, enjoy the fruits of its farmlands, and explore its natural beauty. Undeterred by the early-season wildfires, we spent a few days doing all of the above. Ashland is a playground for not just theatre aficionados and foodies, but also for the outdoor enthusiasts, offering easy access to hiking trails, meandering bike paths and adrenaline-inducing water adventure.
---
Now that we're back in the cool, gray fog of home, we can't stop singing tunes from Oklahoma! and we're wishing we were rafting the Rogue under the warm summer sun. You, too, can have post-vacation reveries like these. In fact, we highly recommend them.
Here's where to stay, eat, spa, and get cultured in Ashland, Oregon.

GARDEN STATE: LITHIA SPRINGS RESORT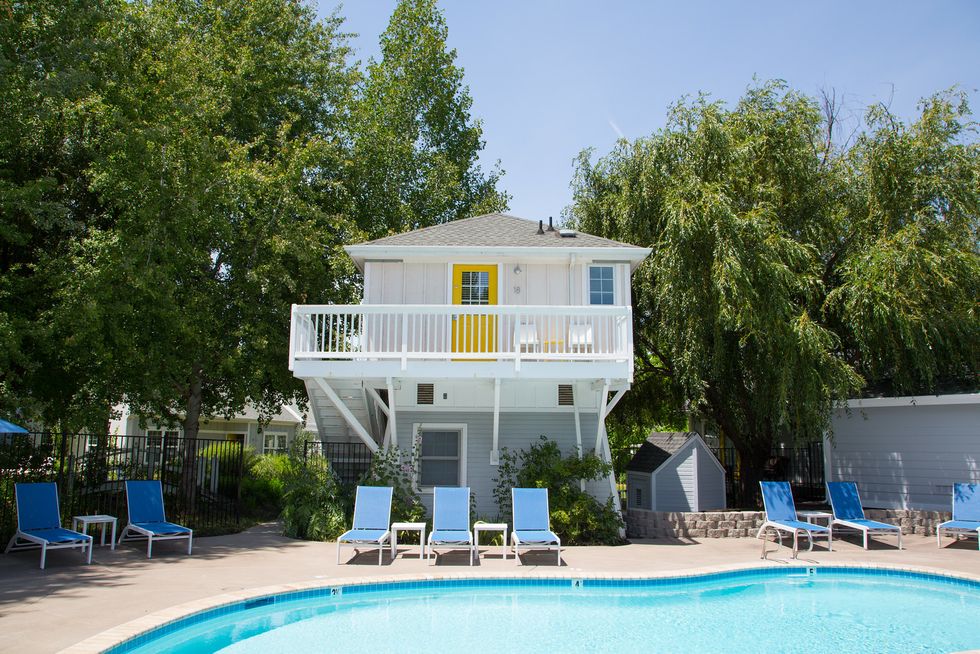 The pool at Lithia Springs Resort(Courtesy of Neuman Hotel Group)
Wildly overgrown and incredibly beautiful, the flower beds planted alongside the garden paths and charming bungalows at the Lithia Springs Resort (2165 West Jackson Rd.) attract a bevy of butterflies and bees. At the heart of this oasis are the natural, warm mineral springs bubbling beneath the property; piped directly into the deep jetted tubs in each guest room, the waters are rumored to ease such ailments as poor digestion, sore muscles, and poison-oak rashes. Healing and restoration is further hastened in the tranquil rooms, which feature stone-tiled showers, crisp white sheets, and scientific prints of flora and crystals. A kidney-shaped pool is a popular hangout for guests who aren't having afternoon tea with fresh baked scones and cookies in the lobby or window-shopping downtown or wine tasting at any of the local wineries. (We like the Weisinger Family Winery on the other side of town, where either of the two estate gurwürtzraminers make an easy-to-drink accessory while sitting on the shaded deck, listening to live guitar.)

One of Ashland's two Waterstone Spas is located at the resort, although we're partial to the downtown outpost (236 East Main St.), which maintains all the charm of its turn-of-the-century building, with its original mosaic-tile floors, tall ceilings, and pyramid skylight crowning the solarium, a place for robed guests to relax before and after their treatments. Traveling in a pair? The Duet Romance package comes with a private soak and a couple's massage, all taking place in a suite kitted out with a private cedar sauna. Champagne is provided to help keep the amour alive, especially if you give it the rom-com treatment and playfully intertwine your arms after you toast.
CENTER STAGE: OREGON SHAKESPEARE FESTIVAL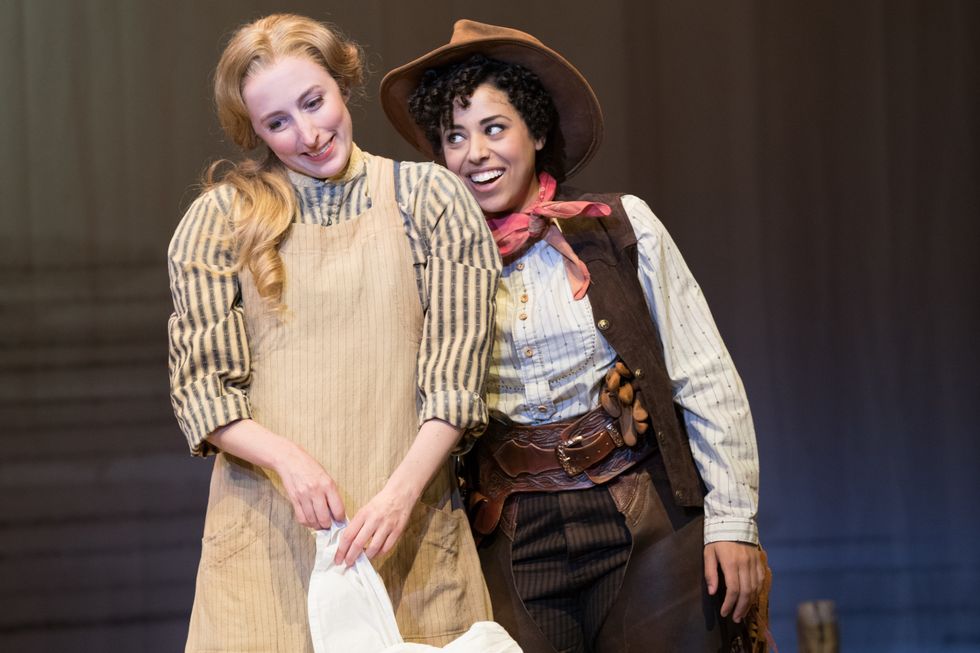 Curly (Tatiana Wechsler, right) tries to entice Laurey (Royer Bockus) into accompanying her to the box social.(Photo by Jenny Graham, Oregon Shakespeare Festival)
The Oregon Shakespeare Festival (OSF) is Ashland's national claim to fame, having started over Independence Day weekend in 1935 with humble productions of Twelfth Night and the Merchant of Venice. A boxing match was also scheduled to cover the cost of the plays, in the event that no one showed up to see them. (They did.)

More than 80 years later, the festival now runs for nine months out of the year. (You don't need to be Ben Bernanke to figure out that investing time and resources in your bread-and-butter will flourish the economy, but we digress.) State-of-the-art theaters are putting on original and historically beloved plays and musicals, Shakespeare be damned. During our recent visit, we took in the classic Rodger & Hammerstein crowd pleaser Oklahoma!, or rather an LGBT version thereof, in which all actors had comedic timing, rhythm, and a beautiful singing voice. For this Ashland amateur, the Broadway-level production quality was a pleasant surprise (though the super-sassy rendition of "Surrey With the Fringe on Top" certainly helped gain favor). As long as you're taking in all the drama, see The Book of Will, a play staged at the Allen Elizabethan Theatre (an open-air venue), about three of Shakespeare's friends and their plight to compile a definitive, albeit posthumous, collection of the playwright's works, lest creative liberties continue on stages all around England ("To be or not to be, there's the point....").
RAPID TRANSIT: MOMENTUM RIVER EXPEDITIONS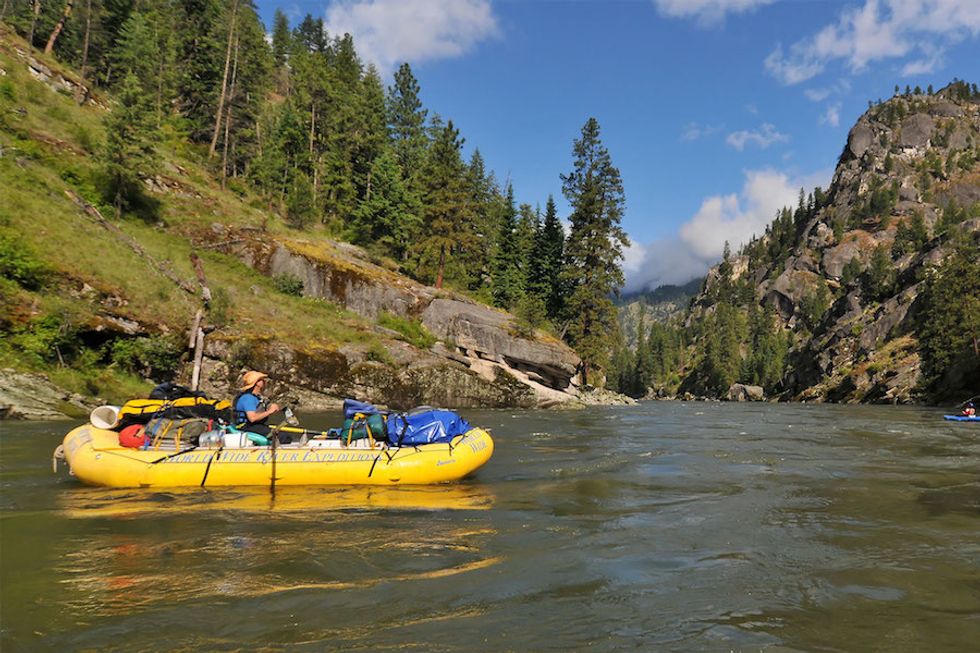 (Courtesy of Momentum Rafting Expeditions)
Oregon's famous Rogue River runs very close to Ashland, and visitors would be remiss not to raft the rapids, if only for a couple of hours. Momentum Rafting Expeditions hosts river trips that last anywhere from three hours to nine days. Given that we had tickets to see The Book of Will on Saturday night, we opted for the three-hour tour (cue Gilligan's Island theme music) on Saturday morning. Our guide, Tyler, picked us up at our hotel and drove us 20 minutes to the put-in spot, a no-permit-required stretch of river that progresses in difficulty as the float goes on. You'll glide along placid waters, power through Class IV rapids, surf a wave on the raft, and put your paddling skills to the test when you maneuver the boat over two six-foot waterfalls. Just remember to paddle in sync with your raftmates and listen to the guide's commands. As Tyler says, "Think of this trip as a two-hour game of Simon Says." For maximum comfort, wear quick-drying shorts, a rash guard, and water shoes. With any luck, you'll look like a drowned rat by the end of the trip, but your clothes won't be any worse for wear.

EDIBLE ASHLAND: EAT BEFORE YOU ENTER (THE THEATER)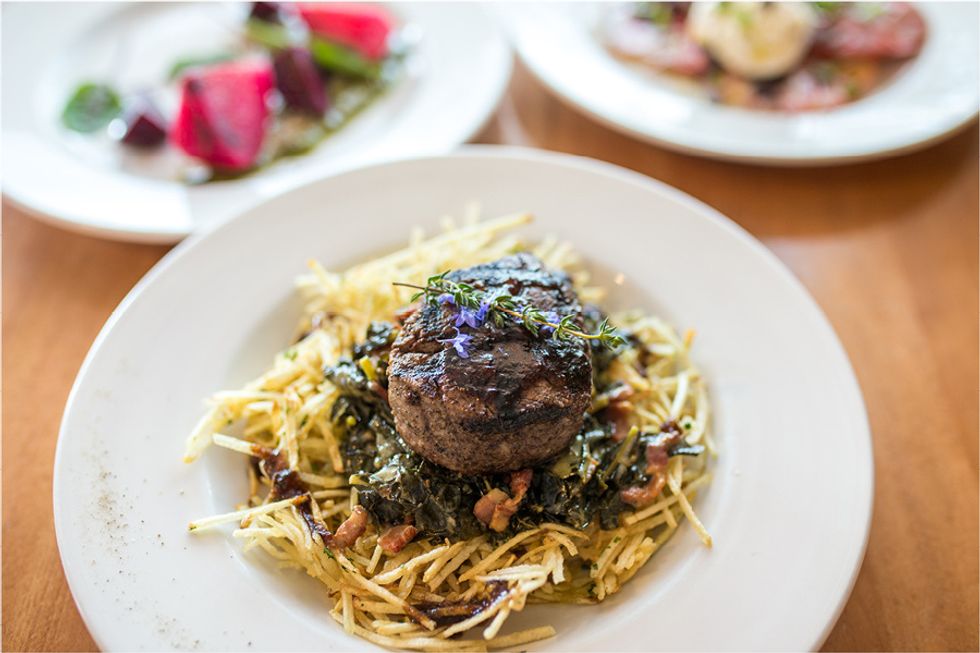 New American fare at Larks.(Courtesy of Neuman Hotel Group)
Restaurants in downtown Ashland are packed from 5:30pm to 7:30pm with the theater crowd getting its sustenance before the 8pm curtains go up. At Larks, inside the town's 1925 grand dame of lodging, Ashland Springs Hotel (212 East Main St.), executive chef Franco Console serves up farm-focused New American fare in an elegant brasserie setting. While the grilled New York steak with ramp butter is always a favorite, it's a guaranteed food coma—not exactly an ideal state if deciphering baroque Shakespearean language is in your near future. Instead, go with any of the seafood specials, including local steelhead trout, served with modern twists on any of the five mother sauces, or the vegetarian pasta—on our visit, a hearty tangle of housemade capellini strewn with morel mushrooms and asparagus. The daily sorbet is sweet enough to satisfy the dessert requirement, but with brightness.

A more casual, less scene-y option is Luna Cafe + Mercantile in the Ashland Hills Hotel & Suites, where guests settle into a lively midcentury modern option to enjoy such tasty, unpretentious eats as piled-high reubens with housemade pastrami and grilled flatbread pizzas (we like the pear and arugula).
Hearsay (40 S. First St.) is a three-year-old restaurant located across from the Ashland Springs Hotel. The dark and moody bar has a speakeasy vibe and a swanky craft-cocktail list to match. Secret rendezvous should convene in the lounge over Hearsay Spritzes featuring a jigger of the herbaceous aperitif Bruto Americano from Alameda's own St. George Spirits, and dinner dates should connect in the garden, in the shadow of a blue spruce and a crab apple tree, over fried artichokes and a surf-and-turf of local salmon and RR Ranch ribeye.
Mäs (141 Will Dodge Way), the Japanese-inspired kitchen with a Spanish name, is unassumingly located in an alley in downtown Ashland. Chef-owner Josh Dorcek, a son of San Jose, is crafting imaginative 10-course prix-fixe menus never before seen in the region. Ingredient- and technique-driven, the food is light and nourishing, if not a little heady; Dorcek clearly enjoys challenging himself and diners with imaginative cookery. Our favorites dishes on the recent menu include the tomato dashi with olive oil, a full-bodied broth that starts the culinary journey; kale chips adhered to a rock with grilled-mussel emulsion and sprinkled with dried-mussel powder—a mid-menu snack, if you will; and the pickled berries with raw goat's milk foam—a sweet-tart end note.
Planning a trip? Neuman Hotel Group offers stylish stays, restaurants, and spas in the Ashland area for every kind of traveler.