Across the Bay Bridge there's a fresh batch of Oakland restaurants giving us serious hunger pangs. 
---
The Grand Avenue restaurant AlaMar  ("to the sea") in Uptown Oakland features saucy sounding crustacean boils, coconut shrimp lollipops, local Delta catfish at night, and artisan sandwiches during the day. It's a first time restaurant venture from New York City native, chef Nelson German, who is now calling Oakland home. We're drawn to the current veggie option – a plantain stuffed with red quinoa along with a slash of Meyer lemon pepper sauce over Dominican braised pintos and spring garlic – and do nab a side of beer-battered, pickled asparagus with Tunisian spices for a season meets local bent that reflects the ethos of the chef. A cocktail with ginger and anise looks both refreshing and pretty, a potent two-fer. Save room for a palate cleansing sorbet, or go adventurous with the Imperial stout ice cream sandwich, and don't forget to take some beignets home with you. 100 Grand Ave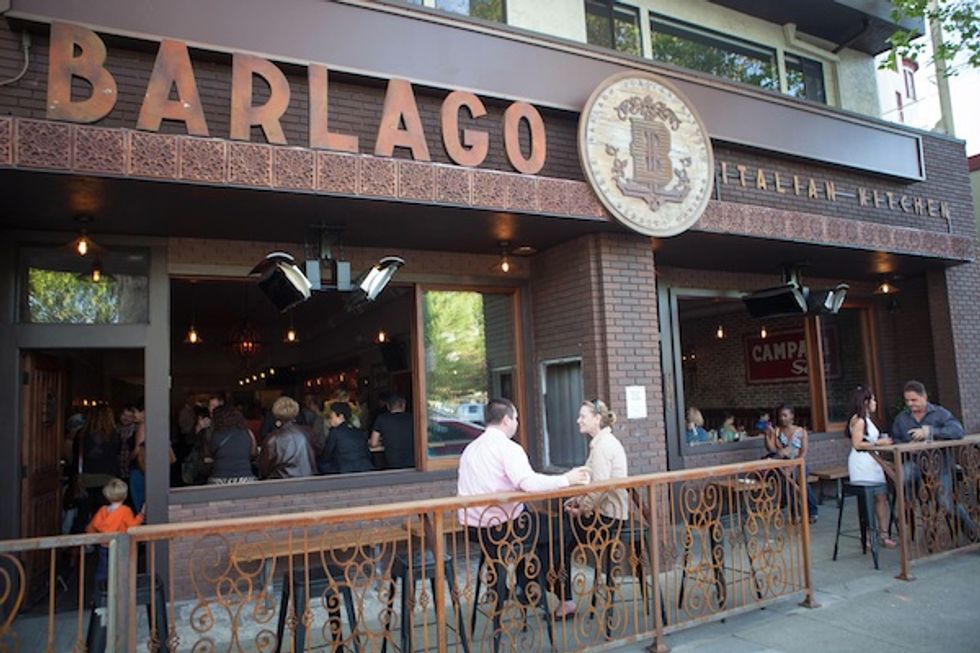 Photo courtesy of Bar Lago
In the Lower Hills area, a casual meets cute restaurant called Bar Lago just opened. It's next to Sidebar, in a space that for over two decades housed Zza's. Look for an Italian restaurant with the classics, like pork and beef meatballs, as well as pizza and pasta. Wash it down with a cocktail, beer, or glass of vino from an approachable list and do consider kicking off happy hour as a chance to check out a newly renovated space that has outdoor seating. 550 Grand Avenue.
The Kitchen
A hearty Angus cheeseburger with fries is as tasty a combo as any, and bonus if a full bar, and seven TVs are on for sports viewing. At The Kitchen, a meaty sports bar with a new location, lunch, and dinner dining action means you can watch that game day and night. The Kitchen changed names from The Prime Spot on Grand Avenue when it opened in its new digs. While the menu does offer grilled salmon, sandwiches seem to rule the roost: both chicken or fish sandwiches seem to get fair treatment from the fryer and are satisfyingly crispy. An added win-win: music fans can enjoy occasional live performances, too. 341 13th Street.
All that eating makes us crave a nap, but the reality is, you gotta keep working. Revive via Sightglass coffee at Coloso, a teensy Uptown space with espresso drinks and pour over coffee for the on-the-go crowd and those seeking extra oomph for the day. The fresh daily pastries are from Sandbox Bakery, a Bernal Heights shop with a French meets Japanese bent from pastry goddess Matsumi Takhara. Her scones, croissants, and muffins are worth waking up for! Coloso's owners, Renzo Gianella, Jose Posadas, and Maggie Servais, shutter the shop on Sundays, for now. 
Follow @mladdfood