According to the Sibley Field Guide to Birds of Western North America, the snowy egret, Egretta thula, "forages for small fish in shallow water." One can see this behavior on display in any number of wetlands in the Bay Area, perhaps nowhere more scenically than the shallows of Bolinas Lagoon, some 20 miles north of San Francisco.
This past weekend, however, in Santa Cruz, I observed a lone E. thula feeding in water that must have been 60 or 70 feet deep by tiptoeing gingerly across a canopy of bull kelp undulating in the low swells offshore. What new delicacies might it be enjoying, I wondered, by venturing beyond its traditional comfort zone? And more to the point, what might an egret reared on shallow-water staples like the threespine stickleback and the staghorn sculpin, make of the pelagic flavors of the Pacific sardine and the Northern anchovy? I'd been thinking a lot about questions of this sort. Not about the dietary habits of birds, per se, but about taste in general, about comfort zones and familiarity, and conversely, about the sorts of things we open ourselves up to when we venture, as it were, into less familiar waters.
---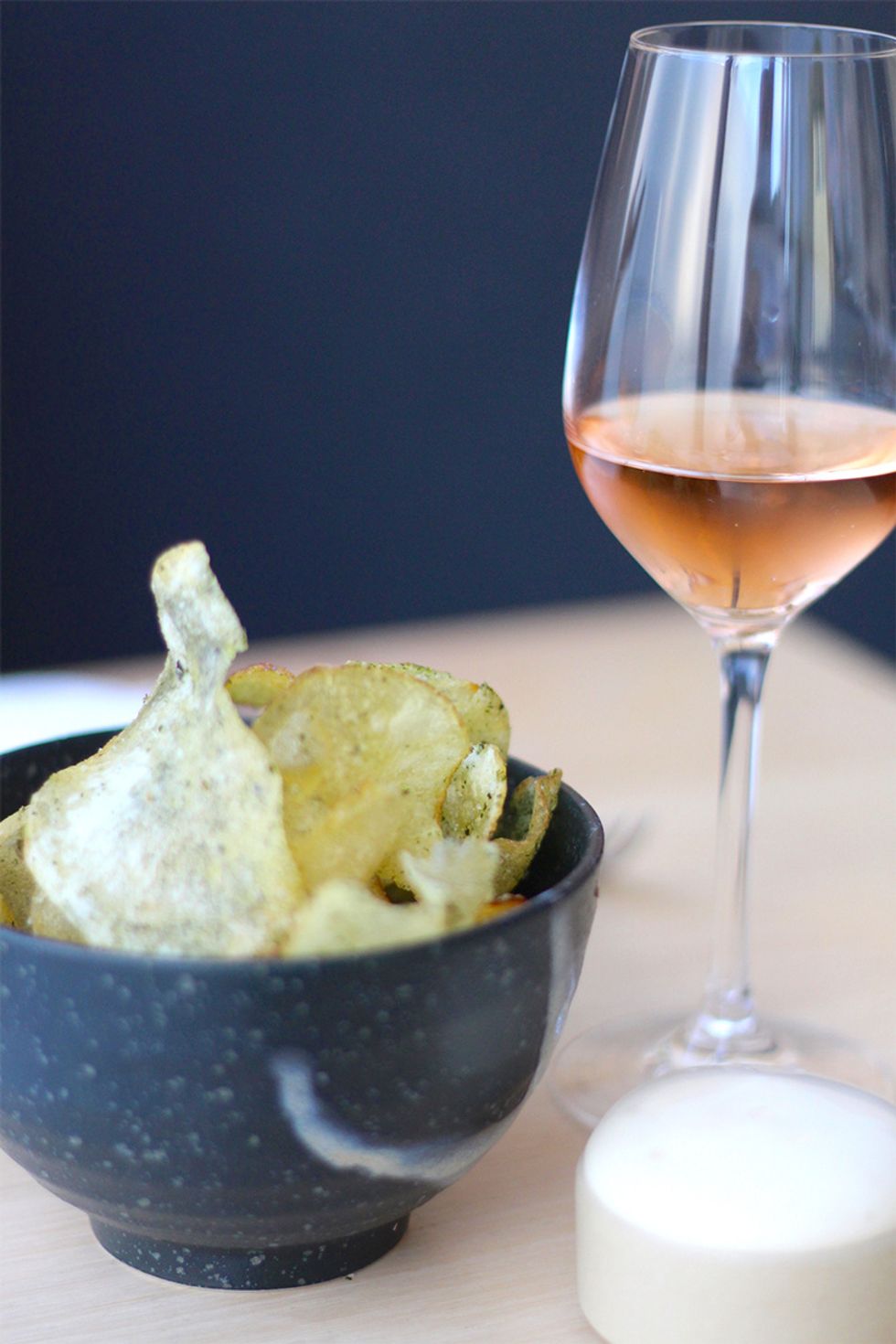 (Kristina Haas)
A recent evening at Commonwealth kicked off with potato chips seasoned with seaweed and Aleppo peppers, and a sparkling rosé from the Côtes de Toul appellation of Lorraine, a region not known for bubbles.
Like many trains of thought, this one had begun with a glass of wine, the first of several in a pairing that accompanied a tasting menu at Commonwealth, the eight-year-old Mission district restaurant whose rather particular interpretation of California cuisine has garnered an enthusiastic following, and since 2016, a Michelin star. Ever so slightly pink, with a fine, persistent sparkle, I mistook it for Champagne, but while it had been vinified using the Méthode Traditionnelle, it was in fact the work of Lelièvre, a small, family-owned winery in the Côtes de Toul, an appellation not known for its bubbles. Mostly gamay gris with a splash of pinot noir, it spoke dryly of lemon, butterscotch, and tangerine, and to the sensibility of Commonwealth's new wine director, Sarah Snyder.

When Commonwealth announced the new addition to their team this June, Snyder had already been at work for several months, studying the idiosyncratic style of the restaurant's chef, Jason Fox, while pondering the kinds of wines that would complement it.

"It definitely took time," said Snyder, reflecting on her initiation. "When I started, I remember sitting down with Jason and him handing me a menu, because things were about to change. The menu was basically just ingredients at that point. There was lamb, and dates, and this and that. I didn't see how the symphony was going to work. It was exciting but a little scary—learning the cuisine, learning the textures, the weight of the food, if they're going to add smoke or acid or a wavering of sweetness or spice. And then he'll throw you a curve ball."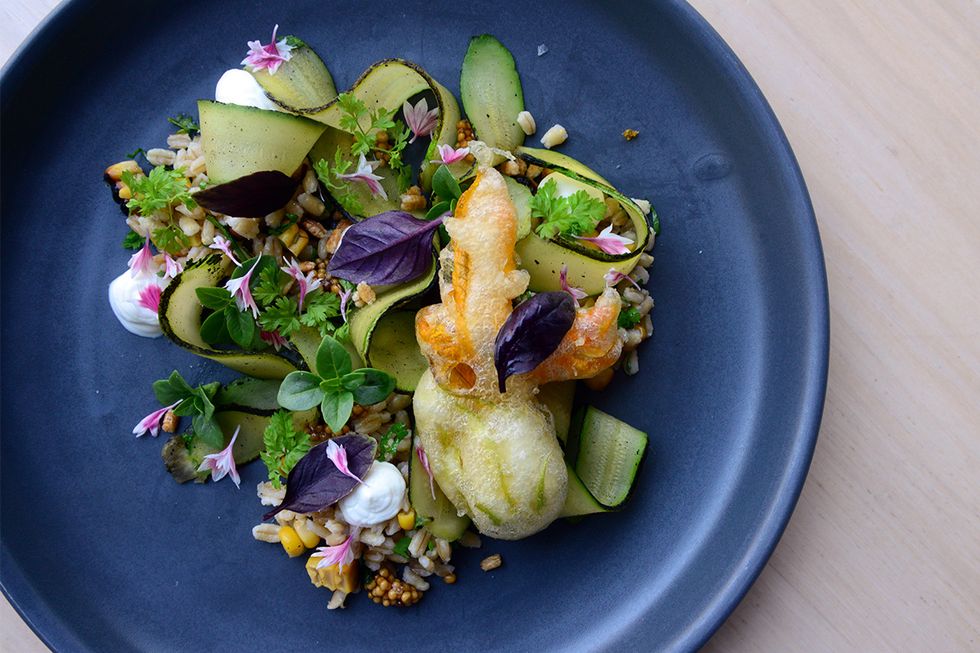 (Nick Czap)
One of the more challenging aspects of Snyder's job is pairing wines with the complex flavors of chef Jason Fox's cuisine. Among the elements in this dish: charred zucchini, roasted corn, barley, smoked yogurt, mustard seeds and basil.
Asked to elaborate, Snyder gave an example from the recent tasting menu. "Let's take sablefish, an oilier fish, in the dish with the smoked mussel. You've got a richer fish, and smoked mussel, and then instead of doing a butter sauce, he puts mint, and then elderflower. When you're dealing with certain herbs, they're going to interact with certain wines differently, creating metallic flavors, bitter flavors."

"Or we had an uni dish," she continued, "the window into the sea. It tastes like kelp, like iodine. It's earthy, it's so specific. Musky, heady. But then it's paired with a rhubarb granita and trout roe and buttermilk panna cotta and chrysanthemum and agretti, a Mediterranean herb. That dish kind of felt like a middle finger. What the hell am I going to do with that?" A wry smile, however, suggested that Snyder is less prone to exasperation than to relishing a challenge, and in this case, one for which she was seemingly well-prepared.

A California native born in Sunnyvale, Snyder studied anthropology and political science at the University of Colorado, Boulder. On graduating, she moved to Santa Cruz, where a penchant for throwing work parties led to a job as an events organizer at a Los Gatos winery, which in short order led to jobs in the winery's tasting room, cellar, and vineyard. From there, she went on to work at a winery in Hawke's Bay, New Zealand, where her explorations led her to question popular preconceptions about particular wine regions. "New Zealand has a certain unsavory reputation here," she said. "Steel tanks, grassy, asparagus, and a reputation for sauvignon blanc—I think they're pigeonholed. But they're also making pinot gris, riesling, et cetera, and a lot of it doesn't come here."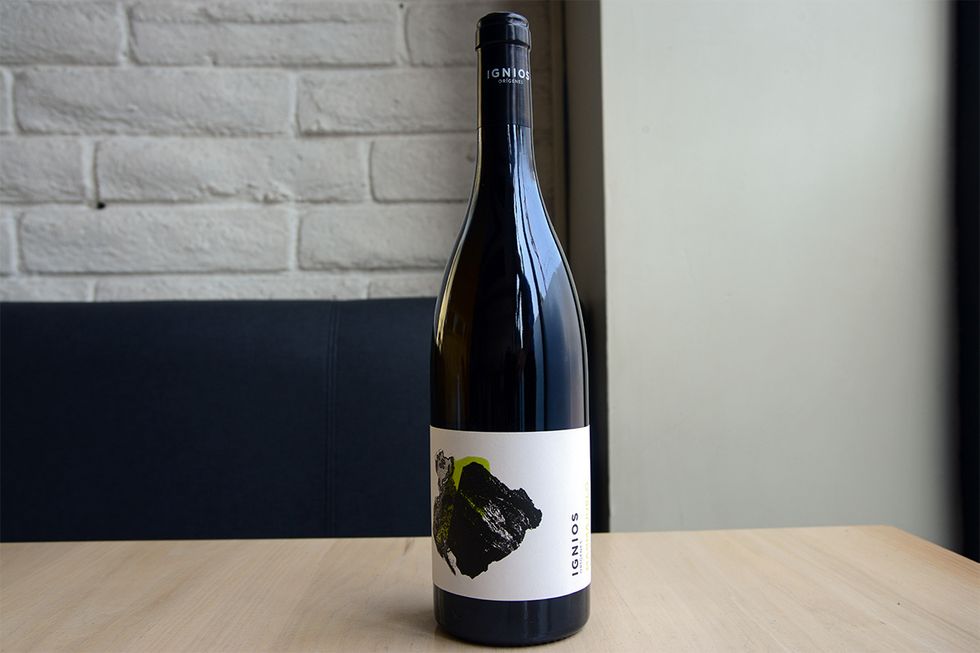 (Nick Czap)
Snyder paired a stony-saline Marmajuelo (a grape variety indigenous to the Canary Islands) with a dish of albacore crudo, harissa, sticky rice, sea beans, melon, whipped tofu, purslane, and licorice herb gelée.
In 2014, after passing the Certified Sommelier exam, Snyder went to the Plumed Horse in Saratoga and worked as the assistant to the restaurant's wine director, Jeffrey Perisho, before moving on to Soif, a restaurant and wine bar in Santa Cruz whose eclectic list was then curated by John Locke and Alyssa Twelker, influential figures in a region whose winemakers are known for their whimsy and irreverence, and for eschewing typical blockbusters like cabernet and chardonnay in favor of lesser-known varieties and pure expressions of terroir. Snyder described the latter experience as "defining."
Between Soif and Commonwealth, Snyder worked as a sommelier at Lazy Bear, and then, in the summer of 2017, returned to the Santa Cruz area to work with Ryan Stirm, one of the region's new generation winemakers who she describes as "their own species of animal." It's a phrase one could just as easily apply to the wines at Commonwealth, which are made, by and large, by small producers in lesser-known regions, often from little-known grape varieties.
Take Ignios Orígenes's 2015 Marmajuelo, for instance, a varietal made from a grape indigenous to the Canary Islands. More tan than yellow, its aroma and flavor were slightly reminiscent of a very dry Madeira, with a smooth salinity and a pervasive sense of stone. "What I like about this wine is its cool earthiness," said Snyder, "a flavor that transports you to a volcanic island." The sensations were new, and in a way revelatory (it was the first time I'd had a wine from the Canaries) and made a kind of perfect sense with the corresponding dish—albacore crudo with harissa, sticky rice, sea beans, melon, whipped tofu, purslane, and licorice-herb gelée—mimicking the salty notes of the fish, the sea beans, and the purslane, while simultaneously tamping down the harissa's rather intense heat.
And then there was Casal Figueira's 2016 António, made from 100 percent vital, an autochthonous grape recently rescued from near extinction in the Lisboa region of western Portugal. Snyder served it alongside a wonderfully earthy dish of hen of the woods mushrooms, fava beans, horseradish soubise, agnolotti, and brown butter, describing her thought process as follows: "2016 Casal Figueira Vital is fresh, delicately floral with a whisper of white peach, but above all, has a saline quality reminiscent of chablis or some examples of aligoté. This is an example of a wine that lifts elements of the dish up off the plate. It's important that the wine is a stone cold fox on its own, but here it is framing the dish. I wouldn't want any overpowering fruit here, because again, the components are not asking for that. You have hen of the woods which are a little nutty, with a touch of dried apricot in their flavor. Horseradish soubise and fava beans are not looking for some kind of sledgehammer of a wine either."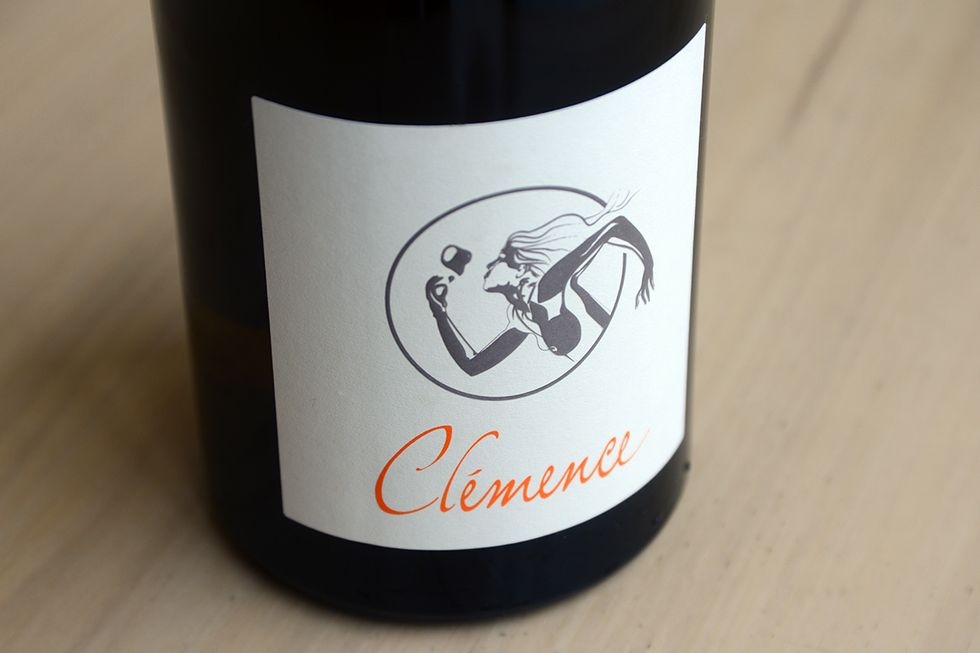 (Nick Czap)
Snyder paired Adrien Berlioz's 2016 Clémence—a delicately tart and nutty wine from Savoie—with a complexly flavored dish of sablefish.
When it came to the aforementioned sablefish, rather than wrestling with its contrasting flavors, Snyder chose to tread lightly with a 2016 Clémence made by Adrien Berlioz, a winegrower who farms a small, steeply pitched vineyard in Savoie. One hundred percent rousette (also known as altesse), it was delicately tart, with elements of almond and hazelnut, and a fine, airy lightness suggestive of the vineyard's Alpine altitude.

If the wines had something in common, it was a kind of Goldilocks quality, occupying an intriguing space between the standard-issue bottles that dominate so many wine lists due to the economically cautious and ultimately reductive philosophy that familiarity makes people feel comfortable and that comfortable people order more wine, and the often problematic so-called natural wines that haunt the other end of the spectrum. They were wines, in other words, of the sort that I want to taste, and taste again, which leads to my only criticism, which is that they exited the glass far too quickly.


Back to Egretta thula, though, because as it happens, while the egret was broadening its diet and perhaps its concept of taste via an act of offshore ingenuity, I was enjoying an adventure of my own, an old vines grenache from Birichino, the Santa Cruz–based winery cofounded in 2008 by Snyder's mentor, John Locke. Although the vessel in question was a plastic cup not especially amenable to swirling, I could tell the wine was different somehow, its aroma slightly wild, slightly edgy. The flavor had a similar aspect that reminded me of an Etna Rosso from a winemaker who, rather than going the typical route of commercial yeast or the far riskier one of spontaneous fermentation, had managed to propagate a yeast from his vineyard that produced consistently agreeable results—a tame yeast, if you will. Whether or not this guess is correct, the grenache in the plastic cup, and the wines at Commonwealth, while only tangentially connected, are illustrative of a point, which is that the world of wine is as subtle as it is vast, and that while one can find comfort and sustenance in its shallows, the wonders of its depths are myriad.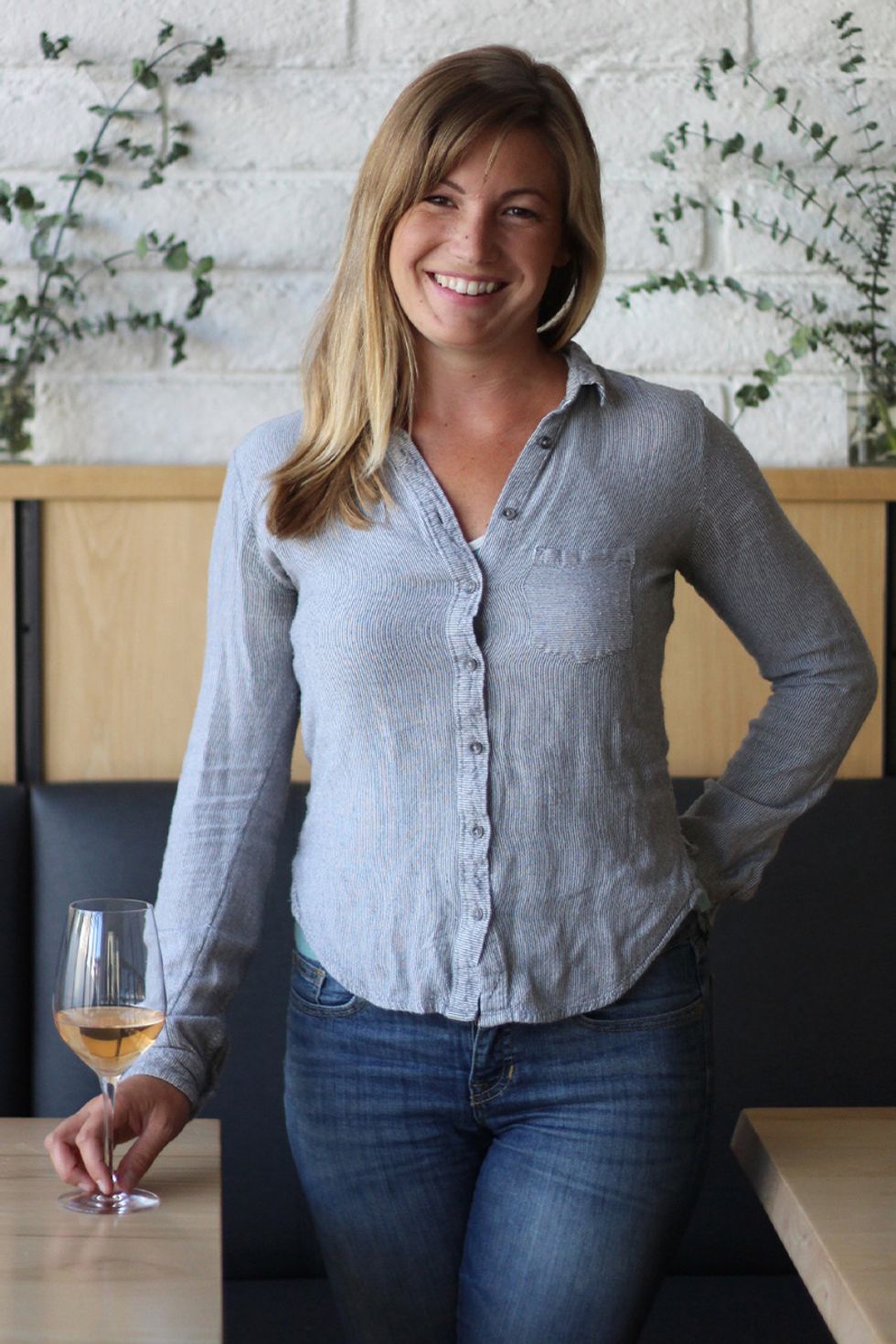 (Kristina Haas)
Commonwealth's wine director, Sarah Snyder.