Cotogna Opens in Jackson Square
After a long wait, chef Michael Tusk has at long last opened Cotogna, his rustic trattoria concept next door to Quince. Expect plenty of pasta, along with grilled dishes prepared on a wood-burning rotisserie and grill (the only one of its kind in the States) and a prix fixe wine list curated by David Lynch, with every bottle ringing in at $40. The restaurant is open for dinner Monday through Saturday.

---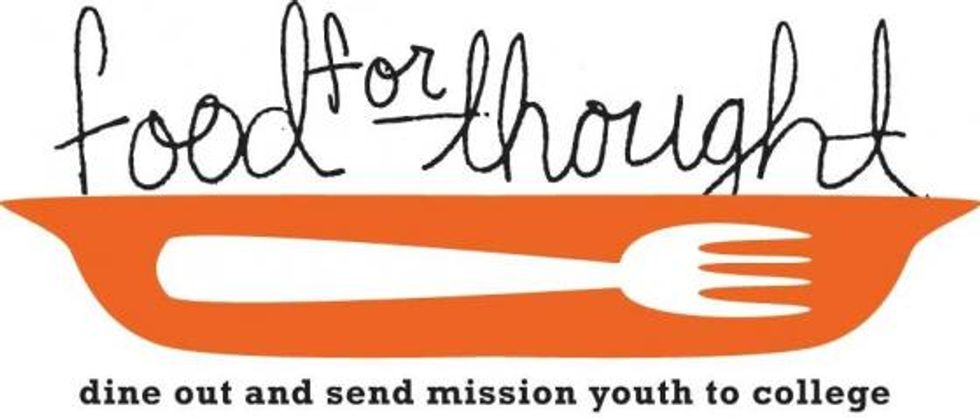 Food for Thought Dine About
If you're looking for an excuse to go out to dinner tonight, we've got a great one. Dine at any one of the 35 Mission restaurants participating in Food for Thought, and 25 percent of your bill will be donated to Mission Graduates, a nonprofit that helps Mission high school students prepare for college.

Open Restaurant Hosts Open Water Event
Those iconoclasts behind Open Restaurant are at it again. This weekend, the crew is setting up shop at Alameda's St. George Spirits for a two-day exploration of water. Through video, sound, and panel discussions—as well as food and drink, of course—the group aims to create "an immersive experience at the confluence of food, water, politics, ecology and art." Stop by for snacks and drinks, or make a reservation for the seated lunch or dinners ($30/65). No word yet as to whether or not there will be a dunk tank.

Have Fun with Ferments
Get your pickle on with food writer Vanessa Barrington, author of DIY Delicious. In this hands-on, two hour class on November 18 (5:30-7:30 p.m.) she'll teach you about kimchi, sauerkraut and curtido, that pickled cabbage you often see alongside Salvadoran pupusas. Ticket are $48; to book, click here.

Foreign Cinema Hosts Chad Robertson
Another feel-good Mission event: On November 18, Foreign Cinema will host Tartine owner/baker Chad Robertson for a special one-night dinner at the restaurant featuring recipes from his book, Tartine Bread. The special items will be offered a la carte in addition to the regular menu selections, but reservations are recommended—Mr. Robertson has quite the fan club. To book, call 415-648-7600.