The best time to take your dog on a warm desert retreat to Palm Springs is right about now.
---
An hour and a half flight from San Francisco and a two hour drive from LA, the stylish city within the Coachella Valley is beyond dog-friendly—Palm Springs is dog-enthusiastic. To avoid sizzling sidewalks, take your dog November through April, when daytime temps hover in the mid-70s. Mid-century design and casual allure abounds, and most dog-friendly hotels are lenient, letting dogs hang out with you at the pool and trusting to leave your dog in the room alone, if well behaved of course. Just imagine, a relaxing dip in a desert-heated saltwater pool while your furry muse basks in the good life too.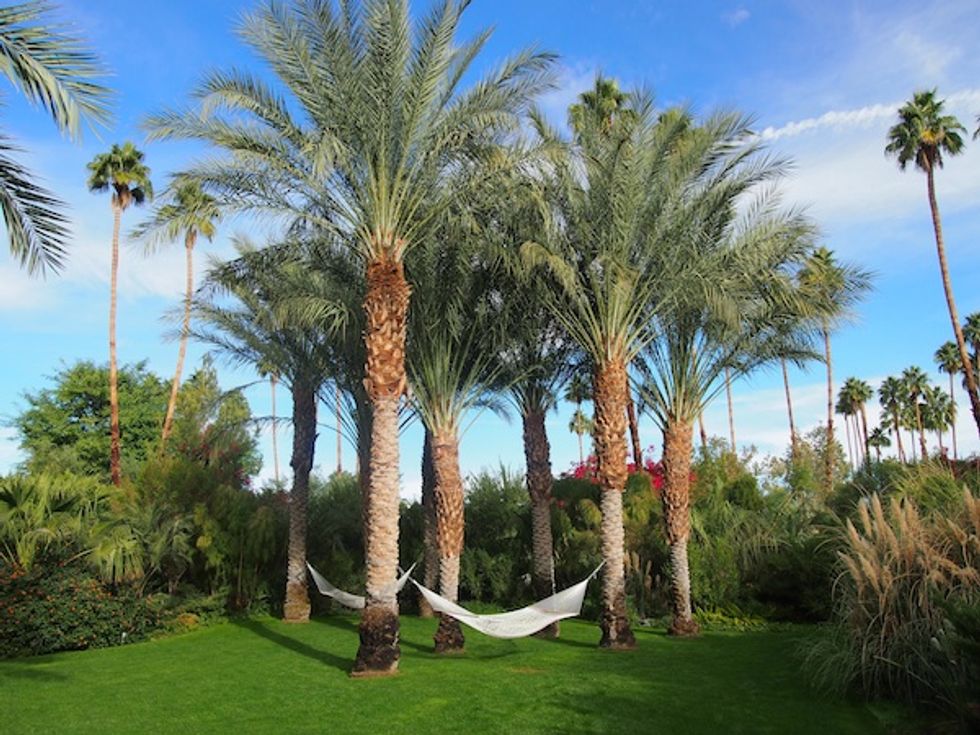 The hammocks at The Parker
Thanks to the 354 days of sun a year, many restaurants have patios where dogs can join you for eating out. Enjoy morning coffee for you, and a lawn jaunt for the pup, at Koffi coffee house, right next to The Ace. For breakfast and lunch, Cheeky's is a local dog owner favorite, as well as the adjacent pizza lounge, Birba. A couple dinner spots include Rio Azul, with traditional Mexican cuisine and a fun happy hour, and the Fisherman's Market & Grill, the most popular seafood restaurant in town.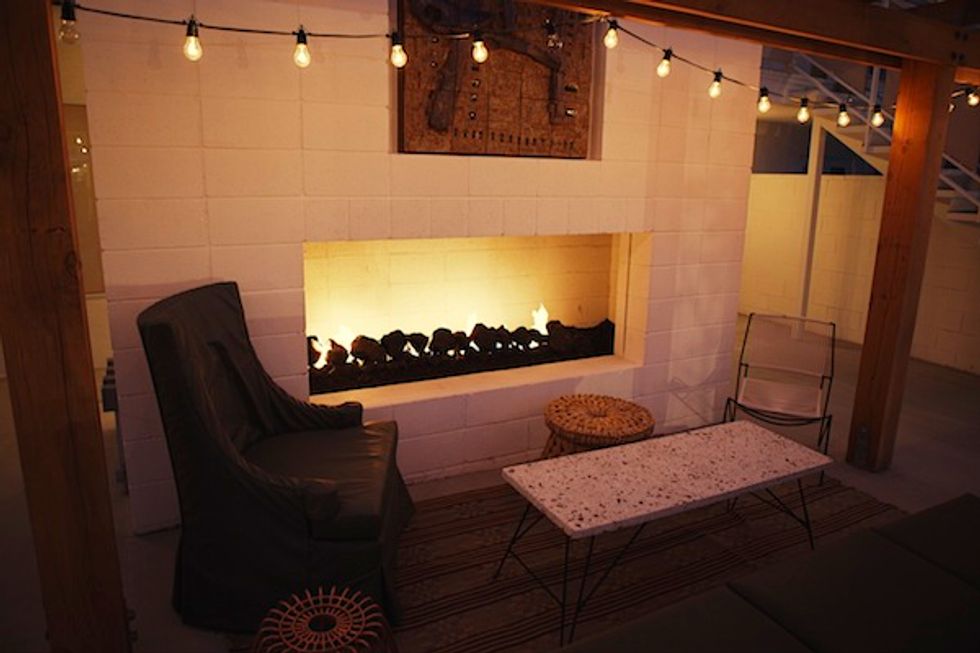 A fireplace at The Ace. Photo: D. L. Thompson & Jon Johnson
Palm Springs dog activities include strolling with your dog downtown and uptown in the design district, where you will find Cold Nose Warm Heart, a retro modern pet shop. The Palm Springs Dog Park has 1.6 acres of play space where owners can kickback in canopied cabanas while dogs run wild. A welcoming garden in town is the Moorten Botanical Gardens, where your dog can sniff out 3,000 species of desert flowers and fauna. If you and your dog want to venture beyond your boutique hotel, you can embark on a hike in Whitewater Canyon or the North Fork of the Pacific Crest Trail.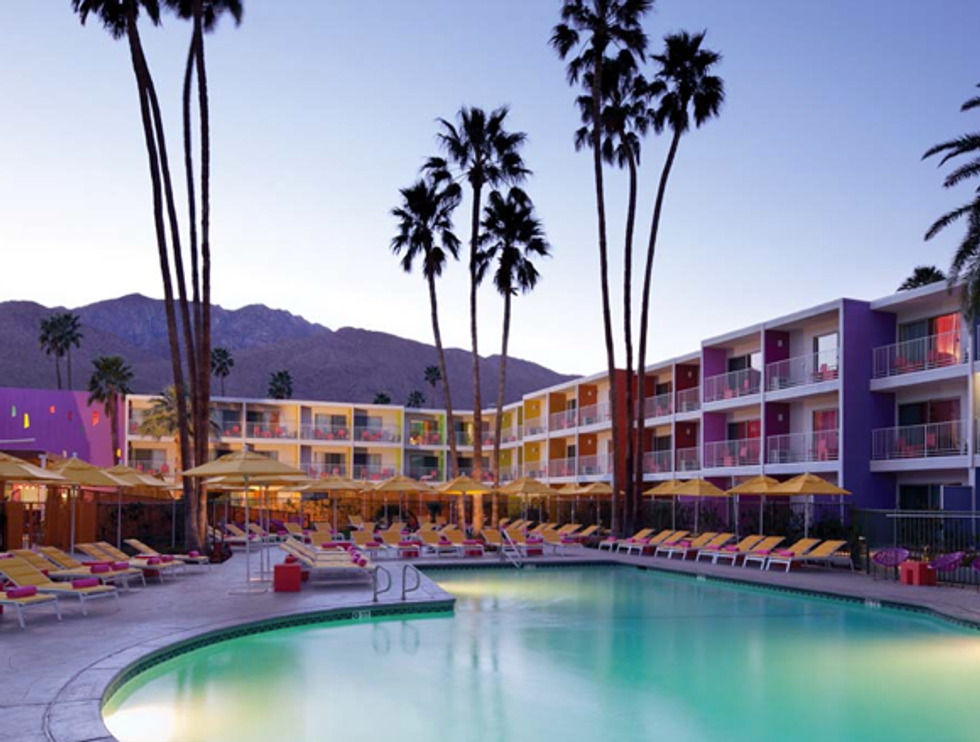 The Saguaro, 1800 East Palm Canyon Drive, 877.808.2439

This Joie de Vivre hotel is ideal for a celebration weekend with friends and families. Pronounced "suh-gwarh-oh," after the iconic cactus of the Sonoran Desert, this hotel is a lesson in how color can reinvent simple architecture. The hotel is rainbow painted in 12 vibrant tones found in native desert wildflowers. The pool area is elaborate and the three-story hotel surrounds two pools, two hot tubs, a pool bar, a spa, a bocce ball court and a lawn area where dogs will enjoy cooling their bellies. There are two restaurants: El Jefe, a casual tequila bar that serves Mexican small plates, and Tinto, a sexy space where James Beard Award-winning chef Chef Jose Garces serves up refined Basque tapas and your dog can dine on the patio with you.
Pet fee: None
Pet restrictions: Potty in hotel exterior only.
Pet perks: Leashed dogs allowed poolside.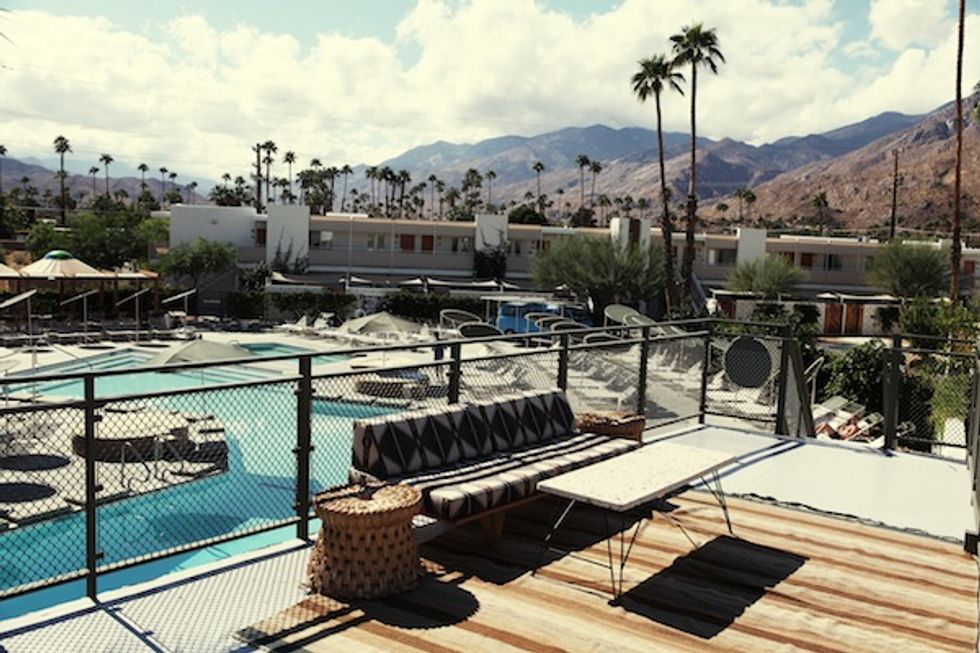 Photo: D. L. Thompson & Jon Johnson
Ace Hotel & Swim Club, 701 East Palm Canyon Road, 760.325.9900

If your dog is the type who enjoys a good pool party, and if you're the type who likes a cool bohemian-meets-camp ambiance and dance parties in the hotel bar, the Ace is it. Located south of downtown Palm Springs, the Ace is two stories with 170 rooms, and has two pools, one giant hot tub, ping pong, an all-natural spa, the King's Highway diner and a separate bar, The Amigo Room. I suggest a sunset walk with your dog, then cuddle up by one of the many outdoor fireplaces. With something going on every night, from live bands, DJs, comedians, performance artists and ping pong tournaments (OK, that can be your personal entertainment), the Ace is a scene but still manages to be laid-back and approachable.
Pet fee: $25/day
Pet restrictions: Have to stay in a ground floor patio room.
Pet perks: Dog package upon arrival consists of a bowl and treats, dogs allowed by pools.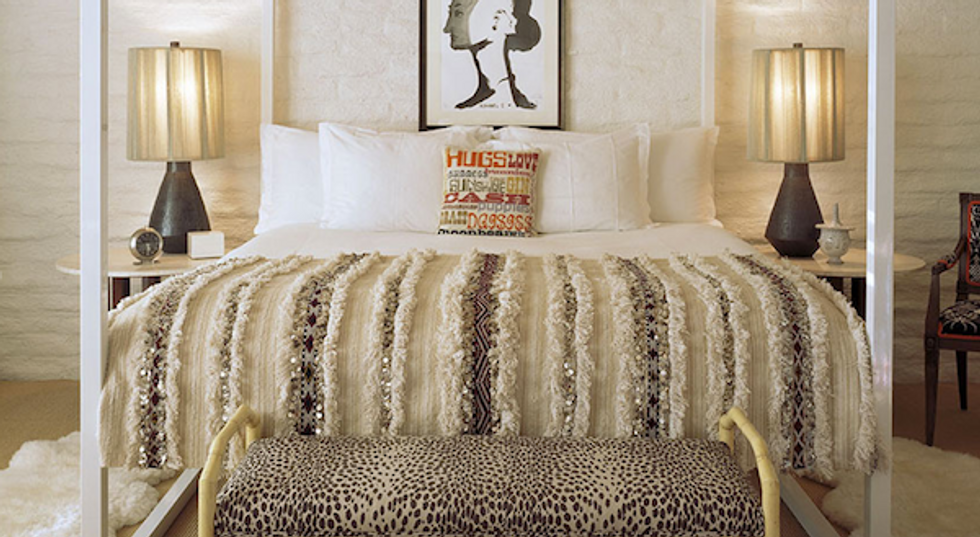 The Parker Palm Springs, 4200 East Palm Canyon Drive, 760.770.5000
If Wes Anderson were to film at a hotel in Palm Springs, it would be within the secluded grounds and luxurious rooms at The Parker. With the steepest pet fee, the Jonathan Adler-designed hotel is fabulous for a romantic weekend or relaxing getaway. The property has various private villas, three pools (including an indoor one in the spa), one hot tub, ping pong, tennis courts, Petanque courts, a liquor-serving lemonade stand, a croquet lawn and a firepit, where I suggest bringing your guitar and ordering s'mores. The Parker's website has various videos that depict the highbrow whimsy of the historical hotel. You'll also want to just hang in the lobby with your pup, where you'll find the dark and moody restaurant Mister Parker, a mini bar, a swanky lounge, and Norma's, an all-day dining option with a sunshiney outdoor terrace.
Pet fee: $150/day
Pet restrictions: Dogs not allowed by pools but allowed in other grassy areas.
Pet perks: No weight limit, dog welcome kit consists of a bowl, potty bags and treats, dog turn-down service includes a plush dog bed and dessert treat in waiting.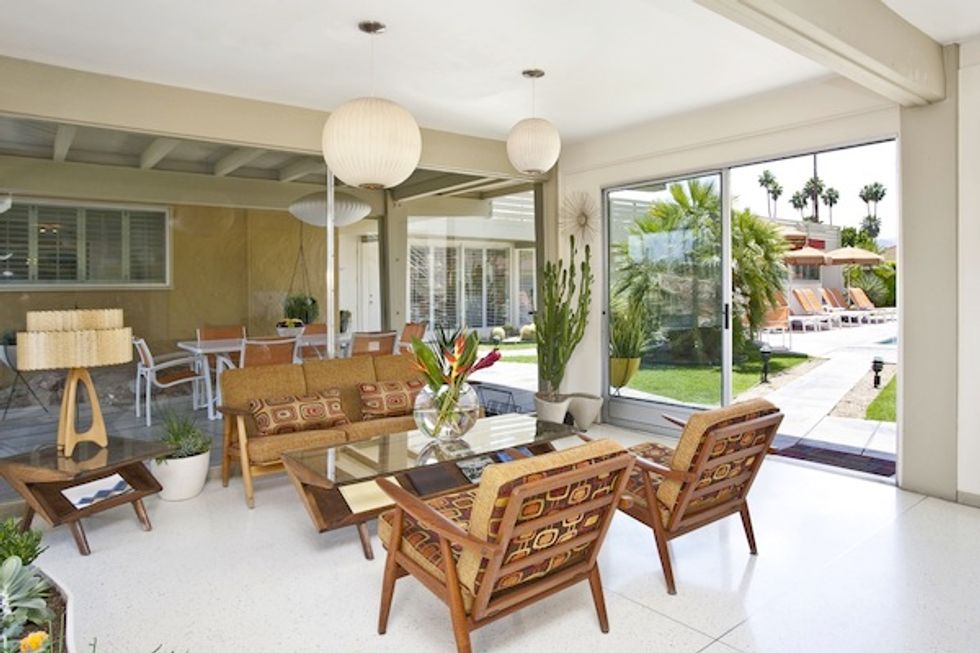 Del Marcos Hotel, 225 W. Baristo Road, 800.676.1214
The ultimate in mid-century modern design, the affordable 16-room Del Marcos is a charming locale. Designed in 1947 by famed desert architect William F. Cody, the hotel s one of the most photographed buildings in Palm Springs. Revived in 2011, there are five dog-friendly rooms, which are all poolside suites with kitchenettes and spacious rooms that you can call your own. You are welcomed by a refreshing drink and though there are no restaurants onsite, there is complimentary breakfast and downtown Palm Springs a block away. The gracious staff is recommendation-ready and always around to give your dog some love. The Del Marcos wins for the warmest saltwater pool and next to it is a cozy fire pit beneath a flatscreen TV where you can watch old movies for old times' sake.
Pet fee: $35/stay
Pet restrictions: Dogs not allowed by pool, designated potty areas, dogs over 35 pounds need to be approved by hotel manager.
Pet perks: Dog welcome kit upon arrival consists of water and food bowls, potty bags and treats.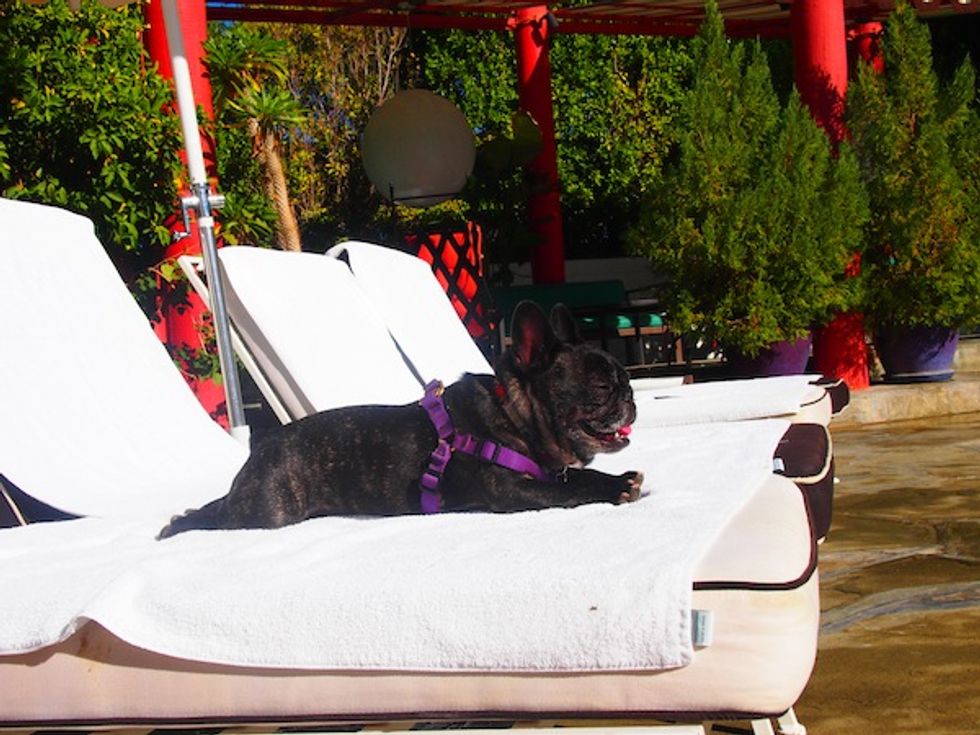 Sam Durbin (sami.7x7@gmail.com) is a California lifestyle writer who honed her blogging skills as Editor of FabSugar.com. Sam graduated from The Fashion Institute of Technology, and also writes for 7x7 Magazine, Zagat and PureWow.