The holidays are fast approaching and if hitting the mall sounds less than attractive, give that special someone a gift from Wine Country. There are some unique gifts to choose from this year, and if you plan it right, some just might require a +1 to tag along.
---
Wine Road Season Pass
It's a gift that gives all year long. Wine Road's 2014 Season Pass includes one ticket for Winter WINEland, January 18-19, two tickets for the 36th Annual Barrel Tasting (good for one of two weekends), February 28-March 2 or March 7-9, one ticket for the 15th Annual A Wine & Food Affair, November 2-3, and finally a one-day Ticket to the Wine Road. The Wine Road is made up of 190 vintners and 50 lodgings throughout the Alexander, Dry Creek, and Russian River valleys, so it's a good way to get a taste of Sonoma County. Tickets are transferable but must be purchased by January 2, 2014. $149
Judd's Hill Wine Pairing Class
Sit down and learn the art of pairing wine with food during a 90 minute class at Judd's Hill Winery. Understanding some of the basics of wine chemistry can help teach how food can affect wine, making it stronger or softer. The small, family-run winery is located on the Silverado Trail, so you can easily spend the entire day tasting. Reservations are required; the more notice the better, but 24 hours will typically work. Classes are held Friday through Monday. $40 per person.
Whitehall Lane Winery Cooking Class
Spend a delicious afternoon learning to cook a gourmet meal with Whitehall Lane Winery chef Larry Calicchio. Classes are small, ranging from four to six people. Whenever possible, organic and local products are used. Many of the herbs and vegetables come fresh from the winery garden. Classes include cooking demonstrations, recipes to take home and lunch paired with Whitehall Lane wines. $75 per person. 
Castello di Amorosa Super Tuscan Blending Experience
Cook up your own blend of Tuscan wine in a castle at Castello di Amorosa. The Super Tuscan Blending Experience takes about three hours and includes a tour of the 107 room Tuscan-style castle, a small tasting to get your palate ready and a private hands on blending seminar complete with some of the equipment you used in high school chemistry. Reservations must be made a week in advance. $72 per person.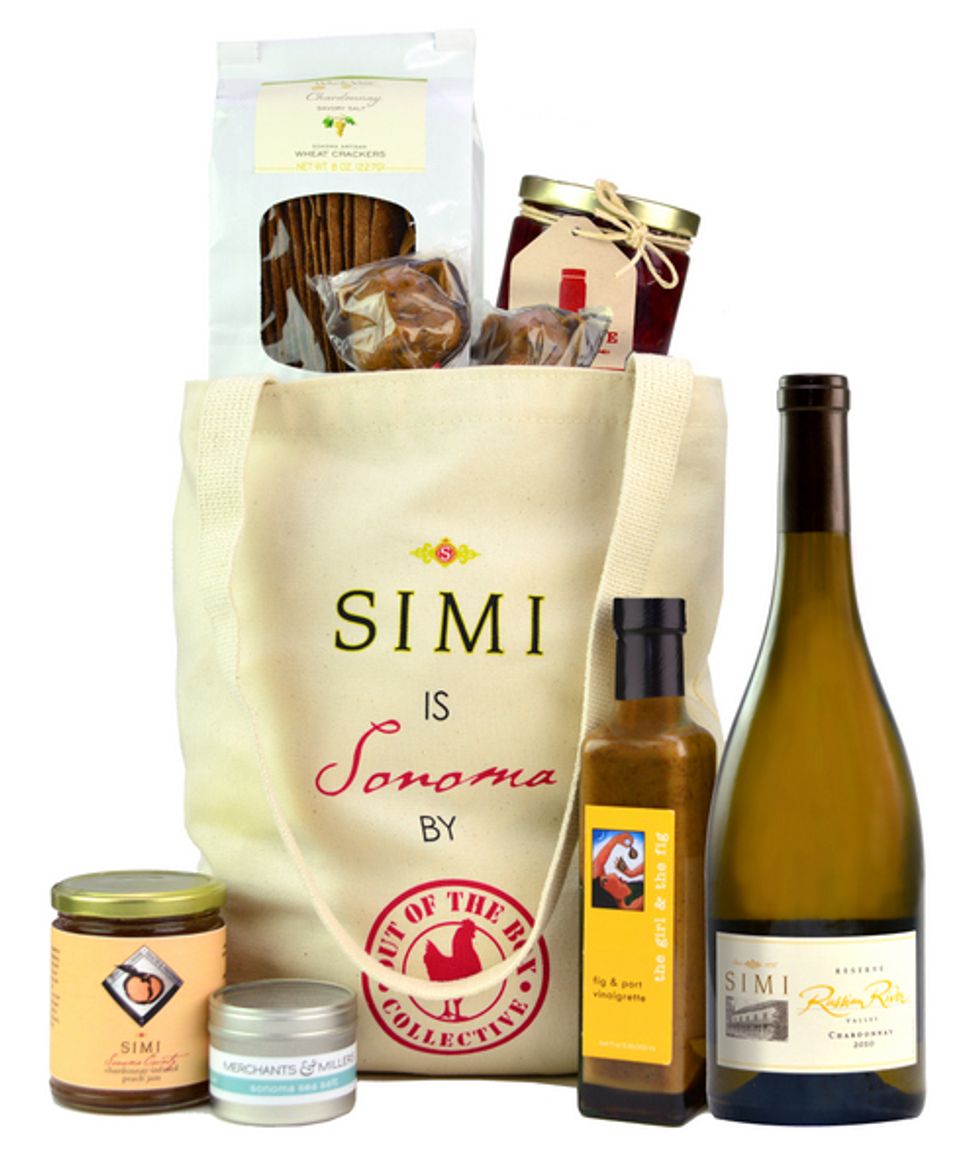 SIMI is Sonoma Taster
For those on your list who don't want to do, just drink and eat there's the tasty SIMI is Sonoma Taster by Out of the Box Collective. The Taster includes favorite foods from all over Sonoma County including Sonoma Sea Salt from Merchants & Millers, Chardonnay Savory Salt Wheat Crackers from WholeVine Products, Chardonnay-infused jam from Dry Creek Peach & Produce, Pickled Beet Relish from Preserve Sonoma, Fig & Port Vinaigrette from girl & the fig and Black Pig Bacon Piggy Pops from Black Pig Meat Co. Hungry yet? In the spirit of holiday giving, a portion of proceeds will be donated to Action Against Hunger. $75.00 with the 2010 SIMI Landslide Cabernet Sauvignon, $65.00 with the 2011 SIMI Russian River Valley Reserve Chardonnay.
Dana can be found on Twitter @drebmann