While Muir Woods houses some of the largest and oldest trees that are easily accessible to the public, it's very much a tourist destination.

If large crowds and flashing cameras aren't your thing, consider going out to Oakland for the day instead.
---
In Redwood Regional Park, miles of trails wind through the ethereal foggy forest lined with plentiful ferns and tall Coast Redwoods. The crowd level ranges from sparse to deserted, so there is plenty of peace and quiet as you walk through the tranquil landscape of this 1,830-acre park. And while there are many great trails to explore, this 5-mile moderate hike is one of our favorites.

Total Distance: 5.25 miles
Difficulty: Easy to Moderate
Time: 3 hours
Dogs: Allowed, off-leash on certain trails
What to Pack

Plan as you would for a moderate hike with frequent elevation increases. Wear loose fitting clothing and hiking shoes if you have them (although sneakers will work too). Bring a small backpack with water and trail snacks. There are open meadows along the route where you can sit and have a picnic. You'll still be close to civilization, so leave the bear spray, high-top hiking boots, and poles at home.
Where to Park
Park at the Skyline Gate Staging Area at 7867 Redwood Rd. in the Montclair neighborhood of Oakland. It's a good-sized parking lot that fills up quickly, but there is plenty of street parking in the surrounding neighborhood. There are also bathrooms and water fountains here before you hit the trails.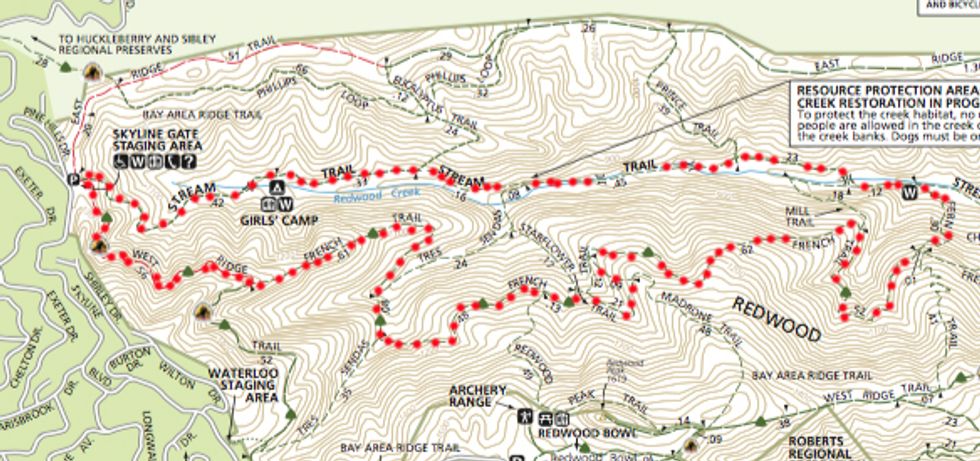 Your Route
1. Starting in the Skyline Staging parking lot, take the Stream Trail. This is an easy, wide trail that runs along the stream where you'll likely see other hikers. The stream is a breeding spot for rainbow trout, so at certain times of the year, you may be able to spot them. You'll be on here for 1.5 miles.
2. Turn right onto Fern Trail, and then continue straight onto French Trail. '
3. You'll stay on the French Trail for 2.7 miles, and then take a right onto the West Ridge Trail, which will take you back to the parking lot. The West Ridge Trail is the only part of the hike where you'll be sharing with mountain bikers so watch out!
You can download a more detailed trail map here.
What to Look For

150-foot coast redwoods, of course! Beyond redwoods, you'll see eucalyptus and pine trees, a variety of wildflowers, chaparral (a West Coast–style of shrub vegetation), birds, newts, slugs, migrating ladybugs, and other wildlife.
Microclimate
Once you get into the heart of the redwoods, you'll notice (in warmer months) the temperature drop. The large trees provide shade and the cool stream that flows through helps to create a pocket of refreshingly cool air.