One of the biggest restaurant openings of the year — if not the biggest — just happened on Saturday, and that would be the debut of chef Michael Chiarello's first SF restaurant, Coqueta. The Spanish restaurant has taken over the former Lafitte space on Pier 5 and given it a fresh, warmer makeover, including a great new glassed in bar that they're calling Bar 5.
---
Chiarello has swiped several staffers from colleague Jose Andres' Washington D.C. restaurant empire, including bar manager Joe Cleveland, who's created an ambitious, Spanish-influenced cocktail program featuring house-made tonics, twists on sangria, and plenty of sherry. Below, a few highlights. Check out the food menu here. Make your reservations here.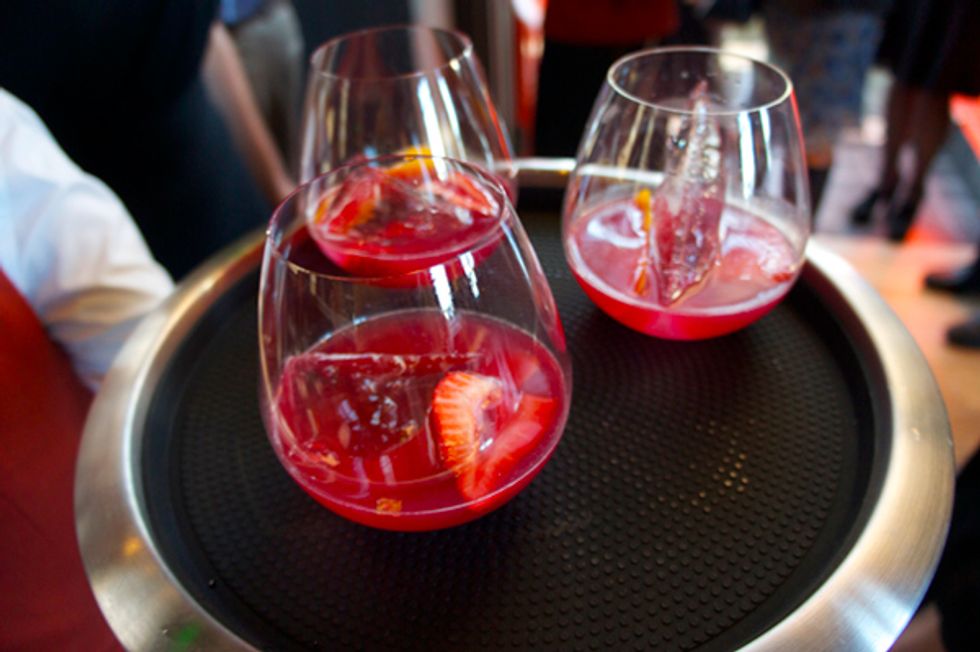 At the core of the menu are Spanish-style gin and tonics, some made with house-made tonics but all variations on the simple, two-ingredient drink most of us know. The delicious Barca Gintonic (that's how the Spaniards say it) features Bloom London Dry gin and Fever Tree Mediterranan tonic, and it's garnished with fresh grapefruit, a sprig of fresh pine, and juniper berries. The Galleon (pictured above) features Hayman's Old Tom gin, acorn and apricot tonic, Spanish bitters, strawberries, and lime. Also cool is the Revolution, featuring St. George Dry Rye gin, housemade anise tonic, Del Maguey mezcal vida, Pedro Ximenez sherry, lime, and passionfruit.
Pictured at the top is The Castro, which is Coqueta's tasty, slightly spicy spin on the classic margarita, featuring Espolon tequila blanco, curacao, fino sherry, Fresno pepper, and lime.
Also, there are sherry-based punches served in Spanish-style party pitchers for groups, and in a nod to Andres and his penchant for molecular gastronomy, there will be some molecular-style cocktails, including a frozen sangria "pop-rocksicle" for dessert.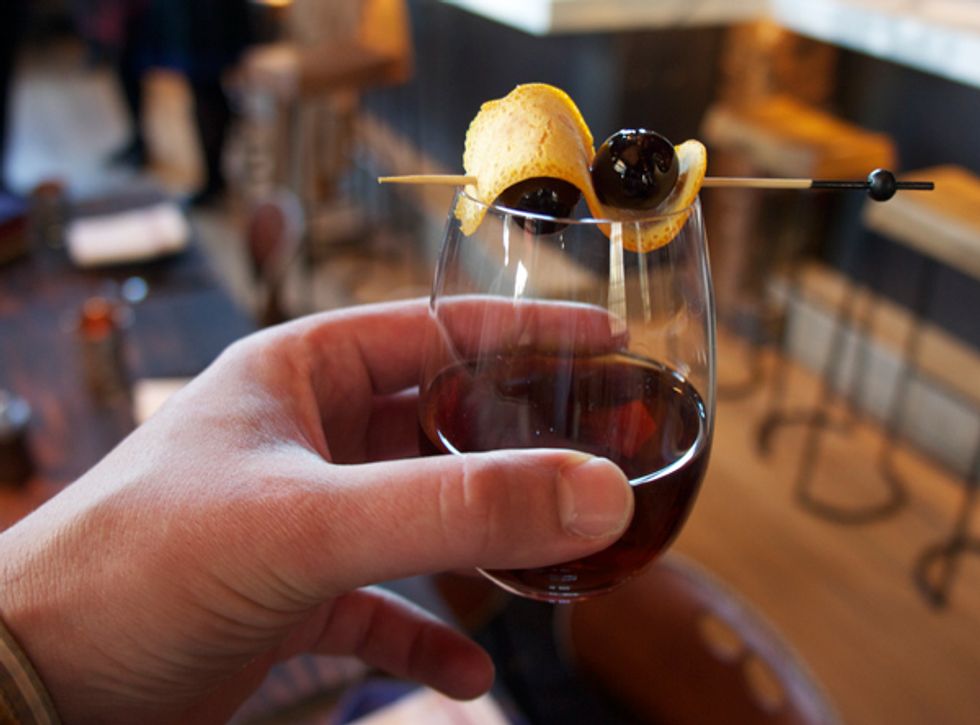 This would be The Adonis, one of four sherry cocktails, featuring Manzanilla sherry, Punt e Mes, and chuncho bitters. Sherry, if you didn't know, is the traditional accompaniment for tapas, or vice versa, in Spain.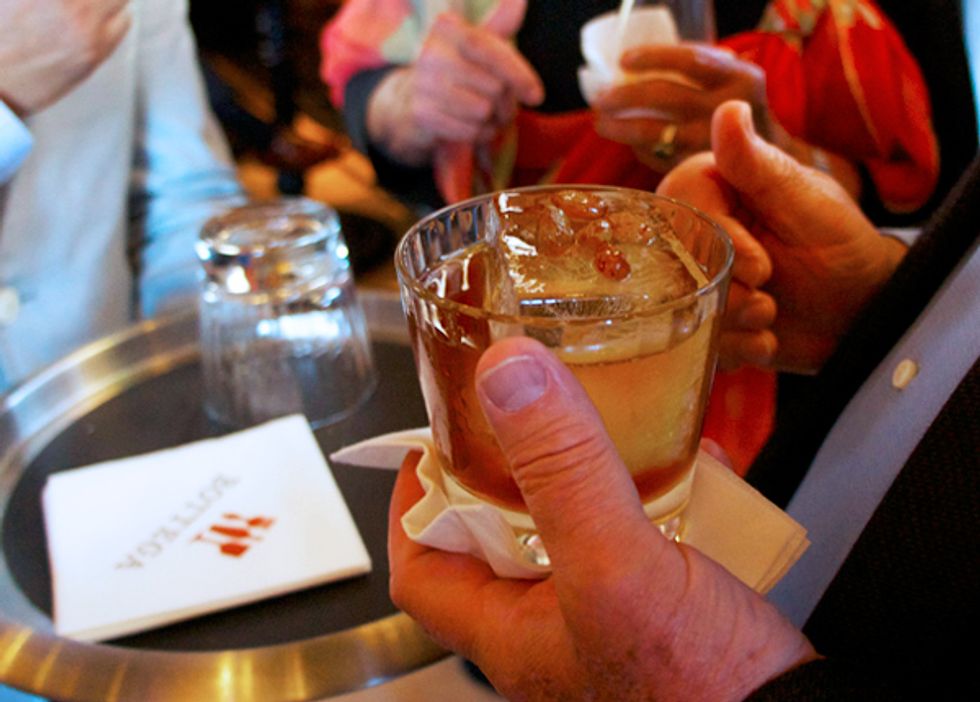 This cocktail, named for local legend Carmen Policy, is the Championship "Policy". It features Johnnie Walker Black, Carpano Antica vermouth, barrel-aged bitters, and a glass that's smoked with a wine barrel stave from Policy's own winery. It's garnished with golden raisins.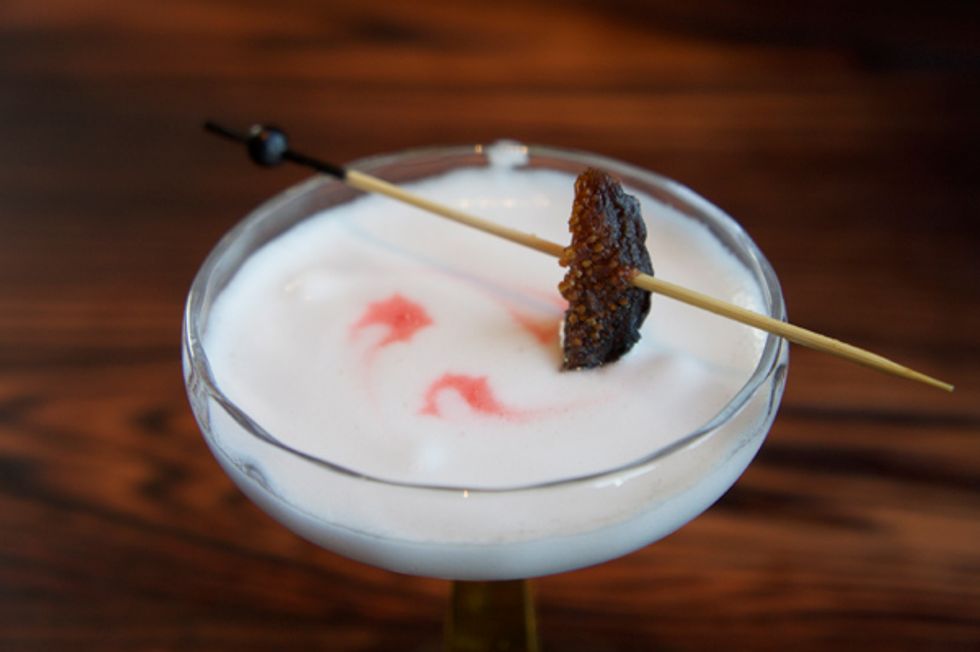 And lastly, this is the sole vodka cocktail in the mix (if you don't count the gin and tonic variation made with Square One Botanical, which is a gin-like infused vodka, sans juniper). It's called the Presidio, and features Belvedere vodka, lemon, almond, Peychaud's bitters, and egg white, garnished with a dried fig.
See the whole drink menu below.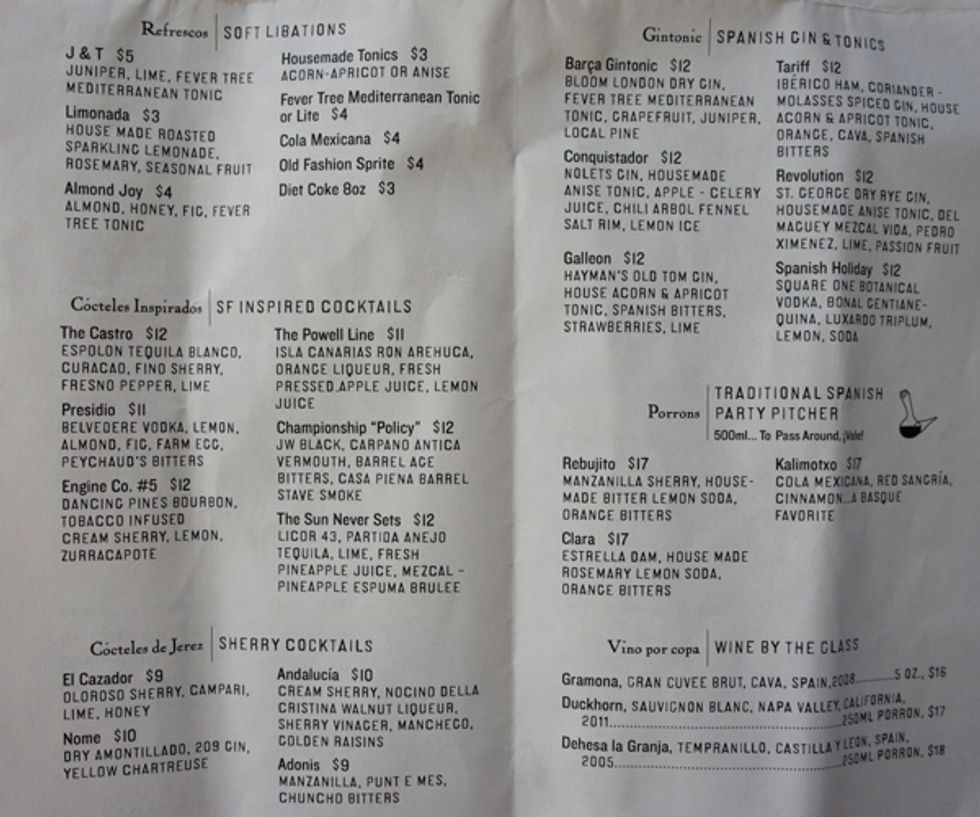 Jay Barmann is the editor of Grub Street San Francisco.