It's one of those months — if you've managed to survive Beer Week, Valentine's Day is creeping up on you, immediately followed by the amazing madness of Chinese New Year. Exhale. We've got any last minute Valentine's Day plans covered, plus a couple of exciting new dining destinations to keep you well fed. 
---
Let's get the pink elephant (read: Valentine's Day) in the room out of the way first. Say what you will about the holiday, it's a great excuse to get out for a delicious meal with someone you love. Make it a memorable one with special Valentine's Day menus at A16 Rockridge (four course for $75, including buffalo ricotta gnocchi and prime rib); Hopscotch (four courses for $55, plus $28 for beverage pairings, available Friday-Sunday); or Gather (a la carte menu with special additions, plus beverage pairings available).
Or, plan on getting dinner at two East Bay spots on the top of our must-dine lists. Haven, the Daniel Patterson Group restaurant in Jack London Square, has unveiled a new family-style dining concept courtesy of chef Charlie Parker. Your meal begins with a stunning breadbasket accompanied by pate, smoked trout, cheeses, spreads, and more — we could stick with that and be happy, but a selection of seasonal mains (like duck confit, or a slow egg with chickpeas and artichoke) and shareable sides (roasted cauliflower with harissa yogurt, chicories and arugula with beets and buttermilk dressing) will ensure that you won't  leave hungry (not to mention dessert). You can also feast on house-made pastas and the to-die-for Haven burger at the restaurant's bar.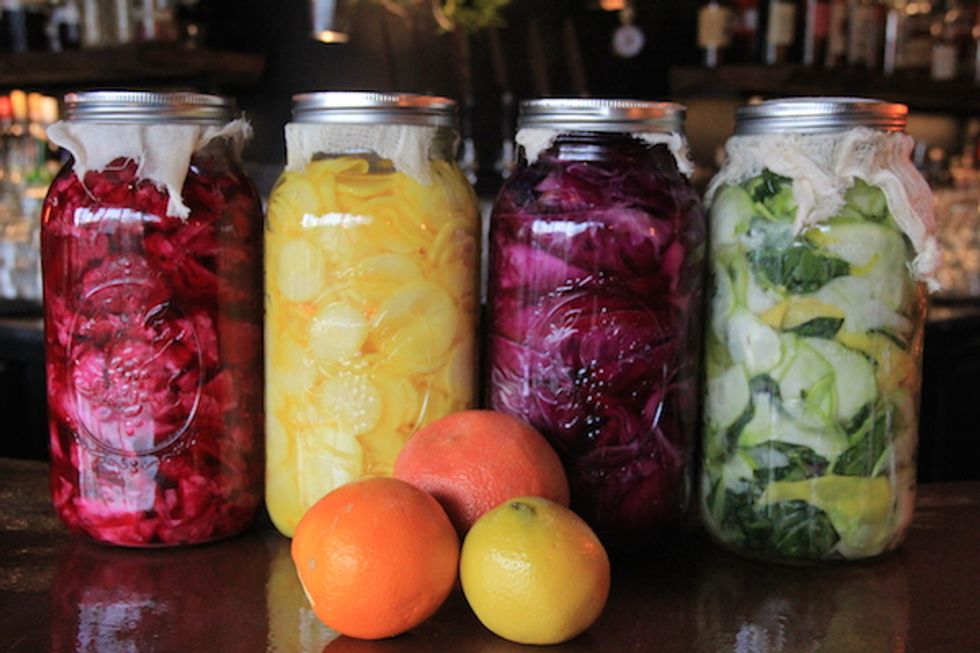 Pickles at Tigerlily. 
We're also excited about Tigerlily, now open in Berkeley's Gourmet Ghetto. A revamp of the former Mint Leaf space, Tigerlily boasts a swanky, modern design courtesy of the Farm League Design & Management Group, killer cocktails, and an Pan-Asian menu of locally sourced Californiafied fare. The food menu, courtesy of chef Joel Lamica (formerly of Ramen Shop and Pizzaiolo) will change daily, but has been known to feature options like kabocha squash and turmeric fry bread, bone-in lamb shank for two, fried chicken with tikka masala sauce, and a signature lamb burger playfully titled "Green Buns & Lamb." They're making as much as possible in house, including cheese, yogurt, and pickles — one of Lamica's major goals is to waste as little food as possible by means of fermenting and preserving.