For thousands of years, until the middle of the last century, the human food chain remained relatively the same. We went from being hunters and gatherers, to cooking food with fire, to cultivating basic farming methods. But in the 1940s, big agriculture began to profoundly industrialize food, changing the way we grow, shop for, prepare, and cook our meals.
What once was naturally seasonal, local, organic, and slow was processed to be at everyone's fingertips all year long. Over time, that food was imported, sprayed with toxic chemicals, and even genetically modified. As author/activist Michael Pollan truthfully states, food as we always knew it turned into "food-like substances," filled with such laboratory-made items as artificial colors, flavors, stabilizers, and preservatives. Traditionally, a loaf of freshly baked bread would last a few days before going stale and growing mold; thanks to modern additives, a loaf of bread Wonder White could last for weeks!

---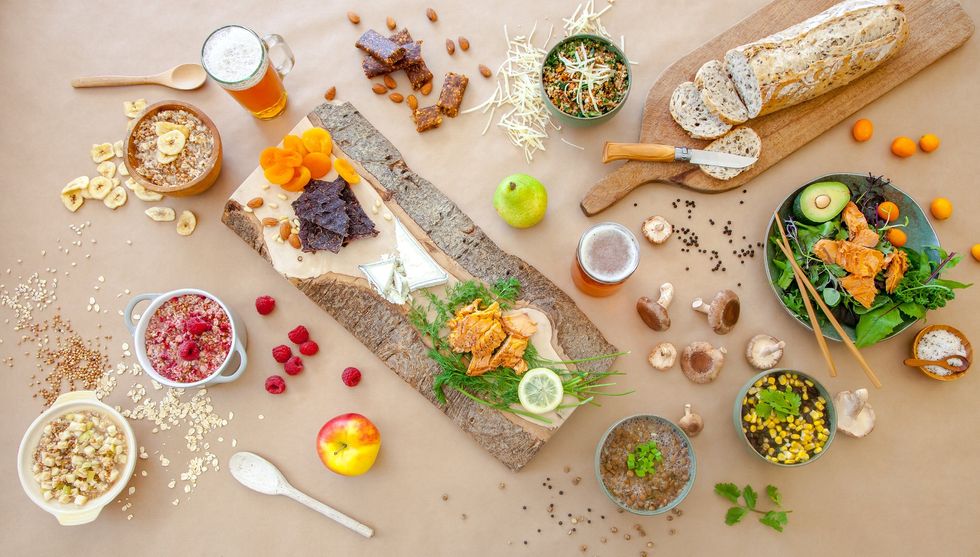 Organic soups, hearty breakfast grains, lightly smoked wild salmon, grass-fed buffalo jerky, and energizing fruit and nut bars are among Patagonia Provisions' culinary offering.(Courtesy of Patagonia Provisions)
In the days of June Cleaver, such advances seemed revolutionary, but most of us didn't see then that these new scientific developments would have such a dramatic negative impact. As a result, the world is in a health crisis. People are getting sicker as obesity, Type 2 Diabetes, chronic illnesses, autoimmune diseases, and all sorts of cancers continue to rise. Modern agriculture isn't just the culprit in our declining health, it is also the biggest contributor to climate change.
For over 40 years, Patagonia has been making activewear with eco-friendly methods. Now, the company has committed to channeling its long-held philosophy of social and environmental responsibility into positively impacting our food supply. Sausalito-based Patagonia Provisions is a collection of nutrient-dense everyday foods intended to be convenient, delicious, healthy, and sustainable both for you and for the planet. Patagonia is promising 100 percent transparency into the who, where, what, how, and when their foods are made.
By thoughtfully crafting these products, Patagonia hopes to lead by example to initiate bigger change towards organic regenerative practices—their ultimate goal is to empower and inspire people to grow, harvest, and produce food in ways that both embrace technological advancements and respect Mother Nature. Patagonia Provisions is reaching into communities to cultivate passionate farmers, growers, pollinators, and other key producers who are focused on sustainable practices, all while investing in their responsible infrastructures.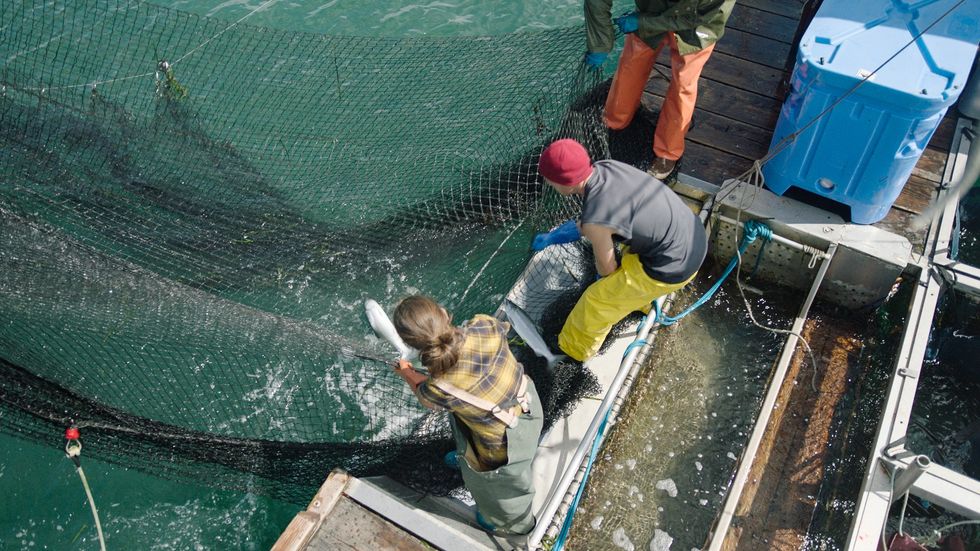 Lummi Island Wild Fishery crew members(Courtesy of Patagonia Provisions)
So what are the provisions exactly? The lineup of all organic foods includes soups, hearty breakfast grains, lightly smoked wild salmon, grass-fed buffalo jerky, and energizing fruit and almond bars. Obviously they're great to stash in your pack for camping trips, but these foods also do well for quick workaday breakfasts and pre- or post-workout snacks.

We were lucky to have a private tasting from the Provisions Pantry at Patagonia's Sausalito HQ. Here's our take.

Three varieties—black bean, green lentil, and tsampa (garden veggie)—are ideal for stocking your office and home kitchen for lunches or dinners that are easy, satisfying, and good sources of protein, fiber, and iron to help ward off fatigue. We love the black bean!
Made only with certified-organic and non-GMO ingredients, including toasted buckwheat, cracked whole barley, rolled oats, flaxseed, and Madagascar vanilla, these morning treats come in three fruit options—creamy banana, red raspberry, and tart apple. We think they are lovely for fall and convenient enough for everyday. You can also dress them up by adding your favorite toppings.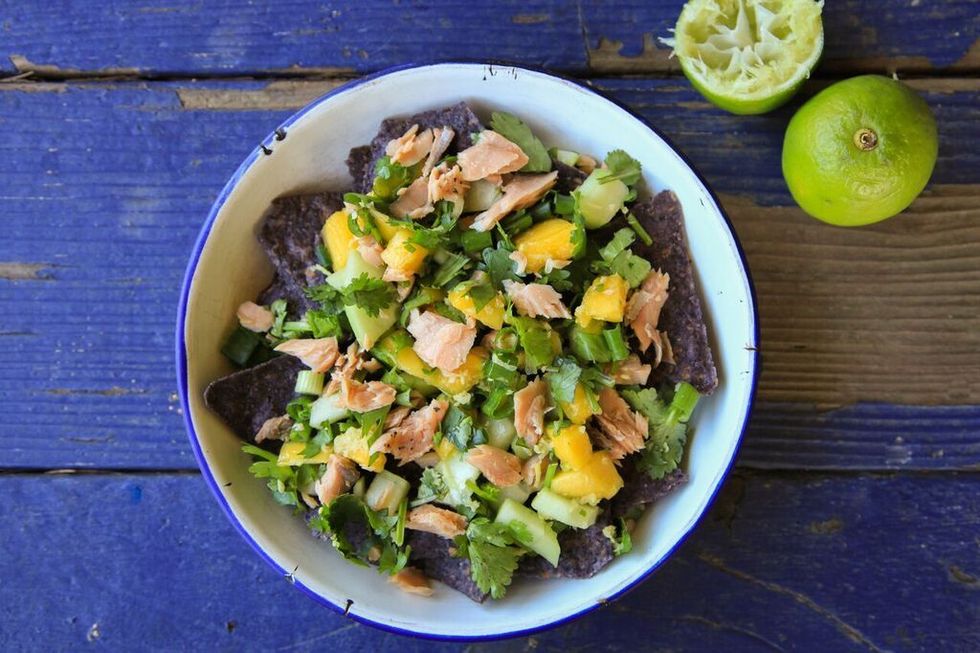 The wild salmon is the perfect salad topper(Courtesy of Patagonia Provisions)
Sourced exclusively from fisheries that use responsible methods, Patagonia's wild sockeye and pink salmon hails from the Situk River and the waters around Lummi Island off of Washington State. In two flavors (plain and lemon), the salmon tastes so fresh and has just the right amount of smoke. Rich in protein and omega 3, this is our new go-to salad topper. The 6oz. cans are perfectly portioned, fully cooked, and ready to eat. It's also shelf stable, making it great for your next backpacking excursion.
We've tasted a lot of forgettable jerky in our time—this one blows them all away. Not so tough that it will pull your teeth out, this jerky, made from free-roaming, grass-fed American buffalo, is lightly seasoned, rich in flavor, and really tasty—expect to devour the entire packet in one go.



Patagonia looks for producers whose business practices have a positive impact on their workers and the environment—their use of the slightly tart baobab fruit in these bars not only provides local employment in African villages, but is helping to save ancient baobab trees from being cut down for timber. The bars are also loaded with chia seeds, omega-3 fatty acids, fiber, plant protein, antioxidants, and minerals, making them a good energy source before your next barre class. If sugar is a concern, opt for the Inca Berry + Almond Bar, with 12 grams of sugar per bar.
Watch the NEW short film "Unbroken Ground" from Patagonia Provisions to learn more.