For some reason, you've never made it past San Diego. It doesn't help that you don't remember an ounce of Spanish from high school either. But after a few hours wandering this fishing town's cobblestone streets, spotting dolphins and whales in the warm Pacific waters, and vegging out while herons fly over the Sierra Madre mountains, you'll wonder if you should have booked an extra day or two. (Answer: Probably, but five days will do you just right).
---
Once your direct flight from SFO licks the runway, a long line of timeshare salesmen will greet you near the airport exit. Clearly, Puerto Vallarta caters to tourists, and in Mexico, this is a good thing. Strict standards on food safety and water purification mean you can enjoy most everything here. Bypass the aggressive timeshare guys, and don't worry about being rude—after all, you've got reservations at one of the new hotels on the Bay of Banderas' northern end or at a resort-spa in the jungle to the south.
Puerto Vallarta's secluded resort digs with full service leave little reason for you to leave home base. To kick off your getaway, watch the burnt-orange sun dip past the horizon and light up the sky from your ocean-side room. A beach hammock and a small stack of magazines is all you'll need while the sun's up. After a couple days of deep relaxation among the butterflies—monarchs are regular visitors to PV in the winter—and tanning on a paddleboard, you'll be itching to explore the happenings in the center of town just a 15-minute taxi ride away.
Cab fare from the north or south to the heart of PV is relatively cheap (about $8), and tips are included. If you need pesos, stop at an indoor ATM for the best exchange rate. Once in town, you'll find historical haciendas, Spanish colonial churches, and funky corridors that wind up into the hills. Tapas, Mediterranean, and French bistros rule Puerto Vallarta, as do many Euro customs. PV gets a slow start in the morning with coffee, followed by noontime breakfasts in corner cafes and late-night dinners around 10 p.m.—much like they do in Spain and Italy.
You've already soaked up tons of beach time at a resort, so spend the rest of your vacation walking around Old Vallarta's romantic streets splashed with shades of aquamarine and dotted with art galleries and flea markets where you'll find iguanas in the trees and homestyle Mexican eats for only a few dollars. Get your nature on with a zipline canopy tour by grabbing a water taxi or speedboat from Marina Vallarta to a nearby village like Yelapa or Boca de Tomatlan. Word to the wise: PV's chilled-out languor may keep you from doing it all. But don't stress—you'll be back. And next time, you won't be a beginner.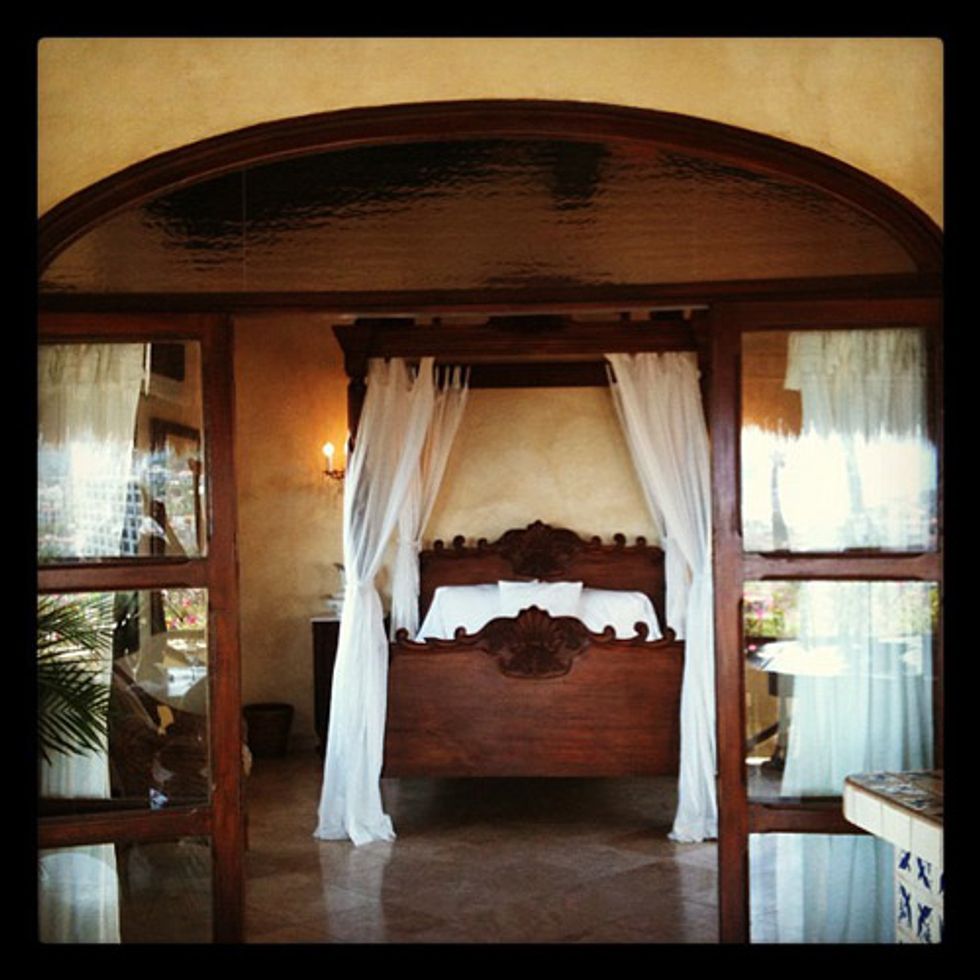 STAY
Gorgeous ocean-view suites start around $180 at Garza Blanca (km. 7.5 a Barra de Navidad, 322-176-0700, garzablancaresort.com), an eco-friendly resort and spa 10 miles from PV's romantic boardwalk. The peaceful hideaway features two infinity pools, a private beach lined with hammocks and daybeds, free paddleboard and snorkeling gear, and a fine-dining restaurant with nary a taco on the menu. Or stay downtown blocks from the beach at Hacienda San Angel (336 Miramar, 322-222-2692, haciendasanangel.com), run by a San Francisco native who bought this former home of Richard Burton's while on vacation in PV.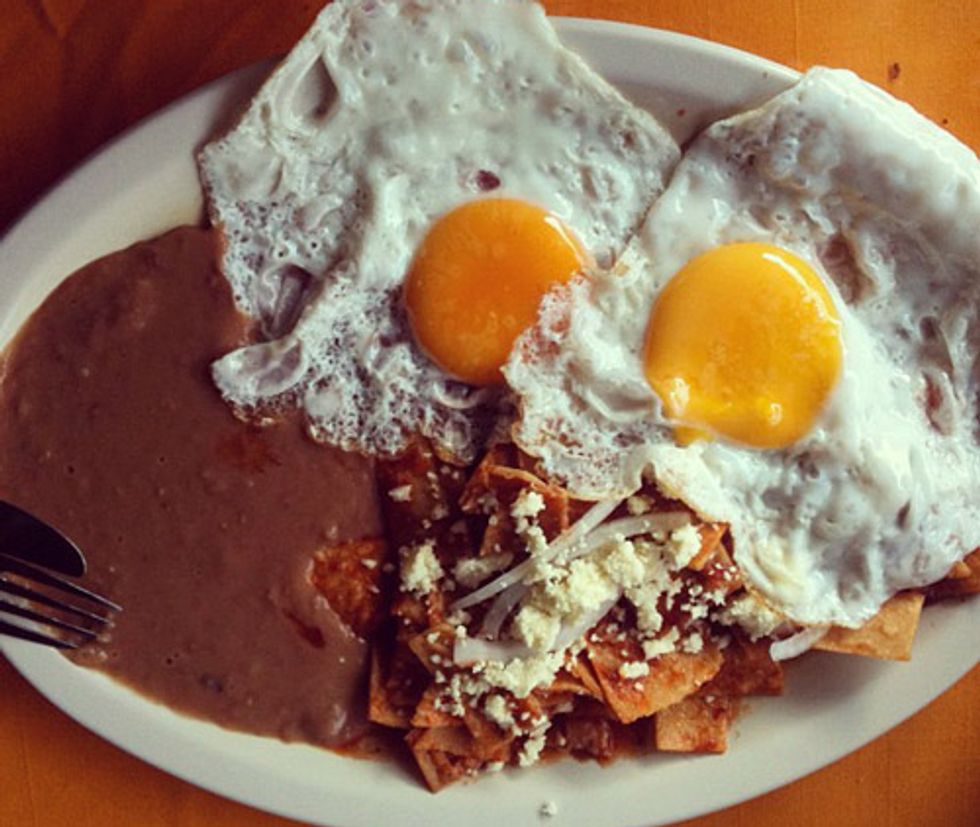 EAT
For a late breakfast (or what SF might consider lunch), walk five blocks up A. Rodriquez from the south end of the boardwalk to reach the permanent flea market. On the second level a dozen or so colorful kitchen counters serve empanadas, huevos rancheros, and smoothies. Grab a window seat overlooking the river at Meme's (Insurgentes at A. Rodriguez), and order the ultimate in Mexican comfort food: chilaquiles with two fried eggs. Later, snack on cooling gazpacho or tapas at Esquina de los Caprichos (Iturbide at Miramar, 322-222-0911). At night, soak up tequila with a chorizo taco from Pepe's Tacos (173 Honduras, 322-223-1703).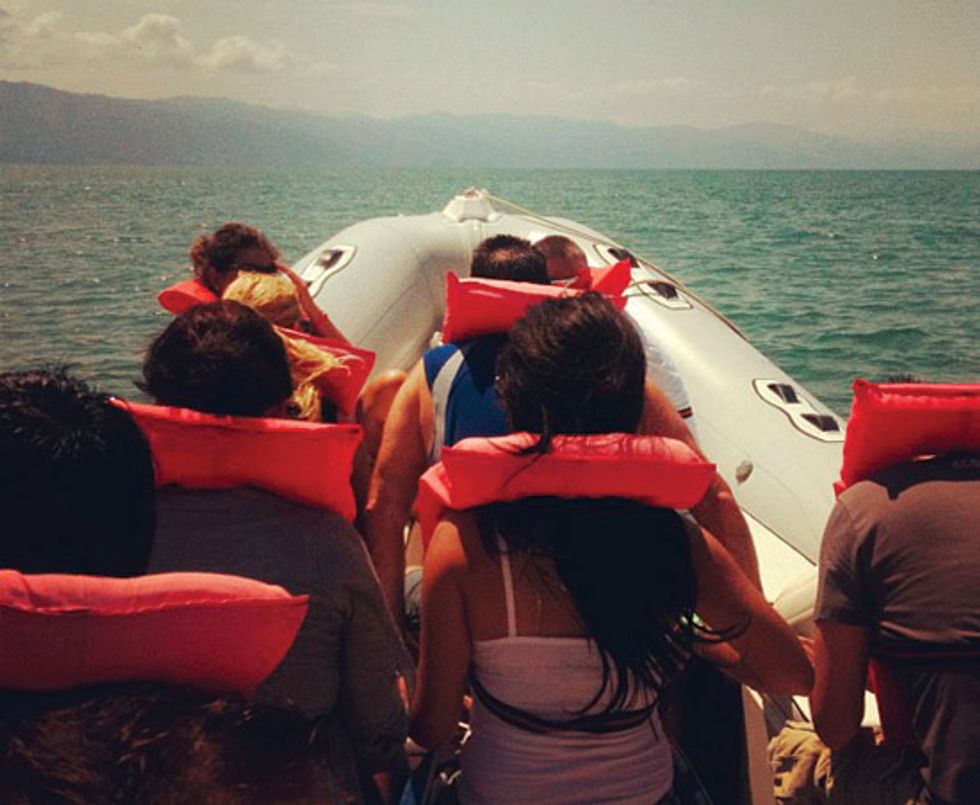 PLAY
From the Marine Terminal, take a speedboat across the bay with Vallarta Adventures to a remote fishing village called Boca de Tomatlan ($99, vallarta-adventures.com). Off-road Mercedes trucks will take you up into the jungle. Then you'll hop a mule ride to the top of a lush forest canopy. Thrill-seekers can then zipline back to the bottom past trees and waterfalls. Bring an extra change of clothes—you're going to get wet. Homemade tortillas, quesadillas, roasted salsa, and beer await in the shade at the end.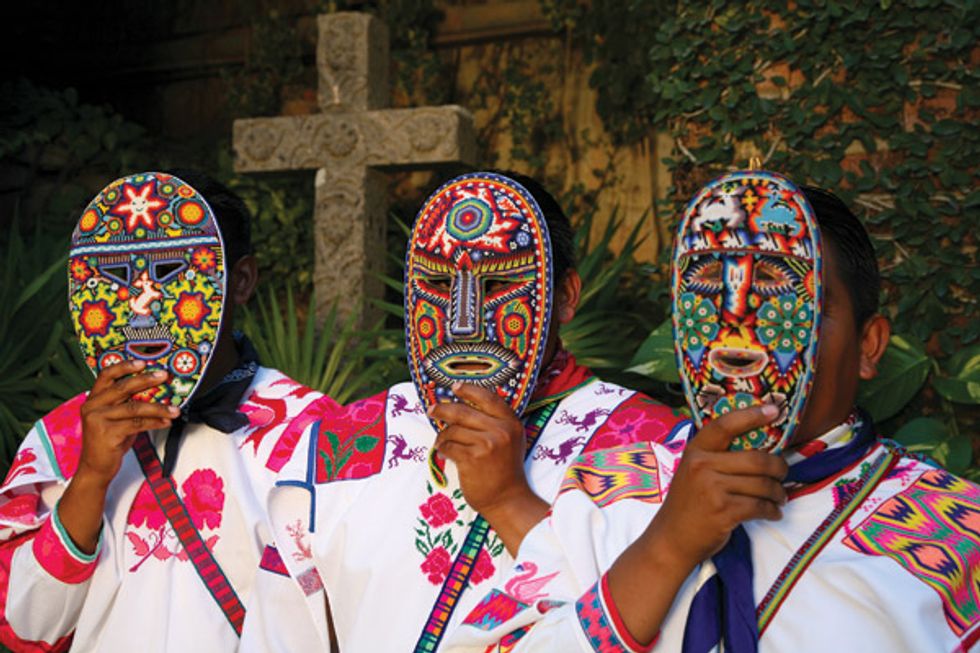 SHOP
The flea market (Insurgentes at A. Rodriguez) stands next to the tree-lined Isla Cuale and offers plenty of welcomed shade for cooling off. Here there are countless stalls of breezy hand-sewn shirts, bright pottery, braided hammocks, and sterling silver jewelry studded with turquoise. It is custom to negotiate prices down by about 30 or 40 percent, so be prepared to haggle. Here's how it works: A vendor quotes you 50 pesos for a bag. Tell him it's too much, and suggest 30 pesos instead. Walk away when he says your offer is too low. He'll call after you with a counter offer. Score!