The days of chit-chatting with your barista over the espresso machine are over. A new coffee shop at the San Francisco Metreon is staffed by two robots.
Officially open on Tuesday, Cafe X is the first robot-run cafe in the United States (there's also a location in Hong Kong). Made in collaboration with WMF, international producer of high-quality cookware and household goods, Cafe X is a hybrid coffee shop-kiosk where a mechanical arm (created by Mitsubishi) is responsible for brewing espresso, cappuccinos, and lattes, served to order.
---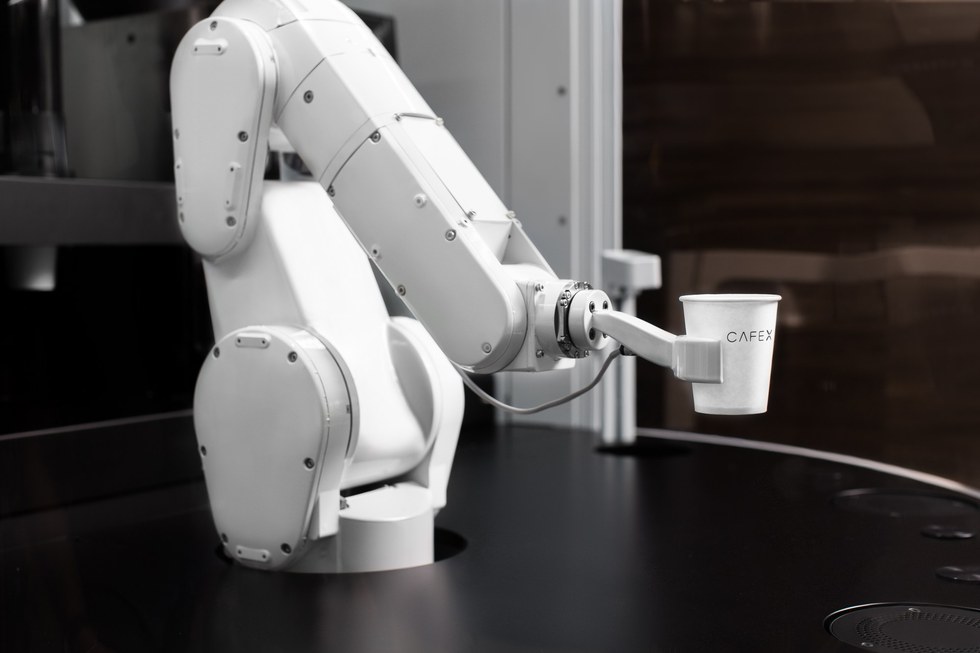 The Mitsubishi robotic armCourtesy of Cafe X
The robot is the brainchild of Cafe X CEO Henry Hu. "I've always been a big coffee consumer," he says. "But the waiting time, especially here in San Francisco, is often too long. I created Cafe X with the idea to speed up the process and ensure the same quality of an espresso at a bar." In fact, it only takes one minute for each coffee drink to be served by the Cafe X robot.
Ordering a drink at the kiosk is very simple: Just choose between the seven different options listed on the iPad in front of the kiosk, or order via the app. Should you choose to order via your smartphone, Cafe X sends you a text message with a four-digit code that you enter at the robot's kiosk when your coffee is ready. Once you do, the robotic arm grabs your cup from one of eight warming stations where it might be sitting, and gently rests it on a small shelf similar to what you might find in a vending machine. From there, you pick it up. The robot will keep your drink warm for up to eight minutes, and after that, it gets dumped. You'll get a notification letting you know you missed the pickup window, and the cafe will remake your drink once you arrive, free of charge.
"With Cafe X we do not want to replace the barista or the experience of enjoying an espresso in a coffeehouse. Our intention is to speed up and ensure a consistent flavor and high quality," Hu added.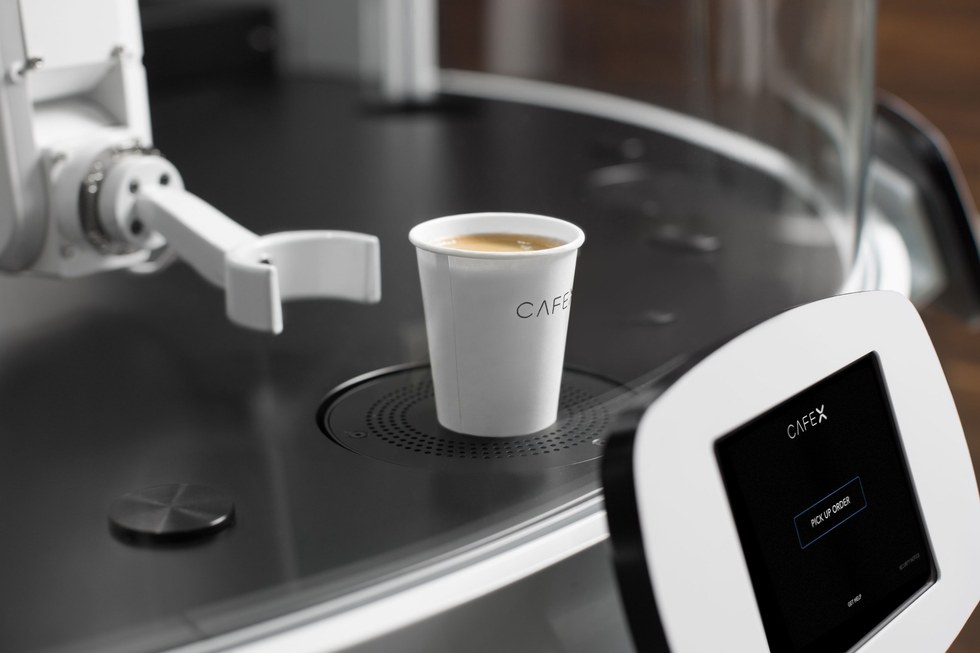 The coffee is servedCourtesy by Cafe X
The cost of an espresso at Cafe X starts at $2.25 per cup and varies depending on the selection of the beans. Brew options include Oakland-based Aka, Verve Coffee, and Peet's, as well as organic milk and add-on features such as syrups and spices.
Don't want to trek to SoMa? Cafe X also plans to open in local airports, BART stations, and offices in the coming year.