By now, we're all aware of San Francisco's preoccupation with farm-to-table ingredients. Whether you participate actively in this culture or not, your dining experience and the foods you enjoy change with the changing seasons. In this last bit of winter, hearty vegetables such as beets, Brussels sprouts, Swiss chard, and kale are in abundance, sold at farmers markets and prepared at local restaurants. For me particularly, kale salad has been in constant rotation in my kitchen. Massage it with a little olive oil, salt, and lemon, and you've got a delicious and healthy snack. Or, as some chefs are doing, enrich it with cheese, meat, and nuts. So, sick of my own preparations, I decided to take to the streets and find my favorite variations of kale salad.
---
GRAND CAFÉ: (pictured above) 501 Geary St.
Grand Café's black kale salad changes subtly throughout the seasons, but is always a winner. Chef Alicia Jenish sweetens up a traditionally bitter dish with poached leeks, candied walnuts, while incorporating apples, blue cheese, and Delicata squash. She tops this off with a savory mustard vinaigrette for a complex and robust salad.

NOPA: 560 Divisadero

Although I'm usually not a big fan of fruit in salads, NOPA hits the mark with a mixture of young kale, toasted pecans, and mandarin. The sweet tang of the mandarin balances perfectly with the bitterness of the kale. Its topped with salty parmesan and a lemon vinaigrette for a light and refreshing side.
RAGAZZA: 311 Divisadero

Photo by Ashley Schoenknecht on Pinterest 
Feeling the ever-too-familiar, post-holiday detox bug biting?  Ragazza's kale salad is the ideal blend of fresh carrots, radish, and avocado. But don't forget, this neighborhood restaurant is known for it's Neapolitan style pizzas, cured meats, and hand-pulled mozzarella. Diet? Yeah right.
PLOW: 1299 18th St.

photo by Julia Flajnik
For a great weekend brunch, travel to Potrero Hill and feast on sinfully delicious fried eggs, french toast, bacon, and sausage. Plow's simple menu offers great breakfast choices, but for those who need a little balance after a decadent meal, try their Tuscan kale caesar, topped with parmesan, avocado, and crunchy walnuts. This tangy salad will ease your brunch belly.
DARWIN CAFÉ: 212 Ritch St.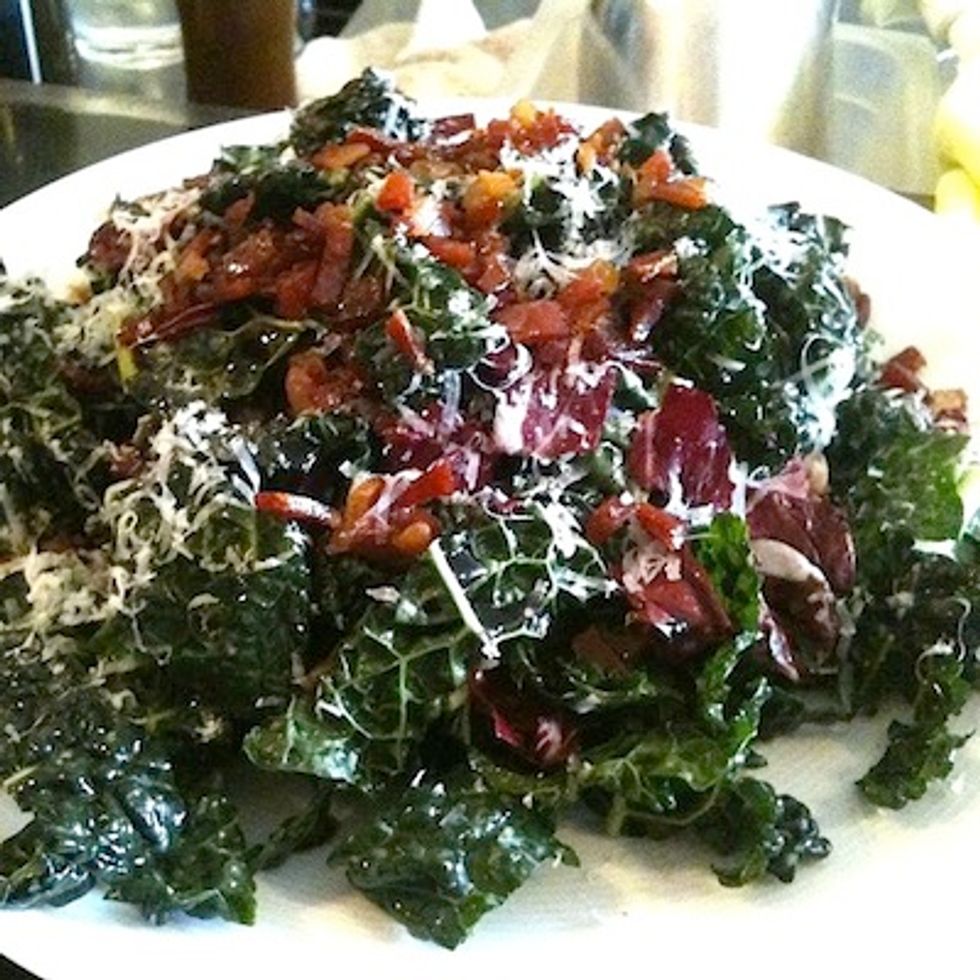 photo by Lynn Huang on Foodspotting
With a wide selection of delicious sandwiches, salads, and baguettes, it's hard to pick just one dish at Darwin Café. But their kale and radicchio salad, dressed with aged balsamic, garlic, and lemon, and topped with fresh shreds of Parmesan cheese and crispy prosciutto is not to be missed. This is one hefty salad, so you won't leave craving a sandwich.
CLAUDINE: 8 Claude Lane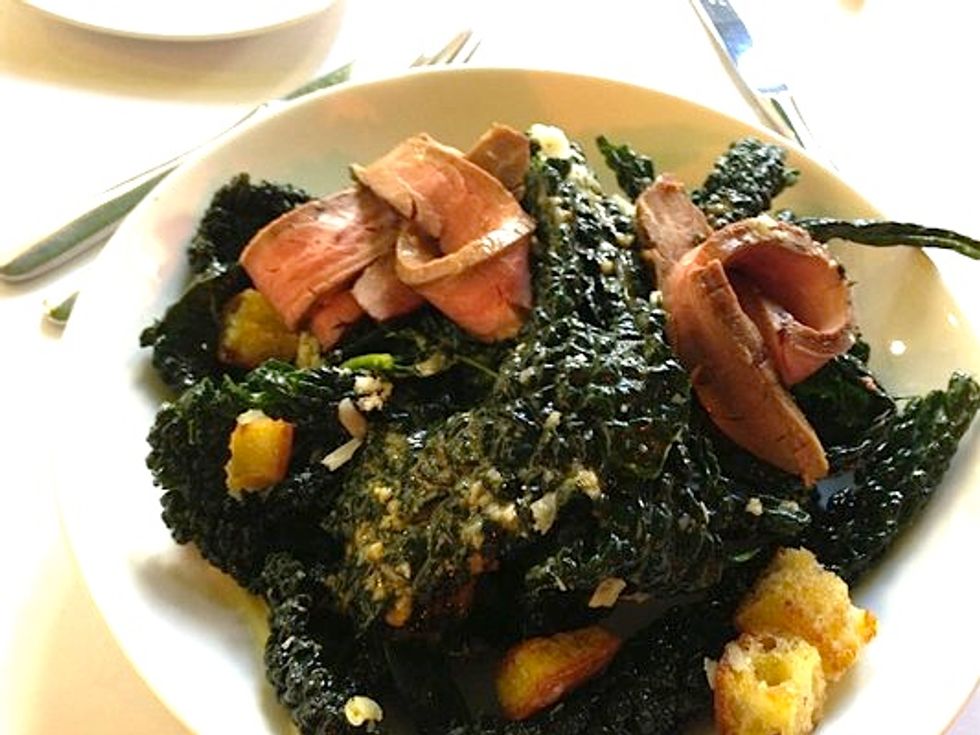 photo by Yelp user Lupe A.


Claudine turns a simple kale salad into the main event. Big, dark, crisp kale leaves are topped with sliced flank steak (cooked to a nice medium rare) and tossed in a lemon-anchovy vinaigrette. The steak is matched with crispy croutons, while the anchovy vinaigrette is accentuated by sprinklings of Parmesan cheese, much like a Caesar dressing.  
UPCIDER: 1160 Polk St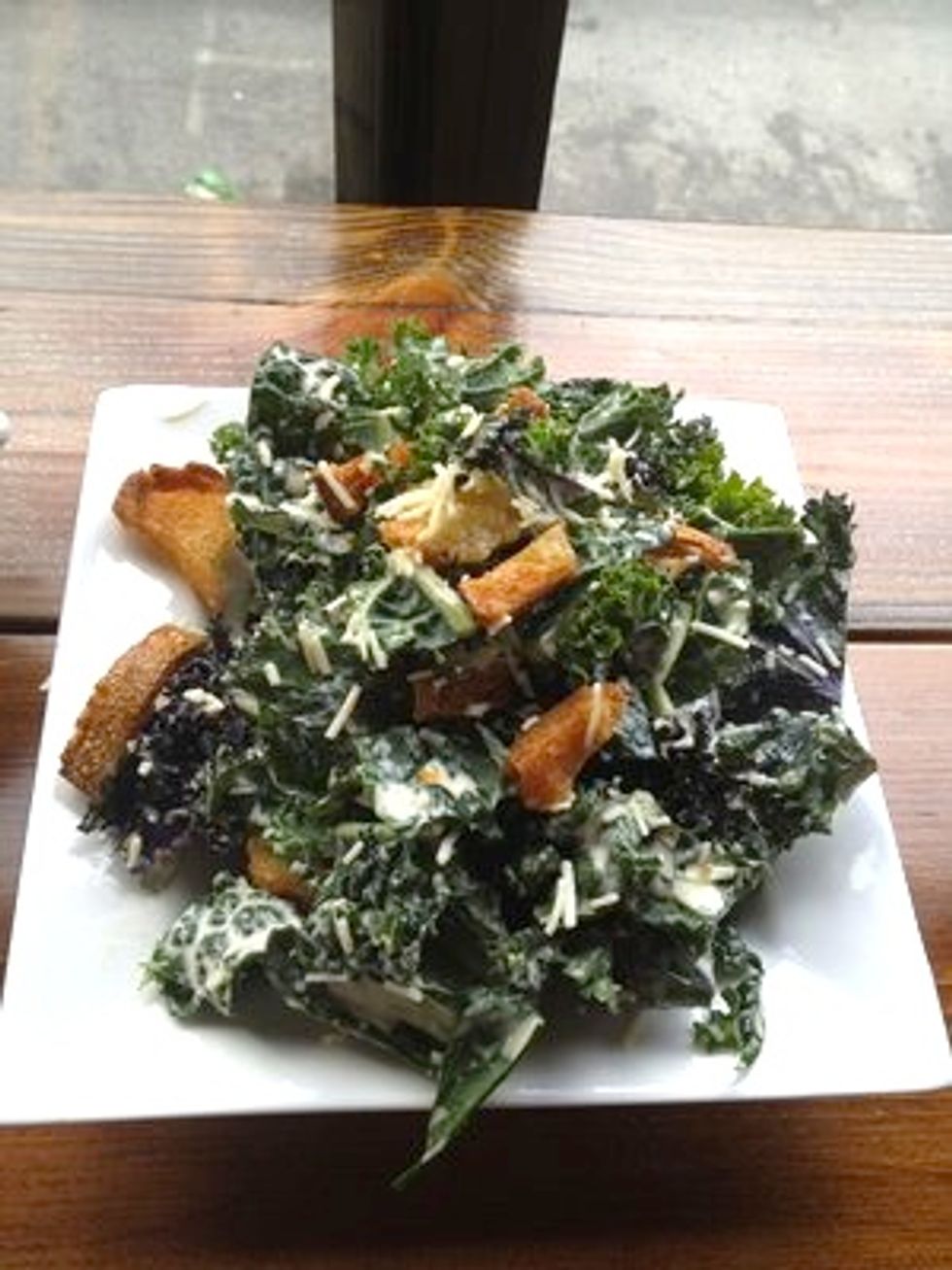 photo by Yelp user Ozge G.
This gastropub takes a unique spin on bar culture.  Located on the 2nd floor, they serve a wide variety of hard ciders, and lighter food like sliders, salads, and flatbreads. Enjoy their delicious kale caesar salad with Parmesan croutons, grab a side of sweet potato fries, and watch the daily happenings on the corner of Polk and Sutter.
Have a favorite kale salad in your neighborhood? Let us know in the comments!