Continue the summer fun with a visit to Anthropologie's new wellness concept shop in Walnut Creek, and get bronze with our fav new eco-friendly skincare product.
---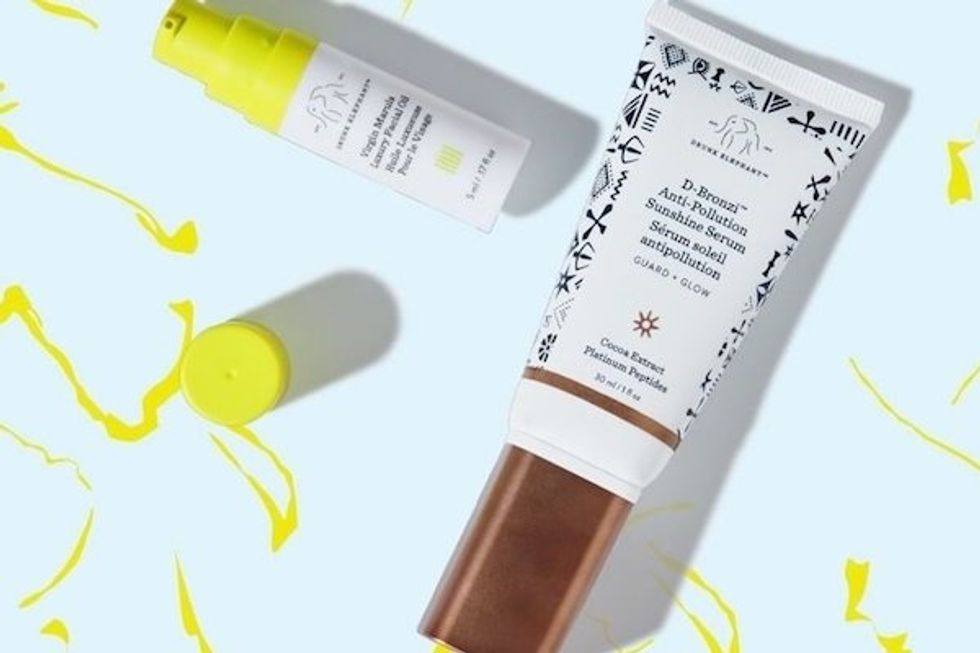 God knows we could all use a little sunshine in a bottle 'round here.

Anyone else feeling like a pasty white visage is not the way to celebrate Independence Day weekend, or the rest of summer? Fret not, one of our favorite clean, non-toxic skincare brands, Drunk Elephant, has your back face with its new D-Bronzi ($36). The silky, silicone- and breakout-free bronzing concentrate provides natural looking color, and is made with vitamins, antioxidants and other good stuff that defends skin from environmental free radicals. Note: It's meant to be mixed into sunscreen or moisturizer for an all-over glow. We're totally addicted to DE's #VacationFaceSmoothie: one drop D-Bronzi, one pea-sized dollop of Umbra Sheer Physical Daily Defense SPF 30, and two drops Virgin Marula Luxury Face Oil. Yum. // Available online and at Sephora stores, drunkelephant.com
Poshmark takes a virtual break to party IRL.
No matter if you're one of Poshmark's four million sellers or strictly in the buying category, you're invited to party like a Posh star on Thursday, July 19th (6 to 9pm) at the San Francisco Design Center. The Redwood City–based social-commerce fashion marketplace is hosting Posh Party Live so fashion-plates can connect offline with community members old and new. There will be drinks, 'grammable photo ops, one-on-one closet consultations from the Poshmark team, and more. Founder and CEO Manish Chandra will be on hand, as well. Sounds like a great opportunity to meet your new PFF. // SF Design Center, 101 Henry Adams St. (SoMa), sfdesigncenter.com; Tickets ($10) are available at events.poshmark.com.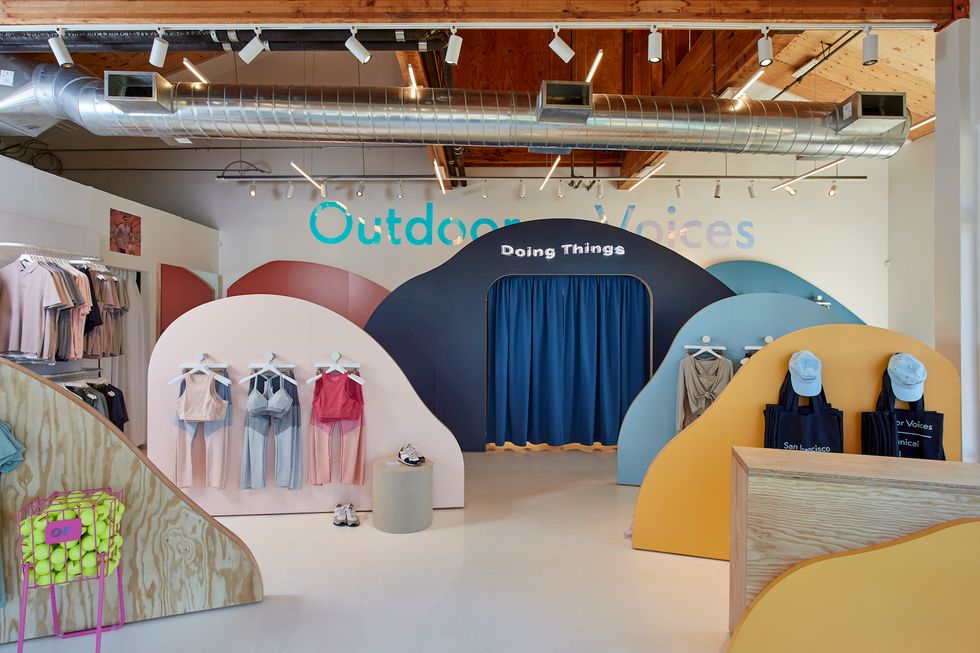 (Courtesy of Outdoor Voices)
Marinites: You don't have to cross the bridge for your athleisure fix.
That's because Hayes Valley no longer has a monopoly on Outdoor Voices brick-and-mortars in the Bay Area. Last Friday, Marin Country Mart welcomed OV to the family. The boutique's playful décor nods to nearby Mount Tam and the Headlands, while racks and shelves display the brand's full lineup of tights, tops, sports bras and, yes, that new Exercise Dress we told you about a couple weeks ago. Regular classes and group activities—hiking, biking and running—are also part of the fun. And, um, one more thing…this location is a pop-up, albeit one that's slated to be open through the end of the year (shrug emoji). Hours: 10am to 6pm daily. // 2257 Larkspur Landing Circle, Suite 11 (Larkspur), outdoorvoices.com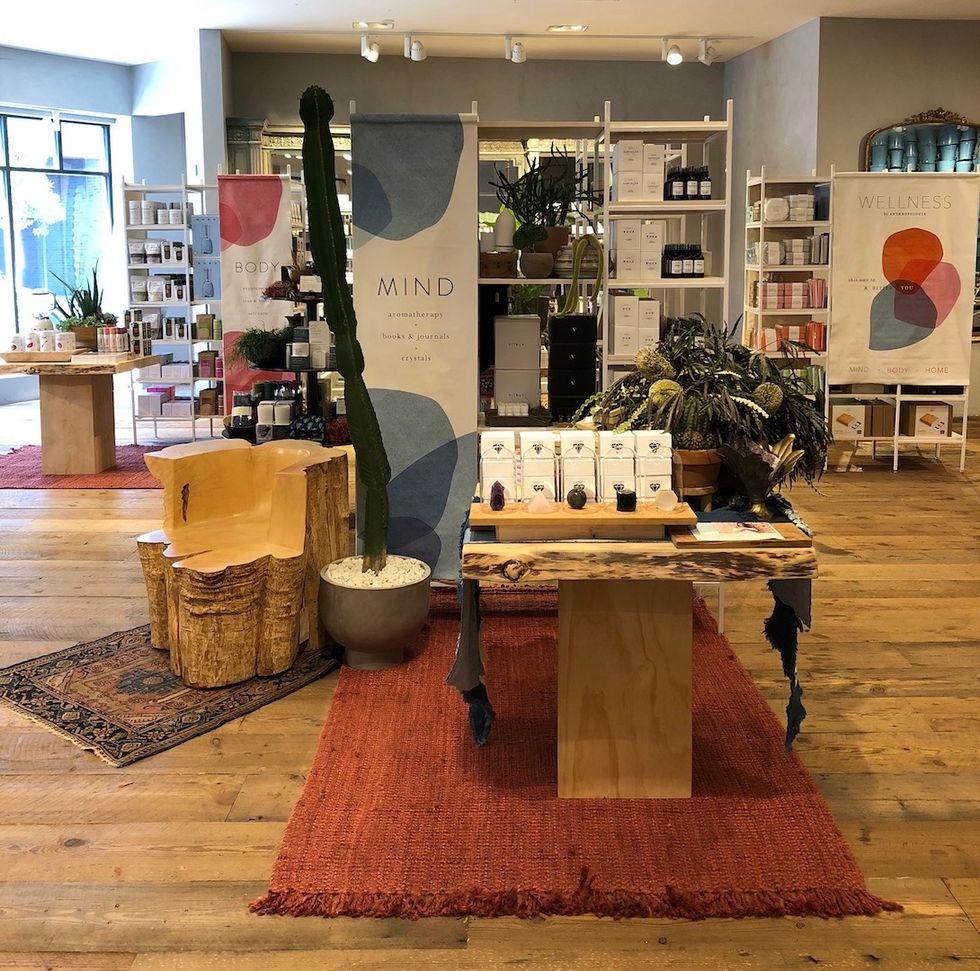 (Courtesy of Anthropologie)
Walnut Creek Anthro doubles down on wellness.
We fell in love with the Anthropologie & Co in Walnut Creek when it debuted about 18 months ago. Our crush grew deeper last week when it introduced a dedicated wellness shop dedicated to all things healthy living. (Palo Alto was the very first location to adopt the Wellness by Anthropologie concept.) You'll find more than 500 eco-friendly, ethically crafted products from 100 brands focused on mind, body, and home. Translation: more aromatherapy, essential oils, books, teas, elixirs, and skin and hair care products than a girl (or guy) could ever want. Exclusives from the likes of Longemity, Revelry, and Wicks & Stones mix it up with customer-favorite brands including Bondi Wash, Organic Pharmacy, Vitruvi, and WelleCo. Fingers crossed that the SF store will soon follow the feel-good path. // 1149 S. Main St. (Walnut Creek), anthropologie.com