It may be Fogust up in San Francisco, but the sun's shining brightly on the South Bay this week. Celebrate the Vitamin D intake with a swath of new openings, covering a wide range of tasty cuisines. 
---
First up, there's new life in Burlingame's Kuleto's space thanks to the opening of Fattoria e Mare, a seafood-centric, Venetian restaurant featuring hand made pasta and an in-house charcuterie program. In addition to fish of the grilled and fried variety, you'll find seasonal appetizers, pizzas, and pastas that range from papardelle with lobster and crab to purple potato gnocchi with rabbit ragu. Fattoria e Mare is open for dinner, lunch, and brunch (plus happy hour bites) — enjoy live jazz with your Italian feast Wednesday to Saturday, from 7 to 10 pm.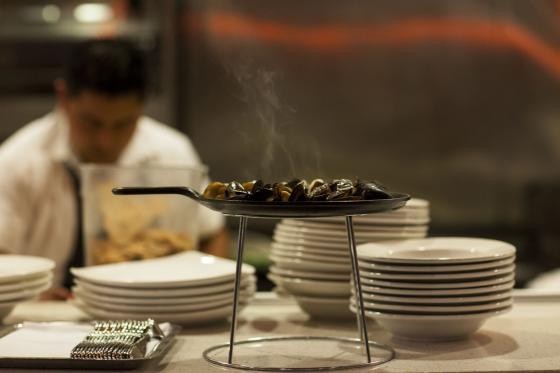 Seafood at Fattoria e Mare
Things are getting spicy down on Palo Alto's University Avenue, where popular Burmese restaurant Rangoon Ruby has opened another location just blocks away. The new restaurant, Burma Ruby, currently features the same menu as the original, including tea leaf salad, pork curry, and tiki cocktails for good measure, but expect a menu change-up in the next few months.
Continue down the Spice Route in MountainView at Chennai Kings, newly slinging South Indian cuisine on Castro Street. With an extensive menu of authentic Tamil cuisine, Chennai Kings is open for lunch and dinner, serving a selection of dosa, uttapatam, curries, biryani, appetizers, and more, plus weekend-ony specials like goat brain chili fry (!).
Cool off from the summer heat (and the spices) at Mealtop, a legendary Korean shaved ice chain that has just opened its first US location in the Valley Fair Shopping Center. There are four flavors on offer (soon to be six): original milk, fruit (featuring fresh strawberries), coffee (featuring Four Barrel coffee), and matcha (with Korean green tea). All shaved ices are topped with sweetened red beans and house made mochi. The simple, sweet ice creations have been a huge hit oversees; this branch is being run Patrick Tsui, former GM at Frances, who's offering that Four Barrel coffee in drip form, too.