Seize these 60 degree days and take the opportunity to get outside for some brand new eats.
---
Start on California Avenue in Palo Alto, where fancy-pants hot dog purveyor Chez Franc has opened their first, much-anticipated brick-and-mortar restaurant. Expect nine varieties of delicious (and deliciously-topped) dogs, including the French, topped with choucroute, truffle brie, and mustard; and the Tokyo, a bratwurst loaded with bacon, cabbabe, mayo, tare, pickled ginger, scallions, bonito, and nori. Non-hot dog menu items include a burrata, broccoli rabe, and mushroom sandwich, and a selection of soups and salads. They're open for lunch service now, with dinner (and possibly brunch) to come next month.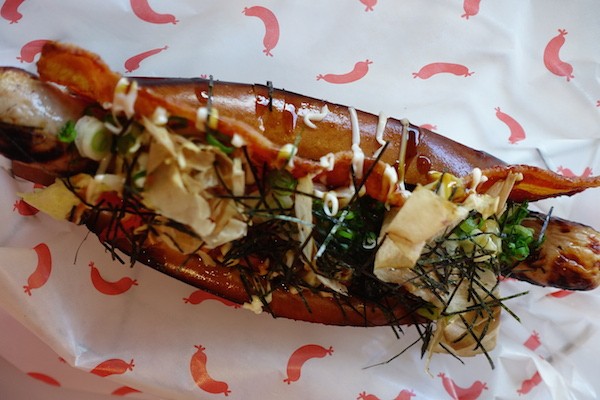 The Tokyo at Chez Franc
Also happening in Palo Alto: uber-popular sushi burrito joint Sushiritto has opened their first non-San Francisco location on University Avenue. Expect their brand of massive, hand-held sushi rolls filled with everything from yellowtail to pork belly, and likely, lines to accompany them.
Finally, Pizzeria Delfina Burlingame is throwing yet another party worth planning on — their one-year anniversary, happening today, January 23. Should you stop by and order a pizza, you may be the lucky winner of a Golden Ticket (located under the pie!). The tickets will feature a variety of prizes — knowing the Delfina team, we're guessing they have to do with something delicious.