Transforming the old Sarlo showroom in the San Francisco Design District into her own creative command post required a bit of a mindshift for designer Catherine Kwong. "Decorating my office needed a much different approach compared to how I work with residences," she says. Kwong has become known for her gorgeous interiors, filled with sophisticated mixes of graphic patterns, offbeat vintage finds, and eye-catching art. But for her headquarters, she wanted to get down to business.
Determined to let nothing interfere with the creative process, Kwong settled on a minimalist space with squeaky-clean lines and few adornments. Built-ins were key. "We needed lots of behind-the-scenes organization so we could focus on project boards and fabric samples without distraction," she says.
Each day, her team of five sidles up to tables by Blu Dot, generously configured to encourage collaboration. A black-and-white floral image, by Chicago photographer Debbie Carlos, is an inspirational touchstone in the stark white space. "The life of a designer is messy," says Kwong, who moved to SF from New York in 2008. "Here, we do our best to keep all that chaos in check."
Such austerity might seem dramatic elsewhere, but in Kwong's luxury-loving hands, the overall essence of swank is undeniable. As an expression of her lavish aesthetic, the conference room is awash in deep navy paint, studded with gold sconces, and stocked with design tomes. Mies van der Rohe leather chairs surround a sprawling oak table, and an oversize print of the ocean, by Gray Malin, hangs opposite a canvas Prada Marfa sign by Elmgreen and Dragset. The ultimate finishing touch, a stunning steel chandelier by Blackman Cruz (a souvenir from the office she created for the 2012 SF Decorator Showcase), bestows warm illumination for late-night brainstorms. Kwong says, "Now we're ready for the big things coming our way."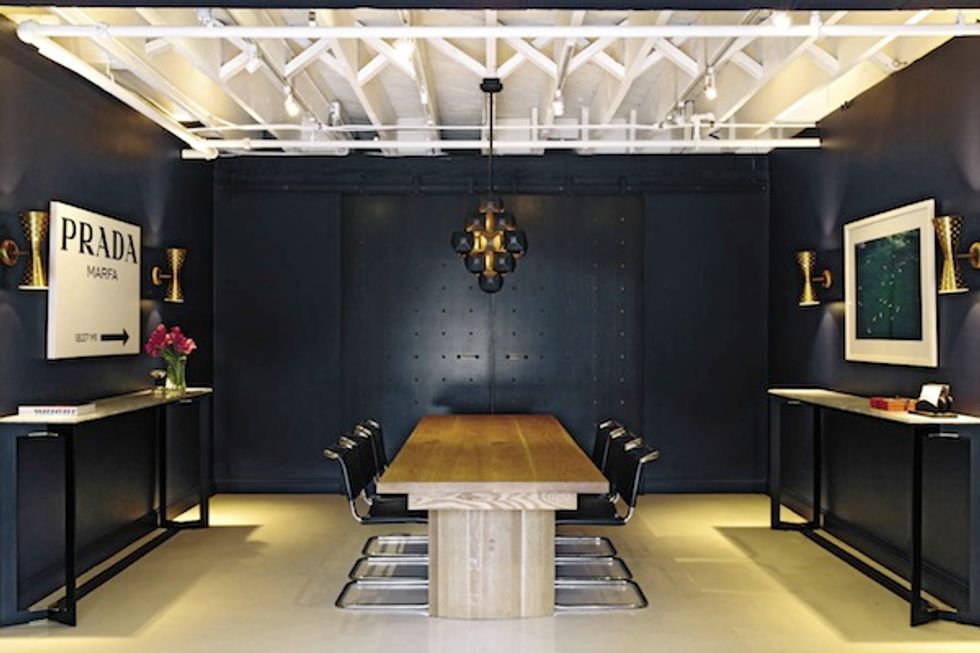 ---
In order to distinguish the presentation space from the work area, Kwong went for a moody and sophisticated look. The deep conference room walls are an elegant counterpoint to the raw industrial ceiling.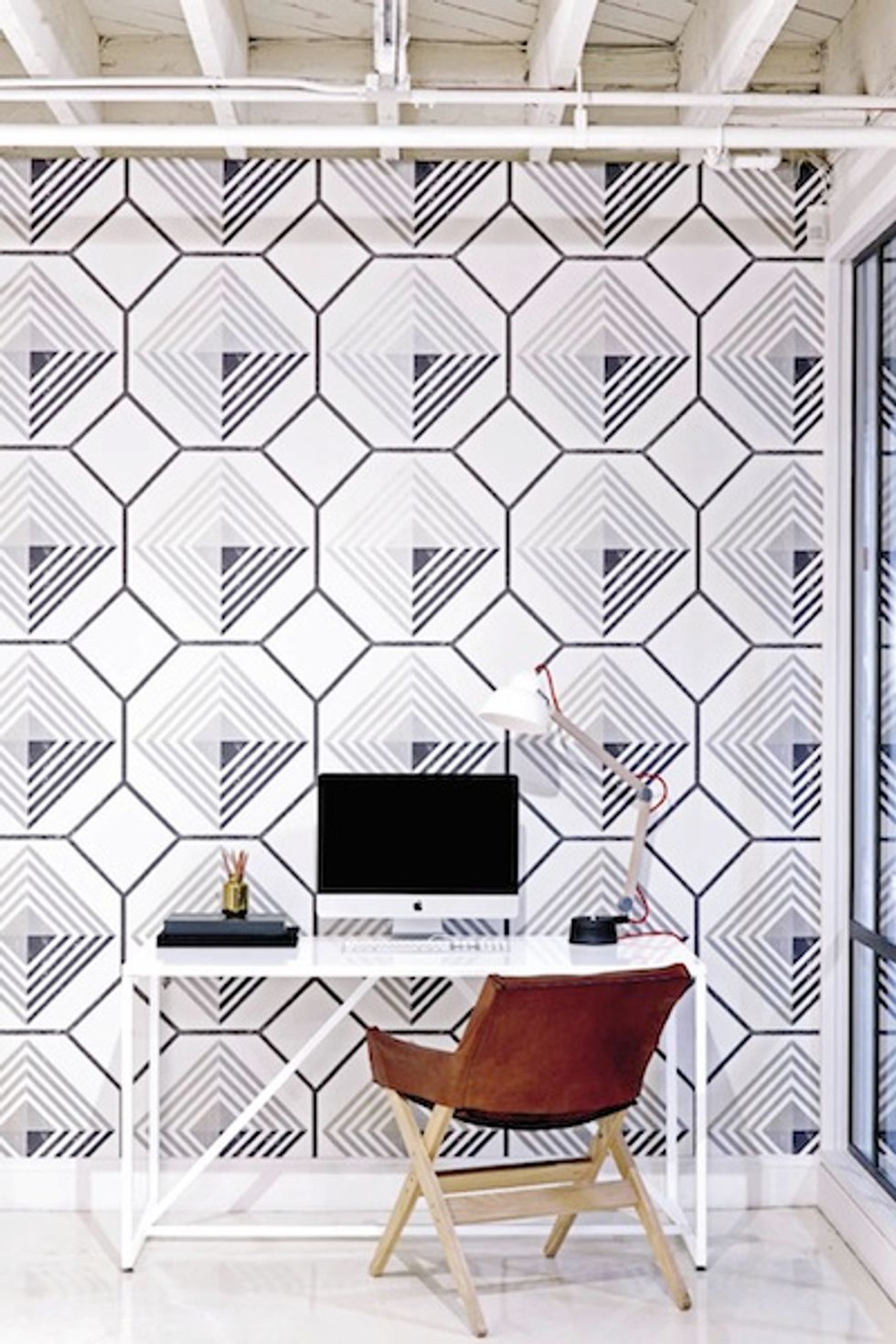 The graphic wallpaper, which almost seems to vibrate, is by Designers Guild. The leather chairs were salvaged from the Waiheke Yacht Club, a popular pop-up eatery during the 2013 America's Cup.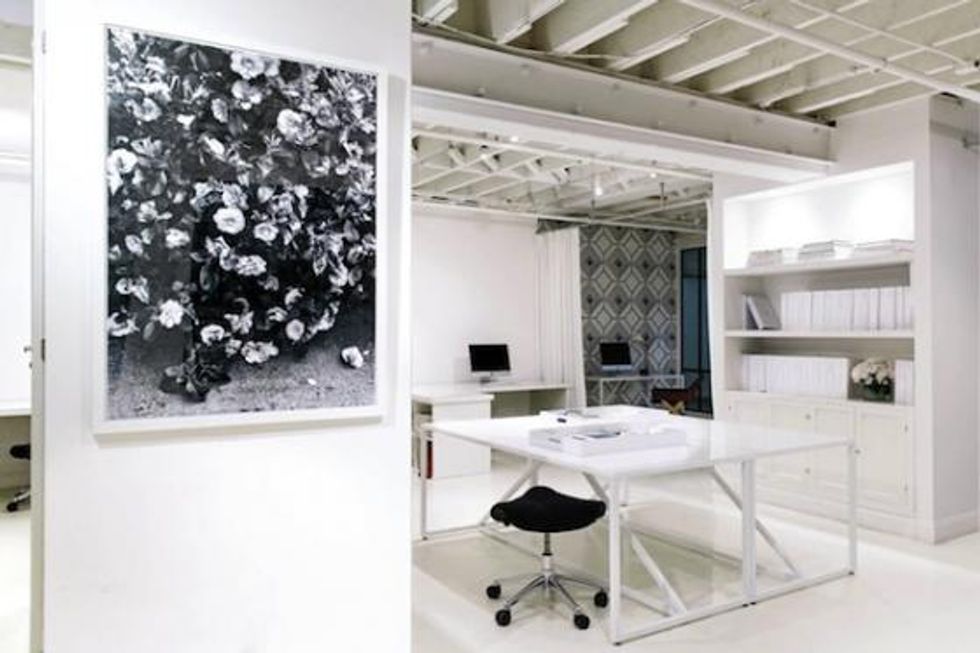 Though the stark white tableau acts as a calming force and a blank canvas, Kwong couldn't resist one important dramatic touch: A black-and-white flower print by Debbie Carlos elegantly punctuates the space. "Her work feels beautifully undone," says Kwong.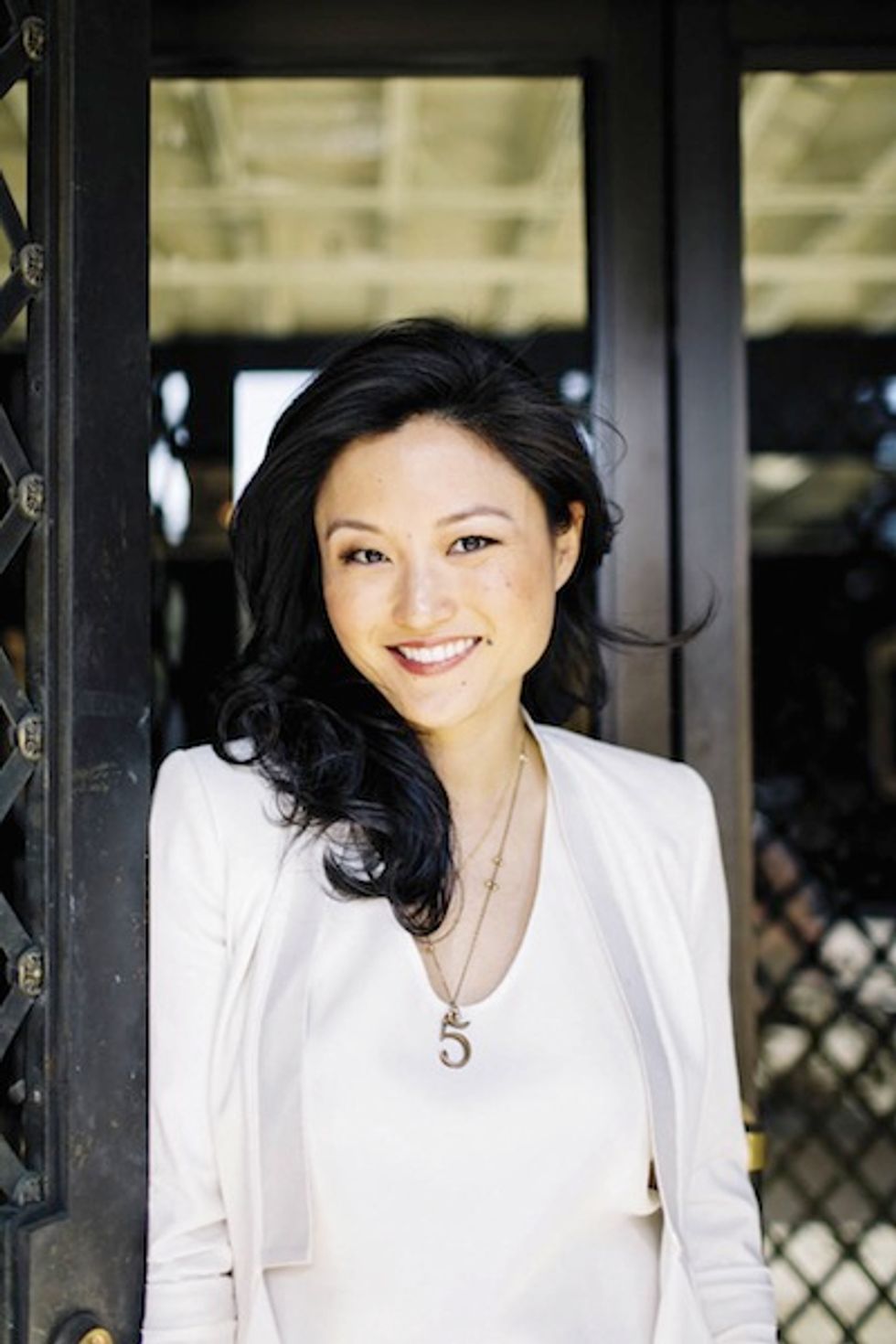 Kwong lives with her husband and newborn son in Jackson Square.