Muir Woods may house some of the largest and oldest publicly accessible trees in the Bay Area, but it's very much a tourist destination and always woefully crowded. For a more intimate wooded experience, spend the day in Oakland's Redwood Regional Park instead.
Miles of trails wind through the ethereal foggy forest that—with its own refreshing microclimate—is a cool escape in warmer months. The park is lined with plentiful ferns and 150-foot-tall coast redwoods, as well as eucalyptus and pine trees, a variety of wildflowers, and wildlife including birds, newts, slugs, and migrating ladybugs. And since the place is practically deserted, you'll find plenty of peace and quiet as you walk through its tranquil 1,830 acres.
---
Lace up your hiking boots or sneakers, and bring a small backpack with water and trail snacks. There are open meadows along the route where you can sit and have a picnic. You'll still be close to civilization, so leave the bear spray and hiking poles at home.
HOW TO GET THERE
Ready to start your redwood adventure? Gig car share promises super flexible access (and affordable rates by the mile, hour, or day) to wheels for your next local excursion. Just download the app, hop in a Toyota Prius c Hybrid, and get going—the car is fully tricked out with a bike rack, gas, and it even comes with insurance (restrictions and limitations apply) and 24/7 support. All that's left to do is pick a route and hit the trail. At the end of the day, don't worry about the headache of the return: You can park the car almost anywhere in the Oakland or Berkeley HomeZone. You'll be home ordering dinner from Caviar in no time. So what are you waiting for? // gigcarshare.com
WHERE TO PARK
Park at the Skyline Gate Staging Area (7867 Redwood Rd.) in the Montclair neighborhood of Oakland. It's a good-sized parking lot that fills up quickly, but there is plenty of street parking in the surrounding neighborhood. There are also bathrooms and water fountains here before you hit the trails.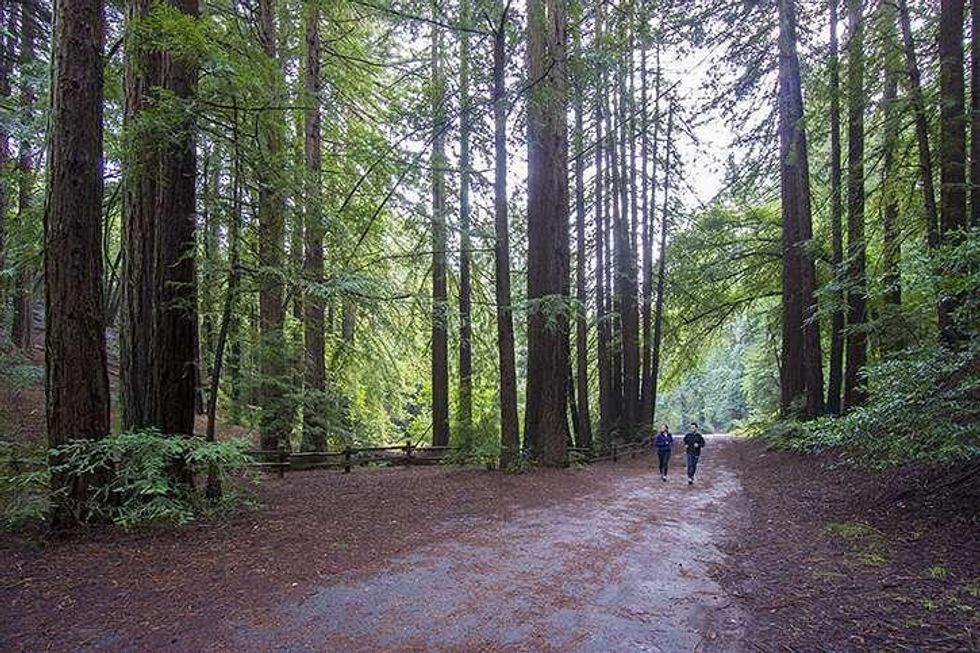 (Courtesy of redwoodhikes.com)
THE HIKE
Total Distance: 5.25 miles
Difficulty: Easy to Moderate
Time: 3 hours
Dogs: Allowed, off-leash on certain trails
1. Starting in the Skyline Staging parking lot, take the Stream Trail. This is an easy, wide trail that runs along the stream where you'll likely see other hikers. The stream is a breeding spot for rainbow trout, so, at certain times of the year, you may be able to spot them. Keep on this trail for 1.5 miles.
2. Turn right onto Fern Trail, and then continue straight onto French Trail.
3. You'll stay on the French Trail for 2.7 miles, and then take a right onto the West Ridge Trail, which will take you back to the parking lot. Stay alert: The West Ridge Trail is the only part of the hike where you'll be sharing with mountain bikers. On your way out, peek under the stone bridge on Redwood Creek, just before you get to Redwood Gate—this is home to hundreds of California Newts. Catch them December through early May in all their mating glory.
Download a more detailed trail map here.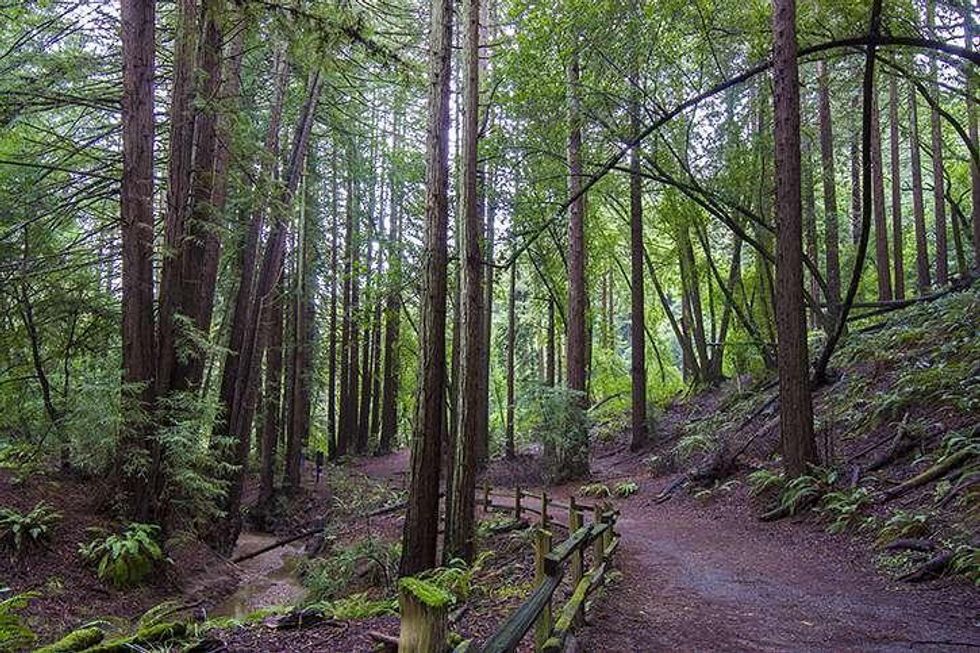 (Courtesy of redwoodhikes.com)
THE BIKE RIDE

Total Distance: 10.5 miles
Difficulty: Easy to Moderate
Time: 3 hours
Total Climb: 1,850 feet
1. Take the West Ridge Trail, popular for its beginner-friendly trails lined with wildflowers and densely wooded areas alternating with open meadows. The bike-legal trails in this park constitute one major loop around the entire park.
2. Down for a longer ride? Joaquin Miller Park is right across the road from the trailhead. Here you'll find a few quick miles of singletrack, with steep technical grades for the pros as well as more family-friendly rides.
See a detailed map here. —Michelle Klug
// For more information on Redwood Regional Park, go to ebparks.org.
(Special thanks to our partners at Gig car share.)