Though she's from sunny LA, local dental consultant Anne-Mary Pham doesn't let any weather get her style down. For our Potrero Hill shoot, she brightened up the dreary drizzle with cute caps, patent leather shoes, and her huge red-lipped smile.
---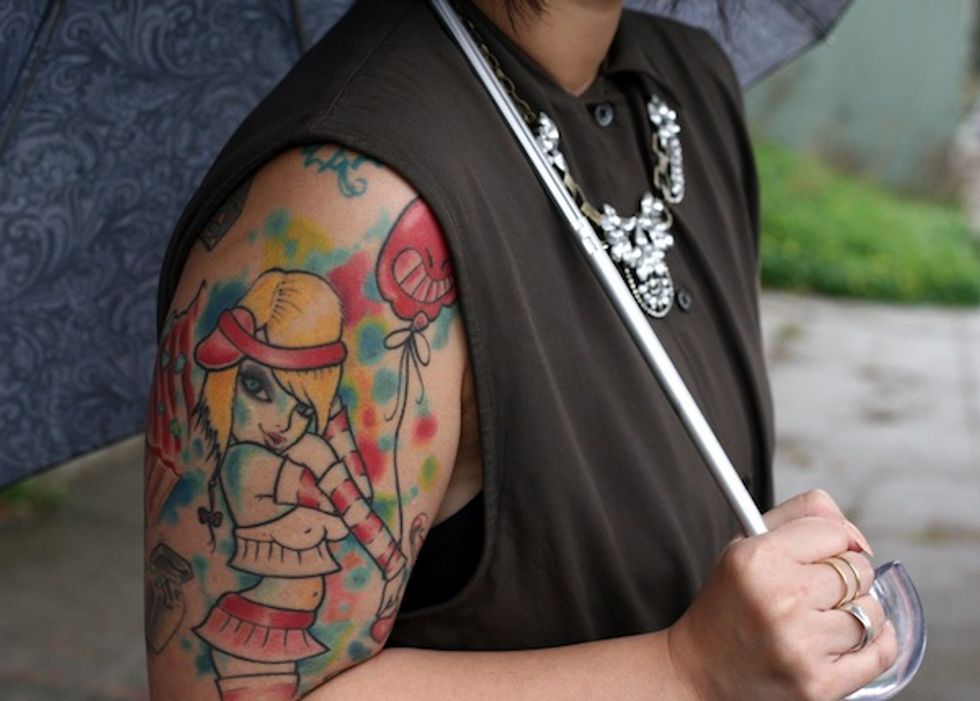 What She Wore: Marc by Marc Jacob's umbrella; Oak NYC asymmetrical collar dress; Necklace from ebay; Leopard shirt by UNIF; Rings by In God We Trust and Tiffany & Co.; Hermes Clic-Clac H bracelet; Forever 21 pyramid bracelet; Louis Vuitton clutch; Dr. Marten boots; China Glaze nail polish in "Nude"; NARS lipstick in "Dammed"; Haircut by Rose at Citana.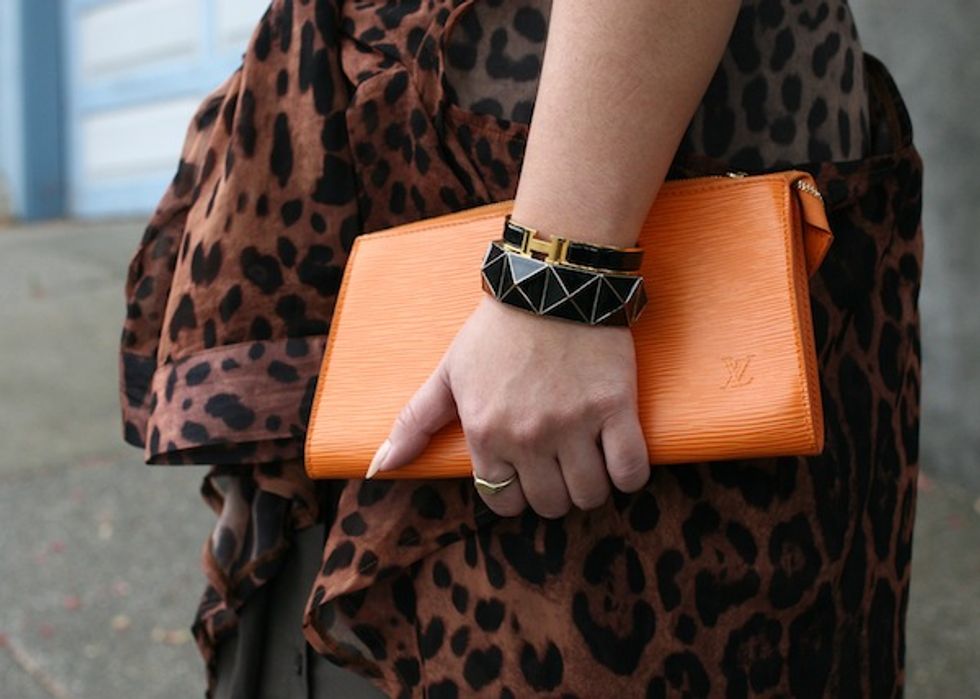 Her Style in Seven Words: "A girlier version of a fashionable tomboy."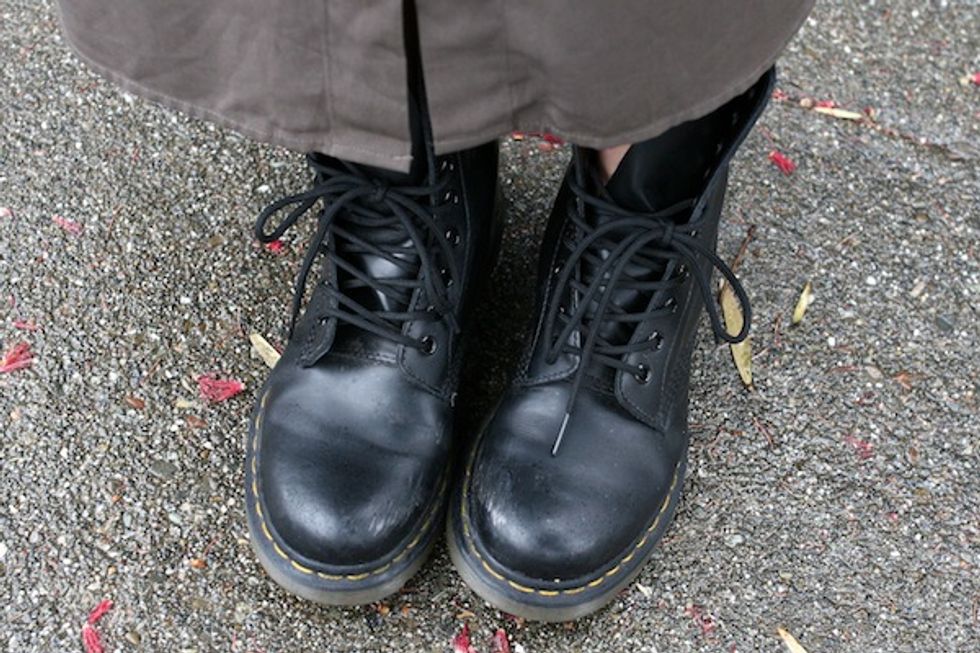 Anne-Mary's Shoe Count: "I'm guessing about 35-40 pairs."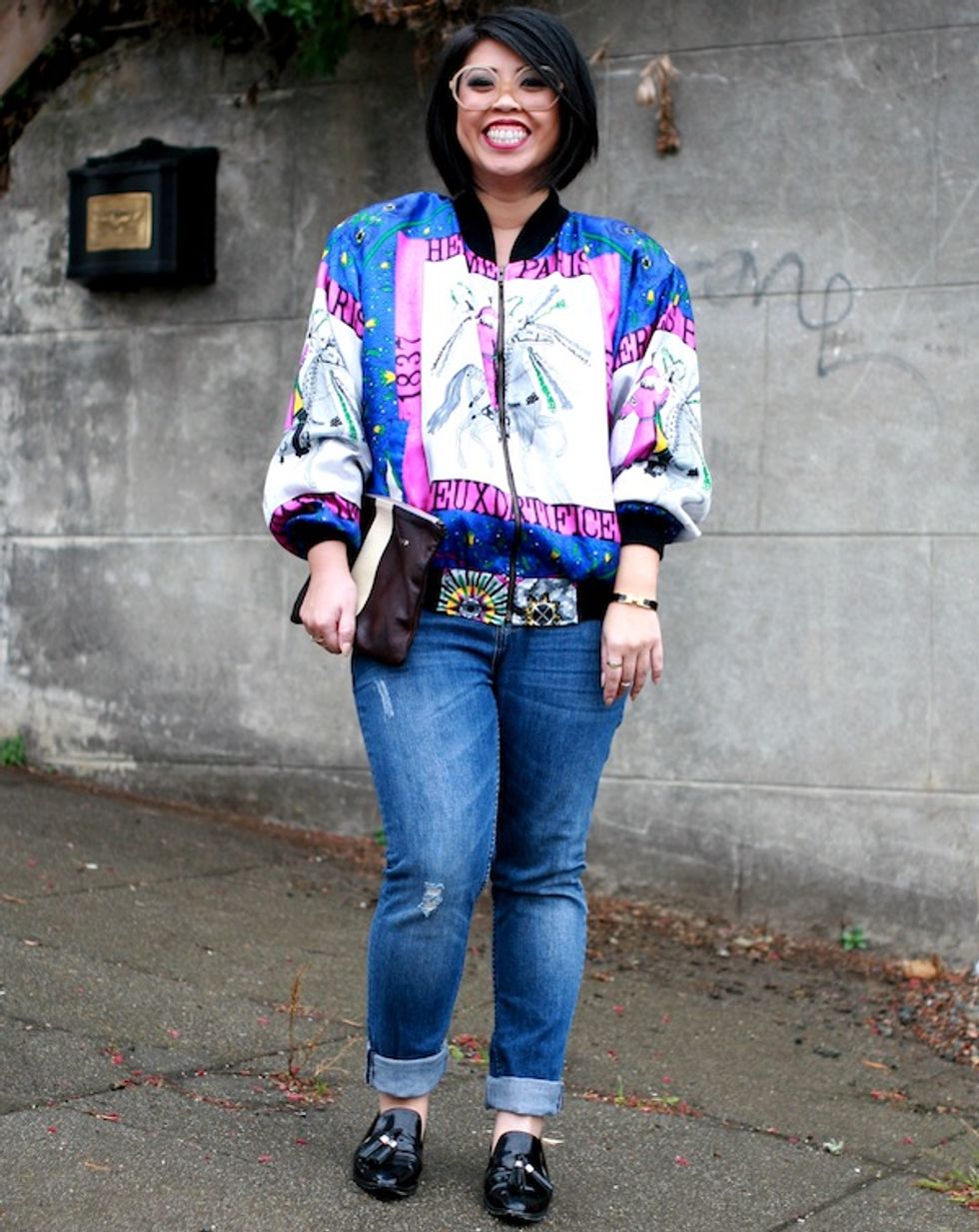 What She Wore: Vintage Hermes jacket, thrifted from Salvation Army; AllSaints jeans; Glasses from SEE Eyewear; Monogrammed Clare Vivier clutch; Alexander Wang patent tassel loafers.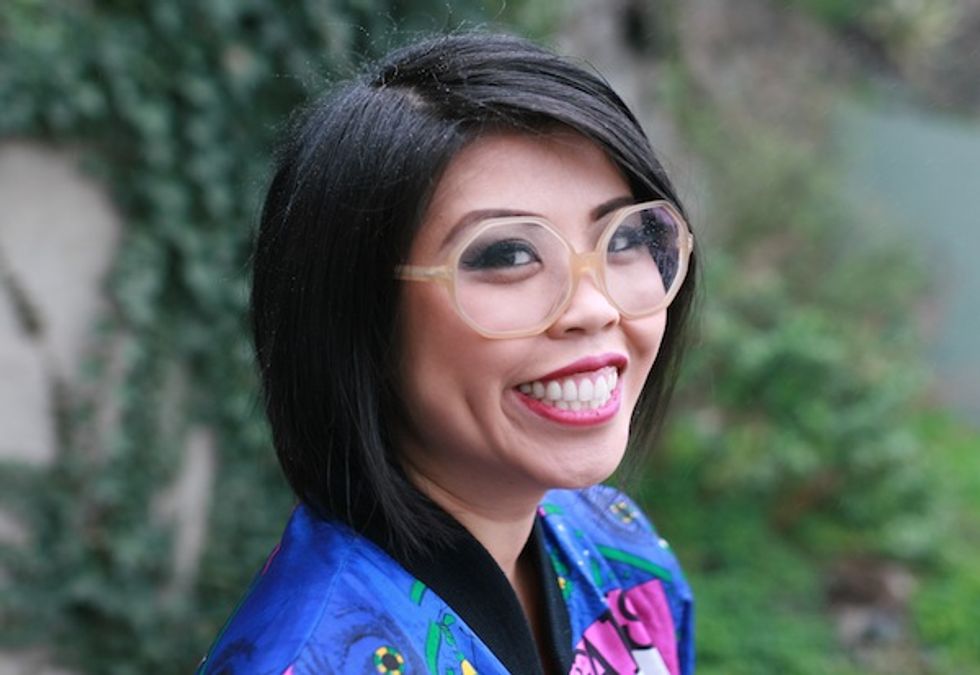 Anne-Mary's Product Picks: "NARS lipstick in 'Dammed', Benefit Brow Kit, Fresh Rose Mask, and Bite everything."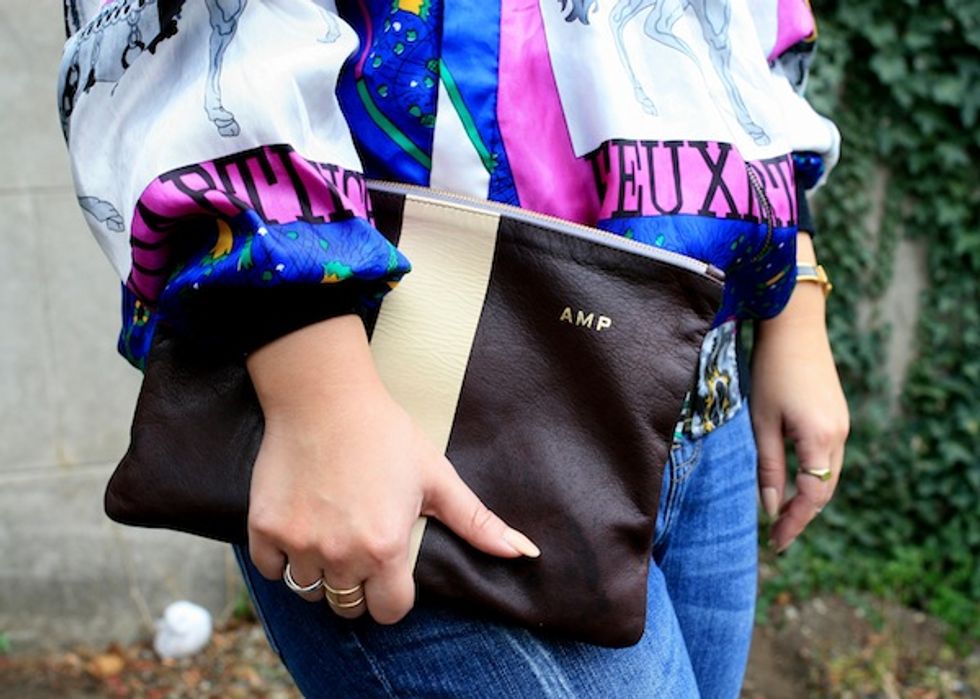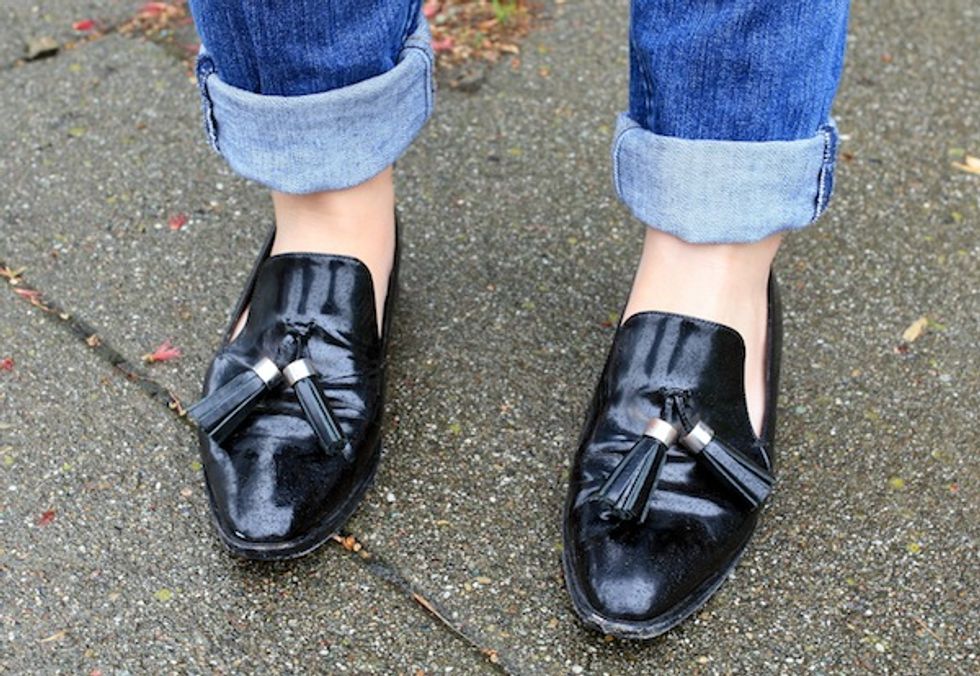 If you're not feeling boots, patent leather is ideal on rainy days.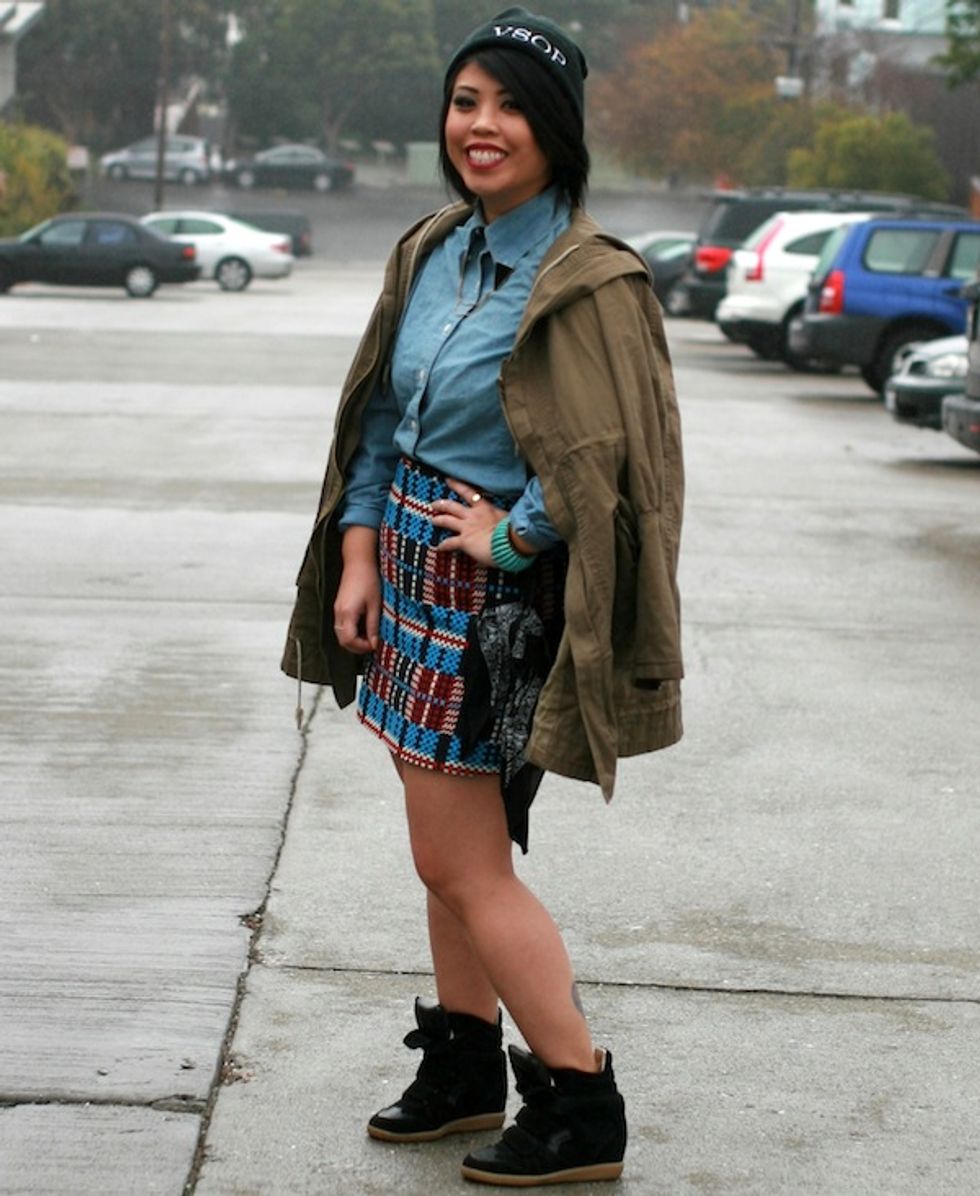 What She Wore: Custom made "VSOP" hat from Lids; LF jacket; Vintage Faconnable chambray shirt, purchased from Savers in San Jose; ASOS collar chain; Forever 21 turquoise cuff; Hermes Clic-Clac H bracelet;  Zara skirt; Isabel Marant wedge sneakers.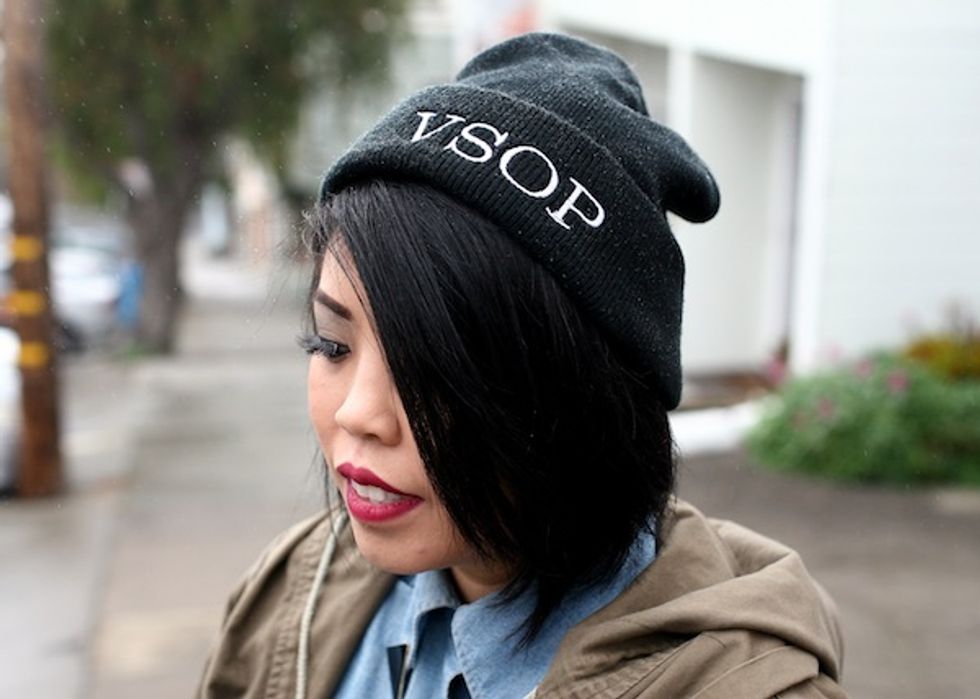 Anne-Mary's Wish List: "Vintage Chanel round sunglasses. Actually, vintage Chanel everything."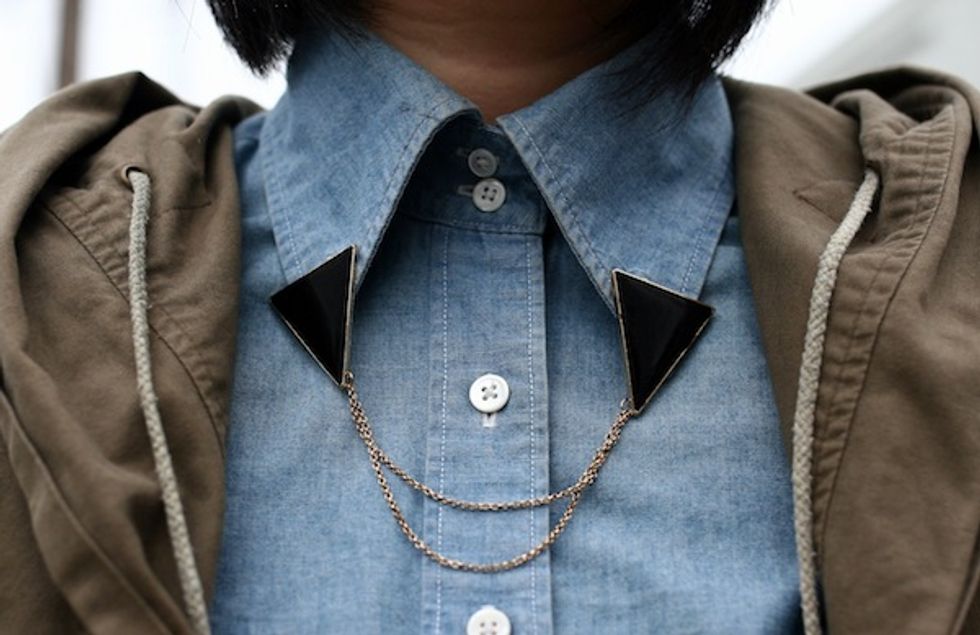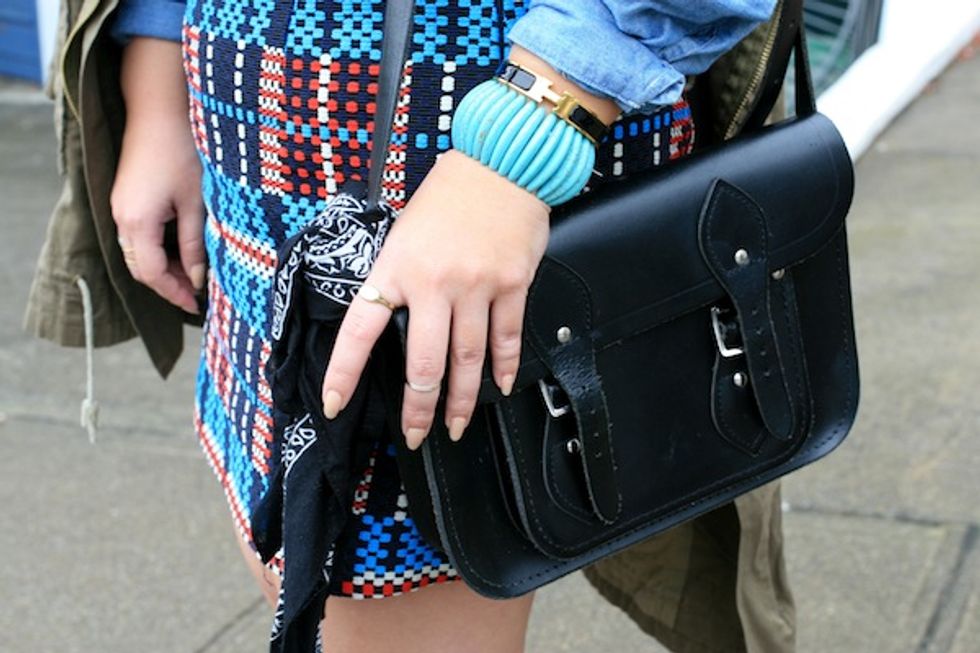 In Her Bag: "EOS lip balm in Sweet Mint, Claire Vivier coin purse, Pepcid for drinking, my Louis Vuitton graphite Damier CC wallet, and earbuds."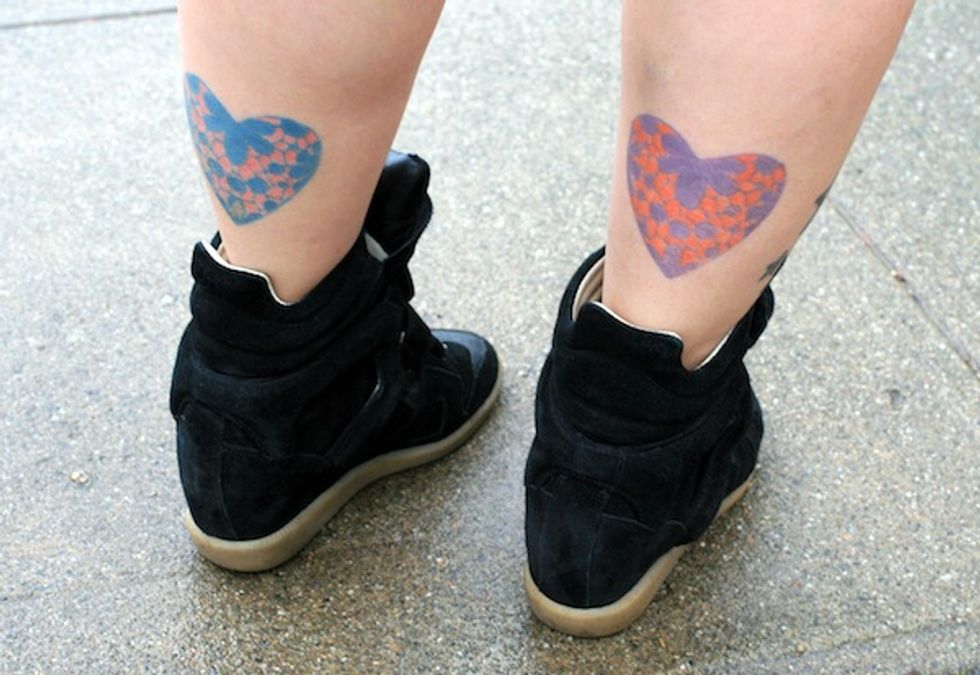 All of Anne-Mary's ink is custom designed by her friend Tim Mueller.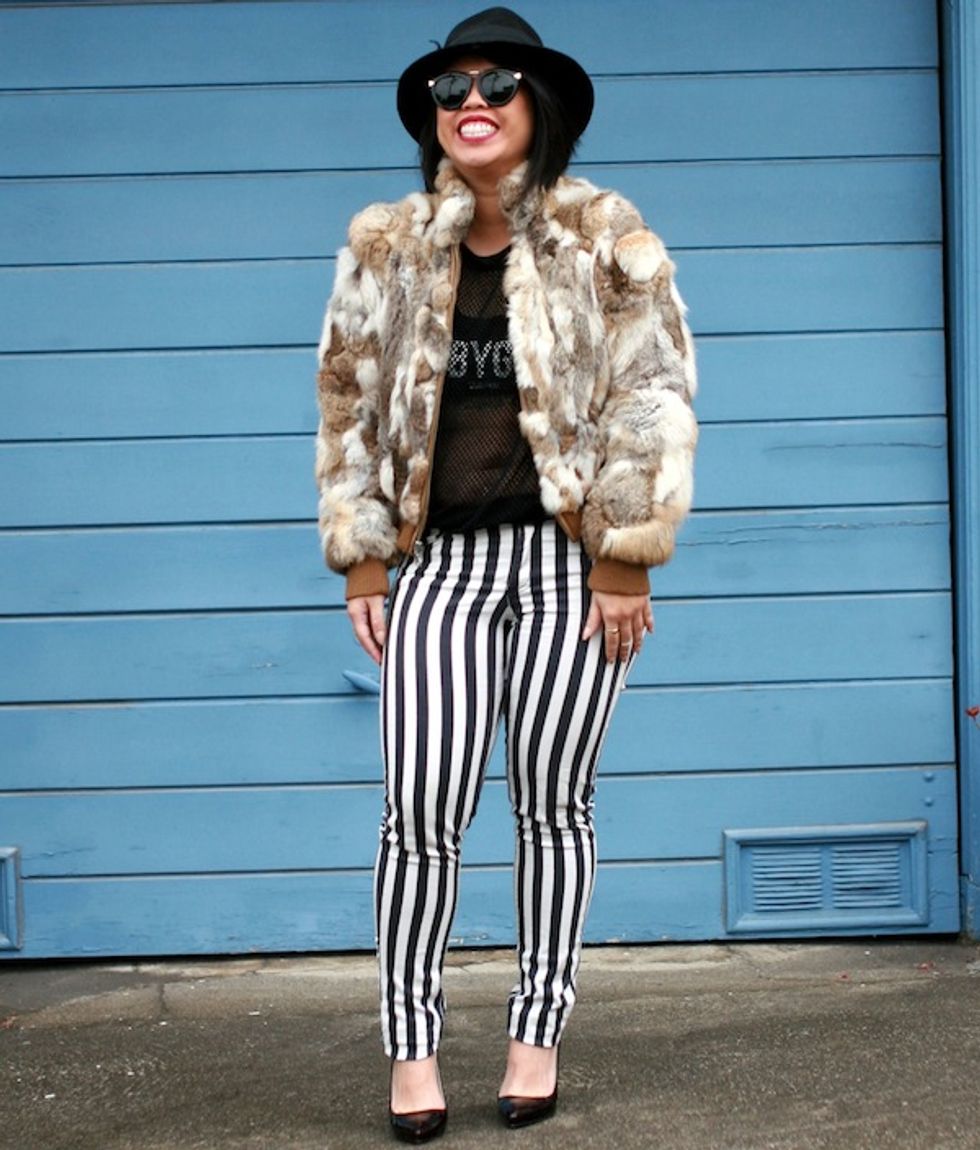 What She Wore:  Vintage hat, thrifted from Goodwill in LA; Karen Walker sunglasses; Wilsons Leather fur jacket; "Baby Girl" bra-top by Dimepiece; Knit top from Zara; H&M striped pants; Prada pumps from Barneys.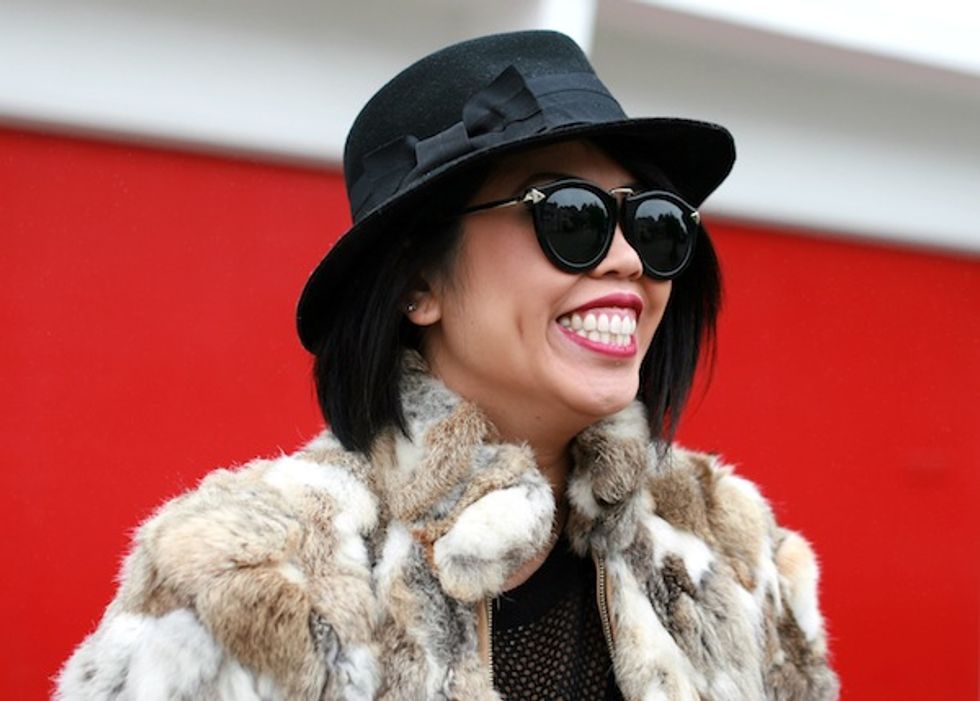 "I call this my Rachel Zoe look," said Anne-Mary.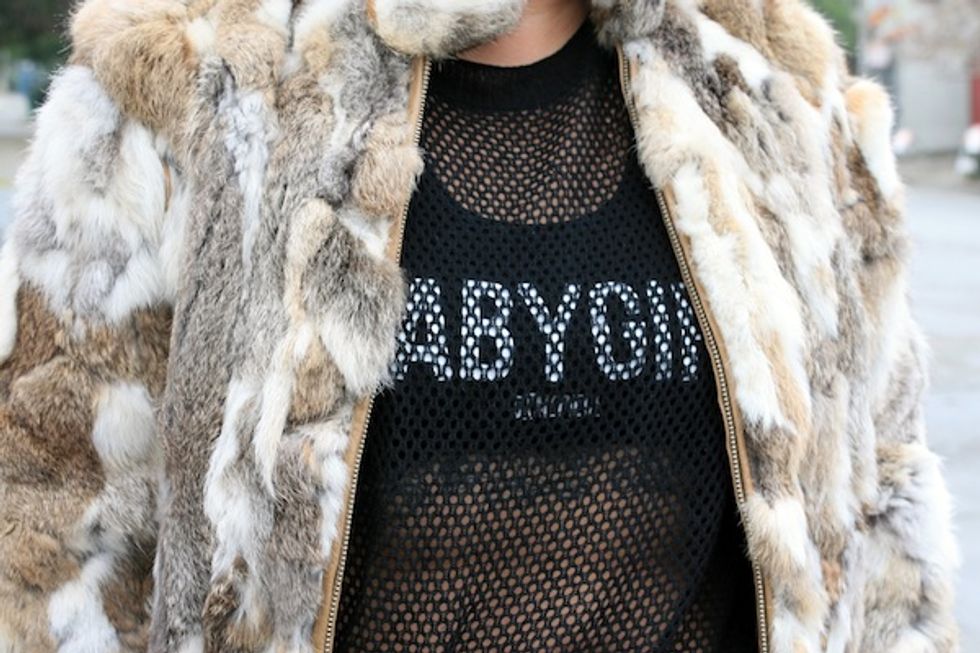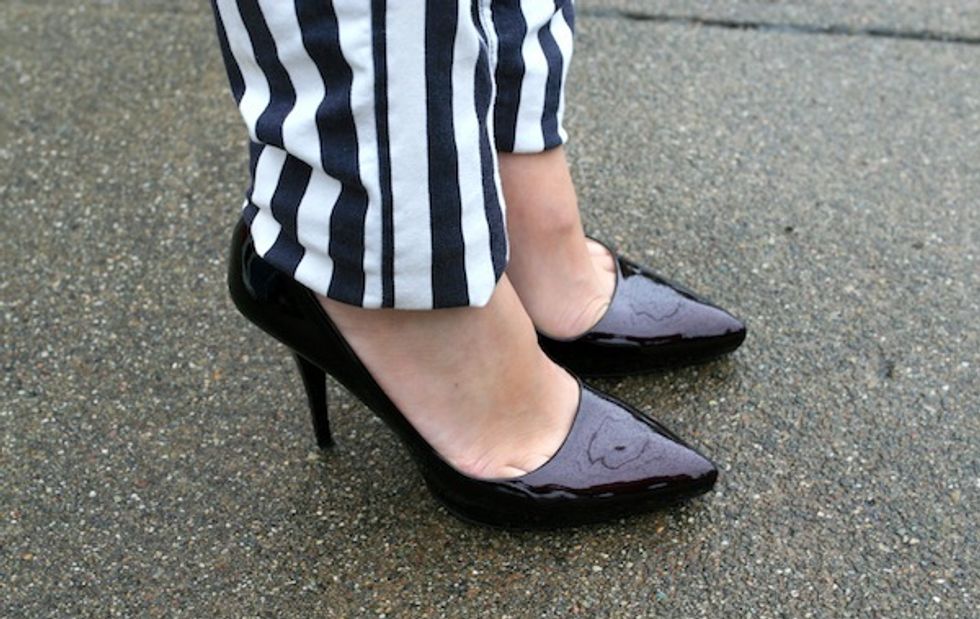 Seven Questions for Anne-Mary:
1. What's sexy?
Heath Ceramic bowls.
2. Best style tip?
Sunglasses and the perfect red lipstick will work 101% of the time. 
3. What do you do to de-stress?
Cook while listening to the Miseducation of Lauryn Hill.
4. What would be your last meal on Earth?
In-N-Out #1 spread only, French fries well done, Dr. Pepper, and two spreads on the side for my fries. I'm a simple lady. 
5. What's on your bucket list?
To swim in the Jellyfish Lake in Palau. It will happen!
6. I can never say no to...
Ice cream and head rubs.
7. What's your SF Top 5?
-The chocolate chip/walnut cookie at Tartine.
-The Pantone at Trick Dog (when it's available).
-Dancing at Mighty.
-Drinking wine at Dolores Park with a picnic from Tartine.
-Salmon Poke from Basa Seafood Express in the Mission. Seriously, it's the cleanest fish market I have ever been to. 
Lily Ko (lily7x7 @gmail.com) studied fashion design and merchandising at Central Saint Martins and the Academy of Art University. In addition to writing for 7x7, Lily works as a freelance stylist, writer, and designer.