Rising rather dramatically from the shoreline of the San Francisco Bay, just north of the Dumbarton Bridge, the Coyote Hills are a local jewel hidden in plain sight.
---
While most people enjoy the hills from afar, this popular regional park is worthy of an up close look. Over one thousand acres provide a varied terrain that's suitable for numerous activities including hiking, cycling and bird-watching. The eastern shore abuts the former salt evaporation ponds that now comprise the Don Edwards San Francisco Bay National Wildlife Refuge.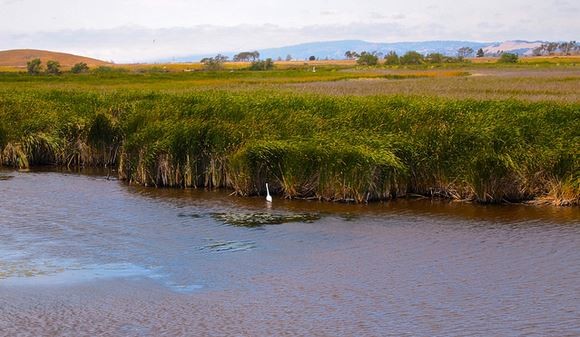 How to Get There
Coyote Hills Regional Park is situated at 8000 Patterson Ranch Road, Fremont. The main entrance is at the west end of the Patterson Ranch Road and Commerce Drive intersection in Fremont. From I-880, take Highway 84 west, exit at Paseo Padre Parkway, turn right, and drive north about one mile. Then turn left on Patterson Ranch Road. This is the park's entrance road and will take you to the picnic areas and visitor center. Parking fees may apply; free parking is available on Commerce Drive.
The Hike
Starting on Commerce drive, head west on Patterson Ranch Road for 0.6 miles.
Next take the Chochenyo Trail to the right through the marsh.
At the 1.1 mile point you'll pass the site of a Native American Ohlone village called Tuibun (there are exhibits in the visitor's center that are worth checking out).
Head west, enjoying your growing proximity to the hills themselves. 
Rejoin Patterson Ranch Road and head north (to your right; 1.7 miles). 
You'll pass the visitor center, picnic tables, restrooms and water.
Take the paved path (the Bayview Trail) as you leave the parking area. 
As the trail ascends a bit higher, admire beautiful views of the marsh and Alameda Creek.
At the 2.6 mile point you'll turn west and take in the panoramic view of the lower San Francisco Bay. 
The trail turns directly south and the views intensify. 
When the trail turns away from the bay look for the intersection with the Apay Way Trail (4.4 miles). 
Continue straight on the Bayview Trail as you skirt along South Marsh. 
After 4.8 miles, a parking area with restrooms comes into view.
Turn right on Patterson Ranch Road to return to your vehicle. 

What You'll See
Wild turkeys and shorebirds such as snowy egrets abound. In the evening keep your eyes peeled for a fox, a coyote or even a mountain lion. Wildflowers are rampant in the spring, as are golden poppies and lupine. More park information here.