Performance artist extraordinaire Monique Jenkinson inhabits the spaces between dance, theater, and drag. Her queen alter ego Fauxnique is a permanent fixture in the experimental art scene, and she's the first woman to have won the Miss Trannyshack Pageant. Her solo shows, Faux/Real and Luxury Items, play to sold-out crowds and have garnered much critical acclaim. Jenkinson is a 2012 de Young Museum Irvine Artist Fellow and will be part of the Dance Discourse Project at the museum on Sept. 15. Also look for her show at CounterPULSE in November. Here, she names the best of SF's nightlife.
---
Wine Bar: Terroir
The list is eclectic at this Frenchy wine bar with a focus on organic and biodynamic varietals. Grab a seat in the dark, split-level space, or buy bottles to take home—Terroir also doubles as a retail shop. "The guys who run it are very knowledgeable and will always let you taste before committing to a glass. You'll find me on one of the couches in the upstairs lounge."

Dance Party: HONEY 
SOUNDSYSTEM
This collective of musicians, performers, and designers hosts DJs from around the world, including Horse Meat Disco, Hercules & Love Affair, and Todd Terje. "Talk about great dance music—the floor is always full and hopping whether they're spinning old disco or cutting-edge house and techno."

Organized Fun: Friday Nights at the de Young Museum
The weekly event (through Nov. 23) serves up live music, dance, artist demonstrations, hands-on activities for kids and adults, and cocktails to boot. "The theme always ties into the museum's special exhibitions. My favorite nights are the ones centered around fashion."

Booze and Books: Lit Crawl
The bar crawl gets smart with a dose of prose thanks to Litquake, SF's annual literary festival. "It's different from your average polite reading. It's intelligent but also has an element of rawness. I like seeing how writers deal with the crowd."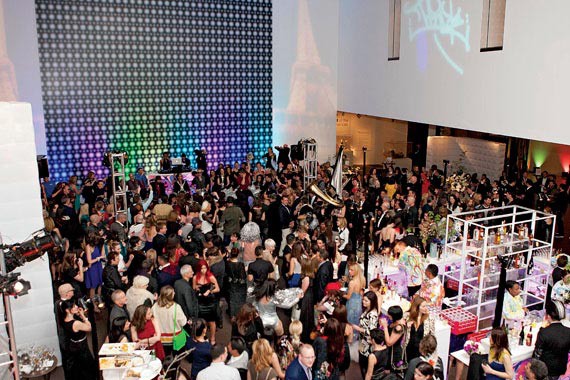 Late-Night Munchies: Crepes A-Go-Go
The crepe truck parked at 11th between Folsom and Harrison streets makes sweet and savory crepes to order. "I get the spinach, cheese, and mushroom after a night of dancing."

Live Music: The Great American Music Hall
The 105-year-old concert venue is beloved for its intimate acts and Barbary Coast-era design of ornate balconies, marble columns, and ceiling frescoes. "I've seen some magical shows here: Justin Vivian Bond, The Whoa Nellies, CocoRosie, and Antony and the Johnsons. I like the main floor best."

LOCAL MUSICIAN: Tim Carr
"Tim's music is so danceable, and his live shows are incredible. There are elements that are a little dark and edgy, but it's always fun." Check out Carr's latest dance album The Shadows, and look for him at Amnesia and at Black Glitter parties.

Performance Art: CounterPULSE
This nonprofit features experimental performance art with a political consciousness. "They support a lot of queer and emerging artists." Check out visual artist Seth Eisen and drag performer La Chica Boom, this fall's artists-in-residence, plus the July and August Summer Special, which is an affordable series of productions with California artists.

Drag Show: Trannyshack
Queen Heklina and her gals host this high-quality, almost monthly drag show at DNA Lounge. "They really pull out all the stops—it's a bargain considering how much work goes into these performances." Lady Gaga and the Scissor Sisters have been known to grace the stage.

Neighborhood Bar: The Lone Palm
With white tablecloths, Chex party mix, and a mean Manhattan, the Lone Palm "has the feeling of a hotel bar, but it's also kind of a dive. I have been coaxed out of the house in my pajamas on more than one occasion to have a drink here before bedtime." 415-648-010

Edited by Allison McCarthy. This article was published in 7x7's June issue. Click here to subscribe.