Timepieces have always played a big part in the classic American dream: Once given by employers to recognize decades of work well done, and later purchased or gifted as timeless symbols of status and success. Today in Silicon Valley, the old wristwatch has been disrupted like everything else, with smart watches doing everything from tweeting to taking selfies. So what does it mean for luxury watch purveyors of the elite old guard? For Menlo Park industry vet Andrew Block, evolution is everything.
---
Considered by many to be one of the country's foremost experts in fine jewelry and watches, Block has fine-tuned his knowledge over 30 years in luxury brand management. During his 21 years at Tourneau, the executive vice president grew the brand from having just three stores to more than 50 retail stores nationwide. Now, as president of Stephen Silver Fine Jewelry—with headquarters in Redwood City, the brand is well known on Sand Hill for its posh shop at the Rosewood—Block outfits top Silicon Valley entrepreneurs and investors with the world's most incredible watches. And since this is the Valley, Block is necessarily paying attention to the tech world's recent contributions to the old-fashioned timepiece. Now, he's boldly going where few traditional jewelers have gone before: Block is displaying a smart watch next to the diamonds and Audemars Piguets.
The Olio, a smart watch designed by a San Francisco startup whose founders hail both from Apple and Movado, is the newest face to grace the cases at Stephen Silver, thanks to much research on Block's part. Olio watches are not just efficient but also beautiful, crafted from surgical-grade stainless steel, 24-karat gold, and genuine Italian leather. They combine the sophistication of classic European watches with Silicon Valley's innovative technology. This is the first connected timepiece to join the collection at Stephen Silver Fine Jewelry.
We sat down with Block to get his thoughts on style, San Francisco, and more.
My favorite thing about jewelry is... the emotion it can evoke. 
My signature style… ranges from hand-tailored suits that are true to my East Coast roots, to my new sense of California casual which is a departure that I am enjoying.
A diamond… can be an incredible investment opportunity if it is a colored diamond. The colored diamond market is soaring at the moment due to demand for exceptionally rare gemstones.
I live in the Bay Area because... it has truly become the center of the universe. This is a big statement coming from a New Yorker. I split my time between the east and west coast because the innovation happening here is unlike anywhere in the world.  I am continually inspired with each person I meet here.
A recent find in SF was… the abundance of amazing start ups like Luxe and Olio Devices that are true game changers.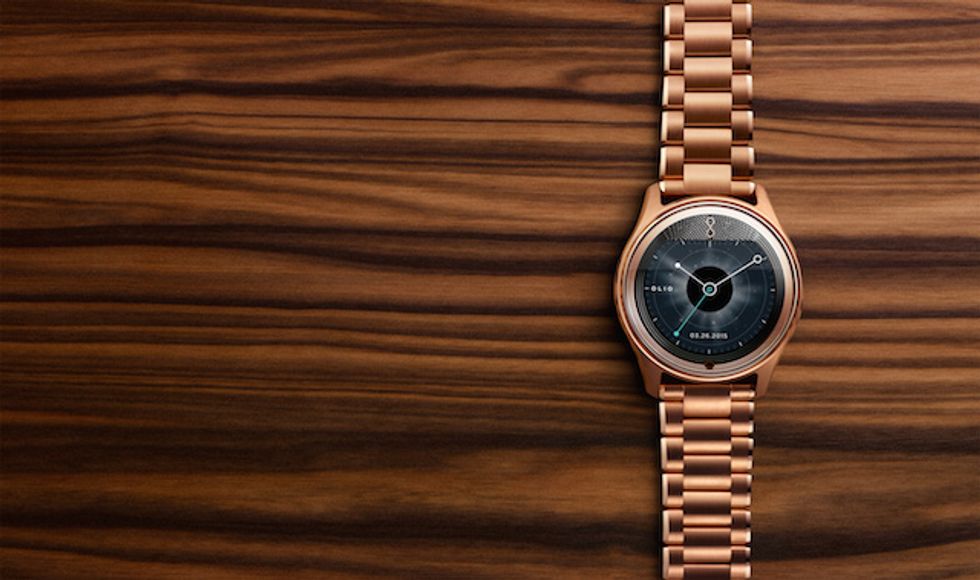 Olio Devices
For pure aesthetic, there's nothing like… the California topography. It blows my mind.
If I could design my own watch, It would have… Old World craftsmanship combined with New World technology.  
An indulgence I would never give up is...  my pocket square. You can take the man out of the east coast, but you can't completely take the east coast out of the man.
My favorite SF neighborhood is... Presidio Heights. It is a perfectly quiet city haven. The sweeping views of the bay, shops and restaurants are the best in the city.
In order to clear my head and relax, I... spend time with my beautiful family.
My best business idea was... convincing Stephen Silver to open a boutique in the Rosewood Sand Hill Hotel.
A project I am excited about is..... educating the venture capital community about the opportunities that exist within the luxury consumer market.
My hero is... Jerry Garcia. He transformed a generation that still endures today.
My average workday... includes meetings with some of the area's brightest entrepreneurs and VC's. On a daily basis, I am continually blown away by the gems and watches that come through our business.