There's nothing Mediterranean about the old Cafe Claude space. Dark walls, busy burgundy wallpaper, and large gold accessories transport you back to turn-of-the-century France rather than the glistening waters and white sands of the Mediterranean sea. That is, until you sit down to the menu. 
---
A passion project between Egyptian chef Michael Mina and RN74 chef Adam Sobel, who has roots in the Mediterranean, Middle'terranea is the first pop-up at The MINA Test Kitchen. And at just $45 per guest for six heaping courses, it's a doozy.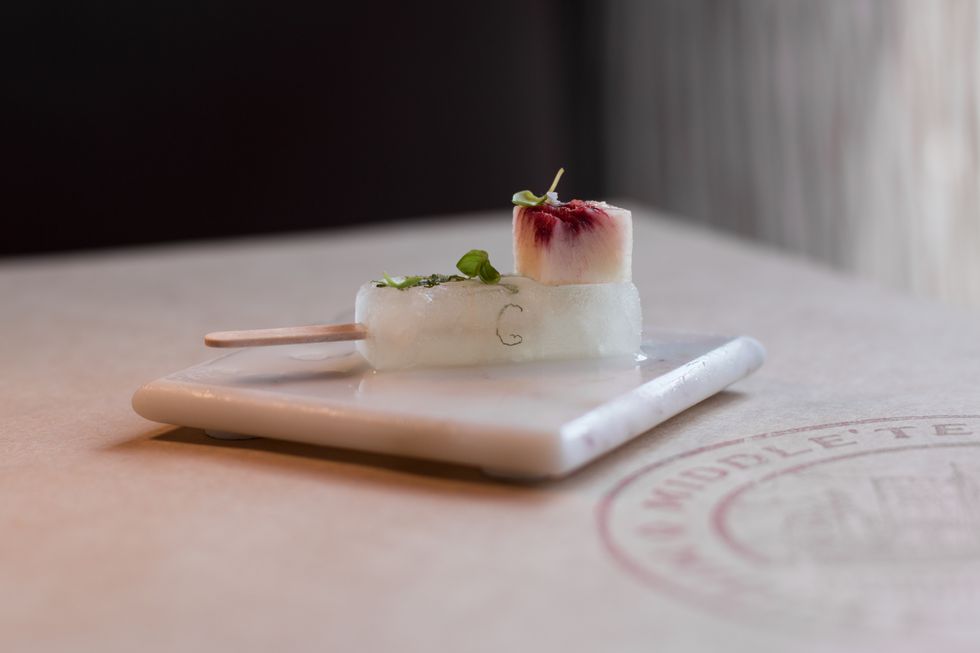 Sit back, relax, and come hungry. Guests are greeted right away with a frozen limonana and olive oil-drizzled tenbrink white peach topped with sea salt and basil buds (pictured above). It's the perfect amuse bouche for the heartiness and bold flavors to come. And there will be A LOT of flavors to come. It's best to store away at least two hours for this culinary trip around the world. 
The standout item on the six-course menu was the laffa, a flatbread that Mina revealed was the inspiration for the entire menu. Served with yogurt and layers of za'atar-cured salmon, shaved red onions, beets, and crispy fried zucchini chips, the Mediterranean "taco" required Mina to purchase a special oven that heats to 700 degrees and cooks the puffy disk in about 10 seconds. You'll soon want to order one of these ovens for your own tiny kitchen.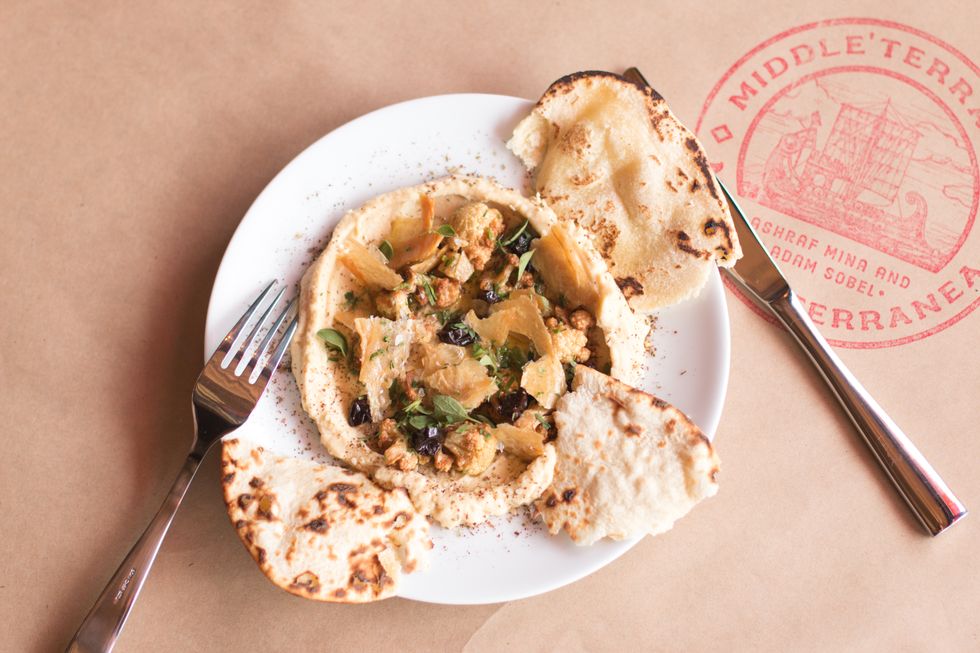 Rip-it-and-dip-it flatbread served with fried cauliflower and crispy chicken skin hummus topped with roasted garlic, dried cherries, and fresh marjoram.
Should you opt for the wine pairings, Mina Group beverage director Daniel Grajewski will come to your table to expertly explain each wine and his thoughts about the pairings. If not, the Land of Milk & Honey, made with carpano antica formula, dates, carob, honey, almond milk, egg white, and soda is the perfect wayto put you in an Eastern mindset. The test kitchen is working without a full liquor license at the moment, but with food this flavorful and perfect wine pairings, we didn't miss the higher ABV.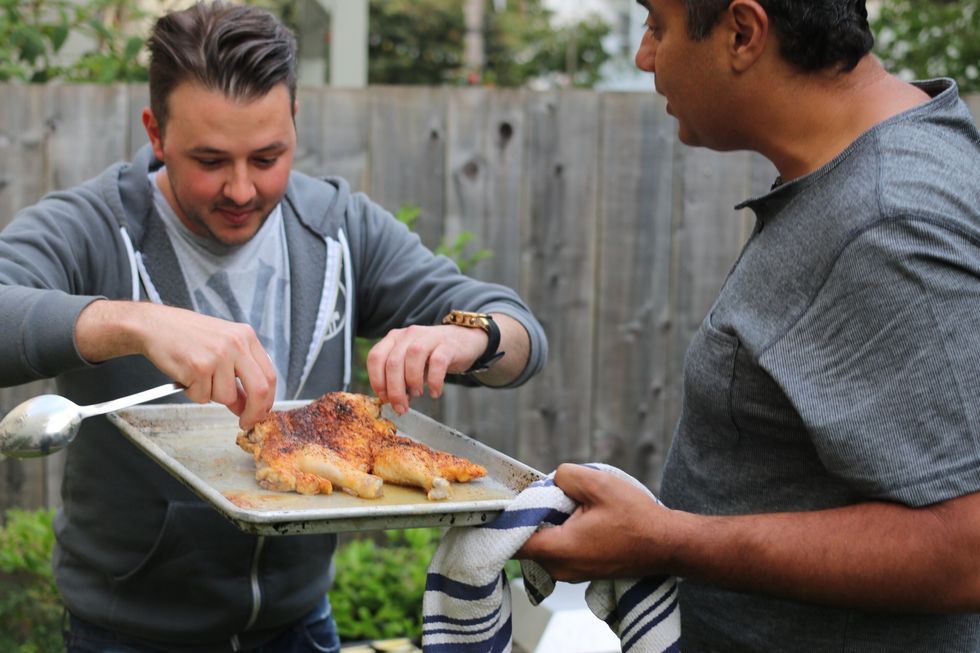 Chefs Adam Sobel and Michael Mina check on the status of the harissa-marinated whole-roasted chicken, the entree-of-choice on the prix fixe menu. 
From the first bite of refreshing limonada to the last bite of authentic froyo served with preserve lime and cardamom honey, Middle'terranea transported us back to that semester we spent traveling Spain, Italy, and Greece, and we were a little disappointed to open our eyes two hours later and be back in Cow Hollow. 
Middle'terranea is a temporary restaurant that will run four nights a week for the next three months, so make sure to make your reservation while there's still time. 
// Middle'terranea at Mina Test Kitchen, 2120 Greenwich St., San Francisco, minatestkitchen.com. Dinner is served Wednesday-Saturday from 5:30-10pm.