It was only a matter of time before flash sale sites went niche and high-end. The recently launched The Real Real hosts designer clothing and accessory consignment sales for 72 hours, five times a week. Three words: Watch out eBay.
---
There are a few ways to experience The Real Real. As a free member, you can shop up to 90% off previously-owned luxury fashion. If you get hooked, you can upgrade to a First Look membership and (for $5 a month) browse the selections 24 hours before the sale goes live to the public. You can also contribute and make money as a consigner; there is even a convenient pick-up service where one of The Real Real stylist's will arrange for a UPS pick-up of your items.

You can currently find goods from Gucci, Fendi, Calvin Klein, Salvatore Ferragamo, Herve Leger, Emilio Pucci, and more. Items are also organized by trend, like denim and chunky knits. Everything is hand-selected under the direction of Marcy Carmack, Creative Director and Co-Founder. "I love great deals, beautiful designer clothing, and helping women make the right choices for their wardrobe."
There's the Warehouse that sells ongoing secondary line items in excellent condition; you'll find random treasures from Marc by Marc Jacobs, See by Chloe, Alice+Olivia, and 3.1 Phillip Lim here. Prices on The Real Real range from $50-$9,800 — a testament to the diverse range of designers.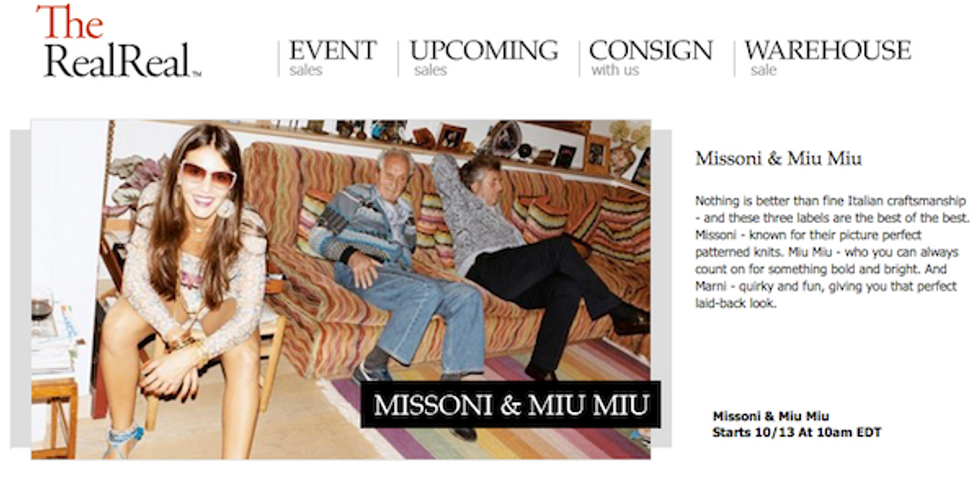 Keep an eye on the upcoming sales section — I'll see you at Bottega Venetta today...and the Missoni and Miu Miu double-threat starting tomorrow.
Samantha Durbin (sami.7x7@gmail.com) is a lifestyle writer who honed her blogging skills as Editor of FabSugar.com. Samantha graduated from The Fashion Institute of Technology, and also writes for 7x7 Magazine and Gilt City.