Ladies basking in the current women's empowerment movement, this is not a drill:
Clear your calendars for Friday, October 5th when The What Summit takes San Francisco's Golden Gate Club by storm.
---
Gina Pell and Amy Parker—besties, businesswomen, curators, and creators of the popular The What newsletter and women-only Facebook group with a life of its own—are beyond stoked about the Summit, sure to be one for the books.
Like all things The What, the one-day event is a place for smart Perennial women to develop genuine friendships over real talk, and really great wine. "We created The What Summit to bring to life the most engaging conversations in our private FB group (The What. Women): purpose, self-expression, finances, family, mental health, sex, women's health, and more," Pell explains.
The program will be stuffed with panels, workshops, and networking and breakout sessions that touch on all these topics. Plus, the speaker lineup is off the charts (oh, hey, Debra Messing).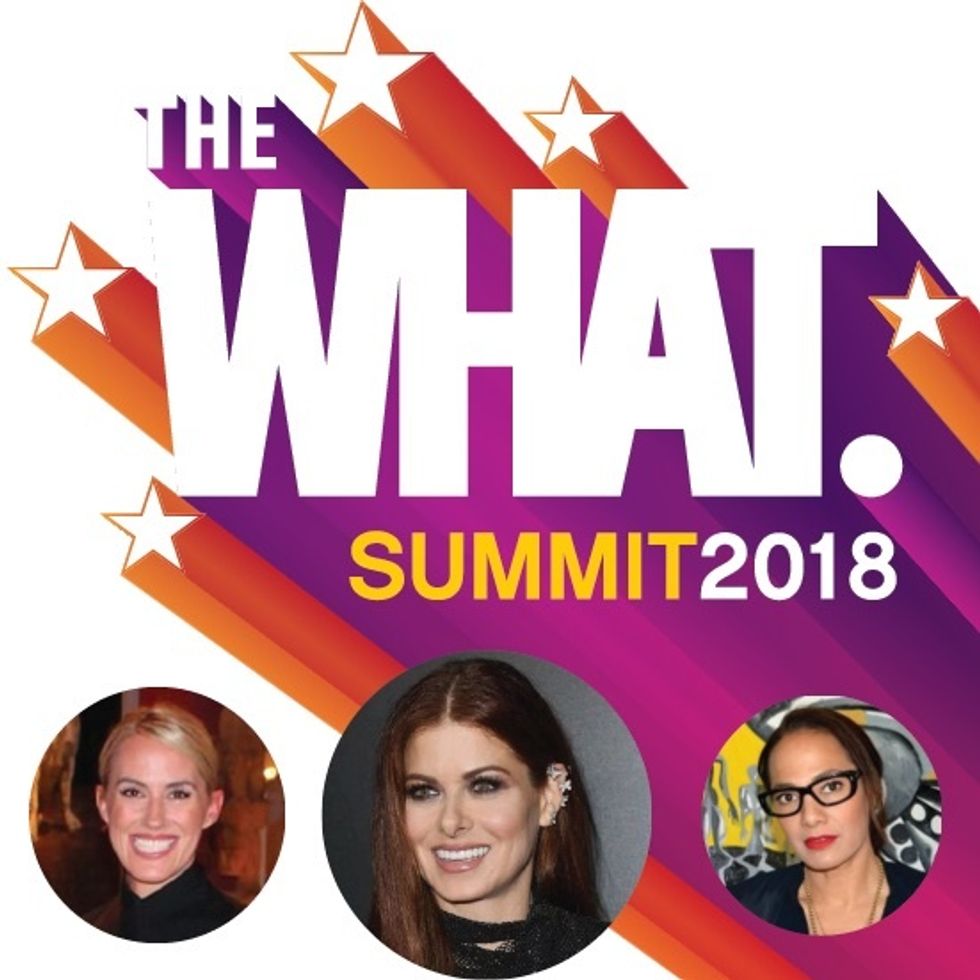 Here are just a few of the events we're looking forward to, along with the aforementioned wine, gourmet meals, pop-up beauty salon, and swag bag.
The Chat. CNN's Laurie Segall + Debra Messing Laurie Segall of CNN has a heart-to-heart with Debra about her 360-degree journey with the relaunch of her groundbreaking sitcom Will & Grace and deep involvement in getting the vote out.
The Money. Financial Wellness Money is power, and it's time to get proactive about talking, sharing, and learning about it. Lisa Stone, chief strategy officer of Ellevest, leads a candid conversation about financial literacy and investing in your goals.
The Track. Transcend the Corporate Ladder Brandless CEO Tina Sharkey and EO Products CEO Susan Griffin-Black help you figure out what you're worth, the best way to strategize your career, and how to get back into the workforce after a hiatus.
The Write Stuff. Get Better at Writing You don't have to be an author to know the transformative power that writing has in daily life, but two award-winning novelists, Heidi Julavits and Vendela Vida, share their thoughts about how you can become a better writer and communicator.
The Comprehensive. General Health + Cancer Concerns Internist Dr. Leila Alpers leads a general discussion on women's health from heart, bone, breast, and whole body health, with special guests Dr. Karen Horton, reconstructive plastic surgeon, and Keira Kotler, CEO of Everviolet—an intimates collection designed to address the changes in a woman's body following treatment for breast cancer.
And that's just for starters (see the full schedule here). Yeah, so that's what's up [flexed bicep emoji].
// The What Summit is 9am to 4pm, Oct. 5, at the Golden Gate Club, 135 Fisher Loop (Presidio). Tickets ($799 are available at events.bizzabo.com; thewhatlist.