If the city is feeling oppressively urban, get rural Sunday (or any day) with a Marin County ride that promises miles of quiet country roads just 30 minutes away. 
---
What You'll See
Delightful views, which are pretty much the norm for this part of Marin, including Stafford Lake, the Hicks Valley and, from atop Wilson Hill, a 360-degree panorama of West Marin, Sonoma Mountain, and Mount St. Helena in Napa. Other sights include old barns, a one-room school, lush pastures, and plenty of smooth asphalt.

How to Get There
By car, it's a straight shot north from SF on Hwy. 101. Take the last Novato exit, Atherton Ave. Turn right at the stoplight, then make an immediate left into the commuter parking lot. There is a public transit option; Golden Gate Transit's main north/south route stops here as well.

The Ride
This is a good two-and-a-half to four-hour ride (depending on your pace), covering 32 miles and about 2,000 feet of elevation change. There are a couple of steep (10-13%) sections, but all are pretty short. The longest climb is Wilson Hill, at 310 feet and 7/10 of a mile.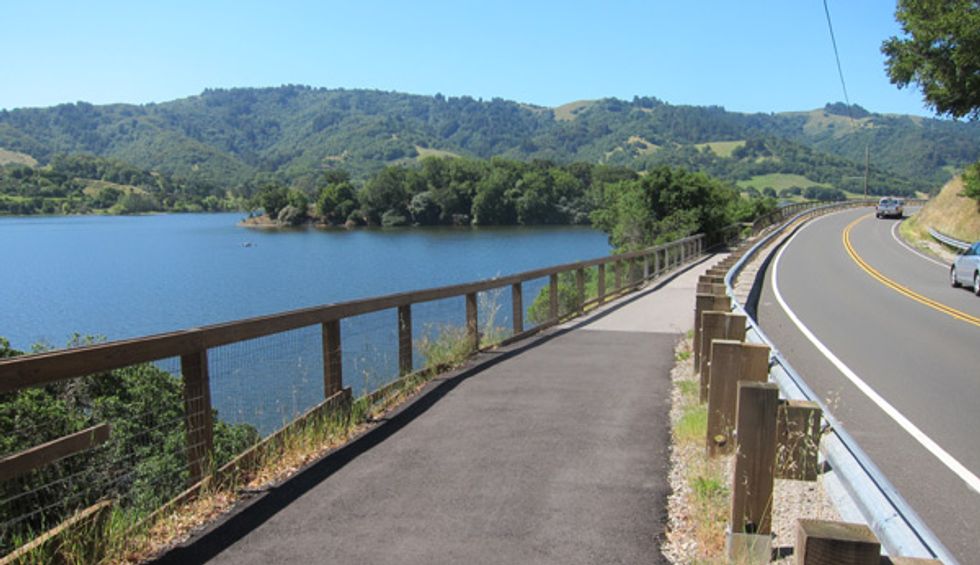 Head west over the freeway from the parking area and proceed onto the bike lane on San Marin Drive. The road meanders three miles through suburbia and the expansive open space of Mt. Burdell. Turn right at Novato Blvd., and soon the surroundings will become decidedly more rural.
After 1.3 miles, you'll make a short climb alongside the dam as Stafford Lake comes into view. Use the bike path for a more bucolic ride through the park, which will be the staging point for this fall's inaugural Jens Voigt's Jensie Gran Fondo 2015 of Marin, a first for the popular German cyclist.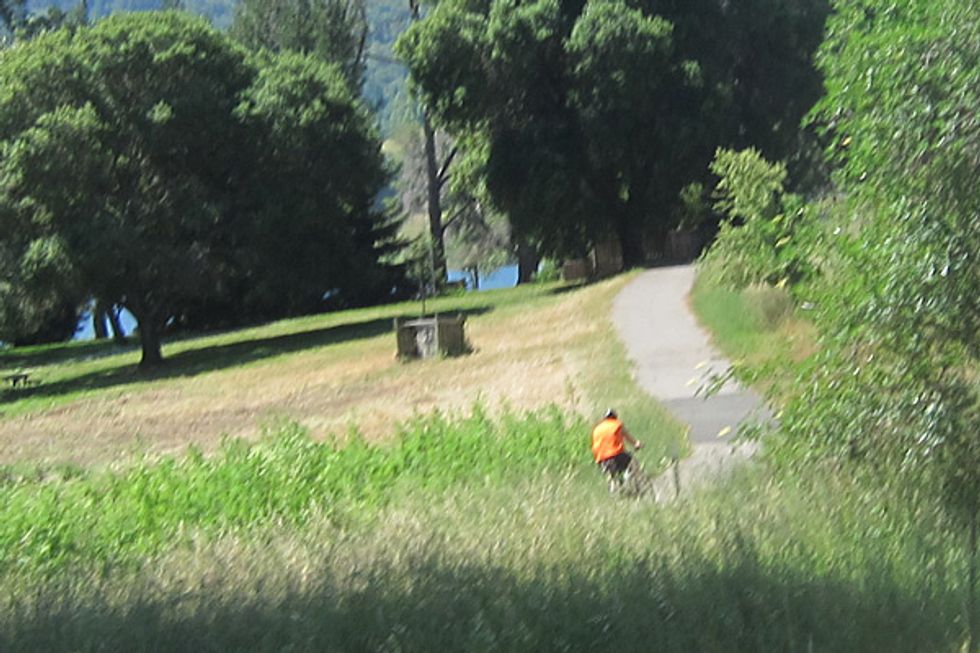 Once you're past the lake, the two-mile climb to Hicks Valley begins. Before you feel gassed, you'll appreciate the wide open views. Spring riding offers delightful green pastures; fall rewards are warm evenings and weedy scents. At the stop sign (9.3), turn right onto the busy Pt. Reyes-Petaluma Road, then a short distance later, turn left on to Hicks Valley Road and head for the hills, passing Lincoln School on your left.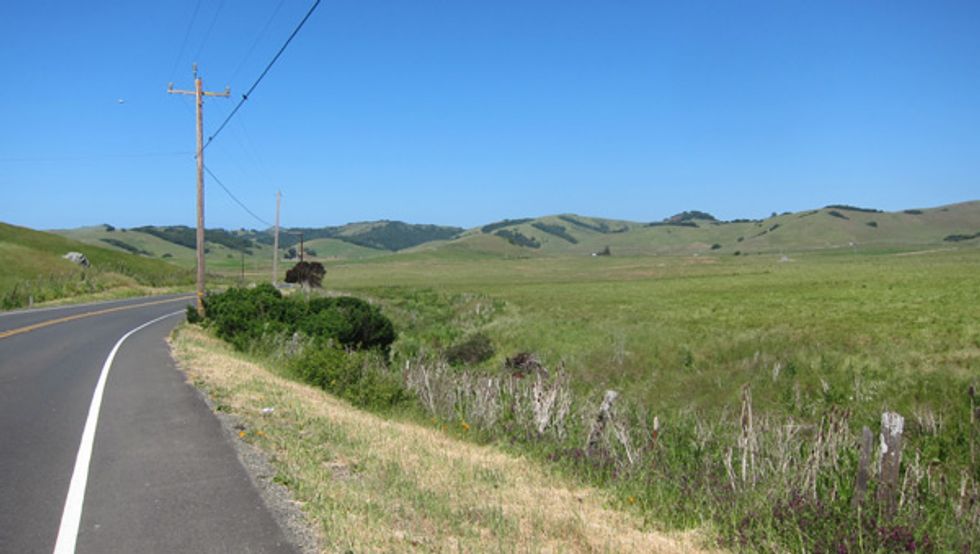 Another short climb brings you to Walker Creek, with Wilson Hill as a backdrop. At the next intersection (12.7 miles), turn right onto Wilson Hill Road for the ride's most challenging ascent. The views here provide a welcome distraction: To the right, you'll see back into Hicks Valley; to the left is Stubbs Winery—much of land here is used for agriculture in cooperation with the Marin Agricultural Land Trust. At the crest, you'll see Mount St. Helena in the distance. The descent is fast.
From here you'll enter Chileno Valley, which is well worth exploring if you have the time. (Going for it? Check out this 52-mile ride from Petaluma.) If not, ride straight into Sonoma County as you cross San Antonio Creek. At the 18-mile mark, you'll reach Helen Putnam Park, where you'll find restrooms, a picnic area, and fountains to fill your water bottles.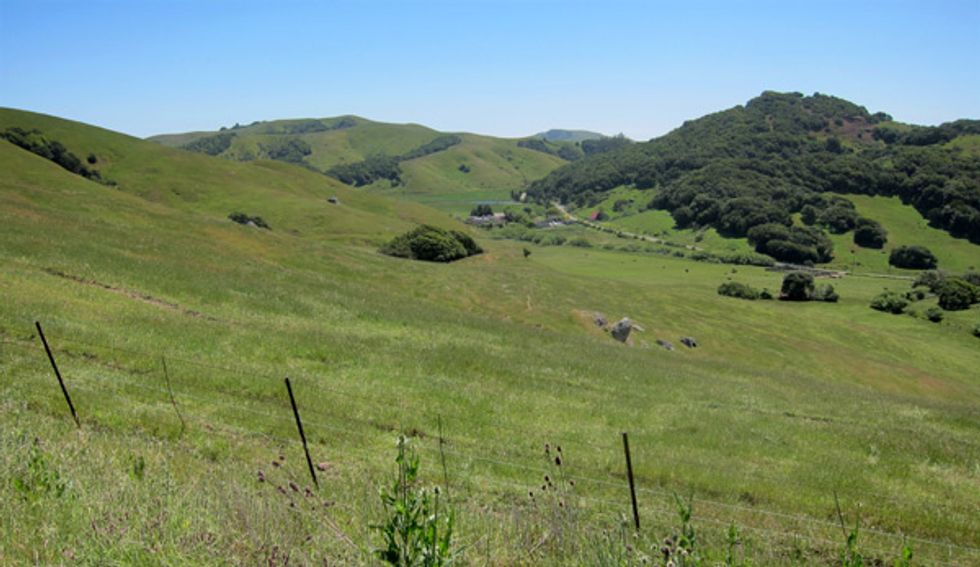 At the next stop sign, turn right onto Western Avenue toward Petaluma. A half-mile later, turn right again onto Windsor Drive for a momentary jaunt through suburbia. Turn right onto D Street (20.2 miles). You're now heading into diary country on a nice, wide shoulder. In three miles, a left turn will sends you east onto San Antonio Road for the last few miles of truly rural vistas. At 27.5 miles, again turn right and, after a short climb, join the new bikeway that parallels Hwy. 101 for the return back to Novato.
Other Things to Do
Mid-ride, upon reaching Hicks Valley, a left turn will bring you to Marin French Cheese where there's a pond, picnic area, restrooms and, of course, fresh cheese and a deli. Or, in downtown Novato, there are numerous places to eat or shop post ride, including Whole Foods, the excellent gluten-free bakery Flour Chylde, and a tasty Indian restaurant and buffet, Batika.