Nice, fresh asphalt is icing on the cake for any weekend ride. Head to Healdsburg this Sunday for miles of sweet, smooth road on some of the most scenic routes Wine Country has to offer. 
---
What You'll See
This jaunt around Healdsburg takes you through four important wine growing regions in northern Sonoma County and is as visually stimulating as it is fun; your pace can be fast or slow, the main point is to enjoy the ride. September and October are ideal times to go for a spin, with cool days and colorful vines. 

How to Get There
Healdsburg is a 60 minute drive north of the Golden Gate Bridge on Hwy 101. Take the central Healdsburg exit and follow the signs to downtown. Keep in mind that on-street parking time is limited to three hours around the main plaza– check this map for nearby public parking lots.
Golden Gate Transit provides hourly bus service from San Francisco to Santa Rosa (route #101). Connect with Sonoma County Transit's #60 to get to Healdsburg.
The Route
As this area is particularly conducive to group rides, we did this 52-mile ramble with Marin's Mellow Motors Cycling Club on a recent Saturday morning. Our meet-up spot was at Flying Goat Coffee, located kitty-corner from the plaza. It's an excellent spot for pre-ride fuel, with a good selection of pastries and sensational coffee. An early start time is recommended, when the roads are less crowded and the wine-tasters haven't made multiple stops yet.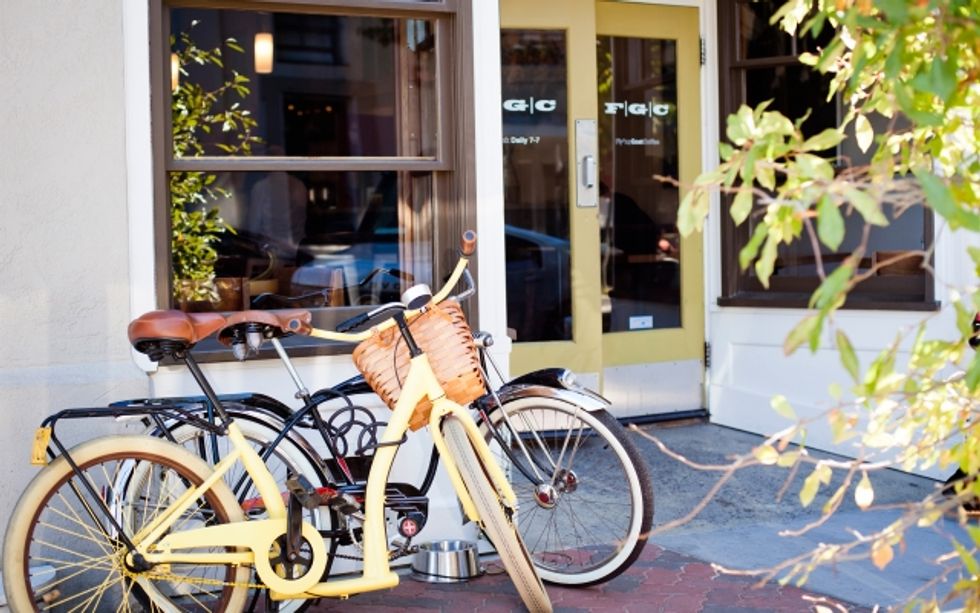 Depart via south Healdsburg Ave. turning left at the large intersection onto Mill St. after carefully crossing the RR tracks.
Passing under Hwy. 101 Mill becomes Westside Rd.
Turn right at the Madrona Manor onto West Dry Creek Rd. (1.4 miles)
Roll along the west side of the valley in a gentle ascent for nine miles.
Make a right on Yoakim Bridge Rd. and cross Dry Creek. (10.2 miles)
At the intersection with Dry Creek Rd. turn right. (10.8)
Make the second left onto Canyon Rd. to start a short climb over the ridge to the Alexander Valley, (11.1 miles)
Just after passing under the freeway, make a right onto Geyserville Ave. aka Hwy. 128 (13.3 miles)
Make a left at the stop sign, staying on Hwy. 128; there's a deli and market at this corner (14.2 miles)
 Crossover the Russian River and continue on Hwy. 128 as it makes a right onto River Rd. (15.2 miles)
Carefully make a left off  Hwy. 128 at Geysers Rd. (18.8 miles).
As the road curves right it becomes Red Winery Rd.
At Pine Flat Rd., turn right. (21.8 miles) then turn left, rejoining Hwy. 128.
Ride single file on this busy part of the highway for three miles. As the highway curves left, exit straight onto Rohlffs Rd. then turn right onto Chalk Hill Rd. (25.4 miles)
Now begins a more tranquil stretch of riding through the Chalk Hill region and begins the only serious climb of the ride, a 200 footer with max of gradient of 8%. (30.5 miles)
At the end of Chalk Hill Rd. make a right at Pleasant Ave. (33.3 miles)
Soon merge with Old Redwood Hwy. and enter suburbia, aka the town of Windsor. Cross under the freeway and continue straight on Windsor River Rd. (35.4 miles)
At the T-intersection, turn left onto Eastside Rd. and enter the Russian River Valley appellation. (37.3 miles)
After a short climb Eastside Rd. bends west and soon joins Wohler Rd. (40.8 miles)
Continue on Wohler, cross the bridge and then turn right on Westside Rd. (42.8 miles)
From here on stay on Westside Rd., bearing right at Madrona Manor to head back into Healdsburg. (51.4 miles)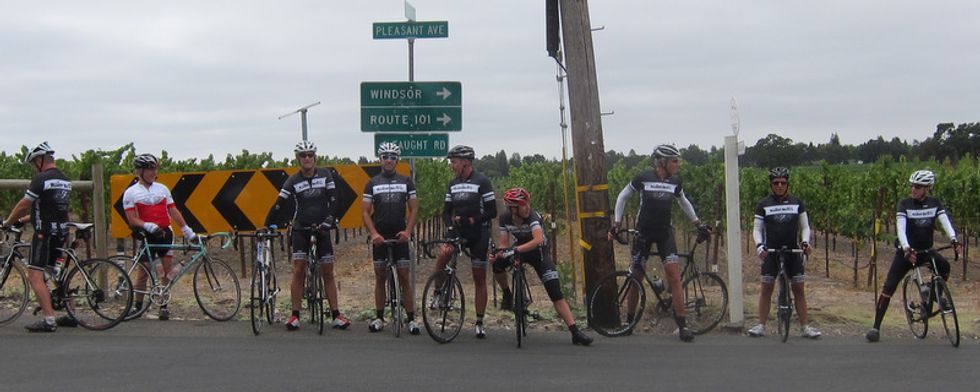 Where to Eat
There are numerous places to dine, covering all tastes and price ranges. The Bear Republic Brewing Co. offers hearty fare for carb-depleted cyclists, as well as a full range of excellent brews. The Oakville Grocery is another fine choice, with a great outdoor seating area. You'll find huge burritos at El Sombrero and if upscale pizza is your choice of dish, then try Pizzando.

Other Things to Do


Healdsburg is very a walkable town, full of interesting shops, homes and sights. Wine tasting opportunities abound, with wineries such as Selby, Donatello, Mueller, Hawley, and La Crema all having tasting rooms in town. A rather unusual place to visit is the Hand Fan Museum. There's also great swimming to be found at Healdsburg Veterans Memorial Beach Park, south of town where Healdsburg Ave. crosses the Russian River. You can rent kayaks and canoes there as well.