Locals have long admired the beef brisket enchiladas and homemade tortilla chips dredged in cotija and chile de arbol sauce at Mamacita and Nopalito. And, yes, every Saturday, lines twist outside for fried rock cod tacos and chilaquiles at Mijita and the Primavera. But now several new Mexican spots are serving up more elegant fare. Check them out the next time you need a taqueria break.
---
Papito fans no longer have to trek to Potrero Hill for quesadillas thick with fried chicken or duck carnitas. A second location named "Papito West" opened in Hayes Valley in May. Skylights, exposed beams, and a gigantic mural decorate the larger space. On the menu, original favorites mingle with chic new additions like ahi tuna tartar with chipotle emulsion and striped bass crudo with avocado mousse.  
Charles Phan's formerly Cajun restaurant reopened in July with a Mexican makeover led by Chef Rymee Trobaug, previously of Zuni Cafe. On the revamped menu, find rabbit in yellow mole, clam ceviche with sour orange, and dessert crepes with goat cheese and candied pecans.
Bandidos
Dana Gleim and Jesse Woodward of Hi Tops give the Castro its first sit-down Mexican restaurant. Expected to open later this month, Bandidos will offer dishes inspired by Woodward and Gleim's travels. The menu, developed in consultation with "Top Chef" alumna Jamie Lauren, promises lots of small plates, like fried avocado tacos and a special puffy taco filled with spit-grilled al pastor pork and pineapple salsa. "It's kind of a cross between deep fried but still soft," says Gleim. The dining room will feature a long communal table that seats twelve as well as four eight-person booths.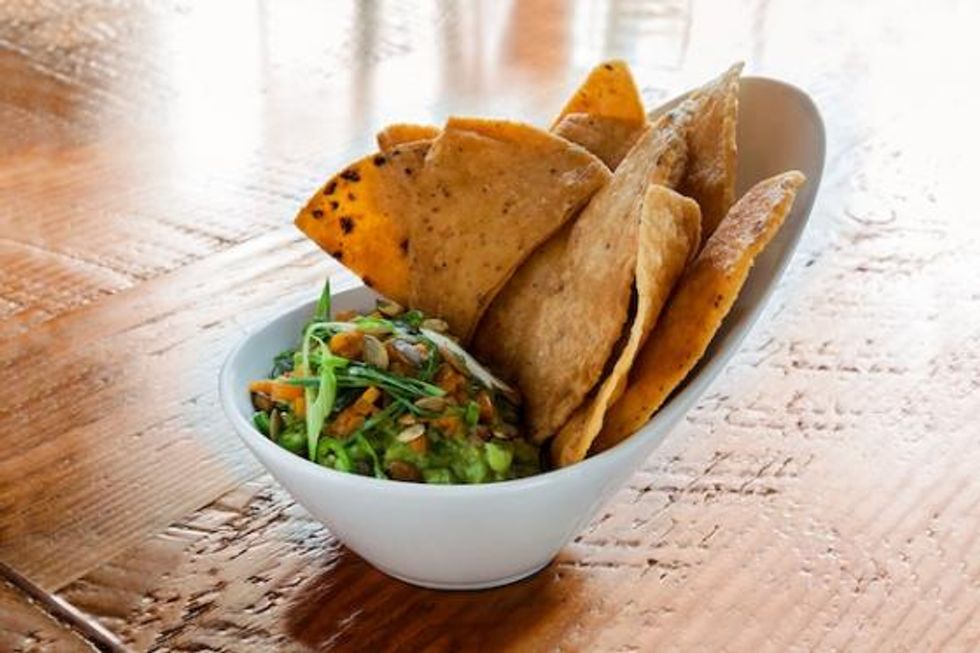 Guacamole and chips from Sabrosa Photo: Dishero.com
Marina dwellers should no longer complain about their neighborhood's dearth of Mexican options. Sabrosa, which opened in November, focuses on sharable small plates that include cornmeal crusted calamari tacos and tlacoyos. Chef Jose Lopez forms these oval-shaped cakes from masa and chickpeas, which he fries before topping with chile-braised beef, sauteed, chiles, cream and fresh queso. Shards of chicken, root vegetables, and avocado swirl in Lopez's signature chicken soup, a recipe borrowed from his grandmother.
La Urbana turns one year old in September and plans to celebrate with a festive menu comprised of its most popular dishes like aguachile ceviche served smoking and braised barbacoa-style short ribs. In the meantime, sip a guava and grapefruit margarita crafted by new head bartender Trent Simpson who'll rotate the cocktail menu each month.
And keep your tortilla chips poised for two upcoming openings:
Chris Pastena of Oakland's Chop Bar will launch Calavera in the spring of 2015 inside "The Hive" complex, a mixed-use space in Uptown that's currently under construction. Plans include whole pigs roasted in-house, fresh tortillas, ingredients sourced from Mexico, and one of the largest selections of tequila and mezcal in the East Bay.
This fall in the Presidio, Traci Des Jardin will unveil Arguello inside the historic Officer's Club. Full dinner service will commence in the 118-seat dining room and heated patio with seasonal, Mexican-inflected dishes.